User-generated content, also known as UGC, is an important part of marketing your brand. Not only can utilizing UGC save you time creating content, it also allows you build trust in an relatable and authentic way with potential customers.
Whether you're wanting to connect with your audience, find content when you're running low on ideas, or simply collaborate with your followers, utilizing UGC can be beneficial to incorporate into your social media strategy.
Keep reading to discover everything you need to know about UGC and how to maximize it with Plann's all-in-one social media suite.
What is user-generated content?
As the name would suggest, user-generated content is any piece of content created by your customers or audience about your brand. It can include photos of your store, an unboxing video featuring your products or even a testimonial from a happy client.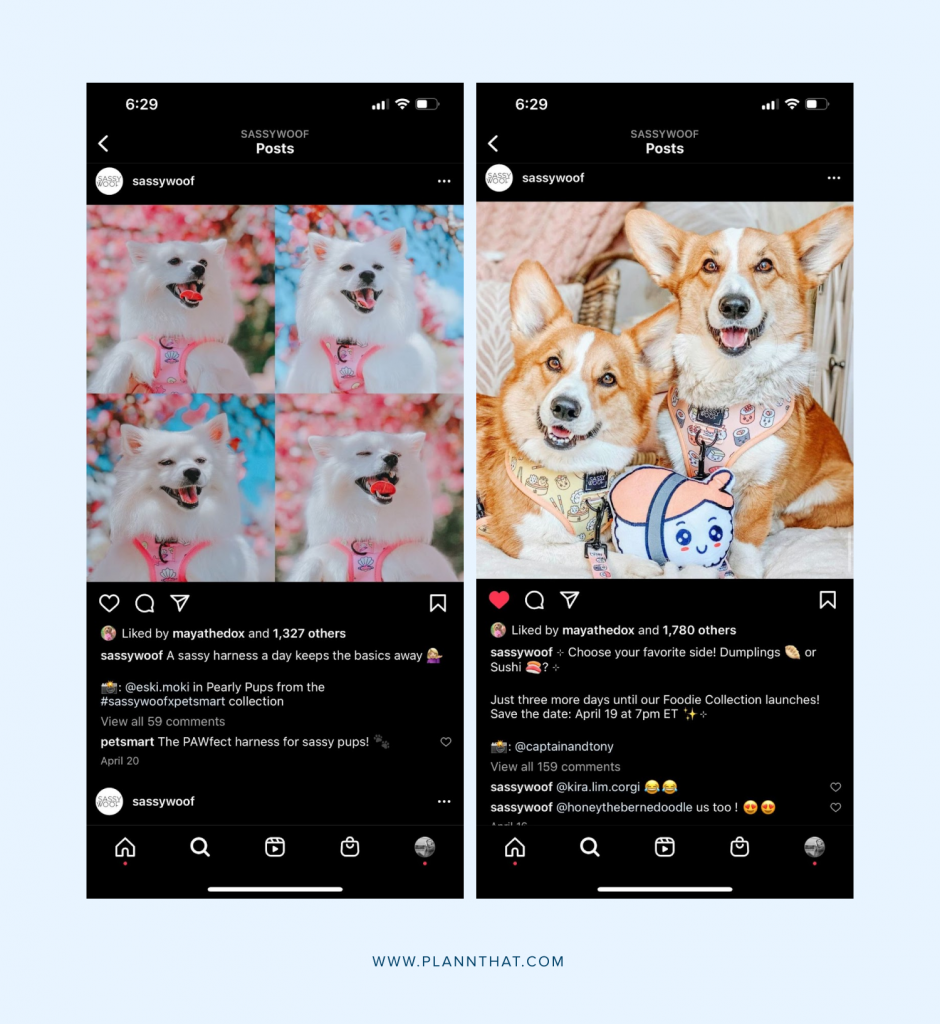 As a brand, you can easily find the content your customers are creating about your brand using hashtags, geo locations and tags. In Instagram, you can easily review your branded hashtags to see a collection of every post shared using this hashtag.
Plus, by reviewing your store's geo location and your tagged photos tab, you can scroll through a library of posts just waiting to be repurposed by you.
Why should you use UGC for your brand?
User-generated content is an important element of any marketing strategy as it helps to increase engagement and allows you to maximize conversion opportunities.
UGC is focused on the customer. Because it is created by customers themselves, it is closely intertwined with who your audience is and what they're interested in seeing from you.
Plus, other customers are more likely to trust this type of content (as it shows an unbiased customer vouching for your brand in their own words!).
Utilizing these genuine pieces of customer focused content, you'll be able to create a relatable brand positioning that ultimately can lead to more engagement, conversions, and brand loyalty.
How to find UGC from users with Plann
Looking for a way to source, re-purpose, and share all your brand's UGC in one place? Finding user-generated content has never been easier! With Plann, you have access to all of your comments, mentions, and tags in one place.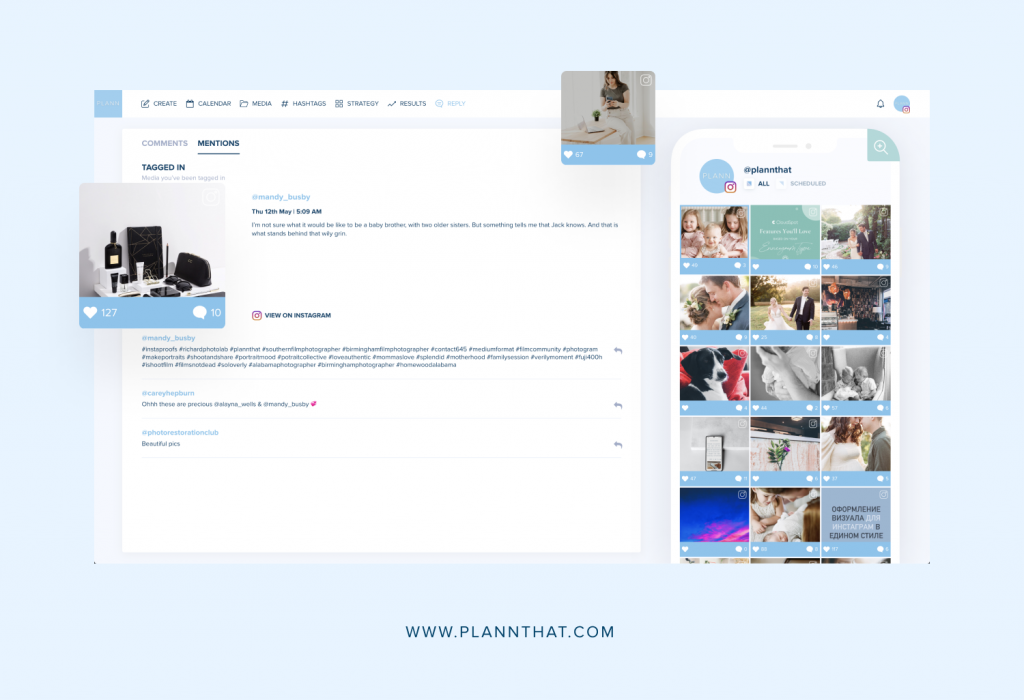 Here's how to find and utilize UGC with Plann:
1. Simply login to your Plann workspace
2. Select the "Reply" tab from the top bar
3. Select "Mentions"
4. Find your favorite user-generated content and get Plann'ing!
The right way to share user-generated content
Although you don't automatically have the right to share user-generated content, you can easily obtain these rights to promote some of the most engaging content for your brand.
Here's a list of the 3 most important steps you will need to take to utilize UGC.
1. Get permission from the user before reposting
The first thing to keep in mind is that you always ask permission before sharing user-generated content.
An easy way to do this is to simply comment on the post or slide into the creator's DMs and ask for permission to repost their content.
Note: In some countries or states, a simple reply of "Yes, you can use this post!" is enough. In others, you'll need written consent or even a contract that acknowledges the terms and conditions of use. Check what the rules are in your region before resharing content.
2. Be clear about UGC usage
Content creators have a right to understand how your brand will be using their content. Before approaching them to ask for those permissions to share their content, make sure you have a plan in place for how you will be sharing that content.
Whether it's through a UGC story highlight, a grid post, print advertising, or across all of the different platforms, the content creator needs to be able to understand where and how you plan to use it.
3. Give credit where credit is due
Everyone likes to receive credit for the work they have created. Not only does it make the customer feel appreciated to be showcased in this way, it's the law.
Of course, regardless of the legal requirements of giving credit to these creators, this helps to build a trustworthy and authentic relationship between your brand and your audience.
Leverage user-generated content like a pro with Plann
Ready to kick off your brand's UGC journey? Plann ahead! You can use the Plann app or Plann desktop to schedule your user-generated posts and to start strategizing for your next UGC campaign.
Sign up for a free 7-day trial of Plann today and you can start harnessing your UGC for maximum impact on social media.