New Updates for Reels Planning + Reels Covers
Are you adding Reels to your social strategy and want a robust, reliable way to plan them out?
(Instagram deleting your drafts are now a thing of the past!)
Now when you upload a single vertical video to your Instagram visual planning space, we'll ask if you're uploading a Reel.
If it's yes, we'll now ask if you want to add an optional 'Cover Image' to keep your grid branded and your Instagram aesthetics entirely in your control.
WHERE DO I ADD AN INSTAGRAM REEL + COVER IMAGE TO PLANN?
Simply upload a single vertical video (i.e. one you've recorded on your mobile phone) to either your Plann App or Plann on desktop account and you'll receive a new prompt.
If you're uploading a normal video that you'd like posted to your grid, you can select to continue with an Instagram grid post.
When drafting your post, Plann will provide you with space to upload a cover image and display this on your Instagram grid so you can see exactly how things will look.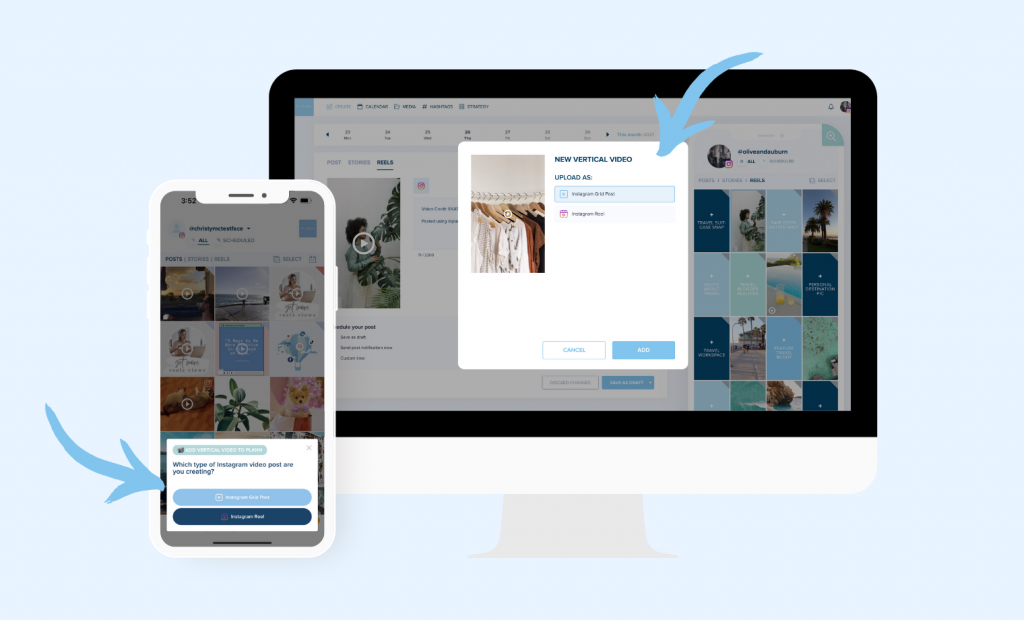 HOW DO INSTAGRAM REELS COVER IMAGES WORK?
When publishing a Reel, Instagram will grab a still of your video and share that onto your grid. If you want to own this real estate and customize it, you can upload your own custom image.
This is a great way to:
1) Brand your content
2) Have control over the look of your grid
3) Make it easily seen what the Reel is about
How To Create Instagram Reels Covers That Catch Your Audiences' Eye
A Step-By-Step Guide – How To Add A Cover Photo To Your Reels
HOW DO I SCHEDULE A REEL WITH A COVER IMAGE USING PLANN?
With Plann, scheduling an Instagram reel is fast, reliable and efficient.

Step One: Upload a Reel
Step Two: Upload a cover image
Step Three: Schedule a time to publish to Instagram

*If you're not seeing the Reels option on the Plann App, you'll need to update the app to gain access to the feature.
Watch Ashley schedule a Reel with a cover image, in just 2 minutes.
WHY IS THERE A "REELS" TAB ON PLANN AS WELL?
If you share a Reel to your Instagram grid, Instagram will automatically display them in your "Reels" space too, so Plann made sure we replicate your online experience as closely as possible.
Instagram also allows you to keep all Reels videos separately and away from your main grid (or you can choose to cross-post there too), however, we've learned some people like to only put Reels videos in their own dedicated, separate space.
With Plann you can use our product to manage your Instagram Reels as you need.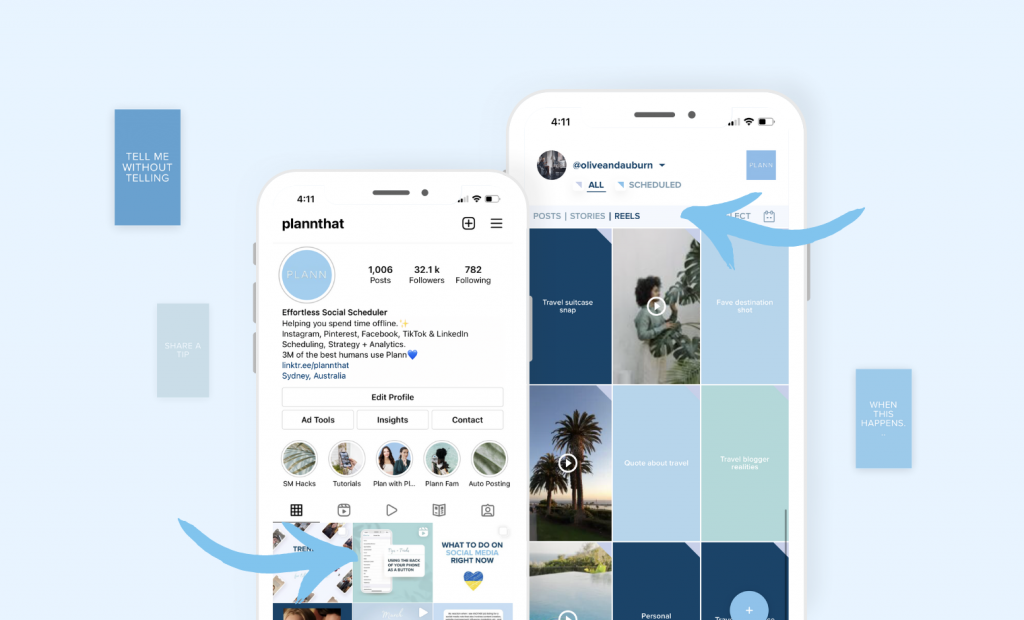 HOW DO I REPURPOSE VIDEO CONTENT FROM INSTAGRAM REELS TO TIKTOK WITH PLANN?
Watch our superstar Customer Success representative Ashley repurpose content across TikTok and Instagram.
On the Plann App
On Plann Desktop
These blogs might be helpful as well 😉
Step by step guide: How to repurpose TikTok to Instagram Reels
Step by step guide: How To Make a TikTok
WHEN I SCHEDULE VIDEOS TO INSTAGRAM REELS, WILL THEY AUTO-POST FOR ME?
Currently, Instagram does not support auto-post or analytics for Reels.
At the time you've selected to post your video, the Plann App will send you a friendly reminder to publish it to Instagram.
HOW DO I KNOW WHAT VIDEO CONTENT TO MAKE TO POST?
You'll find the latest trends and how you can use them to your advantage here.
Regularly updated, we're constantly scouring the best of social media trends so you don't have to.
WORKING WITH A TEAM?
When social media workflows are housed in each of the individual platforms, it can quickly become a nightmare for virtual assistants, team members or business partners to access work.
Upload unlimited video clips, links to trending audios and accounts into Plann and refer back to them at any time.
Plus, Instagram is notorious for deleting draft content and we wouldn't wish that on anyone.
Having one centralized location inside Plann makes working together a b-r-e-e-z-e.
AVAILABLE NOW WITH PLANN PLUS, YOU'LL ALSO GET:
– Auto-posting (and re-posting) across TikTok, Instagram, Facebook and LinkedIn social media platforms
– Unlimited media uploads and scheduling tools
– Custom events on your calendar to design your own content, editorial or brand schedule
– Unlimited hashtag sets (to auto-post in first comments)
– Advanced Instagram analytics
– Custom strategy tools to plan with intention
– Comments and mentions management to quickly respond and keep conversations flowing
– Free professional stock photos and videos for when you're short of content
GIFT PLANN TO YOUR FRIENDS, FAMILY OR FOLLOWERS <3
Gift your friends, family, or followers $10 off Plann with your unique referral link!
By using your unique link, you'll gift them a month of Plann free, PLUS, you'll get $10 Plann credit just for sharing a favorite tool.
Find your unique link in your Plann settings to gift the sunshine in someone's day.
HOW TO FIND YOUR UNIQUE REFERRAL LINK: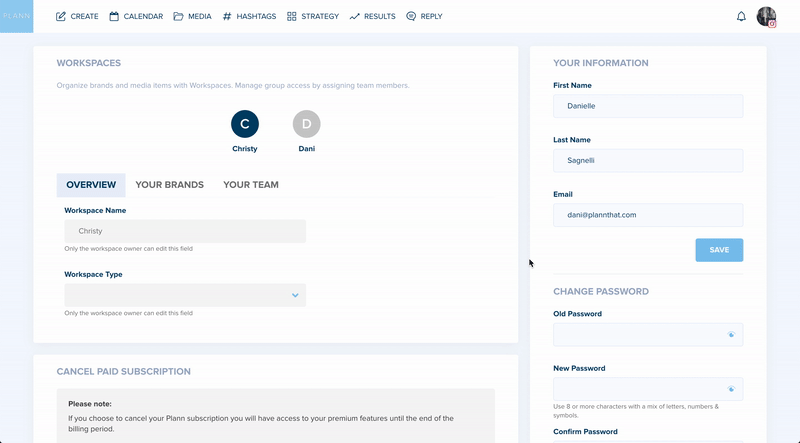 We genuinely love hearing from you and all of your ideas for Plann.
Reach out to the product team directly at feedback@plannthat.com
Christy Laurence
Plann Founder
@plannthat