We're excited to bring you Pinterest on iOS – making it even easier to schedule your content directly from your device. That's 5 of the biggest social media platforms on the go, anytime!
This means you'll be able to schedule single image pins and video pins from wherever you are, no matter if you're at your desk, working from a cafe, with your team, or taking a road trip.

Try Pinterest on iOS for yourself now →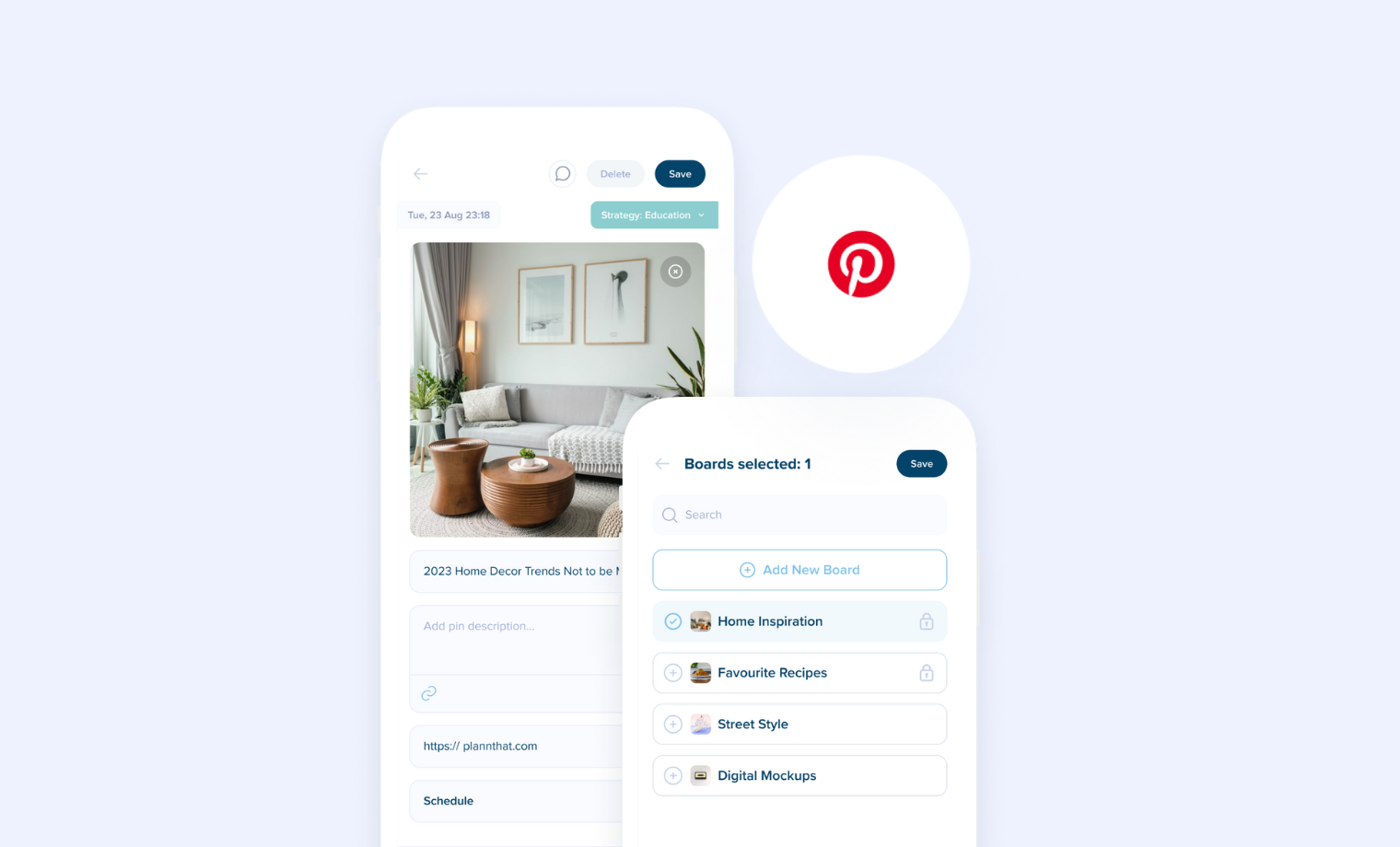 Why Pinterest?

Great news! Recent findings reveal that Pinterest is ranked as the 15th most-used social media platform worldwide, right up there with YouTube, Facebook, WhatsApp, and Instagram. With nearly 500 million active users every month and a growth rate of 7.5% year-over-year, Pinterest is one of the fastest-growing platforms around!
What's even more interesting is that almost half of Pinterest's users have an income of over $100k. This makes Pinterest a fantastic opportunity for social commerce as users explore the platform for products and trends from all over the world. Exciting times ahead!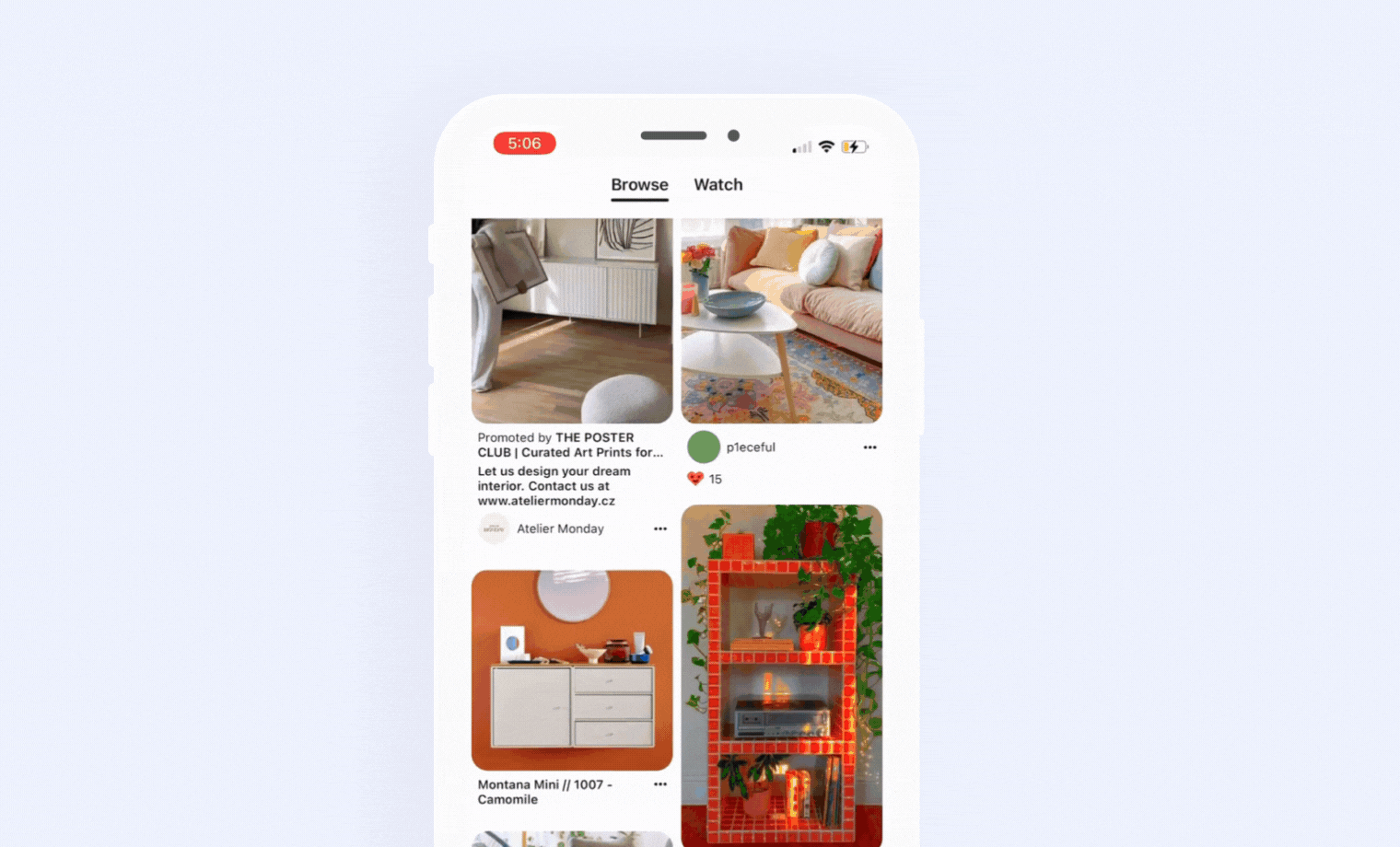 How Does Pinterest on Plann App Work?
If you have Pinterest connected to you Plann account already, you wont need to reconnect – your Pinterest profile will magically appear directly inside Plann.

To get started with Pinterest in your Plann account, simply connect via desktop or app, just like you would with any other platform. It's easy and quick!
You'll be able to add a title and description, as well as attach a link to your pins. When scheduling pins, you'll select which of your boards you want to publish to. If you don't have any boards created on Pinterest yet, you'll be given the option to create a board and choose whether it's public or private. Easy!
Check it out! Schedule your next pin with Pinterest on iOS →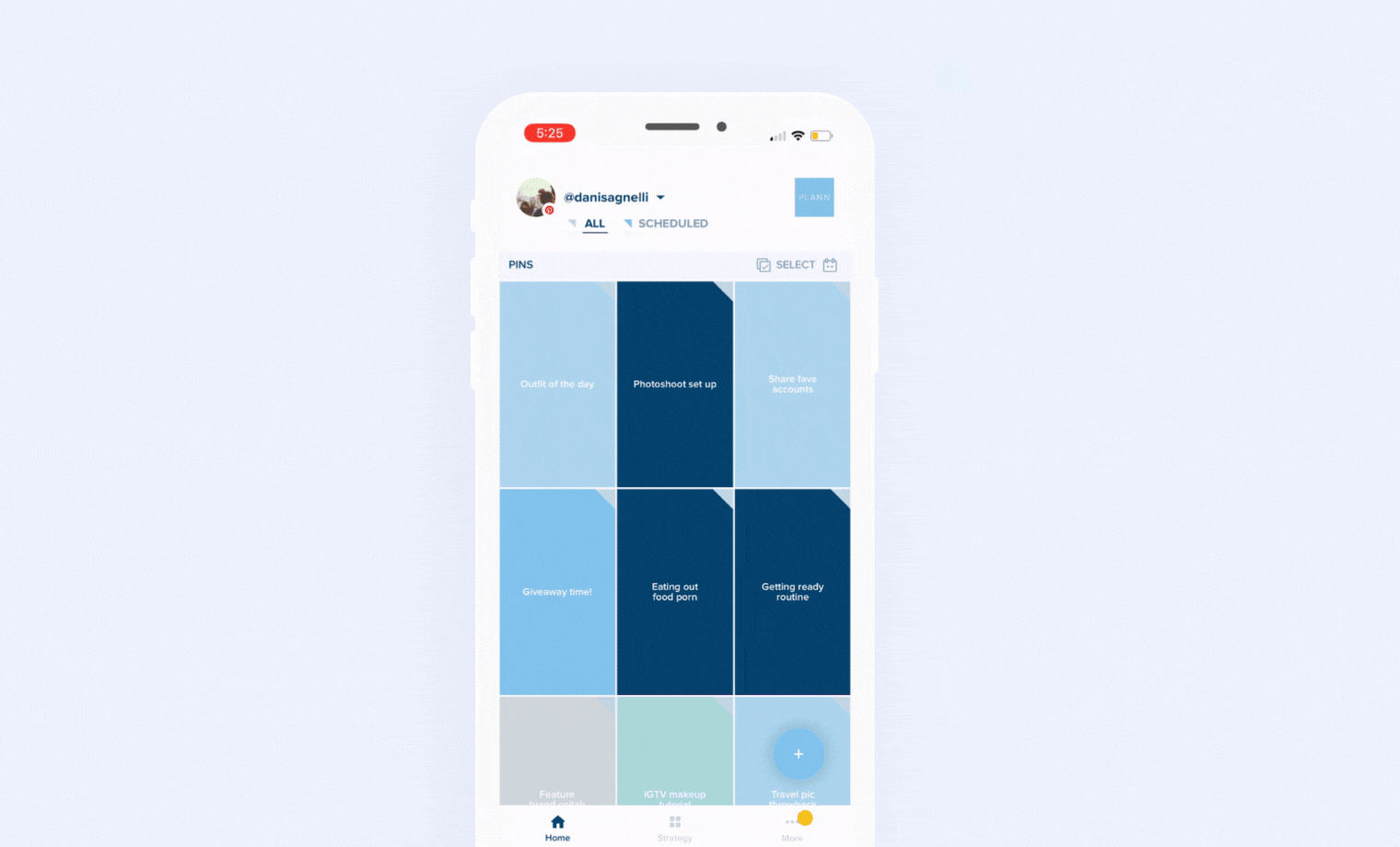 Work Together With Your Team!
If you're looking to schedule your Pinterest content, and all of your social platforms with a team, you're in luck! With our Plann app and desktop product syncing in real time, you can easily collaborate and streamline your workflow.

You can plan and schedule your pins in advance, making it super convenient and efficient. Plus, you can work together with your team, using features like team chat and approval flows, to ensure everyone is on the same page with all projects and deliverables.

With team chat, you can communicate with your team in real-time across platforms, making it easy to collaborate and share ideas. Approval flows allow you to get feedback and thoughts from team members before publishing, ensuring that your content meets high standards.
Plann can enhance your team's productivity and efficiency. It promotes seamless collaboration, minimizes miscommunication, and ensures that your Pinterest content is consistent and aligned with your team's goals!

What Are the Pinterest Auto Post Requirements?
Pinterst have a few requirements for automatically publishing Pinterest pins depending on whether you're scheduling image or video pins:
For Images:
• Format: PNG or JPEG
• File Size: 20MB
• Aspect Ratio: 1:1 or 2:3
For Videos:
• Container/Format: .mp4, .mov or .m4v
• Video Aspect Ratio: Shorter than 1.2 (width/height), taller than 1.91:1. It is recommended at Squre (1:1) or vertical (2-3 or 9-16)
• Video Duration: 4 seconds minimum, 15 minutes maximum
• File size: 2 GB maximum
• Encoding: H.264 or H.265
Give it a go! Upgrade to Plann Plus to Access Pinterest on iOS Now →
How do I Create a Pinterest Strategy?
The first step to building a pinterest strategy, is to focus on branding your profile. You want to make sure you have a business account, so that you have access to all the business tools like analytics. This also includes personalizing your coverboard, profile photo, writing a strong bio profile and verifying your website.
The second area to look at is your content strategy – this is the content you are looking to build on Pinterest and making sure this aligns with your target audience. With ecommerce businesses for example, product pins will work very well, for other businesses – it could be blog posts or infographics.
Choosing your content strategy is important as Pinterest is a major shopping driver for discovery with 72% of Pinners saying they are inspired to shop when browsing the platform, even when they weren't even intending to shop!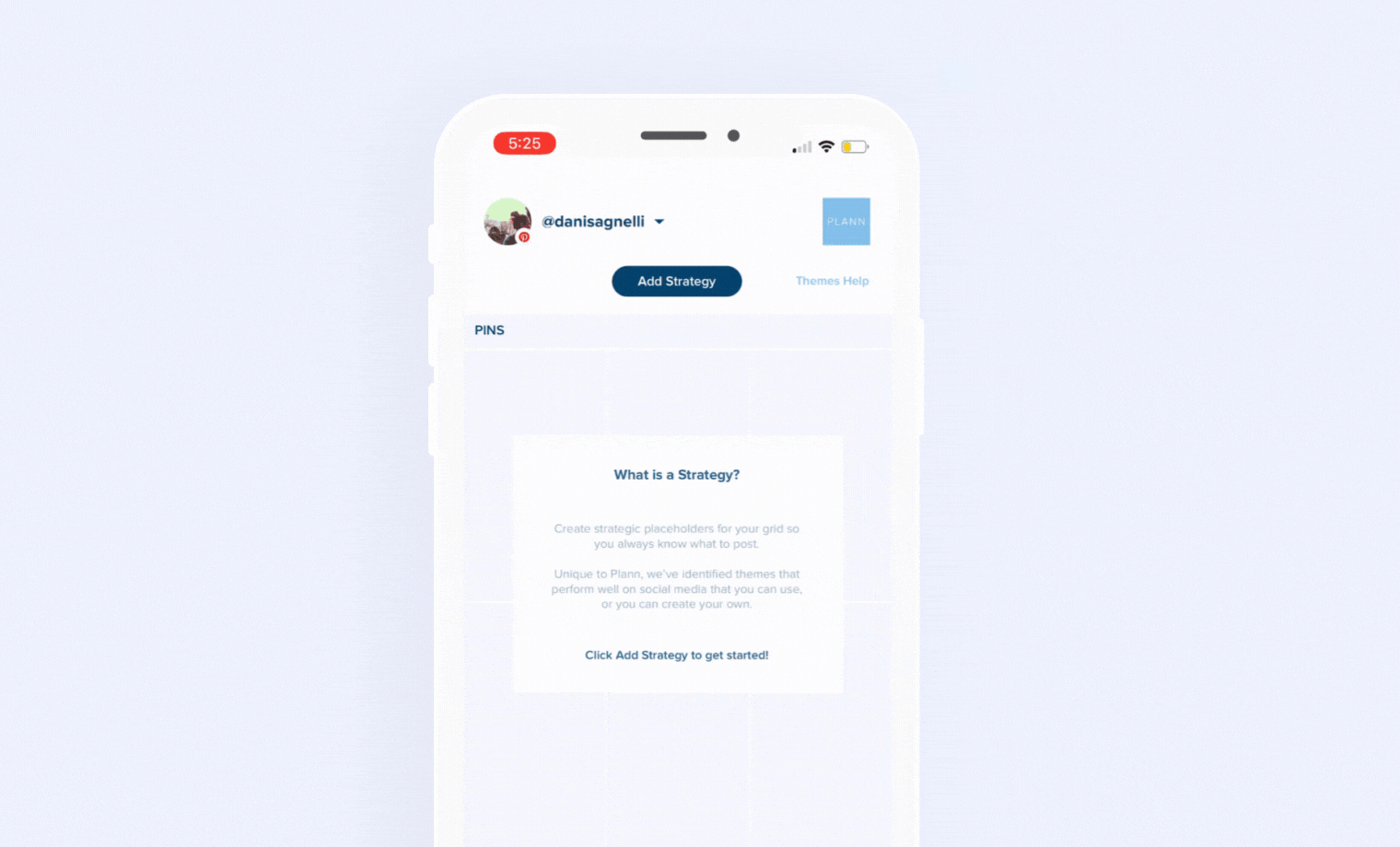 As a visual search engine, the next area to look at is optimizing SEO to increase discovery. This means strategically choosing the keywords you use in your bio, pins and board descriptions, and making sure they are the most popular in your industry or niche. Make sure not to keyword stuff (adding a whole heap of words, which looks messy), but be thoughtful about the keywords to ensure it makes sense and adds to the professionalism of your profile.
Finally, the last few steps are all about making sure to share fresh content regularly to keep your audience engaged and growing. With Plann, you can automate and schedule content for Pinterest, helping you to create more content, more regularly and improve the quality of your content with our in-built strategic tooling like curated hashtags, ready-made templates, auto posting and more.
Don't forget that we have also introduced team chat and approval flows, so you can work on your Pinterest strategy as a team, keep your communication in one place, and have a dedicated chat for your content – this is especially handy if you're collaborating on multiple pins!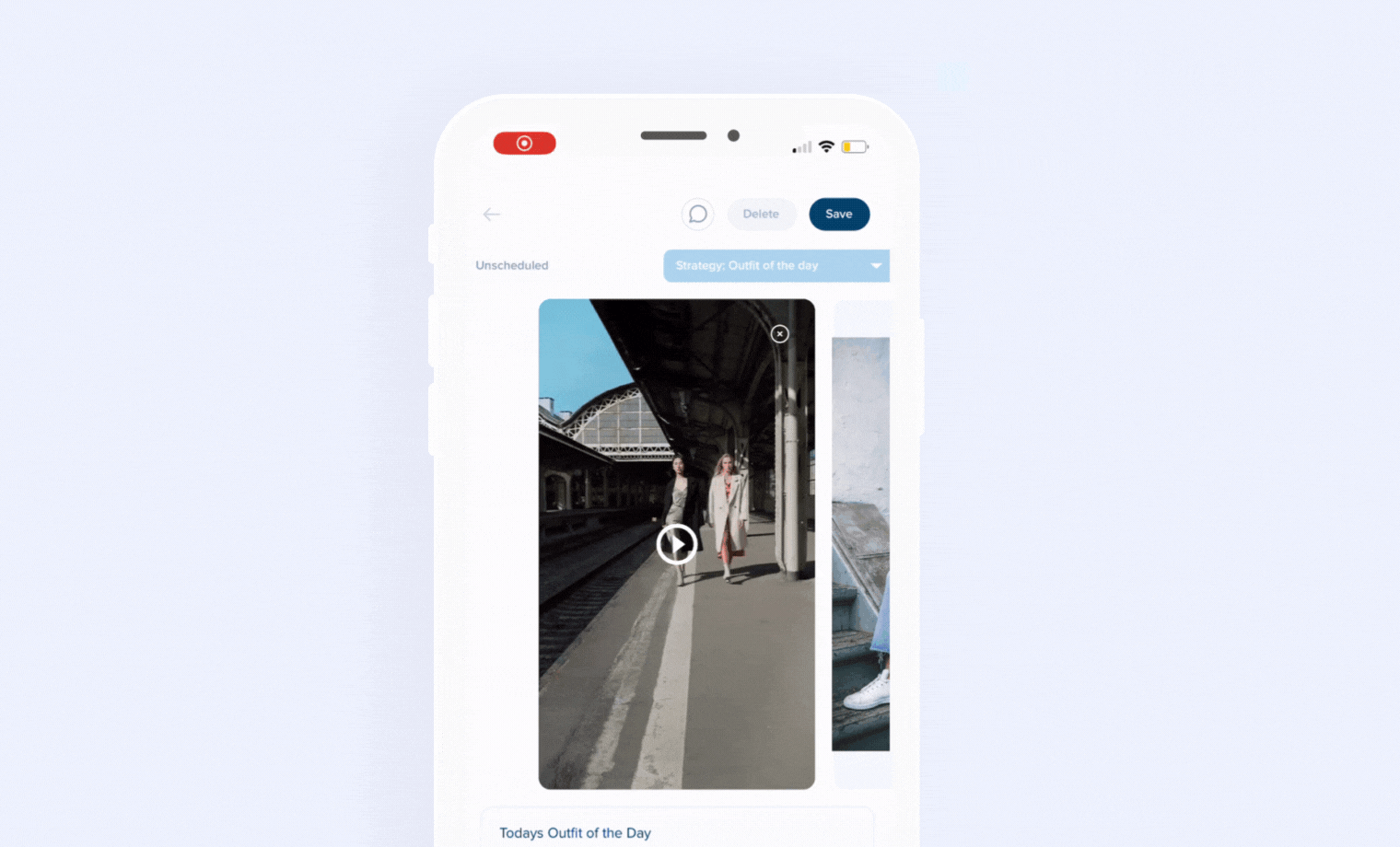 Pinterest on iOS is Automatically Part of Plann Plus!
Pinterest on Plann iOS is already included with all Plann Plus subscriptions, so If you're already a Plann Plus (paid) community member, you can access Pinterest straight away on the Plann app!

Simply login to your Plann account and you'll find Pinterest there ready for you to create and schedule your content on mobile and desktop.

If you're currently on our Free Forever plan and would like to leverage Pinterest scheduling on desktop + app for your business or personal brand, simply upgrade to any of our paid options and you can get started straight away! See which plan is right for you →
Gift Plann to your friends, family or followers <3

Gift your friends, family, or followers $10 off Plann with your unique referral link!
By using your unique link, you'll gift them a month of Plann free, PLUS, you'll get $10 Plann credit just for sharing a favorite tool.
Find your unique link in your Plann settings to gift the sunshine in someone's day
HOW TO FIND YOUR UNIQUE REFERRAL LINK: