It's no secret that Instagram changes its app as often as some of us change our toothbrushes. It can feel like just when you've got your head around one feature, they turn around and shake things up again. Hey, what can we say — the tech world moves fast and they certainly keep us on our toes!
The good news is, with Plann being at the forefront of all things Instagram, we often have the insider's scoop on these changes before they happen. That means we can keep YOU, our lovely Plann'rs, in the loop about the latest Instagram updates. That way, not only will you be able to confidently use these cool new features to grow your following, you'll also be able to tell all your friends about them and look like a total #techwhiz.
So, without further ado, read on for 8 new Instagram updates that need to be on your radar — and what they'll actually mean for you.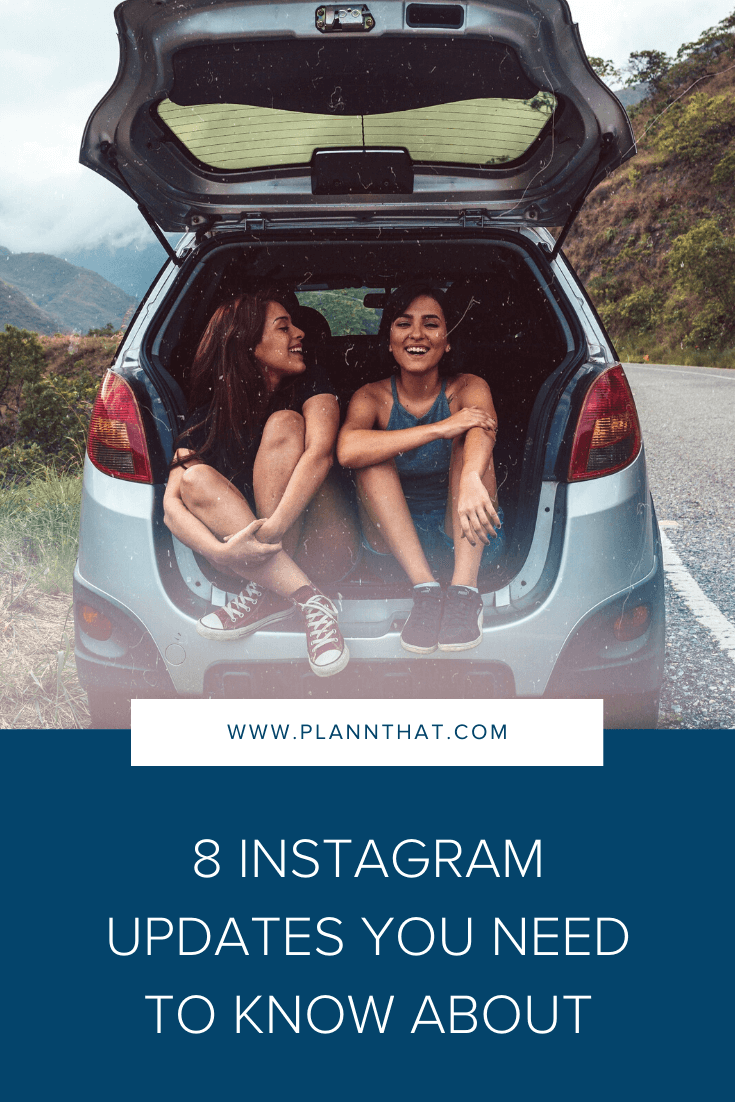 1. Filter your following
You know the expression 'it's about quality over quantity'? It's incredibly true when it comes to your Instagram following (and, of course, your followers!) There's no point bulk following accounts whose content you have no interest in actually engaging with.
Not only does it mean your newsfeed will be clogged up with content you don't particularly care about (like, who is @misscatz1973 and WHY am I seeing her blurry picture of a sunset with her finger over the lens?) but it can affect your engagement rate. That said if you've gone on a cheeky bulk-follow spree in the past (hey, no judgement here!), it can be kind of hard to cull.
That's where this new Instagram feature comes in! As of February, you can now access 'following categories' that filter your 'following' list into the users you've seen in your feed most, and the ones you interact with the least, over the last 90 days. This gives you a super-easy way to clean up your feed and ensure you're only seeing the content you actually want to see. This works for both personal and business accounts, and you can access it by tapping on your 'following' feed.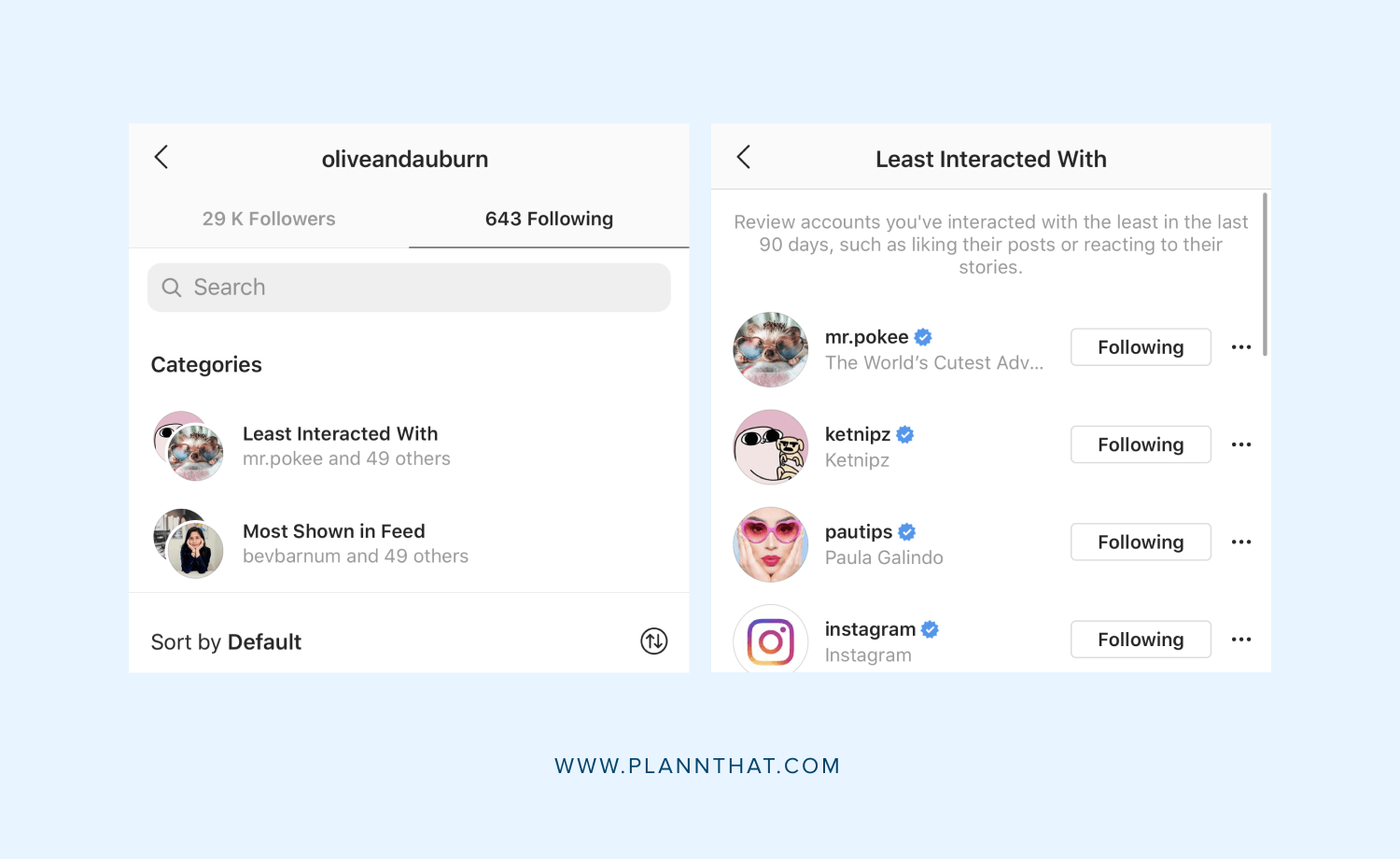 In a statement about the new update, Instagram said: "Instagram is really about bringing you closer to the people and things you care about – but we know that over time, your interests and relationships can evolve and change. We want to make it easier to manage the accounts you follow on Instagram so that they best represent your current connections and interests."
In other words, the more relevant and appealing your feed is, the more time you're going to spend on the app. But hey, we're here for it! There's no news on whether the same feature will be introduced to your 'followers' feed, but here's hoping! Because it would be an incredibly useful feature for rewarding your most engaged followers and reengaging those who have dropped off the face of the earth.
2. Respond to stories with GIFS
Let's be real — there aren't many things you can't say with a GIF. Feeling super busy and overwhelmed? A GIF of Spongebob Squarepants with five arms juggling different tasks will do the trick. Celebrating a friend's win? A dancing cat GIF seems to be in order. That's why we're super excited about Instagram's new feature that allows you reply to Instagram stories with a GIF. The cool new update pulls from GIPHY's extensive GIF library to get your (visual) message across.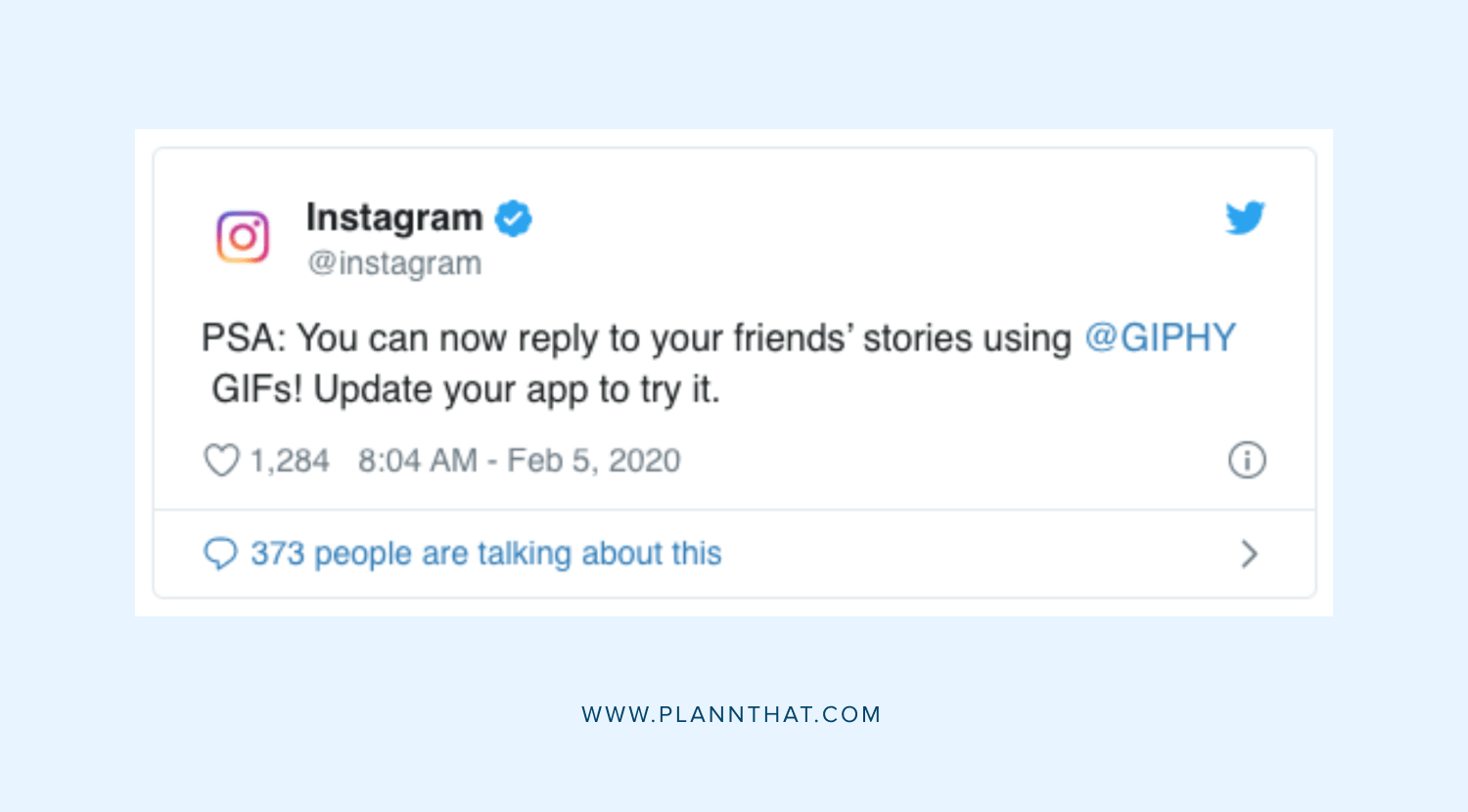 To use this feature, make sure you've updated your Instagram app, then go in to reply to a friend's story. Click on the little 'GIF' icon on the right-hand side and voila, you've got access to thousands of GIFs for any occasion! You can even type to search, if you're looking for something specific. While this new feature isn't exactly reinventing the wheel, it definitely makes replying to stories even more fun!
3. Sort your DMs in tabs
Okay, so this isn't the newest Instagram feature — but it might be one that's escaped your attention, or that still you're kinda scratching your noggin about.
In May last year, Instagram introduced 'professional' and 'creator' accounts that sorts your DMs into two different tabs — primary and general. This is designed to make it easier to organise and respond to messages.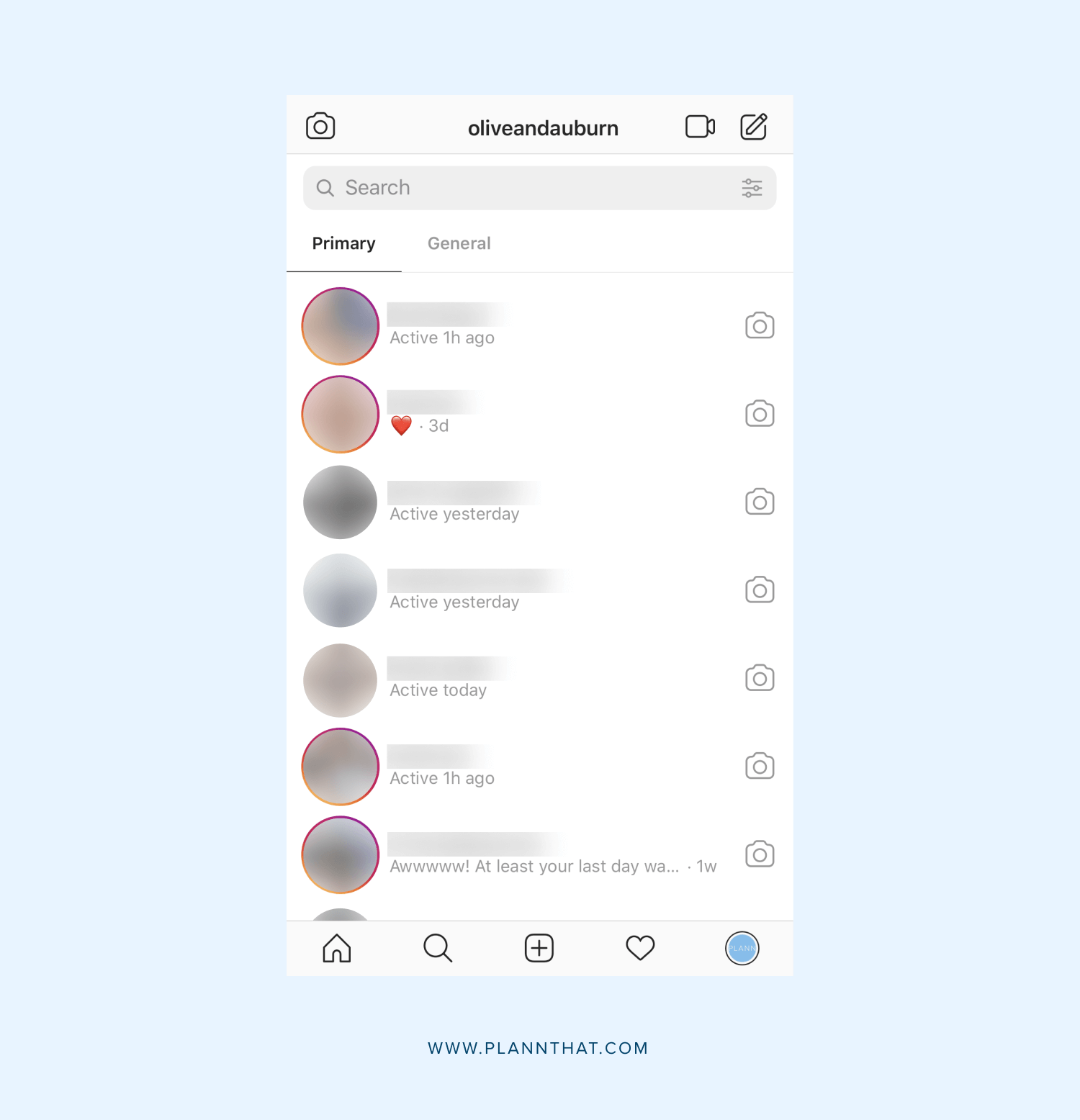 But, what's the difference between general and primary inboxes, exactly? Essentially, the 'primary 'messages are the messages you want to see first. All messages will appear in 'primary' by default, but you can swipe them to move them to 'general' if you'd prefer to deal with them later. Once in 'general,' you won't get notifications for this message anymore (ideal for if someone has been hounding you, but you haven't thought of the perfect response yet!)
If you don't have this feature and would like to use it, you can go to your settings and switch your account to professional — or 'creator' if you have that available.
4. Create and use Instagram story filters
Ever watched someone's story where they have pretty sparkles or flowers on their faces and wondered where the heck they got those? They're called AR filters, and you can use 'em too — and even create them for your own brand! These are computer-generated effects that layer over the top of images taken on your camera.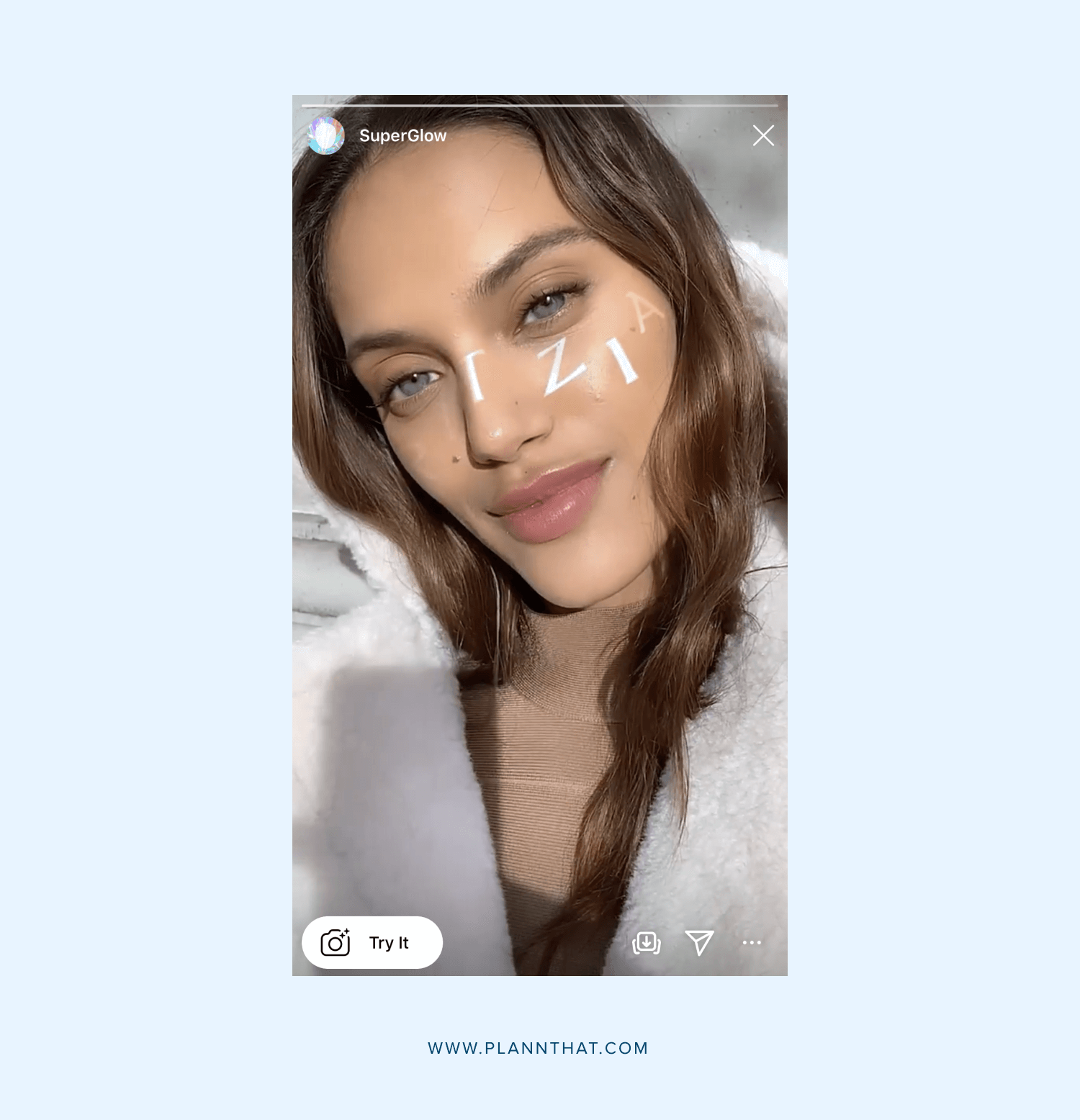 In late last year, Facebook rolled out the beta of Spark AR (augmented reality) studio and allowed artists and content creators to start creating their own interactive filters. Now, they've hit the mainstream and are much easier to use and create. Here's how:
To use AR filters: If you've seen a story filter you like the look of, you can tap the name of the creator. Then, on their profile, find the little icon of a face with sparkles on it. Tap on the filter, then you can either click 'try it' to roadtest it in story mode or save it to your phone. Once here, you can also click 'browse' effects to see other popular AR filters in categories including 'selfies,' 'love' and 'color and light.' Instagram also has its own range of AR filters you can play with from within story mode.
To make your own AR filters: You can now download Spark AR Studio for yourself to create your own AR filters for your brand. These can be an awesome way to increase brand awareness and reach, as it means other people can post stories with your filter (and name!) on it.
In the Spark AR Studio, you can choose from a couple of templates, including 'world object' (putting a 3D object in your filter), 'background filter' and 'color.' These can be a bit tricky to get the hang of if it's your first time working with AR, but the tutorials in their learning centre will walk you through it. Once you've created your filter and its passed AR Spark's policies and guidelines, you can publish it to Instagram through the app.
5. Prompt story engagement with comment stickers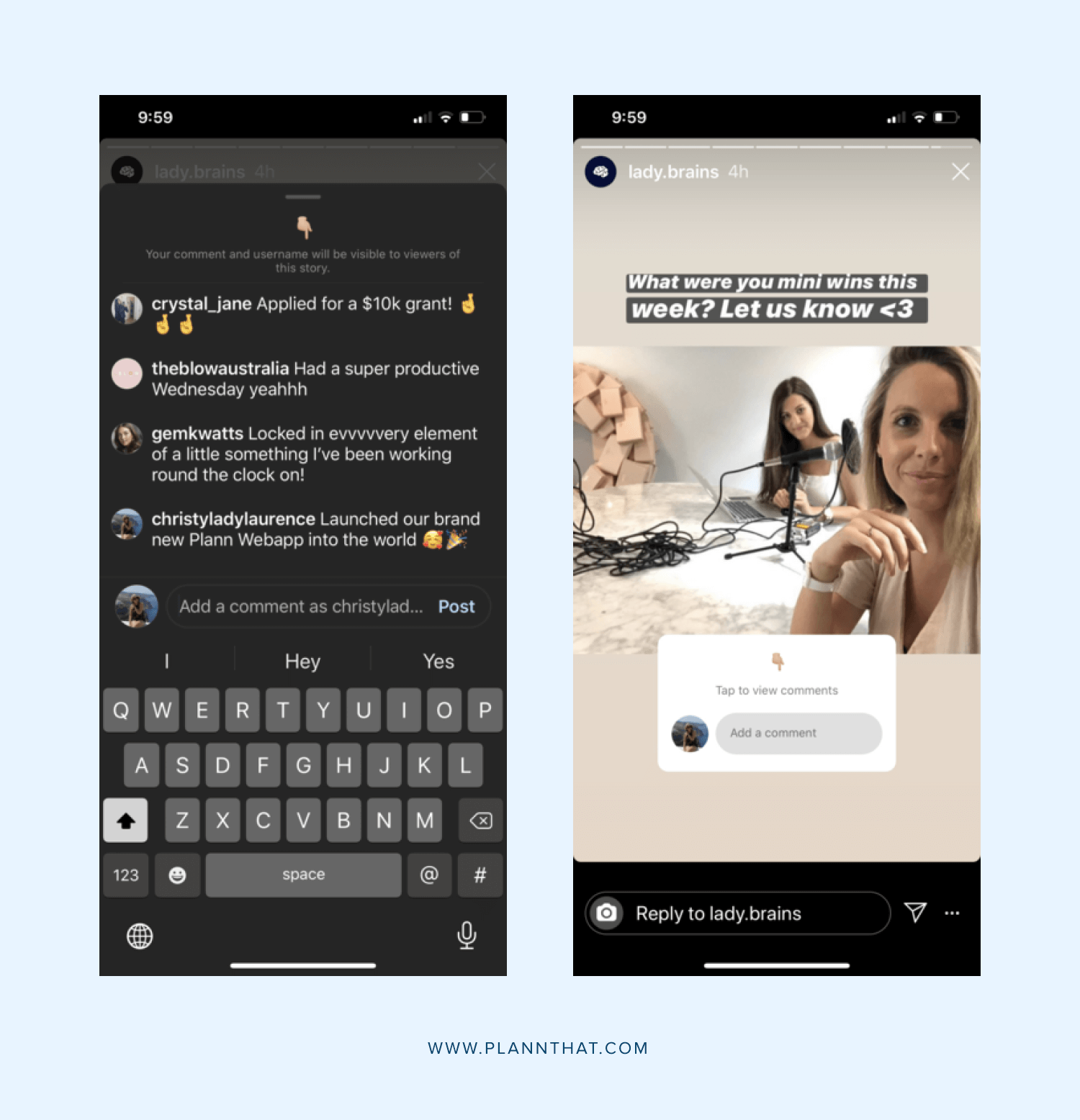 Thought 'comments' were only for feed posts? Think again! Instagram recently released a new 'comment' sticker that makes it easy to supercharge your story engagement. By adding this sticker to your Instagram stories, you can ask them for their answers, feedback or opinions, Then, viewers of your story will be able to see their answers! So, it's basically like being able to stalk comments on your feed — but, on your stories! Like the older 'poll' and 'question' stickers, it's an awesome way to start conversations around your content. So far, this feature only seems to be available on personal accounts, so you may need to keep your eyes peeled or do the switcheroo if you have a professional account.
6. Monetize your IGTV
Instagram's in-built video platform IGTV has gone absolutely gangbusters over the last few months, with 8 million downloads of the standalone app so far. So, it was only a matter of time before influencers and creators jumped on IGTV another way to monetise their following! It seems Instagram is about to introduce an easy way to do this, thanks to a new update that's on the cards.
Last month, Instagram confirmed to TechCrunch that they're working for a prototype for an IGTV partner program that would allow creators to earn money through views. Much like YouTube, this would involve showing advertisements alongside the videos. This is an exciting prospect that would not only help influencers to offset some of their production costs (and hopefully earn some profit, cha-ching!) but also allow brands to get their product in front of their target audience in a new way.
So far, we don't know much about when this will launch and how it will all work. But given Instagram is owned by Facebook, it's possible the revenue split will work in a similar way to Facebook watch where the creator takes 55% of the profit. In the meantime, it seems that many savvy influencers are already using IGTV to monetise by working directly with brands on sponsored content — Instagram recently released a 'sponsored content' tag for IGTV.
7. Direct message and heart switcheroo
You may have noticed things looking a little topsy-turvy in the layout of your account recently. The heart icon now sits in all of its precious glory in the top right of your screen, while the paper plane direct message has moved to front and centre at the bottom, just a cheeky finger-spasm tap away from the post icon. It has taken our twitchy fingers a hot-minute to get used to, but now we're all on board with the change. Considering we're all now shooting off messages willy nilly, it's great to not have to overstretch those thumbs to get to our DMs! Will we even need our email inboxes in the future?!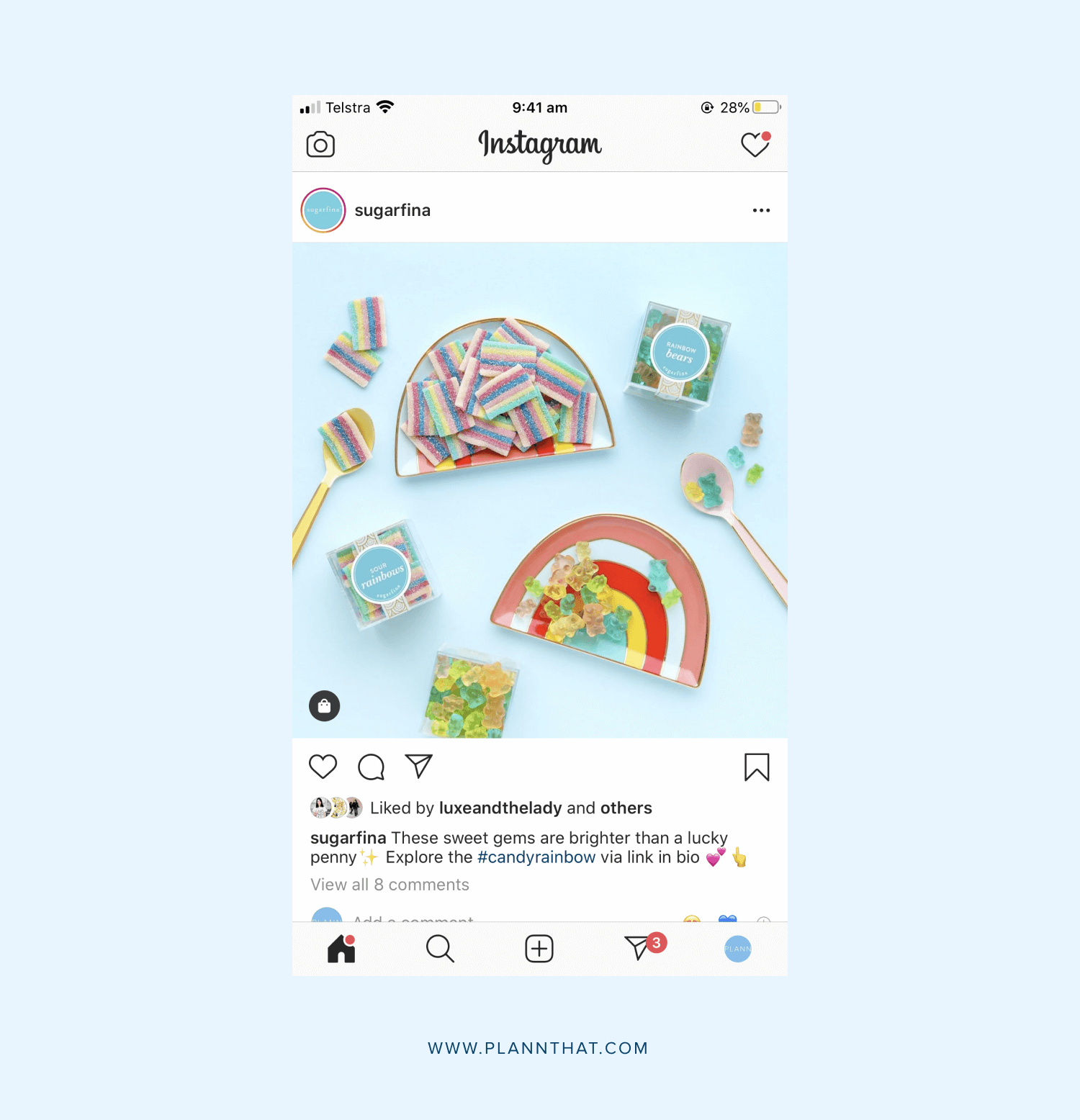 8. The return of the chronological feed?
Ah, the chronological feed of pre-2016 Instagram. For some, (cough, creators and brands!) it's a warm memory of a simpler time where they didn't have to fight with the Instagram algorithm content to get their content seen. For others, it feels about as outdated and inconvenient as dial-up internet! But whether you like or loathe the chronological feed, it seems it may (potentially) be making a comeback.
Rumours started swirling when eagle-eyed developer Jane Manchum Wong noticed something interesting in Instagram's source code. It was a feature that allows you to see your 'latest posts' on your feed. According to Jane's research, the feature would appear when you open a message on the app that says "Welcome Back! Get caught up on the posts from [names of accounts you follow] and X others". From there, you would click 'see posts', which would take you to a screen where you see the most recent feed posts of people you're following. You'd also have the option to tap 'Not Now' and return to the standard home page.
Now, unfortunately, Instagram has addressed the rumoured update, saying that it's just a prototype and they have no current plans to release it. But, just for the record, we'd be totally down with it if they did — especially as it seems like we'd get options for both chronological and algorithm-based feeds!
Love cool, new things? We've got an awesome one for you — we just relaunched our new and improved Plann app! Download now or upgrade your app to roadtest all the shiny new features for free!
Stay up-to-date with the latest Instagram news by signing up to our updates.