TikTok has been a total game-changer in the social media space. Not only has it revolutionized the way brands engage with their followers through video content, but it has opened the door to exciting new organic reach opportunities.
With over 1 billion monthly users worldwide, businesses are recognizing the potential of TikTok for marketing and brand promotion. As a result, the competition for user attention has become increasingly fierce.
To stand out and attract more TikTok followers, businesses must implement effective TikTok hacks to increase engagement and drive conversions. Keep reading to discover seven proven ways to reach new audiences, boost engagement and drive meaningful results on TikTok.
How To Calculate Engagement Rate on TikTok?
Measuring your engagement rate is an effective way to evaluate how your audience interacts with your content. It provides insights into the level of engagement that your content generates through actions like likes, comments, shares, and other reactions.
To determine your TikTok engagement rate, you can calculate the average number of engagements per video based on the total views. Calculating your engagement rate on TikTok is a straightforward process.
TikTok Engagement Rate = [(Total Number of Likes + Comments + Shares)/Total Number of Views] * 100
Regularly tracking your engagement rate helps you gain valuable insights and improve your content's performance.
7 Proven Hacks to Boost TikTok Engagement
1. Save TikTok Videos Without a Watermark
TikTok videos can be an excellent way to promote your business on other social media platforms. However, the TikTok watermark can be distracting and can take away from your brand image.
Ready to repurpose your content? Saving TikTok videos without a watermark is a great way to share content on other platforms like Instagram or YouTube. Here's how you can do it:
1. Find the TikTok video you want to download.
2. Click on the "Share" icon located on the right side of the screen.
3. Tap on "Save Video" to download the video to your device.
4. Next, go to a website that offers a free TikTok video downloader tool without a watermark.
5. Paste the TikTok video link into the downloader tool and select the video quality.
6. Finally, click on the download button and wait for the download to complete. That's it! Now you can repurpose and share your TikTok content without any distracting watermarks.
2. Use Trending and Niche-specific Hashtags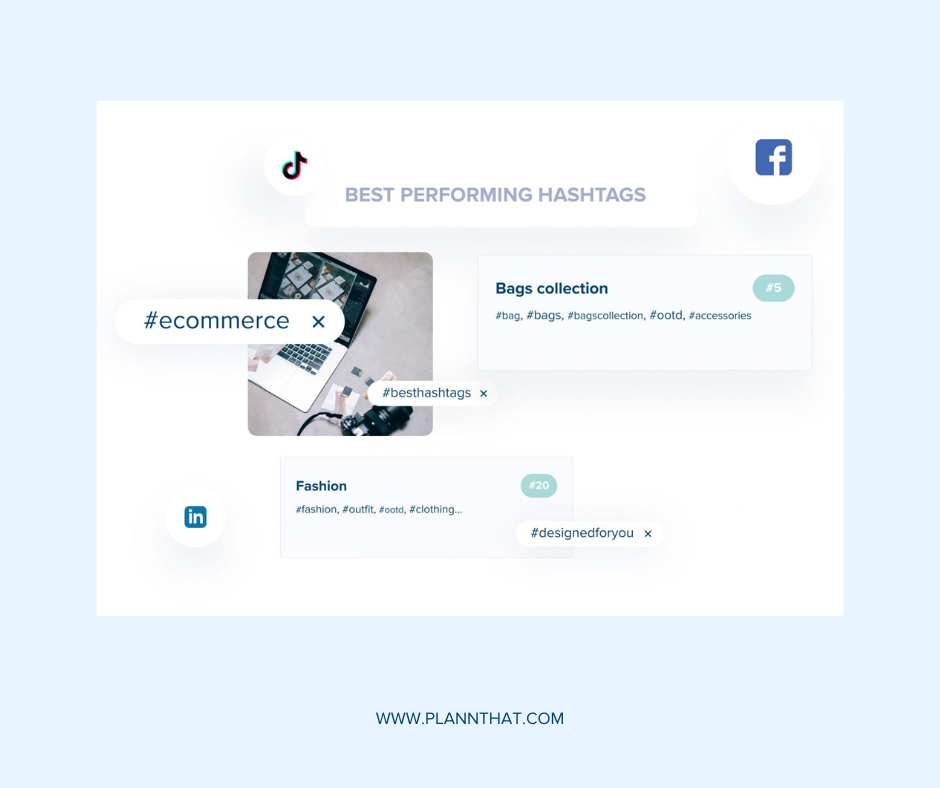 Hashtags play a significant role in increasing engagement on TikTok. By using trending and niche-specific hashtags, you can reach a broader audience interested in your content.
Trending hashtags are the ones that are currently popular on TikTok, while niche-specific hashtags relate to a particular industry or topic. By using a combination of both, you can maximize your TikTok engagement.
Did you know that you can discover thousands of handpicked, high-performing hashtags on Plann? Our hashtag manager tool allows you to search, save and effortlessly add hashtags to your captions when scheduling your TikTok.
3. Tag Users in Your Caption
Tagging other users in your captions is a simple yet effective way to increase visibility and reach on TikTok. By tagging other users, you can draw attention to your content and potentially reach a wider audience.
However, it's essential to tag relevant users and not spam them with tags irrelevant to the content. If you tag inapplicable users or tag too many users, it can be seen as spammy behavior and hurt your engagement rate.
4. Post at Peak Hours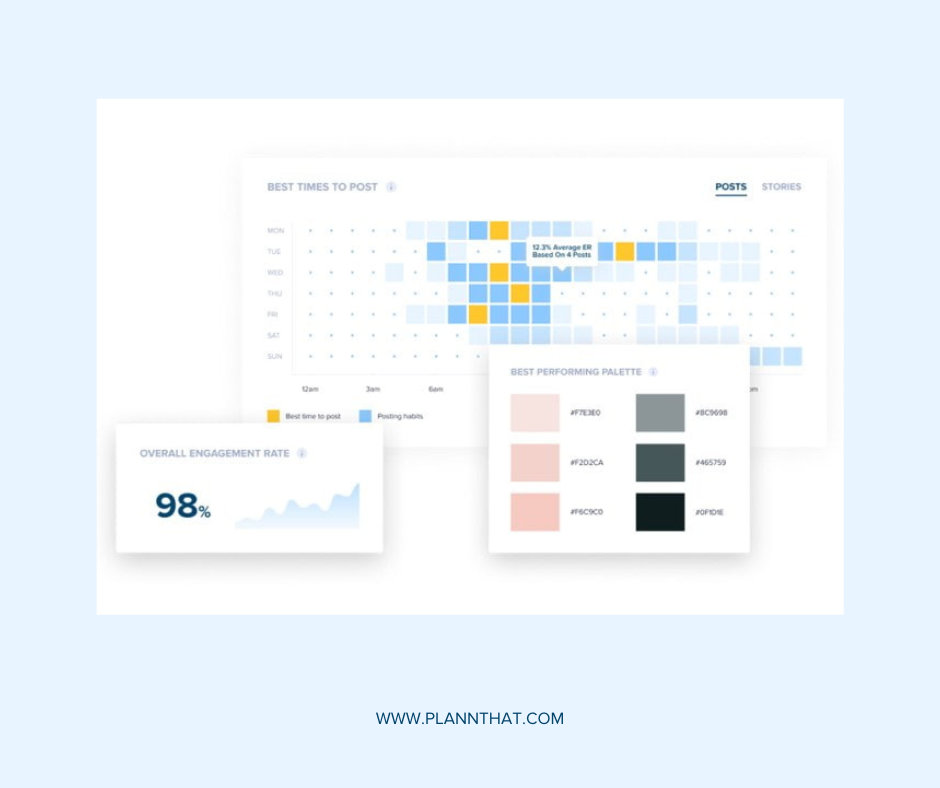 Timing is crucial when it comes to TikTok engagement. Posting your videos at peak hours, when your target audience is most active, will increase your chances of getting more views, likes, and comments. You can use TikTok's analytics to identify your peak posting hours and optimize your posting schedule accordingly.
According to research by SocialPilot, the best time to post on TikTok is 6 am to 10 am in the morning and 7 pm to 11 pm in the evening. Along with this, the best days to post are Tuesday, Thursday, and Friday.
With Plann's advanced analytics, you can pinpoint your best posting times and schedule your TikTok content to go live during these peak hours.
5. Creating playlists
Creating playlists can increase your TikTok engagement by making it easier for users to discover and view your content. You can create playlists based on themes or topics related to your business, making it easier for users to find content that interests them. This can also increase the time users spend on your profile, increasing your engagement rate.
The fastest method to create a playlist on TikTok is "press and hold a video of yours > Add to playlist > create a playlist." However, the playlist feautre is only available to TikTok users with at least 10,000 followers.
6. Engage With Your Audience
Engaging with your audience is like conversing with your friends – it's a two-way street. If you want your audience to keep returning for more, you must show them that you care.
Responding to comments, hosting Q&A sessions, and encouraging user input are all ways to build a relationship with your audience. When you respond to comments, you show appreciation for your audience's interest in your content.
Hosting Q&A sessions is an excellent opportunity for them to ask you questions directly, and for you to share more about your brand or products. This shows that you value their input and are willing to listen to their feedback.
7. Jump on Trends
View this post on Instagram
TikTok is known for its viral trends and challenges, and jumping on these trends can increase your TikTok engagement.
Using trending audios, hashtags, or challenges, you can create content that resonates with your target audience, increasing your chances of going viral.
Use Plann's trending audio articles to identify popular audio and incorporate them into your videos.
With these powerful and effective hacks, boost your engagement rate, attract more TikTok followers, and build a loyal following on the platform.
Ready to boost your engagement TikTok?
Put your new knowledge into action and elevate your TikTok strategy with Plann. Not only can you map out your strategy in advance, but you can easily upload and auto-post your TikTok content through your Plann workspace.
What are you waiting for? Sign up for a 7-day free trial of Plann Pro and skyrocket your success on TikTok.