Once upon a time, keeping up with trends meant buying a new pair of skinny jeans and wearing only the coolest shoes to school. In today's world of social media marketing, the words 'trending on TikTok' are every bit as important.
But why does it matter what's trending, and how can you find new TikTok trends and Reels trends to take part in?
Consider this your step-by-step guide to finding trending content on Instagram and TikTok so that you can join in and stand out!
Why TikTok and Reels Trends Matter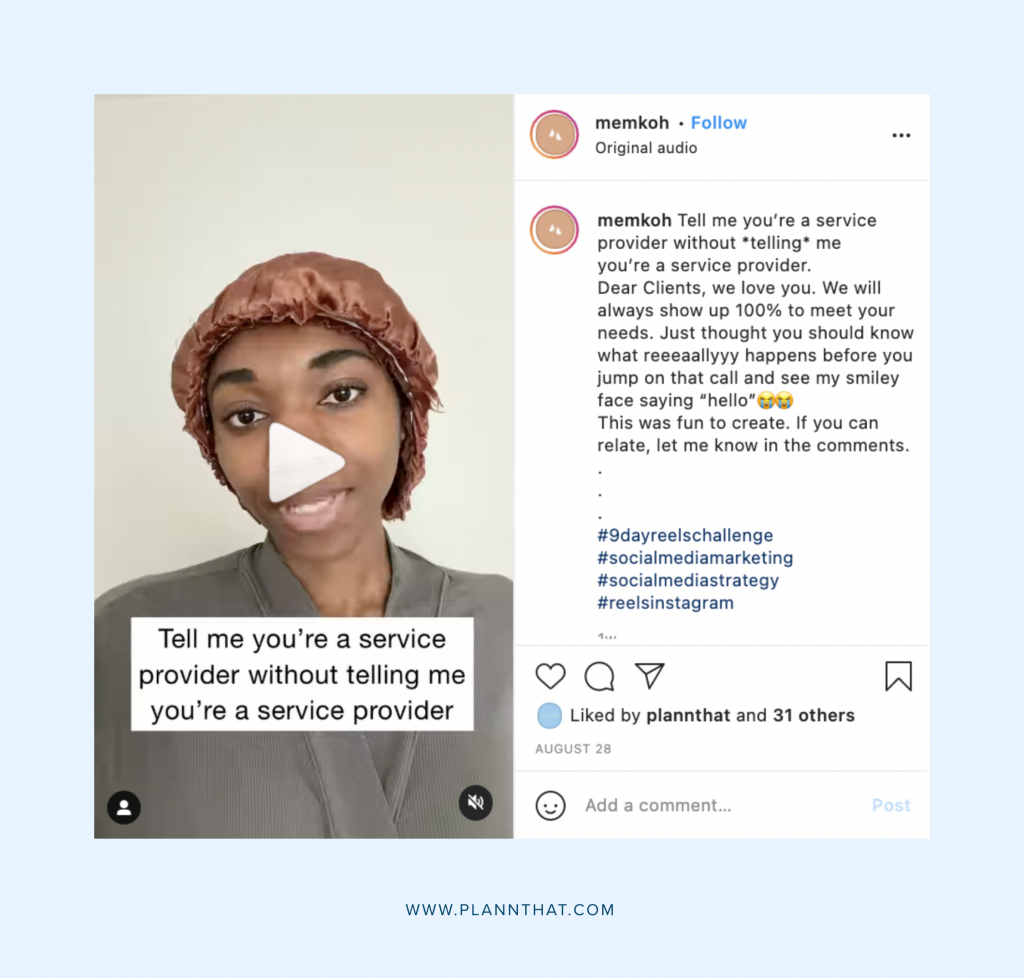 Much like our high school days, the first step to succeeding on social media is knowing what's popular and how to be a part of it. But there's a little more to it than that (and don't worry, it's nowhere near as cliquey!)
On social media, trending content is full of marketing potential.
Trends draw large audiences of highly engaged people. Algorithms recognize popular trends and prioritize on-trend content. By getting involved, you can boost your reach and begin to grow your account.
On TikTok and Instagram, trends change quickly, and it can be easy to lose track. So how can you find out what's trending right now?
Types of Trending Content on TikTok and Reels
There are several different types of social media video trends, meaning that there are always new ways to be a part of the popularity boom.
Trending content types include:
1. Audio trends
Instagram and TikTok trending sounds offer plenty of scope for creativity. Save popular audio clips to use as soundtracks for your own videos.
2. Hashtag trends
Hashtags are a discoverability staple. On TikTok especially, using popular hashtags alongside smaller, lower-competition tags can help you reach more people.
3. Effects trends
Instagram and TikTok are well known for their effects, which range from beautifying filters to interactive games. Trending effects are a headstart for popularity.
Where to find new TikTok and Reels trends
On Instagram: Visit the Explore Page
Instagram's Explore page is a great place to begin your search for social media trends (and discover new accounts in the process!).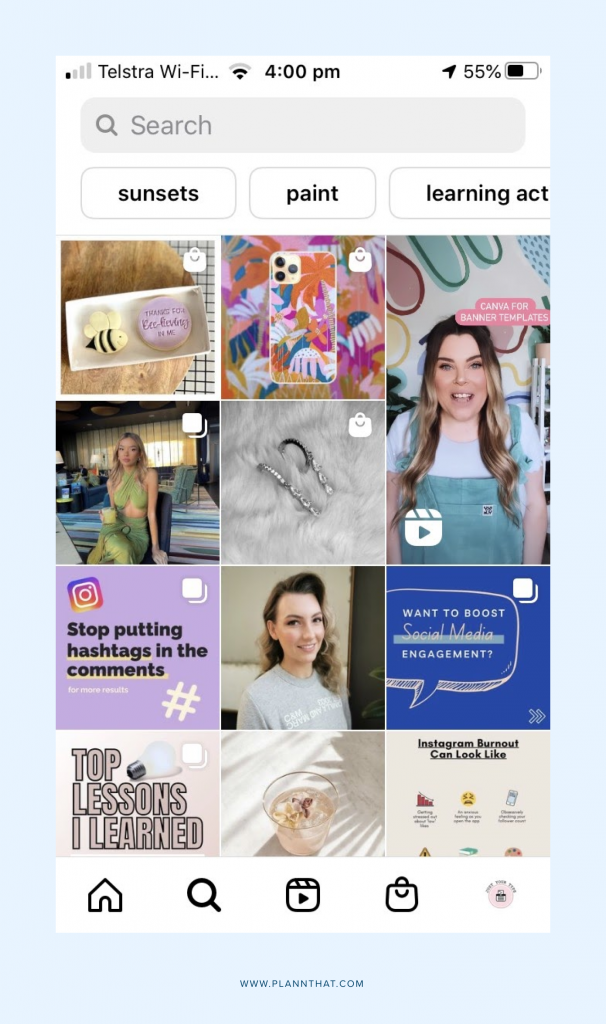 Controlled by the Instagram algorithm, the Explore page displays popular posts from accounts that generate high levels of user engagement. Checking out the competition is a sure-fire way to start learning from the social media greats!
On Instagram, video content is on the rise, with Reels offering far greater reach and discovery opportunities than still-image posts.
To make the most of every chance to build your online community and be looked upon favorably by the (often confusing) Instagram algorithm, it's a good idea to take part in Reels trends when they're at peak popularity.
On TikTok: Visit the Trending Page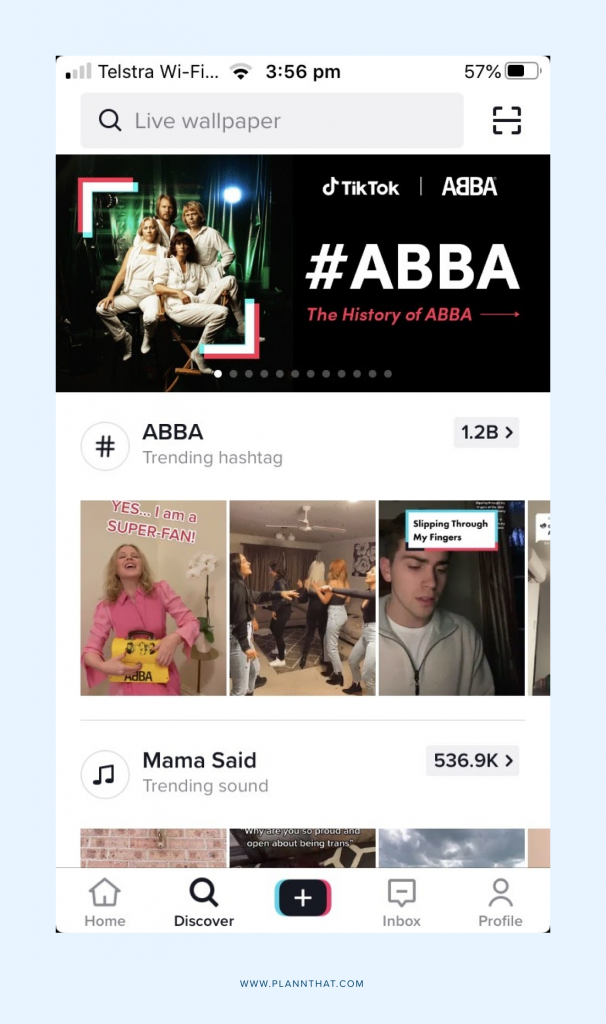 Finding trends on TikTok couldn't be easier! The app offers users plenty of information to help drive trends forward.
TikTok relies on data-focused algorithms to decide which content is likely to attract engaged audiences. In the interest of keeping users on the app (and away from the competition – Instagram), TikTok rewards accounts that use trending sounds, hashtags, and effects, making it worth your while to get on board.
On TikTok, the Discover page is a great resource, displaying a range of current trends and allowing you to see how other creators are interpreting them. You can find content from global users, easily spotting how many times the trend has been used so far.
Like Instagram's Explore page, the TikTok trending feature is a key method of account discovery, helping users find popular videos from accounts they're not yet following. Hop on current TikTok trends, and your account might even earn a feature!
Watch Videos by Other Creators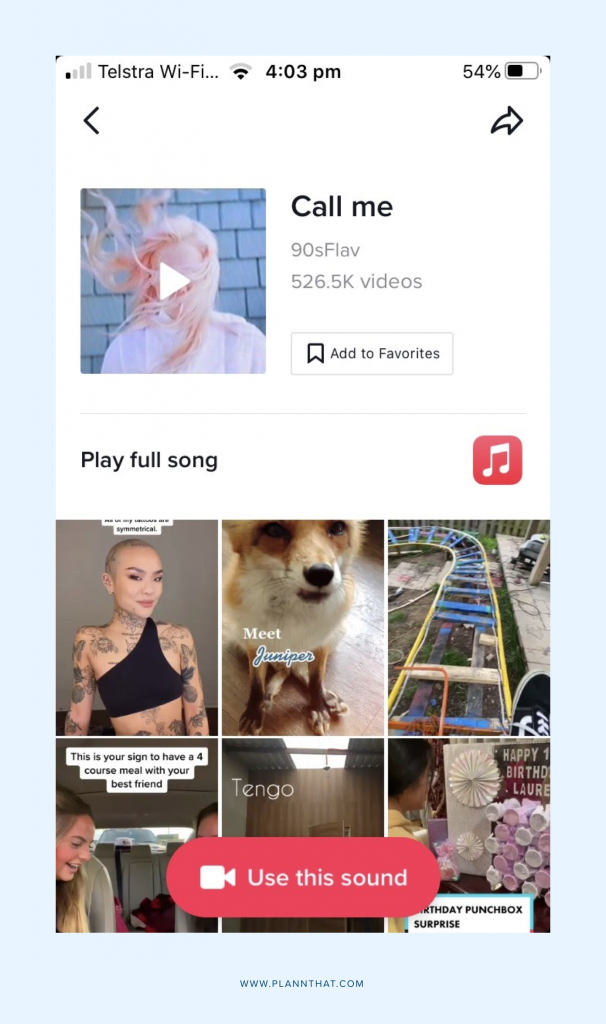 Central to any social media strategy should be a strong awareness of what your competition is up to.
On both Instagram and TikTok, watching videos by other creators is a great way to identify trends and brainstorm content ideas. This is especially helpful when it comes to finding trending sounds. Watch as many clips as you like, and call it time spent on research!
When scrolling through Reels or TikToks, listen for content patterns. Are you hearing the same songs or audio clips time and time again? If so, they're probably on their way to becoming popular trends!
It's also a good idea to check the audio title that appears at the bottom of the video.
On Instagram, trending Reels sounds are accompanied by an arrow symbol pointing up and to the right. On TikTok, clicking the song title will take you to an audio page, where you'll find how many videos have used the sound, along with a long list of examples.
Both Instagram and TikTok enable you to save the sounds you like for later. When you land on a trend, save the audio, and remember to use it before the trend becomes old news.
Search for Trending Hashtags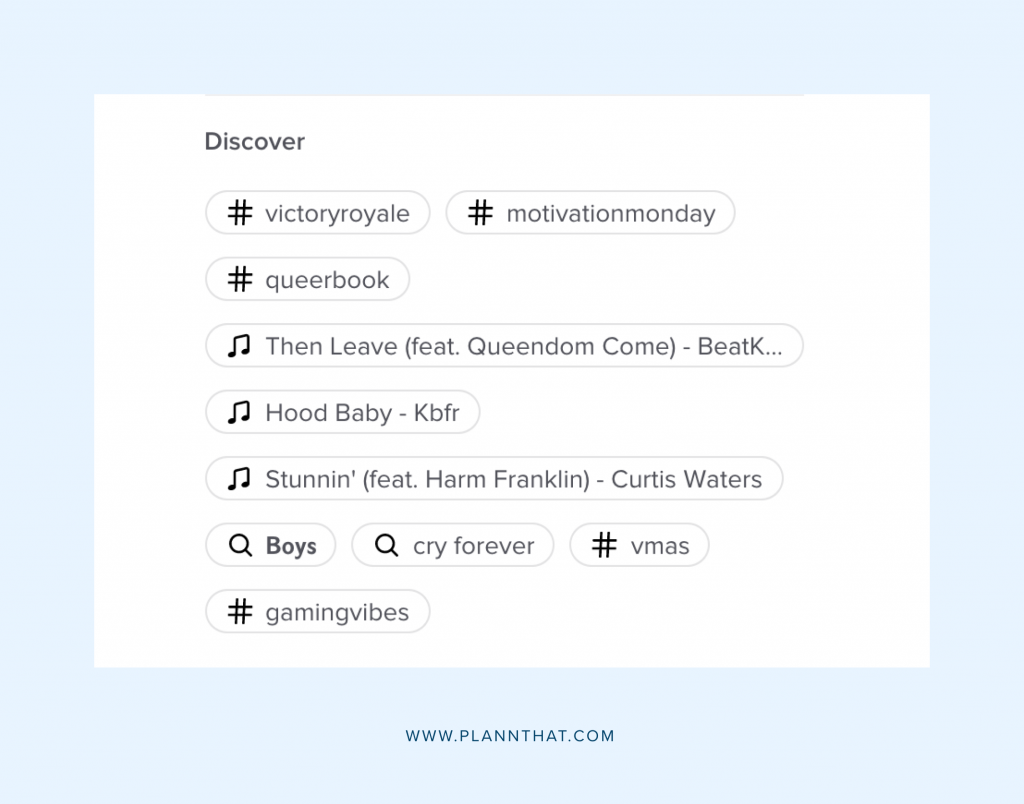 Hashtags have long been a source of confusion, debate, and sometimes controversy. But hashtags are an important part of putting your social media accounts in front of the right audiences.
Using trending hashtags can help Instagram and TikTok algorithms to categorize your content and direct interested users to your accounts. This enables you to grow in the right way, reaching people who care about the same things that you do.
You can find trending TikTok hashtags alongside the other trends in the Discover tab. On Instagram, check the hashtags used in posts that feature on the Explore page.
To get the most out of hashtags, it's usually best to think strategically and combine trending hashtags with medium- and low-content tags for a well-rounded approach.
Find Trends Online
There are plenty of ways to keep learning about social media trends and how they work (ahem – the Plann blog and Instagram account).
You can also use online trend discovery tools like Tokboard, or you can turn to the in-app experts for advice, visiting accounts like @jtbarnett for tips and tricks.
Use Plann to plan ahead your TikTok and Reels
While Reels and TikTok trends are fun, they're just one part of a well-rounded content strategy. You can use Plann's strategy tools to make sure you're offering the right mix of educational, entertaining and engaging content.
Log into Plann or sign up for your free trial today to start planning and scheduling your videos. Now you can also auto-post your Instagram Reels right inside of Plann!