Promoting your brand via multiple social media channels is the best way to boost brand awareness, conversions and engagement.
But, it can take a lot of work to successfully manage multiple social media channels for your business. Each social platform comes with its own best practice requirements, meaning you need to adjust your content to drive strong performance across multiple channels.
How do you keep up with TikTok's young audience and create content that resonates on Facebook?
The trick to planning and managing content for multiple social media channels is to understand how each platform works, harness the power of repurposing content and track your analytics to see what content is and isn't resonating with each audience.
Ready to master multiple social media channels for your business? Let's dive in.
5 Ways to Manage Multiple Social Media Channels for Your Business
So how do you juggle several social media accounts for your business without getting overwhelmed and still managing to create great content? Never fear, we've rounded up five tried and tested ways to produce action-driving content for a stack of different platforms.
1. Create a comprehensive content marketing strategy
The first step to producing content for a range of different social media platforms is to plan everything out in advance. By creating a content marketing strategy that takes into account all your different channels, you can strategically repurpose and reshare content between networks.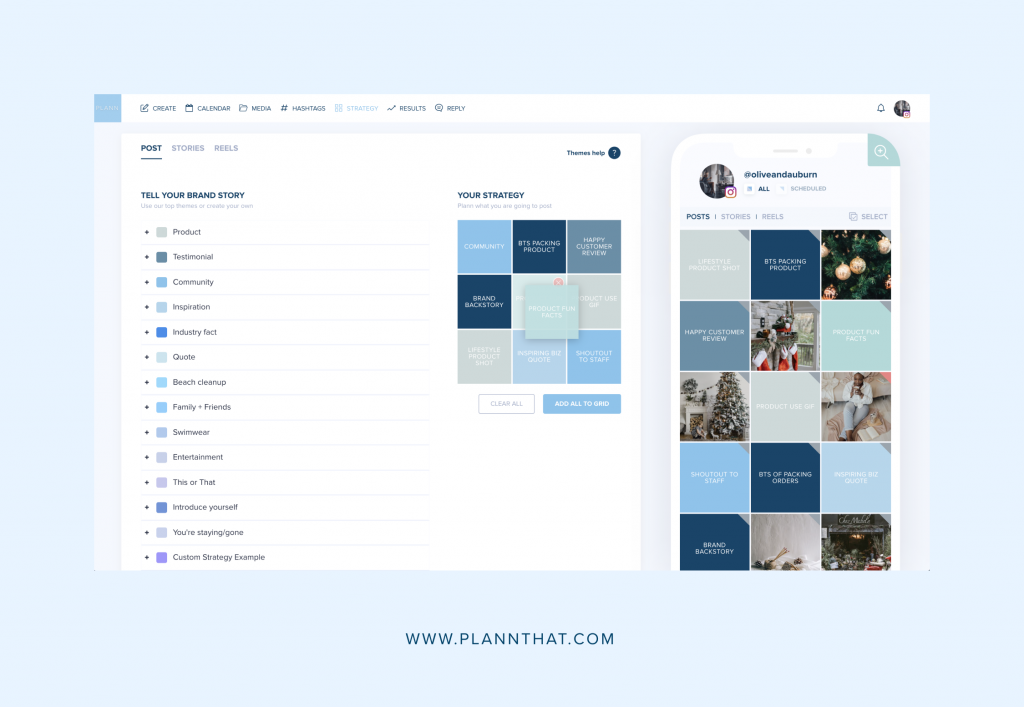 To really make the most of your social media strategy, you need to understand:
• Who is your audience on each social media platform
• What is your primary goal of each social media platform
• What is the best (and worst) performing content formats for each platform
With this data on hand, you can make educated decisions about how to maximize each social media channel for your business.
For example, if short Reels are the best way to engage your younger audience on Instagram, you should focus on sharing detailed infographics or longer-form video content on other platforms like Facebook or Pinterest.
2. Repurpose content
Okay, now you have a content plan in place. The next step is to consider how you can make every single piece of content you create go further for your business.
Repurposing content allows you to save a lot of time by resharing and reimagining content over different channels.
The best way to repurpose content is to dive into your social media analytics and narrow down your highest performing posts. Chances are, your audience wants to hear more about this topic.
So, use the theme or topic of these pieces of content to inspire your next IG Live, Reel, TikTok or Pinterest Board.
3. Use an all-in-one social media management suite
We get it: managing multiple social media channels can feel like a daunting task. But, with the right tools in place you can spend less time creating content and more time building your business.
With a social media management tool like Plann, you can nail your entire social media strategy from one easy-to-use platform.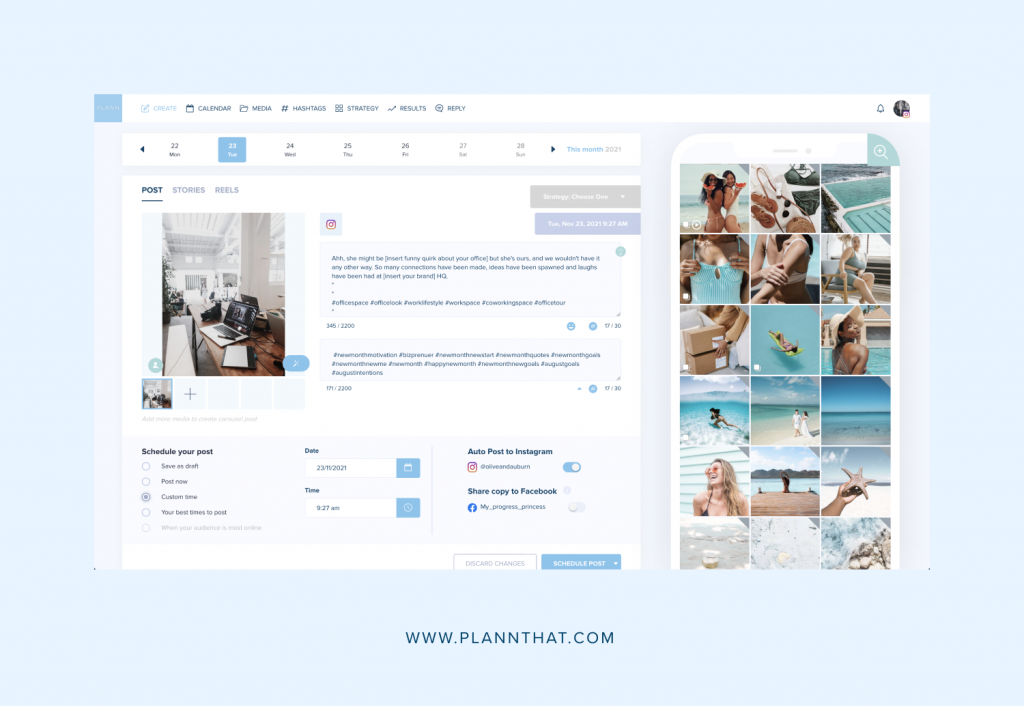 With Plann, you get to manage all your different social media channels in one dashboard and also get advanced analytics that give you feedback on how your posts are performing. Using a tool like this will totally change the way you approach multi-channel social media content creation.
4. Draw on audience engagement and feedback
One of the best sources of social content inspiration is your own audience. The questions they ask, the comments they leave and the posts they engage with offer powerful insights to help you optimize your social media strategy.
So, make sure to regularly review your comments and engagements across your social channels and look for trends. If multiple followers are asking the same question in your DMs, it's time to build a piece of content that answers their questions.
The more relevant your content is to the needs of your audience, the better your results will be on social media.
5. Use analytics
Another advantage of using a multi-channel management platform like Plann is having access to in-depth social media analytics.
To help you make data-driven decisions, Plann allows you to review the performance of your past posts, analyze them and use it to inform your future strategies.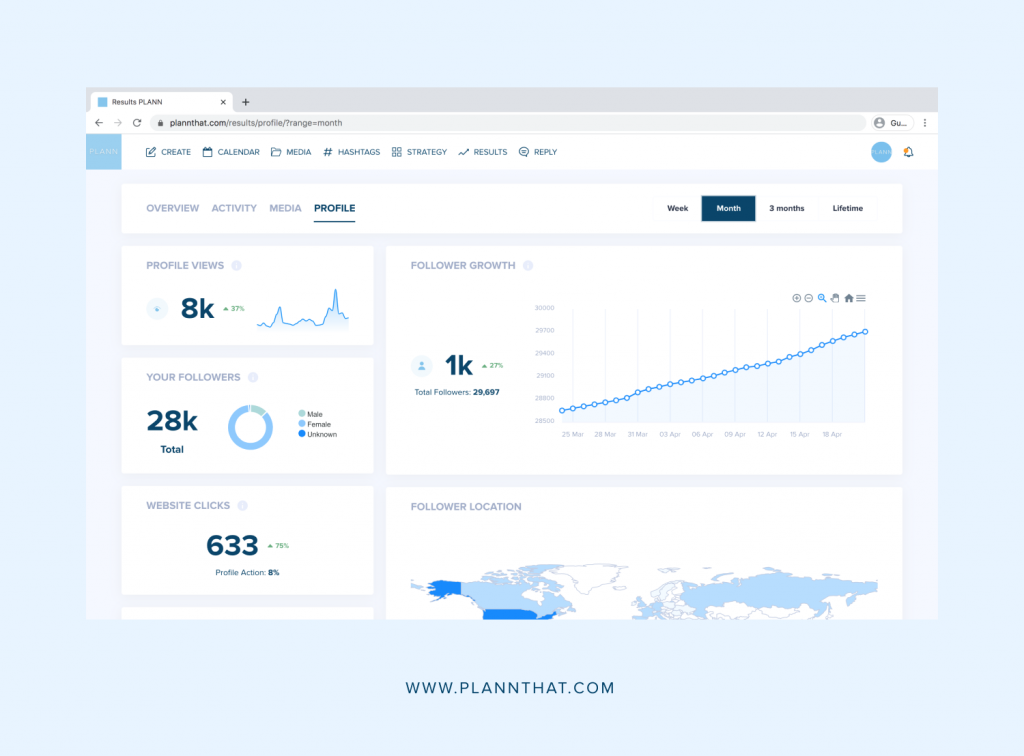 What days did you have the highest engagement? What kind of posts are people reacting to? Are your long-form Instagram videos doing well on TikTok after repurposing? Analytics helps you answer these questions and improve your future content strategies.
Plan and manage content for multiple platforms with Plann
And that's a wrap! When it comes to successfully planning and publishing content to multiple social media channels, having the right tools in place is key to your success.
Sign up for a free Plann account today, and you can create a winning omni channel social media strategy that attracts new high-value customers to your brand at scale.