As a busy social media manager or a business owner, creating content for your brand can feel totally overwhelming. If video content has been something you've avoided or put in the 'too hard' basket, we've about to change your tune. 
Crafting short form videos doesn't have to take hours out of your day or week. In fact, the secrets to crafting compelling video content is this: knowing the right tools, tips and tricks to produce click-worthy videos for your brand's social media profiles.
And here's why short form videos need to be on your agenda in 2022: 72% of customers would rather learn about a product or service through video content. Plus, audiences retain a whopping 95% of a brand's message when watching a video (compared to just 10% when reading text). 
With video content continuing to rise in popularity, it's a content format you can't afford to avoid. Luckily, we've pulled together a stack of practical tips and tricks to help you master short form video content for your business.
Why should you create short form video content?
While long-form video content will always have its place, the waning attention span of your audience (down to just 2.7 seconds) is making short-form video content creation an important part of your video content strategy. 
And you don't have to look far to see that social media platforms are prioritizing bite-sized videos.
Take TikTok for example: this short, snappy video platform has skyrocketed to over a billion active monthly users.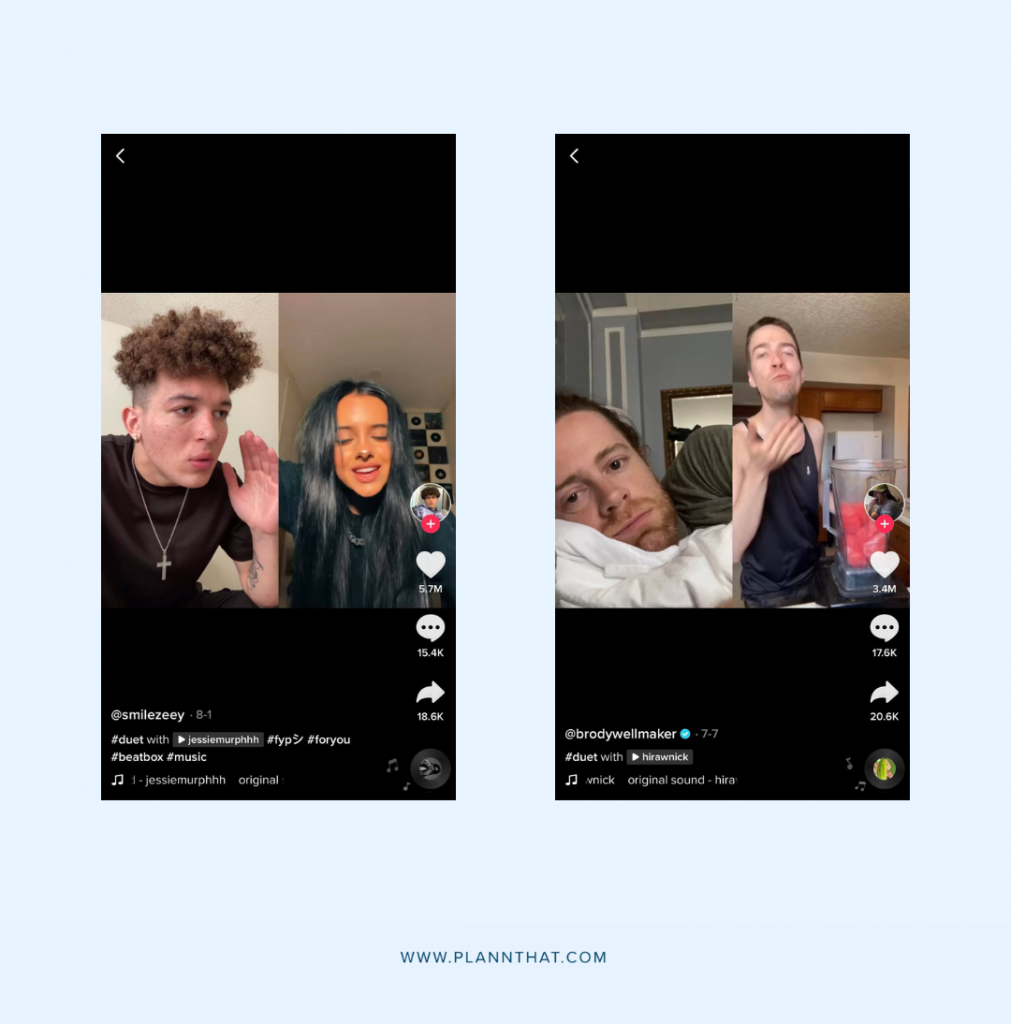 According to Vidyard, 68% of people will happily watch a business video in under a minute. Even better, short-form video content has an informal quality that allows you to remove the need for costly video creation equipment. In fact, all it takes to produce short form videos is an idea and an iPhone camera.
Best of all you can create bite-size videos about a stack of different topics: your daily office routine, the creation of your latest product or your customer's reaction to their delivery. 
If you're looking to cut through the noise, share bite-sized information with your audience and keep your brand top of mind, video content needs to be part of your social media strategy in 2022. 
Plann's top tips for creating short form social media videos 
So, how do you approach short-form video content creation amid a busy schedule? 
A bunch of social media platforms have introduced copycat TikTok features in an attempt to get a piece of the market on short-form videos. And you might find yourself switching between which platforms to use to create value-filled short-form videos while saving as much time as you can. 
So, here are a stack of practical tips you can take today to start producing short, snappy video content.
1. Repurpose content
Repurposing content is one of the easiest ways to generate new content without creating posts from scratch. Chances are you have loads of long-form video content already made that you can cut down into bite-sized chunks and repost as short-form video. 
This tip is a fantastic way to extend the lifetime value of long-form videos and ensure your audience gets as much value as possible out of your video content.
2. Use TikTok
Along with being a booming social media platform on the rise, TikTok is also a comprehensive video creation and editing tool. With TikTok, you don't have to invest in video editing software and you can record and edit your videos for social media on the go.
With TikTok's editing tools, you can easily whip up a stack of social-ready videos in minutes. Plus, you can save these to your camera roll and share across any social media platform.
3. User-generated content (UGC)
User-generated content is a great way to get someone else to do the work for you. By creating social media challenges and competitives, you can get your audience and customers to help you create short-form video content under your brand hashtag, basically generating content for you.
All you have to do is repost these videos and credit the original creators to score a stack of engaging pieces of video content you can leverage on social media.
4. Create a video content schedule
As much as short-form videos are quicker to record than long-form videos, they can still end up taking a massive chunk of your time if you don't set boundaries around your time. 
Instead, blocking out your time and filming a bunch of short videos in advance (and editing in one batch) will give you a bank of videos you can seed out on your social media channels over the weeks and months ahead. 
Not only does it speed up the content creation process, but it also helps you publish video content consistently.
5. Use a scheduling platform
Just like batching your content creation, scheduling all your short form videos in advance will help you stay consistent and see meaningful results from your social media content.
Using a scheduling platform like Plann will allow you to load your videos and schedule them for automatic posting on specified social media platforms. Plus, you'll even score in-depth analytics about how your short form videos are performing to help inform your video marketing strategy moving forward.
6. Harness Instagram Stories videos
Think video content needs to involve a camera crew and fancy lighting? Think again.
In fact, ephemeral video content formats (such as Instagram Stories) allow you to share bite-sized snippets of your day, business or latest products in seconds.
By using Instagram's inbuilt recording and video editing suite, you can easily add filters, stickers, captions and interactive Stories Stickers to get you short form videos produced and published in no time at all. 
7. Use the KISS strategy
KISS stands for Keep It Simple, Stupid. Essentially, it's a strategy that ditches complex, convoluted processes and focuses on the easiest way to get things done.
The more complicated you make your video content, the harder it is for you to get your content out into the world. Short-form videos are meant to be short, fun and straightforward. So don't overthink it and test and see what content themes perform best with your followers. 
8. Outsource your short-form content creation 
You can also choose to outsource some parts (or all!) of your video creation process to reduce the time you need to spend getting these videos out into the world.
Whether you hire an in-house content creator or outsource to a freelancer, taking this task off your plate can be an easy way to speed up your video creation process.  
9. Use royalty-free video clips
Last but not least, you can use royalty-free video clips to serve as a base for your content. There are stacks of places to find this content online, and many video editing platforms offer stock footage for your brand to use.
Simply add voice overs, text overlays and your logos to make this content your own.
Level-up your social media video strategy with Plann
The big thing to remember with short-form video content is to keep it as simple as possible while ensuring it is engaging. If you can get your viewers hooked in the first five seconds of watching your video, you are doing something right. With the tips mentioned, coupled with a robust scheduling platform like Plann, you can cut your video content creation time while maintaining the quality of your content.
Start planning and scheduling your video content now (as well as auto-posting your Reels). Go on, redeem your 7-day free trial of Plann Plus. If you don't like it, keep using Plann for free!