If you've only ever hit the magnifying glass in your Instagram menu to consume new content, you're going to be thrilled to know the explore (or search) feature is full of new ways you can be discovered!

Here are 8 ways you can optimize your time on Instagram to get more targeted people visiting your profile, following your story and learning more about what you have to offer.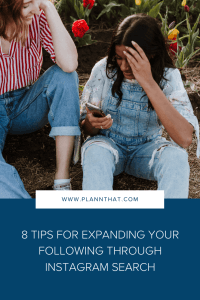 So go ahead, let's click on the magnifying glass and let's see where it takes us!
1. Search and You Shall Find: Discover New Hashtags
Clicking on the explore button means you'll be served all the images Instagram thinks you'll love. It's based on your unique activity on the platform. What you search for, the profiles you regularly visit and things you click on will determine what happens next!

If you typically like and comment on the posts that talk about travel and or bikinis, then you will probably be served similar things.
Dive into the explore section and type in words or phrases you think speak to your target audience – try all the tabs along the top (accounts through to hashtags) and you'll be served new places to interact with your people.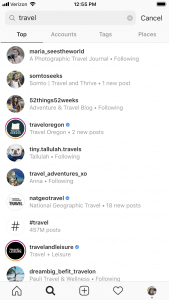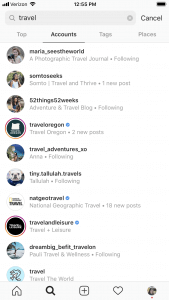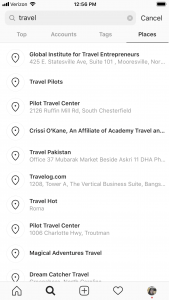 Poke around through your top suggestions, or dive a little deeper into new hashtags to see if it's where your people are spending time.
2. Follow and Be Followed: Engage With Brands You Connect With
It might sound silly simple, but following brands that match your own vision can help your business expand with Instagram search. When you like a page and interact through comments and stories, Instagram pays attention to that.

Instagram watches what you like and creates a personalized feed just for you – and it's doing the same for their people too. If you're associated with a brand that also has your target audience, there's a chance Instagram will pick up your brand as 'similar', and then you'll find Instagram will serve your content to their people too – excellent!
3. What's In A Name: Create a Bio Worth Searching For
Wondering if you've optimized your Instagram account to be as searchable as possible?
Inside the characters and words you've chosen for your Instagram bio is an algorithm crafted by Instagram to help you become more discoverable and searchable.
For example, if you're a virtual assistant but no-where in the first two lines of your Instagram bio mentions that, those typing in 'virtual assistant' won't be served your account when they're going hunting for their newest team member.
Consider your account name, subheading and bio text – would Instagram be able to work out what it is you offer to the world based on what you've written?
When you invite someone to be a part of your Instagram existence, their quest to be inspired and included in your community begins, and it all starts with your bio!
4. Location, Location: Where In The World Are You?
Unless you are under witness protection, there's no reason to pop your location on your bio – another plus for being discovered! Including where you are in your bio, in your posts, and in your Instagram Stories all help lead people to your page.
Just as you are looking in the search bar for inspiration, so are thousands of other people who like the same things you do and places you visit.

In their search for inspiration, they may find you under "Places" in Instagram search.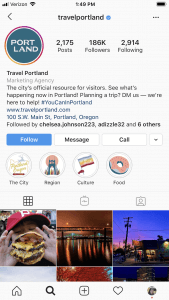 Like Travel Portland's page, they included a physical address for people to find them with their signature hashtag included.
If you are a photographer, writer, or artist who changes locations a lot, you can include where you currently are, without the need for a permanent business address.
5. Include Hashtags, even in your stories!
Do you have hashtags that you know work consistently for your brand?
As the competition for content to be discovered on Instagram heats up, it's worth regularly revisiting your hashtags to make sure they're not the ones that have been used so many times you might not be seen.
6. Instagram Rewards Consistency
If you've not published anything on your profile recently and completely fallen off the wagon, it's OK!

Instagram rewards consistency so let's get back into the flow of posting regularly. When people interact with your content it lets the algorithm know it's worth showing more people – giving you higher engagement and bigger reach.

If you're feeling like your current grid is a little flat, maybe it's time to archive a couple of posts you don't feel fit, update your aesthetic and get going again.
The look of your overall Instagram grid plays a role in attracting new people (think of it as your story-telling shopfront) so you'll want to feel proud to keep momentum.
7. Repaint IGTV: Keep Descriptions Fresh
IGTV is still in the infantile stage and a great way to get in front of those who haven't started using it yet. Use your most engaging video content and keep a close eye on descriptions and titles – we know now that they're important to getting you discovered!
You can search by who you are "Following," what is "Popular" at the moment, or replay your favourites through "History." Each video has a little description that you can click on via the down arrow at the end of the title.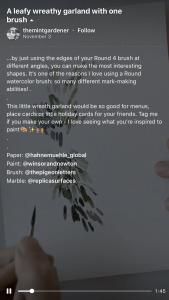 Whether you are doing a series of videos like this artist, or a one-off video, by keeping your descriptions, titles, and keyword captions up to date, your brand becomes more searchable within Instagram.
8. Power of Instagram Stories: Keep It Consistent
Instagram Stories are doing a great job of sharing what's happening behind the scenes, or a faster way to interact and connect with your audience.

It's been proven that people need to have seen your brand more than 9 times before they start to recognize it so keep them coming!

You can also make yourself much more visible using Instagram Stories, with searchable stickers, location tags and up to 10 hashtags.
Having trouble seeing the big picture, and the minute details all at once?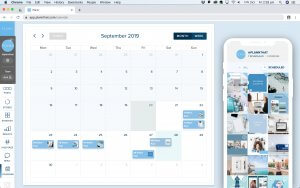 We've got you! From planning your posts to crafting the perfect Instagram page, Plann helps your brand stay lazer focused on being discovered by your exact target audience.