Instagram is exploding in 2023! 
Yes, the Instagram platform that launched in 2010 now has 1 billion active users every month.
While Instagram Stories have only been around since 2016, there are now 500M+ active users on Instagram Stories every month. As we transition swiftly into the year 2023, it's the perfect opportunity to get ahead by evolving your Instagram 2023 strategy to get ahead of the latest trends and adapt to changes on the platform.
Here are 5 tips and trends to jump right now for Instagram success in 2023:
Every week I meet someone new and when they find out that I'm a social media strategist and content producer, invariably the response is "Oh, I should chat to you about my business!". 
Despite the diversity in businesses and brands, the same questions are generally regurgitated over and over… "What platform should I be on?", "What type of content should I be creating?" and a common one across the years is "What's the future of marketing?".
The truth is that the future of marketing is the same as it ever was. The most successful product or brand campaigns are born of amazing creative ideas, which are then delivered by platform or tech solution where they can influence their target market and where their target audience are making purchase decisions. 
5 Tips & Trends to consider when planning your Instagram strategy for 2023:
1. IGTV and Instagram Stories – Video is the way forward.
With an 80% increase year-on-year in time spent watching video, it is clear that video is the way forward for brand content creators and influencers.
–   IGTV versus YouTube – it's not a competition: while many social media experts are convinced that IGTV is the new YouTube, it's important that we don't "throw the baby out with the bath water" and abandon YouTube altogether.
All platforms within our respective digital ecosystems have different roles and are used differently, so while 72% of teens are on Instagram, with 15% saying that they use it "most often", 85% of the same teens are on YouTube with 32% percent of that audience saying that they use YouTube "most often".Any opportunity exists to consider the different roles of platforms within your digital ecosystem and do the research to find out which 2-3 platforms should be your primary digital channels.
–   Promote IGTV via your Instagram Newsfeed: promote IGTV content via Instagram Newsfeed with a 1 minute preview and if you're creating compelling enough content, then your audience can click "Keep Watching" to see the full video.
This is perfect for thought leaders like Gary Vee, musicians, comedians and even brands, who are keen to entice us to view more long form content about their product.
–   No budget for premium video production? No worries! One idea you can implement right now is to create short-form videos by capturing premium product photography and then use premium static images to create your video through the likes of Premiere Pro, iMovie or whatever video production tool you prefer.
This workaround is both time and cost effective, whilst empowering everyone on a budget who want to make a video impact via Stories or the Newsfeed.
–   Create Highlights from your Instagram Stories to keep people on your channel.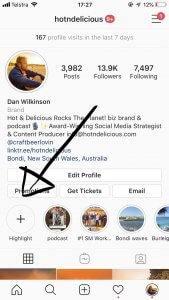 2. Augmented Reality Filters
Augmented Reality continues to explode in the digital and tech sphere with VR and AR set to feature heavily again in the upcoming Facebook F8 2023 conference in May 2023.
In recent times, universities (UNSW), pop stars (Rihanna) and global brands like Harley Davidson have all been delving into the Augmented Reality space, creating branded stickers, GIFs and face filters that bring their brands to life in Instagram Stories.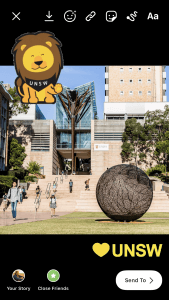 Augmented Reality filters are actually relatively low-cost these days and more accessible than you think! You can develop these AR filters as interactive content designed to encourage your audience to connect with the brand and champion you in their Instagram Stories to their audiences.
3. What role does Instagram play in your digital ecosystem, and how do I drive web traffic and revenue?
The good news is that Instagram Shoppable isn't the only tool in your armoury within Instagram to help drive revenue and traffic for your business.
–   Upgrade to an Instagram Business or Instagram Creator profile: there are so many more user-options available now at your fingertips using Instagram Business or Instagram Creator profiles.
–   Sign-up for Instagram Shoppable
–   Add an action button to your bio where your audience can do the following and more!
Book: book an appointment. 
Reserve: make restaurant reservations. 
Get Tickets: for an event.
And more!
–   Setup a smart URL if you have multiple website landing pages that you need to drive traffic to from your "link in bio". I myself can now drive traffic to my weekly entrepreneurship podcast on both iTunes and Spotify, sell tickets to events, drive website traffic and 4 different social media platforms… all from one URL!
–   Partner with Instagram influencers/Creators on Shoppable Influencer Posts (more below!)
–   Driving ROI with Instagram Stories – if you're one of those peeps lucky enough to have 10K+ Instagram followers, then you can utilise the 'Swipe Up' function to drive conversions, app installs, lead generation, traffic and more using Instagram Stories.

If have less than 10K followers, then consider this the opportunity to start Instagram Stories advertising spend on your monthly content (more on Ad Spend later).
This year Instagram launched Instagram Shoppable Influencer Posts which means people can hit the checkout page for product purchase on an influencer post, without even needing to leave Instagram.
By planning ahead of time and taking time to do a little research, there are some fantastic Instagram Businesses or Creators that you can partner with, whose audiences are aligned with your own.
5. Organic Reach is becoming harder, is it time to spend money?
Like us all, brands and influencers around the world are experiencing a significant drop-off in Likes/Impressions/Video Views over the past 2 years, as millions of individuals and brands continue to flock to the Instagram platform, which bottlenecks the volume of content that Instagram can serve us via Instagram Stories and Instagram Newsfeed every single time we open our phone. 
Instagram are always going to prioritise friends and family over brands in Instagram Newsfeed and Instagram Stories, so the way for us to stay ahead of the game is by treating Instagram as a paid media channel and consider "organic content" and "Paid Spend" as two separate channels in our strategy.
With a little bit of research and addition of a low volume ad spend initially, we can illustrate to all of our clients that we can in fact reach and make an impact with much larger audiences by posting 5-10 times a month including Instagram ad spend allocation, rather than posting content every single day of the week with zero ad spend. This saves on production costs too! 
It's mind-blowing how quickly digital platforms are evolving and so as Instagram strategists and creators, the best thing to do is have your finger on the pulse and to be playing with the latest Instagram features.
It's also crucial that we implement systems and processes and ensure that we follow best practice content production and execution, as while best practice isn't always the sexiest to talk about, your time is money and we all need to work smarter, not harder to give us whatever edge we can!