It can be tricky to stay on top of every Instagram update, it can feel like they're changing or adding something every single day!
If you've missed a few updates, pat yourself on the back for stumbling across this article – it's a doozy.
Here's how you can create stunning and interactive stories from right inside Instagram, without having to source content or think too hard.

What are Instagram Stories Creator Templates?
Instagram has created a new way to create interactive stories if you're short on time and content, or both!
They're easy to create and you'll find a huge library of options to suit most brands – especially if we're creating them from a 'community' point of view.
Psst, by 'community' we mean the way you relate to your audience, involve them with your brand, giving them a sense of belonging and showing that you really understand them.
Within Plann we've identified some of the best performing themes that get our people the most engagement – with 'Community' being one of them.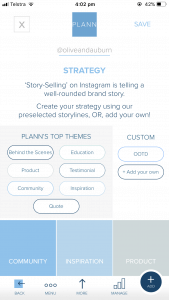 If you'd like to learn more about creating a custom Instagram strategy with our prompts and learnings from working with over 1.5M Instagrammers across the world, here's how you can get started!
Here's where to find the Instagram Story Templates

Open Instagram and you'll find them when you open your stories!
Simply slide along the bottom to select CREATE (right next to Boomerang) and you'll find a library of options.

What can I make?
When researching for this blog post, we found a bunch of interactive options that will definitely save you time if you want to engage with your people.

They are:
1. Adding text to a colored background


Short of time or need to clearly get something across to your audience?
Use this one if your imagery is a little busy and might distract from your message.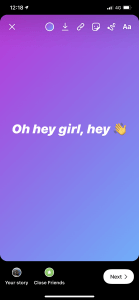 2. Adding a GIF as a background

Instagrams GIF library is becoming extensive and some of them have had us reaching for a teatowel after accidentally laughing out the morning coffee.
With the GIF feature, choose one you want and Instagram will magically stack it for you to use in a story.


3. Interactive Templates, roll the dice!


Addictive and fun, you'll want to try all of these! Slide across to the templates tab and you'll find a bunch of templates you can add silly gifs, funny sayings, share Instagram accounts you love or even the music you're listening to that's getting you through your latest Instagram planning session.
Not sure which one you want? Tap the die at the top to try something new.

Encourage your followers to get involved!
Psst, you can also change the colors!
Don't love the default colors that Instagram give? Easy!
Tap the color changer and explore new backgrounds that might match your brand a little closer!
4. Share a memory from 'On This Day'
Go back in time and share a moment that happened on this day! With the memories section, you can relive some of your favorite moments, like award nights, product launches, or you know, that time we were hanging around at Venice Beach before meeting with some lovely Planners last year!
5. and 6! Two great ways to ask questions of your audience.


These are the easiest of them all, select a slick background color and add a poll or a question to your story. The easiest way to do any type of market research, find out what your audience really thinks!

7. Add a countdown


Got something special to celebrate? Launching something HUGE? Birthday week?
The easiest way we've found to add a countdown is straight from these free Instagram stories templates!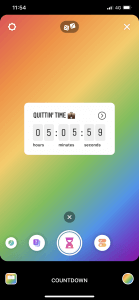 8. Create a poll


Used creatively, you could ask your followers what feature they'd like you to build next, what hardware color they'd like on their next purse, or create a fun poll that shows your personality.
People find you by images and hashtags, but stay for your unique-ness!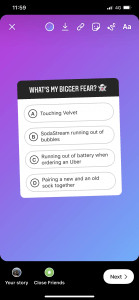 We're grateful that Instagram is giving us more options to share more with our audience, and making it easier to create consumable content.
Personally, they're a great quick win we like to think that crafting content that has your own unique branding is going to bring you faster results (sharing this content might not have your unique branding, aesthetics or tone that people recognize straight away!)
If you do catch yourself stuck for social media content or you're not sure what to post next, we're here. Plann helps create your posting strategy, we can even help you find content with free stock image libraries integrated into your unique workspace, plus encourages you to keep going with your posting streak!
And yes, freaking out about scheduling stories is also a thing of the past, you can manage your grid and stories from right inside Plann (even with a team!).
Jump in and schedule your next week now, completely free!
We can't wait to see what magic we can make together!