HOW TO RUN A SUCCESSFUL INSTAGRAM COMPETITION
Have you scrolled through your Instagram feed lately? Silly question, of course, you have. Amongst the sarcastic quotes, food porn and cute puppies, did you see any Instagram competitions or giveaways?
They may look effortless, but running a successful Instagram competition is anything but a set and forget marketing activity – especially if you want to guarantee you'll walk away with some adoring new followers, a truckload of engagement and even some juicy sales.
Here's our 5 simple steps to running a super successful Instagram competition that will completely knock your follower's socks off!

STEP ONE: Do Your Homework
Why are you even running an Instagram competition?
It might sound like a silly question, but this is where all successful competitions start – with a goal in mind. It might be boosting your followers, encouraging bio link clicks or making money from sales on Instagram. Whatever it is, design your competition to help you achieve that goal. This means thinking carefully about every aspect of your competition – from your prize to how and where people will enter.
PSSST -> Want some tips on creating custom Instagram Story graphics for your Instagram competition? Here you go!
STEP TWO: Plann Your Instagram Competition Content
Oh, come on you love puns really! Once you've done your homework, it's time to get your content planning on. Think about an Instagram competition post that caught your attention enough to stop you scrolling, or even enter.  Someone sat down and planned that post out, thoughtfully, then published it, intentionally.
If you want your competition to succeed, you've got to do the same. As a minimum, you'll need:
✔ A new bio description that tells people you're running a competition and where/how to enter
✔ A series of competition posts telling people you're actually running a competition, what they can win and how to enter
✔ Carefully created captions that will convince your Instagram followers to enter
✔ A unique hashtag or two – to help you find your competition posts easily (trust me, you'll thank me for this hot tip later)
Ideally, you'll want to design a trail of posts, à la Hansel and Gretel's breadcrumbs. This is to catch your followers' attention and lead them right to your competition's door. It will also keep them engaged long after they've entered.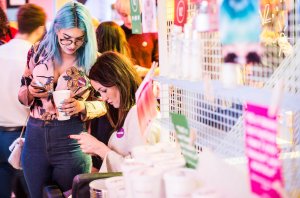 Planning your Instagram posts in advance means that you never have to stare at a blank screen wondering what on earth to say about your competition other than 'you should enter… 'cos free stuff?'.  It might sound like a lot of work, but the best part is, once you've made your posts, you can upload them to Plann, pop in your captions ready to go and even use your regular hashtags to attract your ideal audience.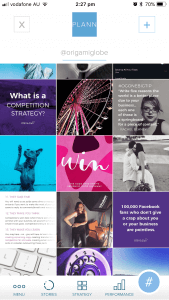 From a feed structure perspective, planning your content in advance gives you an oversight of your posts.  You can double check you're not boring the pants off your audience by mentioning the competition your running too much – and making sure you do it justice by mentioning it enough to hit your competition goal.
PSSST -> Here are some fabulous Instagram tricks to grow your account faster!
STEP THREE: Get Your Audience Excited
The most successful Instagram competitions I've worked on start with pre-launch teasers to prepare your audience that a competition is coming and when they're allowed to enter. Nothing builds excitement like anticipation – just look at those dedicated enough to camp outside shops for days to get the latest tech. This is the virtual equivalent for your brand.
Use fun, teaser posts to hint at what the prize might be, or an offhand comment about how it's been a while since you've run a giveaway. You could even outright ask your audience what they hope the prize will be and lead them right to the main event.
STEP FOUR: Promote, promote, promote! 
If you want a steady flow of entries to your competition, you have to promote your competition to drive traffic to it. The great news is that you're already halfway there by scheduling your content. Not only does this make your life easier, but you're also setting yourself up for success by getting your competition in front of the right people with the right message through constant and consistent promotion.
 OK, it's time to take a deep breath because we're venturing outside of Instagram for a second.  To drive traffic to your Instagram competition and get those all-important entries, you might also want to…
✔ Post about your competition on Facebook and pin it to the top of your page
✔ You might also want to change your header image and CTA button whilst you're there
✔ The same goes for Twitter, Pinterest, Google+, YouTube and any other platform you're on – make sure everyone knows you're running a competition!
✔ If you already have an email list, make sure you loop them in and tell them what they can win and how they can enter
✔ Consider adding a banner to your website linking to your competition too
✔ If an image is worth a thousand words, a video must be worth a least a billion. Video. That. Shizz. Whether it's a story or a post on your feed, talk about what they can win and how to enter. If you're camera shy, take a video or Boomerang of the prize. Everyone loves Boomerang.
Most importantly, use all the information at your disposal. If your engagement levels are telling you that your content isn't translating into entries, respond snappily and try a new approach. Scroll your feed to see how similar products or competitions are interacting with their audience and adapt it for your own competition.
Once your Instagram competition doors are open wide, you'll need to keep the momentum going and the entries flowing. Aim to post at least 3 or 4 times whilst your competition is open (obviously depending on duration!). Don't be surprised if you see a slump in entry numbers in the middle of your competition, this is totally normal. It just means that regular posts are all the more important.
Create multiple posts to remind people that your competition is open, what's up for grabs, where they can enter and what they have to do to be in with a chance of winning.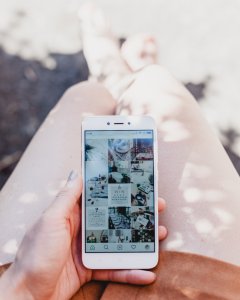 Finally, you'll need some countdown to close posts to generate a sense of urgency, get people to act and round up the last of the competition entries. Don't overdo it with the countdown posts, but at least let people know when they only have a day left to enter.
PSSST -> Want to master the art of hosting an awesome Instagram Live video? Here's our quick-start guide!
STEP FIVE: Stay In Touch
Your Instagram competition doesn't end when it closes. You've put in all the work to get the entries, don't let them drift away now. Create a post to thank your followers for entering and once drawn, ensure that you announce the winner. If your audience never finds out who wins, you'll damage their trust, your own credibility and potentially lose followers.
Now go forth and run the most successful Instagram competition you've ever seen. Just remember, competitions are all great fun 'n all, but your brand needs to be the real winner, so use your competition to kick some marketing goals whilst you're at it.
Know someone who's confused by competitions or want to save this post for later? Hit the buttons below to share the Instagram competition love!