We've got some major social media news to bring you up to speed on. Your favorite apps and platforms have brand-new tools, features, and updates waiting for you to take advantage of and help you level up your social media content.
From Instagram finally giving you the ability to download Reels straight to your camera roll to brand new Interactive Add-Ons for your TikTok ads, we're diving into the latest features you need to know about.
TikTok expands its ad offerings by launching Interactive Add-Ons
Big news from the world of TikTok ads! They've launched Interactive Add-Ons that are designed to drive engagement from users and get them interacting with your ads.
Interactive Add-Ons for promotions are basically pop-ups, stickers, and other visual elements that help entice viewers to engage and interact with your promotions.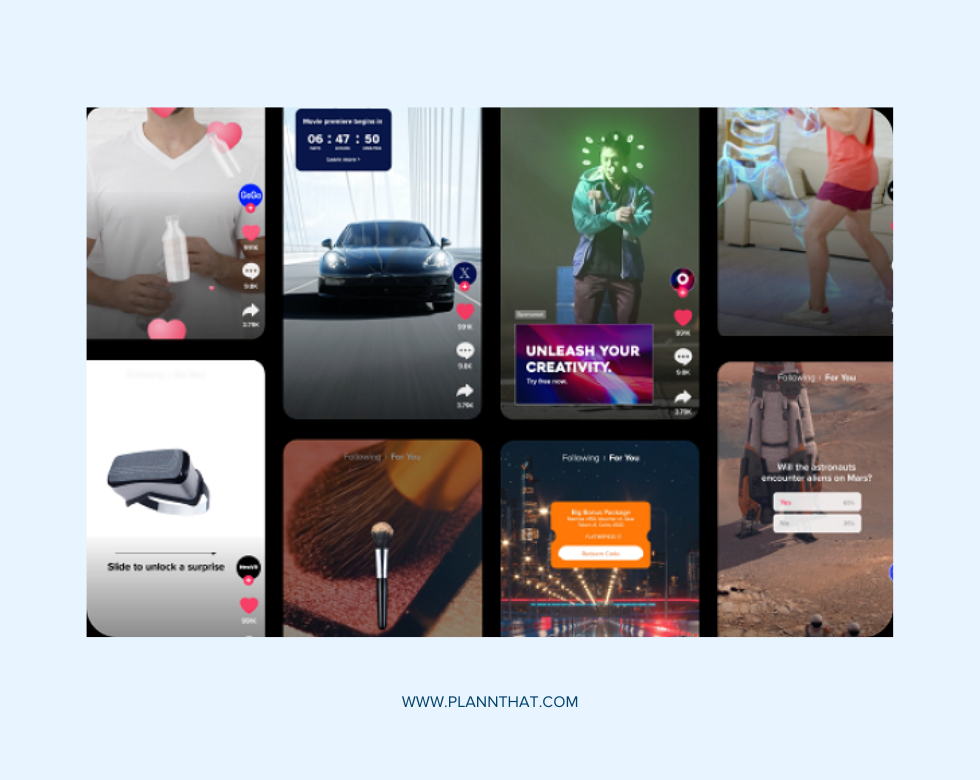 So, how do Interactive Add-Ons work? TikTok says they're designed to capture the "undivided attention of your audience in a full-screen, sound-on environment to boost brand engagement and encourage interaction."
You can access Interactive Add-Ons in one of two ways: Standard or Premium add-ons.
• Standard Add-Ons: using this option gives your brand or business the opportunity to reach lower-funnel marketing goals like increasing clicks and conversions.
• Premium Add-Ons: this option allows you to reach upper-funnel goals including driving brand awareness and building engaged communities.
This feature has been rolled out globally for In-Feed Ads, so let's take a look at some of the new visual elements that you can start incorporating into your TikTok promotions.
• Display Card: boost clicks with visual elements that capture your brand identity. Brands can incorporate Display Cards to spotlight important messages, share offers, and drive traffic to their website visually.
• Gift Code Sticker: drive conversions and increase loyalty with special offers and incentives for new buyers and re-ignite your existing customers.
• Voting Sticker: increase audience participation by giving users the chance to vote in polls, take quizzes or collect audience feedback.
• Countdown Sticker: create buzz for upcoming and current events through a visual scrolling timer.
• Pop-out Showcase: highlight particular products by using a pop-out element that drives clicks and encourages users to take action with your ad to move them through the marketing funnel.
• Gesture: to increase participation and engagement with your ad, a clickable display card will reveal more information or a reward to drive users to your landing page.
• Super like 2.0: when users interact with your ad, you can capture their attention with floating icons. This is essentially a pop-up card after the Super like effect appears which takes users to a landing page to learn more about your product or service offerings.
If you're looking to drive more engagement and boost conversions, then these new ad options are a sure way to stop your audience from scrolling and get them interacting with your brand or business.
TikTok is testing a new visual product search to expand its eCommerce offering
We've seen visual product searches pop out onto the scene on other platforms like Pinterest, and it seems TikTok is following suit by testing out a new visual product discovery tool.
This new feature is currently being tested in a select few markets outside of the US which will allow users to use images instead of words for their searchers on the platform.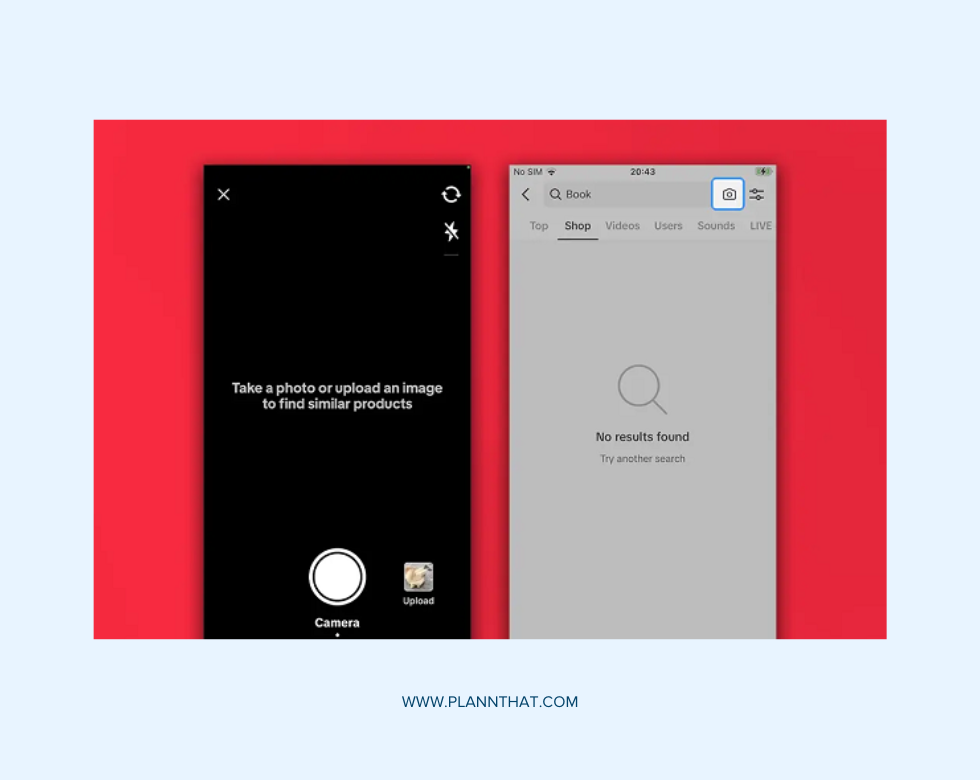 This feature would put in-stream shopping at the forefront of eCommerce social platforms, boosting brands' discovery potential in the platform. By adopting this feature globally, TikTok would lean into a shopping search platform in Western markets and boost its in-stream shopping offering which is seeing massive results in Asian markets.
When rolled out globally, the product search feature will be huge news for brands and businesses looking to increase their discoverability and boost conversions.
We already know how powerful TikTok is at helping audiences discover new products and services and with this feature, users can simply upload images of products they like and TikTok will recommend products that fit the visual description.
Instagram now allows users to download public Reels
Another game-changing and long-awaited feature has made its way to Instagram! The app is finally allowing users to download Reels shared by public users. This feature has been available on TikTok for as long as we can remember, so it seems Instagram is finally following in its footsteps.
Adam Mosseri took to his Instagram broadcast channel to share the news that users in the U.S. will be able to download Reels to their camera roll by tapping on the share icon and clicking the download button.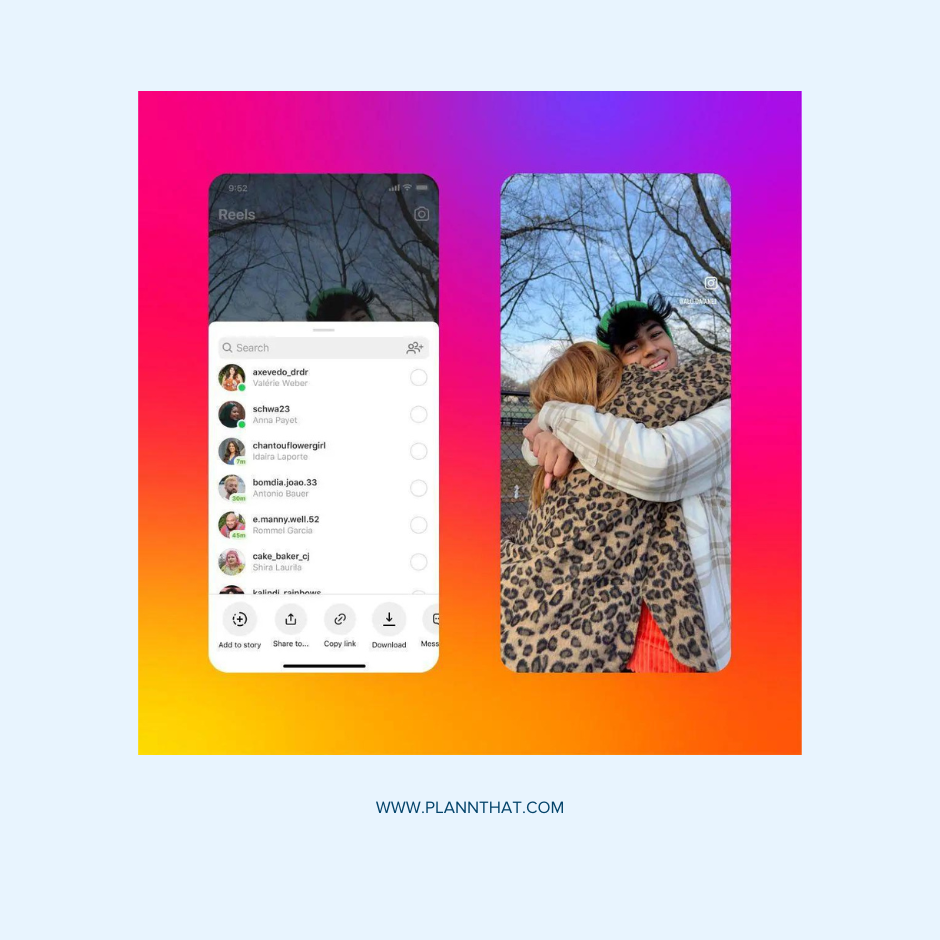 Public accounts will be given the option to turn off downloading if they decide they don't want others downloading their videos which is similar to the option given by TikTok. And, Adam Mosseri didn't say whether or not an Instagram watermark will appear in the downloaded Reel but we can assume an Instagram logo with the account name of the Reel poster will likely appear.
This feature is game-changing for brands and businesses on Instagram, giving you the ability to seamlessly download UGC or influencer partnership content with ease and effortlessly reshare them on your own page without having to jump through hoops like screen recording your videos.
Plus, if you're looking to re-share videos from Instagram to TikTok at a moment's notice, you'll be able to use the feature to do just that.
LinkedIn shows you how to make your ads and posts get more engagement
Onto the world of LinkedIn, if you're looking for a way to boost your LinkedIn content's performance then Alexandra Morales, the social media manager for LinkedIn Ads has shared some tips and tricks for getting your content to stand out.
Let's take a look at what she had to say in her post, 'Unlock the Secrets to Breaking Through on the LinkedIn Feed.'
• Users are keen to interact: before taking action on your organic or paid content, readers want to feel like they'll be rewarded. When you're planning out your content, keep in mind that perceived value is essential to garnering attention, and received value gives you long-lasting loyalty.
• Satisfying disruption: users scrolling the LinkedIn feed are looking to be satisfied with disruption. This means they're looking for content and ads that defy normal expectations so your content should include bold statements and opinions that spark curiosity or unique pattern-breaking visuals.
• Inspire your audience: don't just share inspirational quotes but create a story that connects your brand or business's core values which will not only engage your audience but keep them around in the long term.
• Understand how you stand out: get to know your audience, what they see, and what they consume in their LinkedIn feeds. This will help you tailor your messages, particularly with thought leadership content so you're not sticking to the status quo, but standing out in a crowded market.
• Pay attention to visuals: LinkedIn isn't just about words, but visuals too. So, include scroll-stopping videos and click-through presentations to keep users engaged for more time. It's also important to consider how your visual content will appear on mobile devices and larger images instead of standard thumbnails get a 38% higher CTR.
• Concise headlines perform better: when writing headlines, make it count and get to the point. In general, concise headlines (under 150 characters) lead to more engagement, and your descriptive copy should be under 70 characters.
There are a bunch more best practice tips and tricks Alexandra shares on her LinkedIn post which are helpful to start incorporating in your own company LinkedIn ads and posts or on your personal LinkedIn page to garner more engagement and attention.
Ready to supercharge your success on social media?
Looking for an all-in-one content creation suite that allows you to manage your social media channels effortlessly? From mapping out your strategy and designing your graphics to saving plug-and-play hashtag sets, you'll find everything you need inside Plann.
Go on, and redeem your 7-day free trial of Plann Plus. If you don't like it, keep using Plann for free!