Storytelling is powerful! Through rich, personal narratives, you can build impact for your brand and its persona, reaching audiences and making them care.
On LinkedIn, personal stories can have an important influence on the way you communicate and the effectiveness of your content strategy. When you use story-driven content cleverly, you can boost brand awareness, build trust and give users a reason to become loyal followers.
So how can storytelling on LinkedIn help you boost your online presence? Here's what you should keep in mind.
Understanding the Power of Storytelling
Social media marketing is an act of storytelling. Through the art of crafting compelling stories, you can create a brand that is memorable and impactful.
In fact, research shows that 92% of consumers want to see storytelling in advertising content, with 55% stating that a good story makes them more likely to buy.
By creating strong personal narratives around your brand, you can humanize your approach and give consumers an emotional buy-in that helps them better understand your message.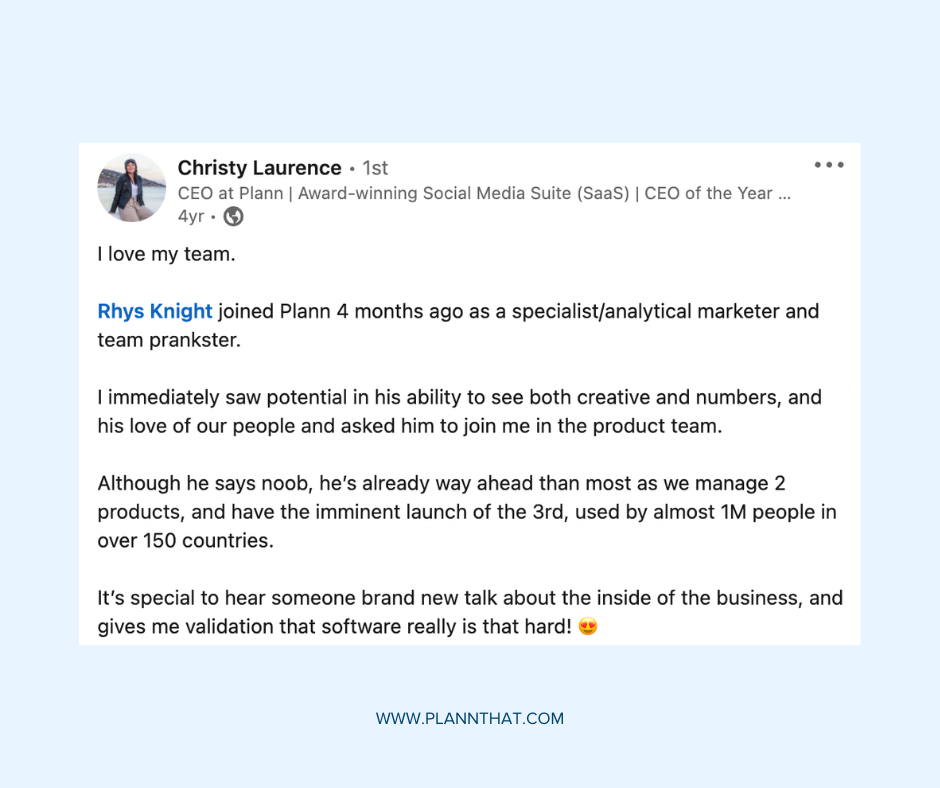 If you're strategic about your storytelling approach, you can get people to invest in your mission. When your followers know more about who you are and what you stand for, they become more likely to stand by your side.
Choosing Which Stories to Tell
Just as important as knowing the value of storytelling is understanding which stories you should tell.
Understanding your platform and audience demographic is critical. On LinkedIn, every personal story or anecdote you share becomes part of a broader brand narrative. It's all about finding ways to use personal and work-related stories to give color to your brand and build an emotive connection with your audience.
This means looking beyond the finer plot points of the stories you share. Instead, consider what your story represents overall.
Your LinkedIn profile, whether personal or associated with a company name, should be a home for stories that align with your brand identity and purpose.
Tell stories about what your business offers and how it came to be. Describe your journey to where you are today. Explain the value you see in the products or services you offer.
The key is to share stories that are raw, honest and relatable. While everyone loves a success story, a great way to build an even deeper connection is to share the challenges, roadblocks and even failures you've experienced, too.
Crafting Personal LinkedIn Stories
When you know what you want to say, it's time to start considering how best to articulate it!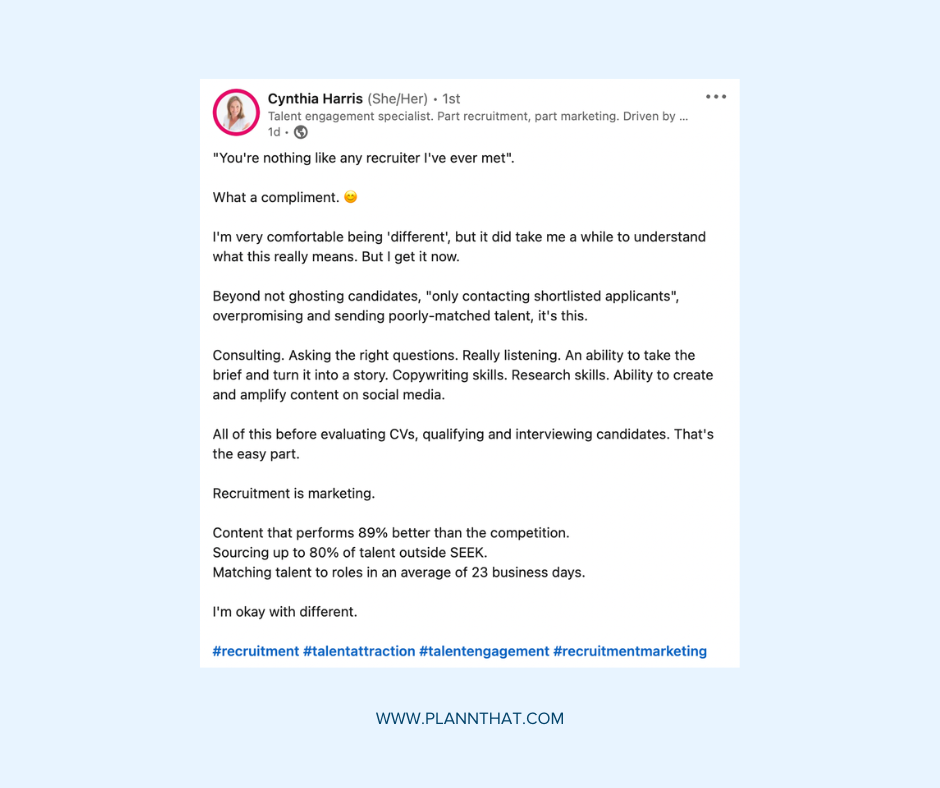 Crafting effective personal stories for LinkedIn doesn't have to be complicated. With just a few simple considerations, it can even be easy!
Know Your Message
Start with the key message you want to communicate with your LinkedIn community. Then work backwards to highlight the most important points. In some cases, it can be helpful to rely on a story structure that helps you organize information clearly and logically.
For example, you might start your story with a hook that captures a reader's attention. Provide a brief overview of the topic you're discussing. Then explain your stance, offer evidence to support your claims, and leave your narrative open to further conversation.
Be Succinct
Studies show that the average social media user has an attention span of just eight seconds! If you want to capture and maintain audience interest as effectively as possible, keeping things short and sweet is a good idea.
While the professional culture of LinkedIn offers scope for long-form content more than many other social media platforms, keeping things short and sweet is a big advantage. Tell your story as clearly and comprehensively as you can while avoiding longwindedness that could cause readers to lose focus.
That means using short sentences, frequent line breaks, and emojis to break up your story and keep readers engaged until the very last word.
Include Graphic Elements
Sometimes, words aren't enough when they're working on their own. Visual content is becoming increasingly popular on social media. On LinkedIn, your written storytelling can be supported by graphic materials, including photos and videos.
Next time you have a story to tell on LinkedIn, think of ways to visualize your message and use a simple design tool, like Canva, to create an accompanying graphic. This will help you hook readers and add extra power to the story you're trying to tell.
Use a call-to-action (CTA)
No matter what social media platform you're working with or what kind of content you're creating, a clear call to action is essential. Using a strong CTA can help you drive greater engagement outcomes.
Once you've told your story for LinkedIn, think of the action you'd like to see from your followers. Add a CTA that invites your audience to share their ideas and perspectives in the comments. Alternatively, choose a closing CTA that directs users to your website or even encourages users to follow you on LinkedIn so they don't miss your upcoming content.
Building Your Brand and Optimizing Engagement
Effective storytelling can have a profound impact on brand building and audience engagement. That's what makes it so important!
The key to harnessing storytelling is to find your own unique voice. How do you speak in real life? What kind of tone do you want to convey? How formal or casual do you want to sound?
By crafting a unique tone of voice, your storytelling content on LinkedIn will be instantly recognizable and memorable.
The other important piece is about finding topics that you can have an opinion about. By carving out your niche as a subject matter expert in your field, you can use storytelling posts to showcase your expertise and solidify your place as a thought leader.
The best bit? By drawing on real-world scenarios and life experiences, you'll always be inspired with fresh content ideas that you can tap into and harness on LinkedIn.
Ready to build your brand on LinkedIn?
Are you ready to start telling stories for your LinkedIn audience? Get started easily with Plann! Sign up for a free 7-day trial today, and develop a long-term storytelling strategy that will help keep you on track to smash your professional goals.