It's time to start making the most of Instagram analytics to understand your audience and grow your Instagram account!
The Instagram insights tool is a valuable addition to your social media marketing strategy, allowing you to develop a clear sense of who your target audience is and how they engage with your content on Instagram.
By improving your capacity to navigate Instagram metrics, you can start to create content that directly drives your marketing strategy and helps you hit your goals. But remember: Instagram insights are only available to Instagram business profiles and creator accounts.
Not sure where to begin when it comes to understanding the complexities of Instagram insights? Plann is here to help! This is your guide to what your Instagram analytics really mean.
Why Instagram Insights Matter
Often, Instagram insights are overlooked by even the savviest social media marketers. But if you're forgetting to take note of insights, you're missing out on valuable information that could support your next Instagram campaign.
Insights can provide plenty of actionable knowledge to inform your content creation choices and process. By tapping into the statistics, you can get to know your target audience and produce more effective social media posts that show up users' feeds.
As you begin to learn more about what it takes to perform well on Instagram, you can broaden your marketing scope to include other social media platforms. The options are limitless!
Analytics You Need to Know About on Instagram
If you're new to social media marketing, you might be feeling a little overwhelmed by the prospect of interpreting your insights dashboard. Don't worry. Analytics are available for all Instagram business accounts, so your metrics are waiting for you to discover!
Understanding Instagram insights get easier over time, and with just a brief overview of the most important metrics, you can dive right in. Here's what you need to know to get started with impressions, engagement, and reach.
Impressions on Instagram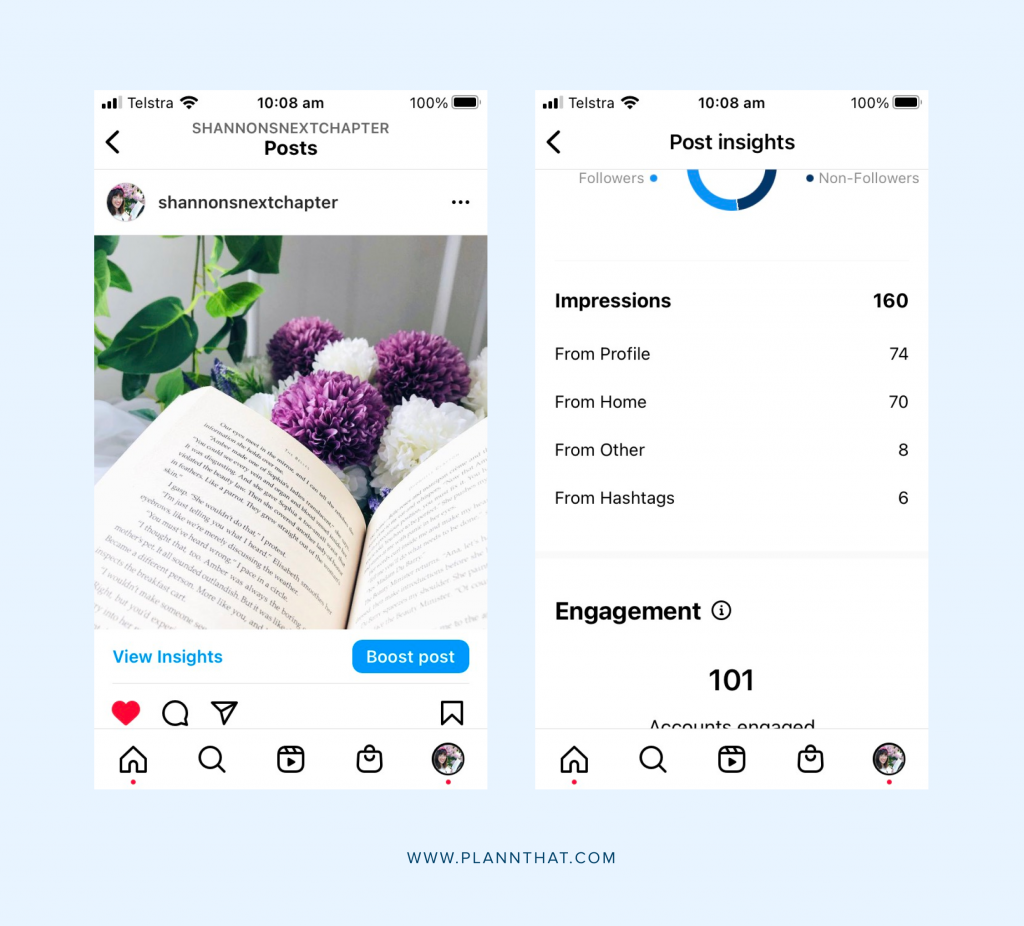 What does impressions mean on Instagram?
In a nutshell, Instagram impressions measure the number of times users view your content, including if the same person views your content multiple times. Your total impressions on Instagram are a great way to help you understand the true impact of your latest Instagram post. Content with the most impressions is often the content that's most popular among your audience.
Your number of Instagram impressions can play a key role in allowing you to determine meaningful content strategies. By viewing the number of impressions your Instagram posts earn, you can understand what your followers care about, factoring these patterns into future content decisions. This means that impressions can help you create Instagram content that users will love!
How many impressions on Instagram you receive tend to be most useful when viewed on a case-by-case basis for each individual post.
Navigate to a recent post, and choose view insights at the bottom of the screen. Next, scroll down past reach data until you find impressions information. Here, you'll be able to see your impressions and measure the total number of times your post has been seen and where the user has found it.
Engagement Rate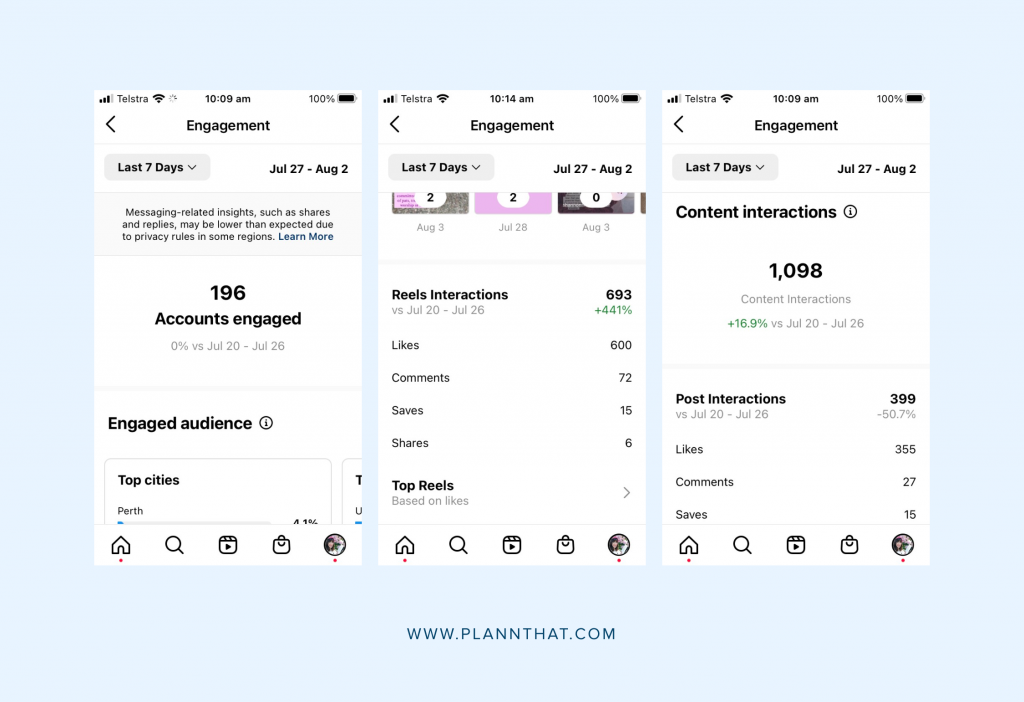 On social media, engagement is everything! Your engagement rate measures how users interact with the posts you share. Generally speaking, more engagement means more impact and a greater chance of driving conversions. That's not to mention more opportunities to thrive in the Instagram algorithm!
Engagement rates are an important metric, providing you with a sense of how your followers respond to your content and your account at large. This can help you adjust your content style, from altering caption copy to improving visual assets. As you learn what users enjoy, you can see what posts generate the best responses and start to drive more engagement across Instagram Reels, posts, and stories alike.
To find your engagement rate, go to your profile page, and choose insights. Here, choose accounts engaged from the menu, and scroll down to view additional information relating to demographics, engagement behaviors, and the most engaging content you've shared.
Instagram Reach
On Instagram, reach measures the number of unique users who view your content. By focusing on unique viewers, reach statistics allow you to see how many individual users are seeing your content in the feed. This makes it easy to develop a clear sense of just how many people know about your account and brand on Instagram.
Unfortunately, Instagram rarely shows your posts and stories to all your followers unless you're spending big on sponsored content. By using your reach statistics, you can identify patterns in the total number of viewers on each post you share. This way, you can start to strategize new ways to generate traffic, whether you're working on Instagram posts, Instagram stories, or Instagram reels.
Finding your reach insights is easy. All you need to do is navigate to your profile page and select insights. On the next page, choose accounts reached, and scroll down to view audience demographics. These will tell you more about who your audience really is and whether these users already follow your account.
Other Instagram Insights metrics to consider tracking
These are the main pillars of your analytics, but that doesn't mean there isn't more to discover within the Instagram app! Other metrics are also available, helping you take a deeper dive into your follower demographics, saved posts, profile visits, and other signs of Instagram success.
Some of the other metrics you can consider tracking include:
• Total followers and follower growth
• Profile visits (a.k.a. the number of users who have viewed your Instagram profile)
• Engagement metrics (such as saves, shares, and likes)
• Business address taps (how many users are looking for directions to your business)
• Call button taps (how many users are trying to call your business)
• Email button taps (how many users are trying to email your business)
Remember: come back to your goals on Instagram and pick a handful of Instagram metrics that will help you measure your success.
Tips to Keep in Mind when tracking your Instagram analytics
As you begin to discover the opportunities your analytics can provide, here are a few tips to keep in mind.
1. Check your insights regularly
Check your insights as often as possible! The Instagram platform is always changing. The best way to stay up to date is by ensuring you never fall out of the loop. Make it a habit to be aware of data, especially if you're currently working on new content.
2. Diversify your approach
The only way to generate Instagram success is through trial and error, so don't be afraid to try new content formats and strategies. Remember to use a diverse range of Instagram features, making the most of grid posts, reels, stories, and even live videos.
3. Turn knowledge into action
When you start to learn about your analytics, turn what you know into action! Use insight information to guide your content decisions and planning. This allows you to understand Instagram users and provide your followers with the content they love most.
4. Always be ready to adapt
As the social media landscape continues to change, you need to be ready to adapt at a moment's notice. Sometimes, the algorithm may favor video content, making it important to prioritize reels. Other times, posts and stories may be at the top of the charts! Whatever you do, stay aware and prepare to adapt your marketing strategy.
5. Keep your goals in mind
Finally, keep your goals in mind. Instagram marketing relies on goals-driven content strategies. As you make decisions about your content, ensure that you remain committed to what you want to achieve.
Start Plann'ing for Success
Ready to use your Instagram analytics? Get started with a free 7-day trial of Plann, helping you create great content and foster engaged online communities.