The world's most talented Instagrammers never fail to offer awe-inspiring Instagram post ideas, no matter what niche or industry you work and post in!
As Instagram greatness continues to grow, there are many new ways to build your account, boost your reach, and improve engagement rates. So where should you begin on the journey to Instagram stardom?
Luckily, there are many Instagrammers you can turn to for content creation ideas, learning the ropes of social media success. The more you know, the better you can prepare to improve your Instagram posts and impress the social media masses. 
Here at Plann, we've done the research work for you. Here are our best examples of engaging posts across nine unique industries!
eCommerce Instagram Post Examples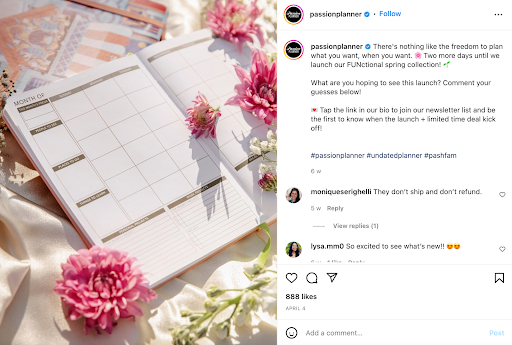 Smashing Instagram goals is as simple as showing off the value of your product whenever you get the chance! The Passion Planner team never miss an opportunity to show audiences what the best planners and journals look like in action. 
Every post offers a new perspective on the brand's best products. These engaged product shots are the key to skyrocketing eCommerce sales!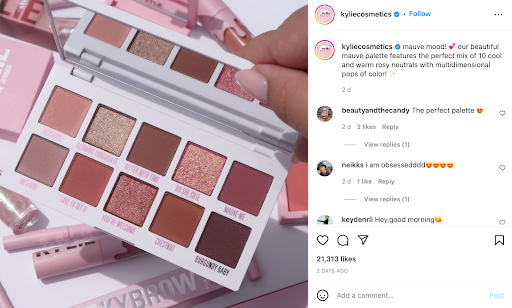 Branding is power in the eCommerce world! The Kylie Cosmetics Instagram account is always on brand, sharing regular updates on their latest makeup product releases. 
By maintaining a consistent grid, you can instantly recognise this brand through their visual look and feel. This account is a great example of how branding works on social media.
Fashion Instagram Post Examples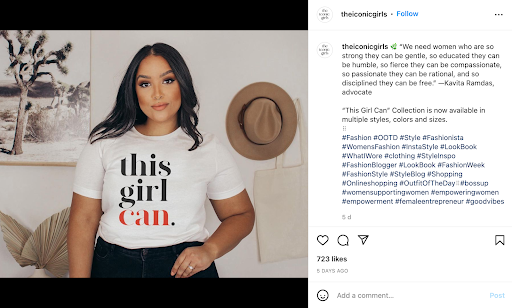 Focusing on a powerful message, The Iconic Girls creates Instagram content that speaks directly to the brand's loyal followers. The business empowers its audience, all while featuring inspirational quotes and the company's popular fashion apparel. The Iconic Girls knows its market, and every post is another chance to reach soon-to-be buyers.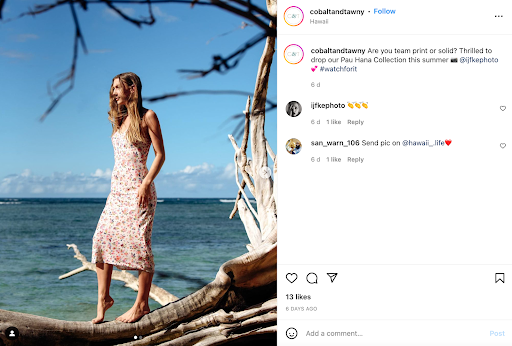 At Cobalt and Tawny, fashion meets travel! The company shares bright photos featuring its popular clothing products on locations at spectacular destinations. The result is a social media calendar full of beautiful fashion photography. This is a great way to draw audiences from multiple niches. A clever Instagram post idea, right?
Health and Wellness Instagram Post Examples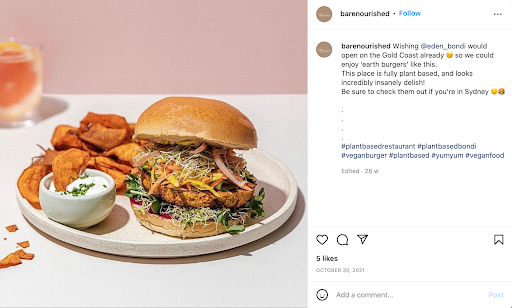 This health and wellness brand is smashing goals and giving foodies tonnes of inspiration for what to post on Instagram. 
Bare Nourished is all about sharing bright, clear food photography and easy-to-follow Instagram recipes. In fact, this brand is the perfect example of how Instagram can be used for a range of posting styles and formats. From photos to Reels, stories, and more, there are so many ways to share content on Instagram.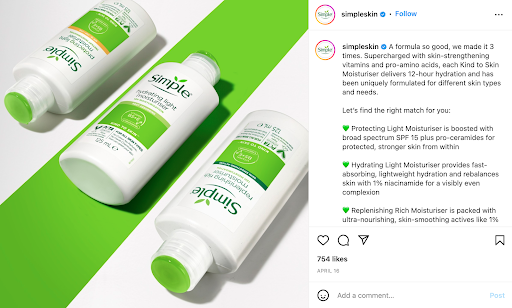 Simple Skin is an amazing example of product marketing on Instagram! The company sticks to clear brand colors, sharing the benefits of its popular skincare products in a range of styles and formats. All posts offer plenty of information about the benefits of Simple skincare. Talk about clear communication!
Service-based Instagram Post Examples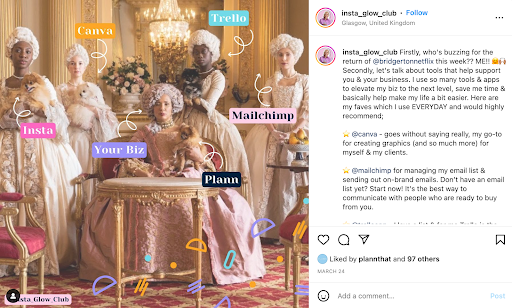 Insta Glow Club shows all the hallmarks of an Instagram legend! The company advertises Instagram growth services, using its own Instagram posts to provide education, advice, and examples of its work. Engaging, educational, and entertaining, Insta Glow Club checks all the Instagram boxes!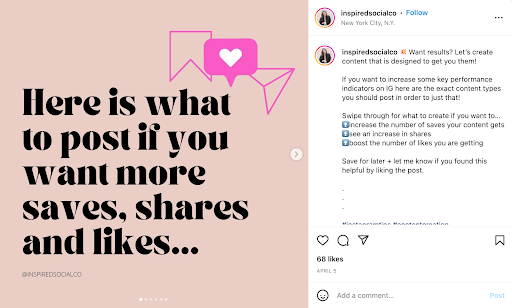 Sharing educational posts and using a range of content formats, Inspired Social Co. teaches fellow social media users how to make the most of a social strategy. Offering free value on Instagram helps this clever business prove its worth to new service-based customers. The brand builds a great reputation and a loyal Instagram audience. 
Photography Instagram Post Examples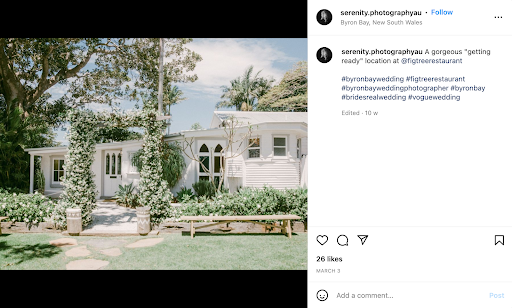 At Serenity Photography AU, beautiful photography is everything. Exactly that is reflected in the brand's Instagram content! Using Instagram as a platform for portfolio work helps this business show off its incredible wedding photography skills, convincing followers that this is the photographer they need. Thus photography skills help to create several albums, such as wedding photo collections and other collections, to display online and get more followers. A perfect example of using Instagram as a visual portfolio.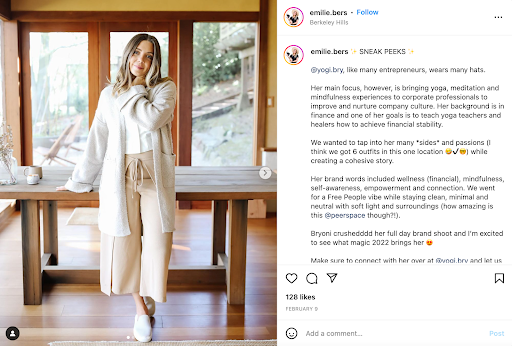 Featuring a great portfolio and plenty of branding and photography tips, this brand photographer achieves it all! By knowing and communicating with her target audience, Emilie can drive interest and engagement across her photography business. The result is a great reputation for providing value, along with driving more interest from highly relevant clients. 
Hospitality Instagram Post Examples 

Good food and a great atmosphere! Hobba Prahran uses Instagram as a platform to share the very best of the business. The brand's Instagram is a great advertisement for the cafe's delicious dishes. Plus, well-executed food content generates plenty of engagement from hungry Instagram scrollers!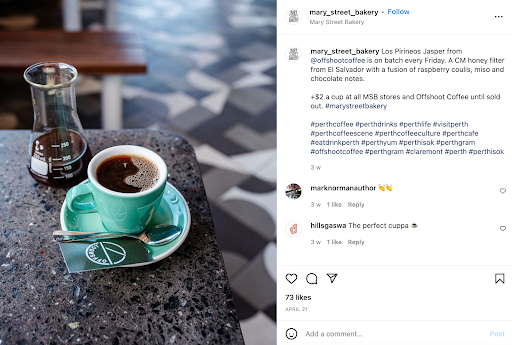 At Mary Street Bakery, the focus is the food! This small business shares high-definition food and coffee photography to remind followers what the popular bakery does best. This business offers a great example of the importance of using social media as a way to tease your in-store offering.
By using professional photography of menu items, this business is able to attract local customers and boost in-store sales. 
Education Instagram Post Examples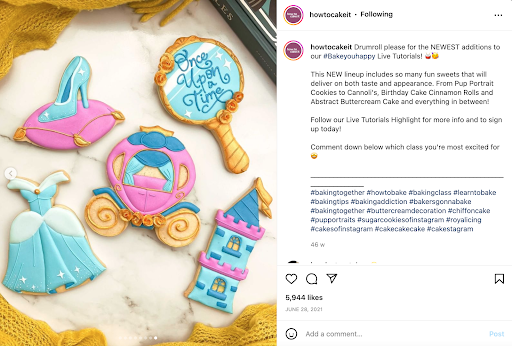 How to Cake It is home to some of the best baking tutorials and classes on the internet! This brand shares its best cakes and cookies on Instagram, encouraging followers to develop cake-making skills of their own. By showing audiences what's possible, this brand highlights the value of its teaching programs. Now, that's clever Instagram marketing!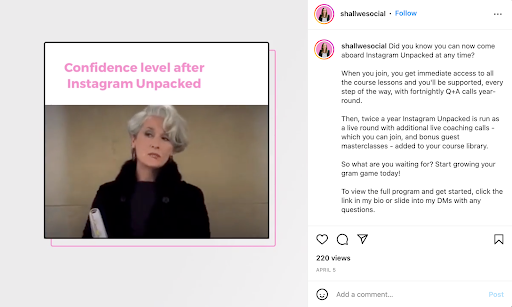 Sharing fun, engaging, and entertaining posts, Shall We Social is a great example of how comedy can be used to improve Instagram engagement and marketing success. The brand shares plenty of tips, tricks and wisdom across a range of content formats, all promoting its Instagram courses. By keeping users entertained, Shall We Social builds engagement and draws focus to its marketing message. 
Arts and Creative Instagram Post Examples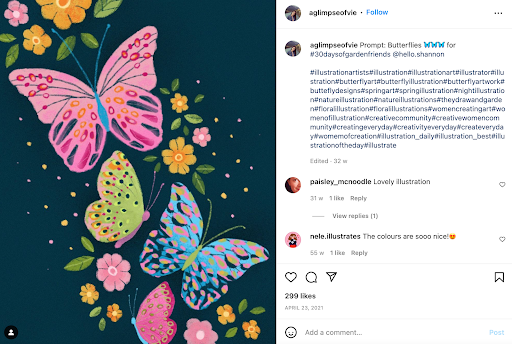 A Glimpse of Vie uses Instagram as an online art portfolio, sharing her latest paintings and sketches for everyone to admire. This Instagram account is the perfect example of how you can tailor your Instagram feed to showcase your talents, all while building interest and an audience for your skills. If you're an artist, Instagram can be a great place to develop a professional identity!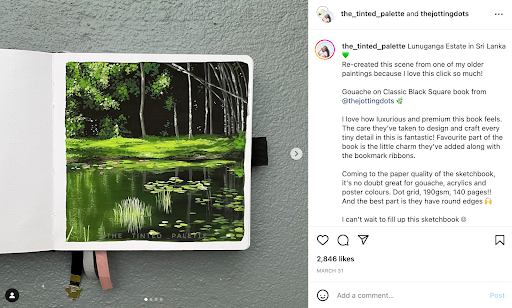 The Tinted Palette shares photos, carousels, stories, and reels, highlighting her amazing painting skills and offering painting tips for followers. This Instagram account is a great example of how talent can be used to generate engagement and build a successful social media platform! By offering educational value, this account gives users a reason to follow along. 
Blogger Instagram Post Examples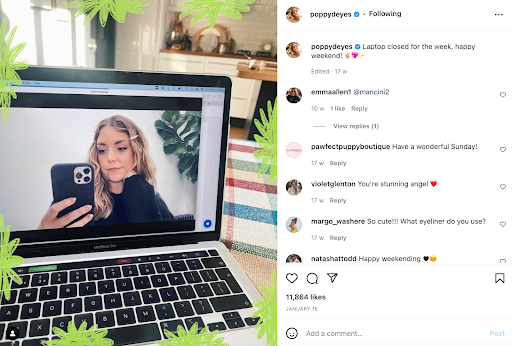 Poppy Deyes is a well-known blogger and social media influencer, sharing everything from day-in-the-life posts to work updates, art goals, and product recommendations. Poppy's photos and captions show the power of being real on social media and communicating authentically with your audience. As a result, her engagement rates are amazing, and her content is popular among over 1 million followers.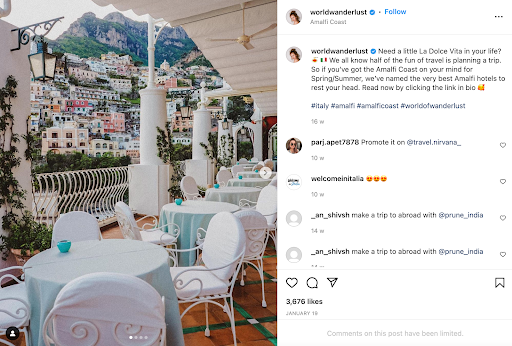 Brooke Saward is the queen of Instagram travel blogging, having earned an audience of over 541k. This social media influencer has built a career travelling the world and sharing shots of her favorite destinations. Brooke's Instagram account is a good example of how regular posting and an engaging hook can turn something simple into social success. Time to start a posting schedule!
Plann'ing for Instagram success
Has this list got you thinking about your own Instagram goals? Don't waste time! Start Plann'ing for Instagram success today!  
Sign up for a free 7-day trial of Plann, and you'll get access to all of our best tracking, scheduling, and content creation tools.