If you find yourself wondering how to increase engagement on Instagram, Reels are the answer you're searching for. They offer plenty of opportunities for account discovery and Instagram growth, and are one of the most engaging content formats on the Instagram platform..
Instagrammers around the world have quickly discovered the value of Reels content in engaging audiences and building a successful social media presence. By sharing clever and creative video content in the form of Reels, it's now possible to reach more users than ever before!
To get the most out of your Instagram Reels, it's important that you know how to optimize these pieces of content for success. Here are our top 10 creative content ideas to help you use Reels to boost your engagement rate on Instagram.
Tip 1. Get creative with content ideas
In the world of social media, content is king! That means that the quality of your content should always be your top priority.

When coming up with content ideas, Reels shared by other accounts are a great source of inspiration. Watching Reels will help you discover what's on trend and what's generating high engagement for other Instagram users.
When you spot a trend or content idea that you think could work for your account, start asking questions:
• How could you reimagine this idea to align with your niche in a unique and creative way?
• How can you share value with your audience? 
• How can you use this video content to convert your followers into customers?
Tip 2. Know your brand 
Knowing your brand and what your business stands for is an important part of formulating an effective social media strategy. This can help you develop a clearer understanding of your purpose and how to connect with your audience.
The Reels you share on Instagram should be closely related to your existing brand and what you're known for. When people follow you on Instagram, what are they expecting to see?
You can keep Reels on brand by referencing your product, service, or niche in your content. You might even add an extra branding splash by featuring your brand colours or logo in your videos, too.
Tip 3. Use a hook and transitions 
The best video content (including Instagram Reels) is engaging right from the start! This is where a good hook and interesting transitions can help.
The first few seconds of your Instagram Reels are your chance to capture a viewer's attention, pull them in and encourage them to watch the rest of the clip – and maybe to share it with their audience, too.
Whether you use a bold statement, an eye-catching effect, or an exciting transition, keeping Reels fast-paced and fun to watch is the key to better engagement rates.
Tip 4. Edit on the 'gram 
Instagram supports those who support it! The Instagram app has plenty of great built-in video-editing tools, allowing you to create high-quality visual content and enticing Reels.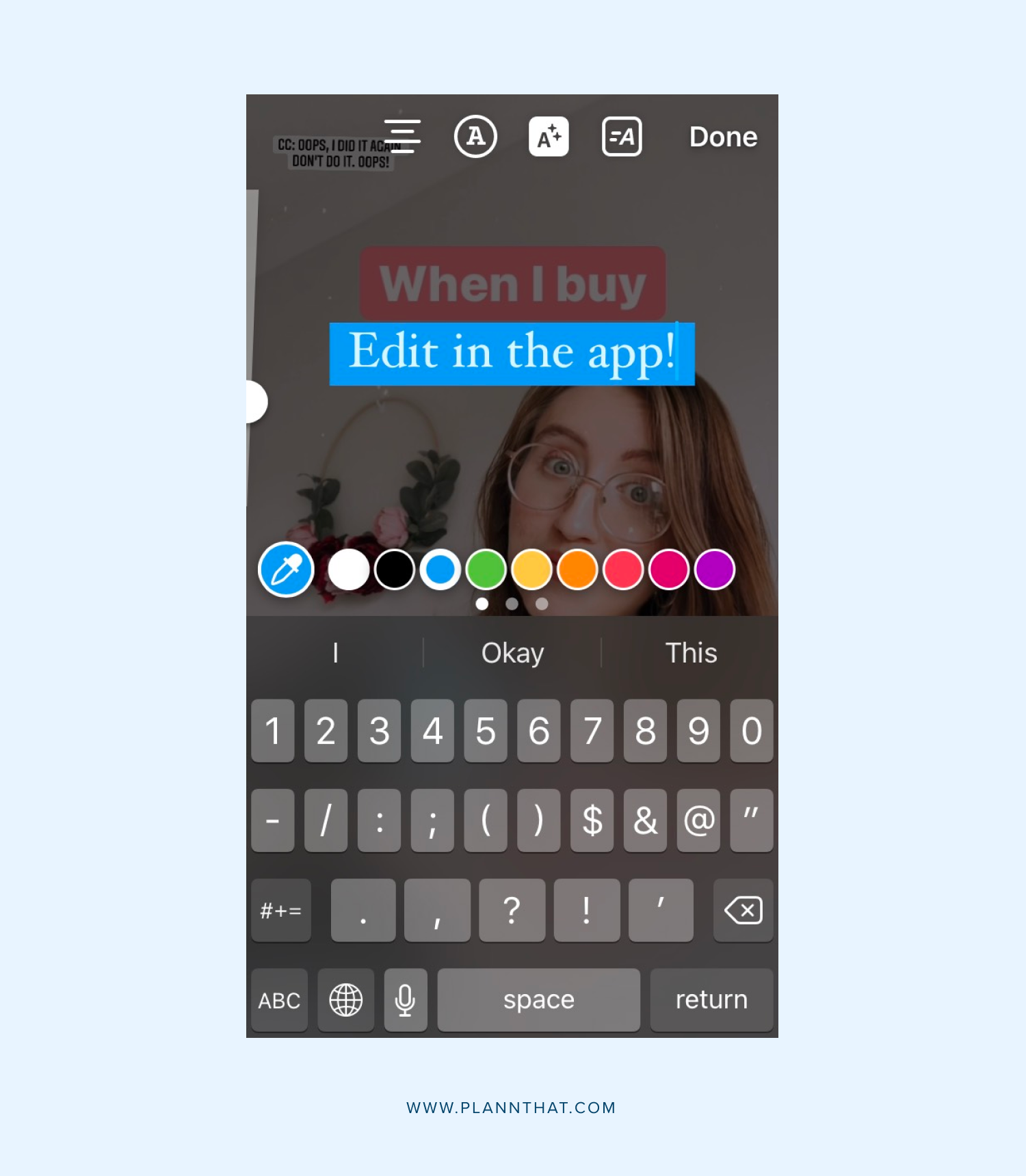 By using native editing tools to create Reels, you can make the most of the full Instagram experience, trying out new features and getting ahead of trends.
The Instagram algorithm is tailored to promote Instagram itself, so if you're using native features and effects, the app may reward you with increased reach benefits!
Tip 5. Choose your audio wisely 
If you're aiming to improve your reach and engagement rate on Instagram, it's a good idea to stay up to date with current trends. Reels audio is a great place to start!
When an Instagram Reel uses a trending audio, you'll see a diagonal left-facing arrow next to the sound. This is your cue to hop on board and align your account with what's popular.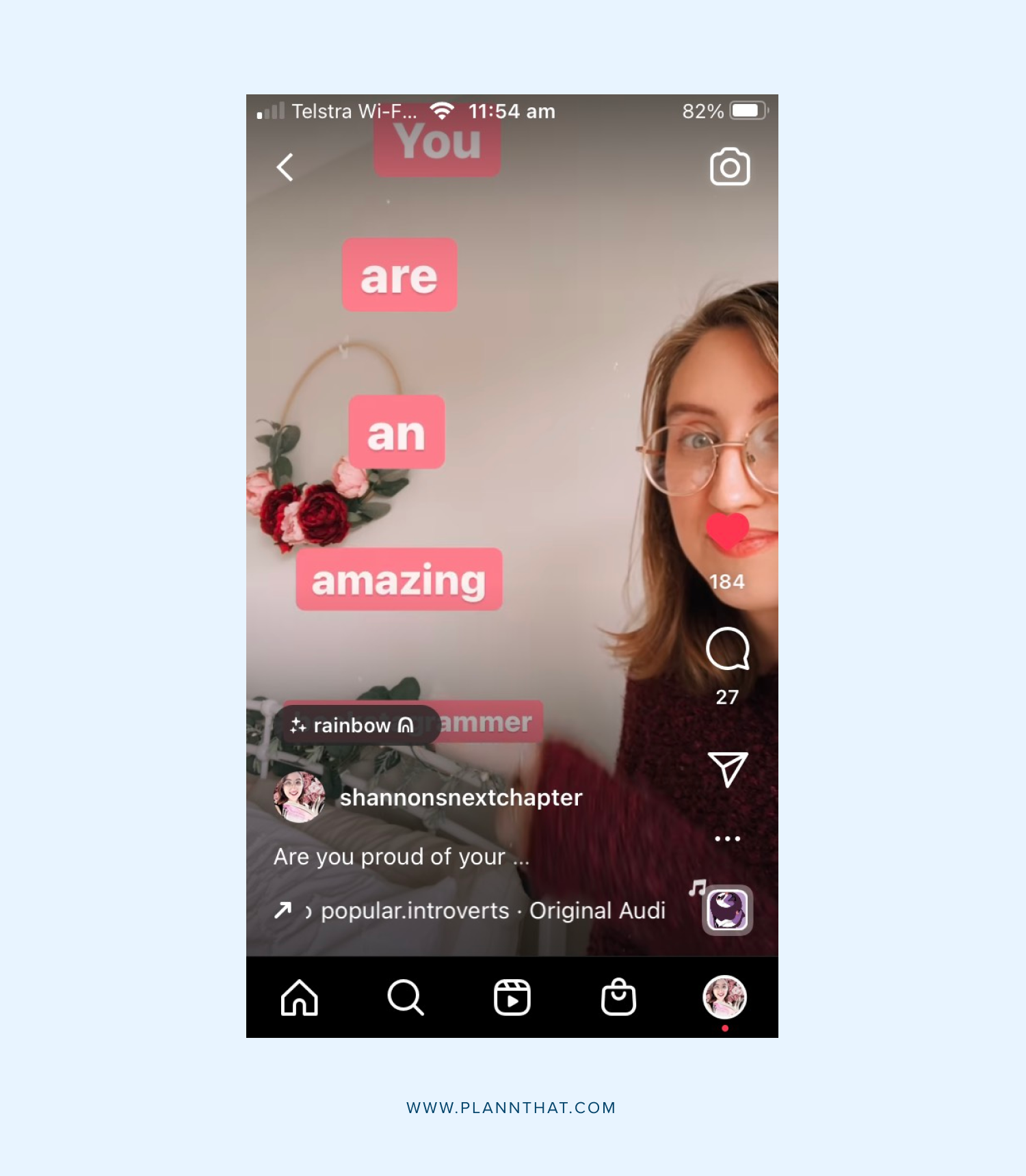 Choosing trending audio can help your content achieve wider reach, providing more opportunities for engagement too.  
Need a hand spotting trending audio on Instagram? Make sure you're following Plann on Instagram for our weekly trending audio wrap-ups!
Tip 6. Caption like a boss 
Captions have an important role in promoting engagement on Instagram, whether they are in your Reel description or in the video itself. They're also a good place to feature some keywords for SEO (hello, extra reach!).
Use your captions as an extra place to communicate with your audience. You can use text to facilitate transitions, to add new meaning to your Reels content, or to speak directly with your viewers.
To improve the accessibility of your content, also add closed captions to your videos. This will help users watching without sound or who are hard of hearing.
Tip 7. Share content far and wide 
Sharing your Reels as broadly as you can help you capitalize on all reach and engagement opportunities.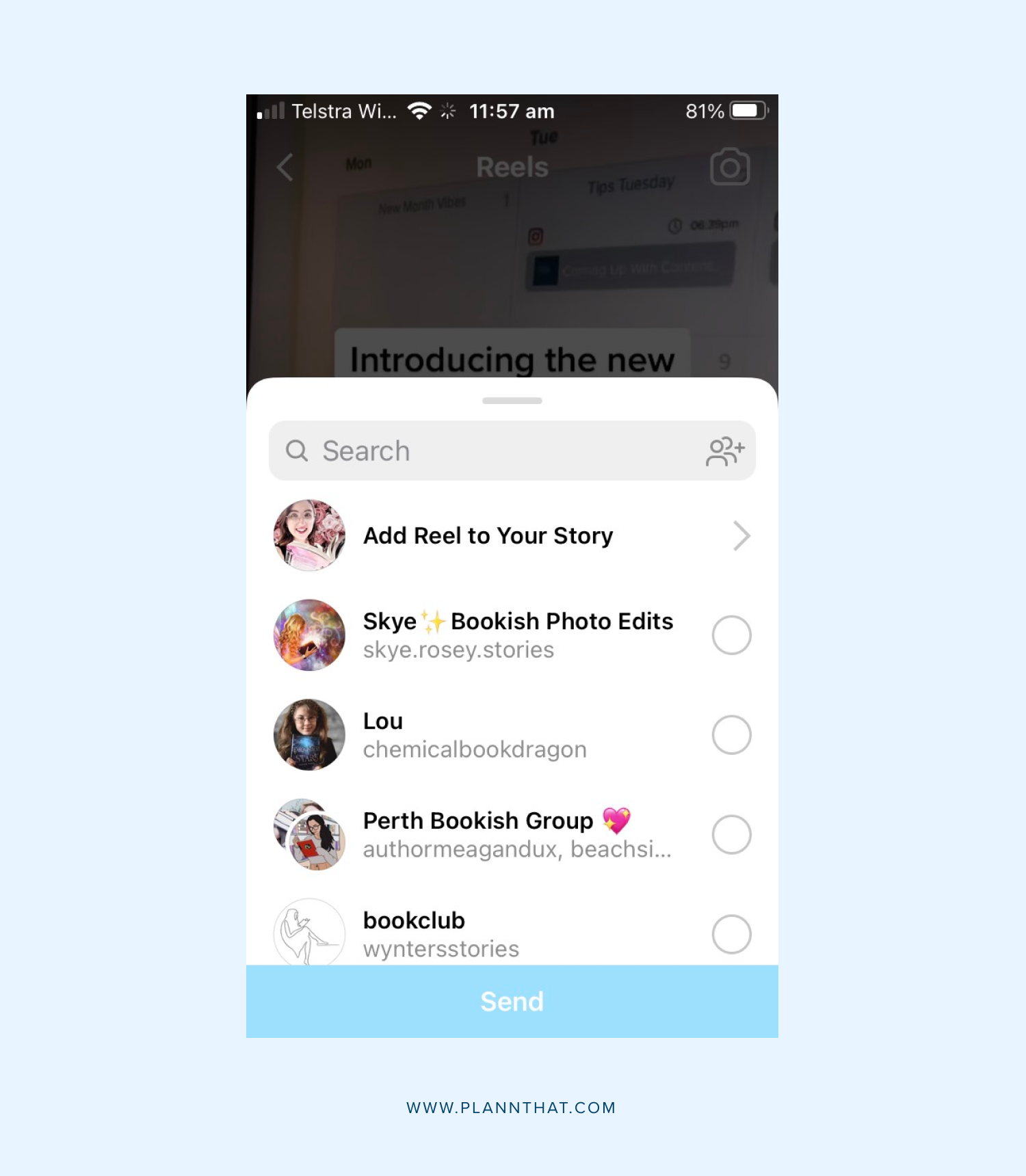 When you post an Instagram Reel, make the most of all your content channels by adding it to your profile grid and sharing it on Instagram Stories. You could even share your Reel on another social media platform, too!
When more people view your content, more people will engage with it, helping you achieve an overall Instagram engagement rate increase.
Tip 8. Include your community 
The most important people on your Instagram account are your audience, so it's a good idea to include your community in your content ideas and Reels posts.
When producing new Instagram Reels, think about the kind of content that your audience is most likely to be interested in. Can you offer something fun, entertaining, or educational?
Hot tip: why not Poll your audience on Instagram Stories about what Reel topic they want you to share next?
Viewers who feel included and valued as part of your community are much more likely to engage with your Instagram content and encourage others to do the same.
Tip 9. Add a call to action 
Like any other social media post, all your Instagram Reels need a call to action.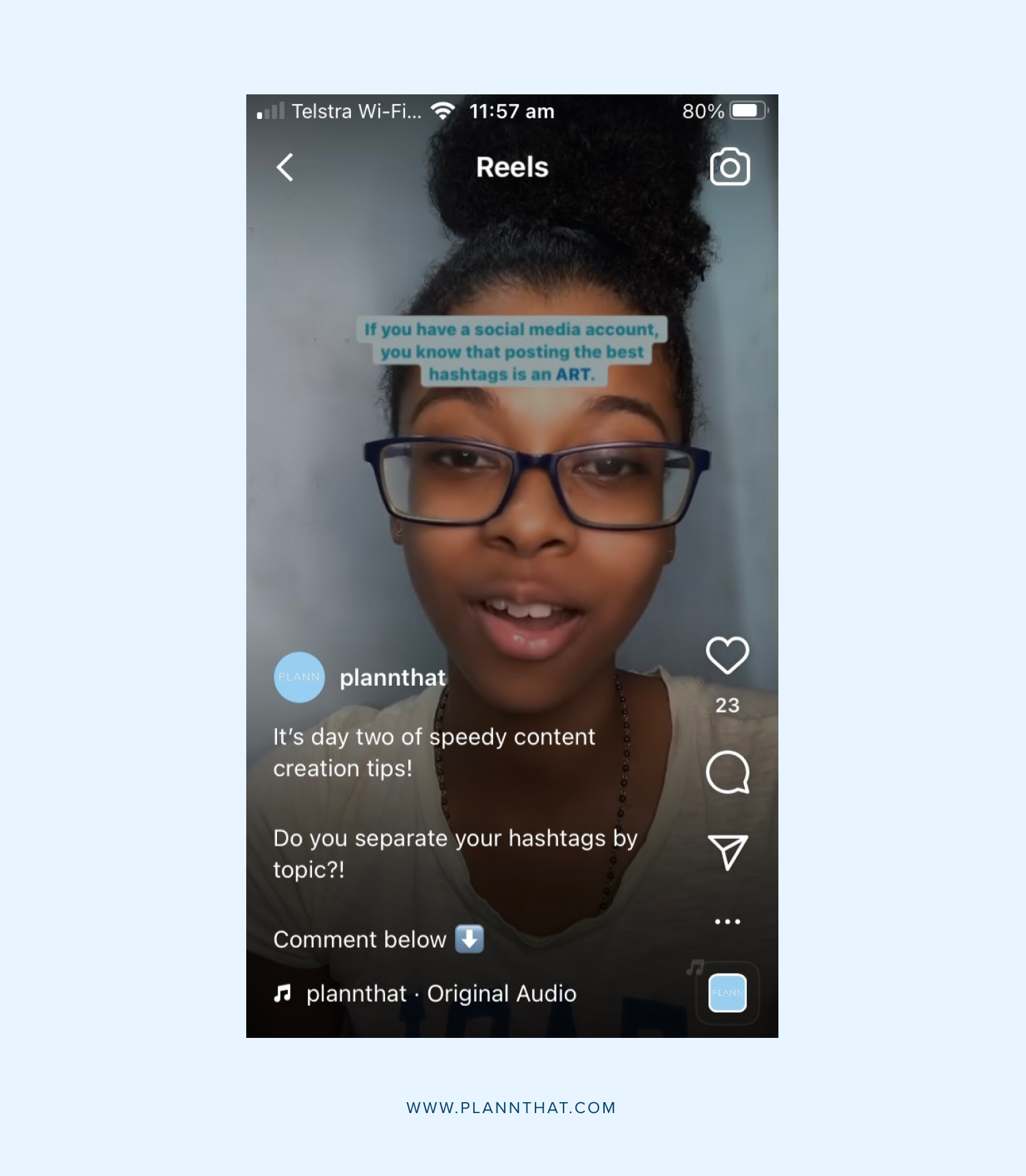 Users find it much easier to engage with social media content when they are provided with a clear means to do so. By including a call to action in your Reels posts, you can tell your audience how you want them to engage with your content.
Ask a question, or tell users to comment to like, comment, share, or save. Reminding your audience to engage can go a long way to increasing your engagement rate.
Tip 10. Plann for success with Instagram Reels content
On social media, having a clear strategy is always a good idea. It allows you to think ahead of a plan for success.
Before you share new Reels on Instagram, conduct some market research using your insights and analytics. What you learn might inform your next content batch!
When you're ready to post, you can easily schedule and auto-post your Reels content with a social media scheduling tool like Plann!
Go on, sign up for a free 7-day trial of Plann today and you can start boosting your engagement rate using Instagram Reels.