Are you a small business owner looking to foster an engaged community on social media? Instagram Broadcast Channels can help you do just that.
If you haven't heard of Instagram Broadcast Channels before, they're a powerful Instagram feature that allows you to connect with your audience in personalized ways to drive engagement, boost sales, and foster strong relationships with your followers.
Ready to get started? We're rounding up everything you need to know about Instagram Broadcast Channels, including our top tips and tricks to help you effectively build engaged social communities.
What are Instagram Broadcast Channels
At the start of 2023, Instagram launched its new feature Broadcast Channels which essentially are public one-to-many direct messaging groups that you can invite followers to join.
Broadcast Channels allow you to share text, photos, videos, and voice notes to your followers. They're perfect for sharing company updates, behind-the-scenes content, or even creating polls to gather feedback from your audience.
People who join a broadcast channel are able to read, react and vote on messages and polls but aren't able to write and send messages – that's up to you as the creator.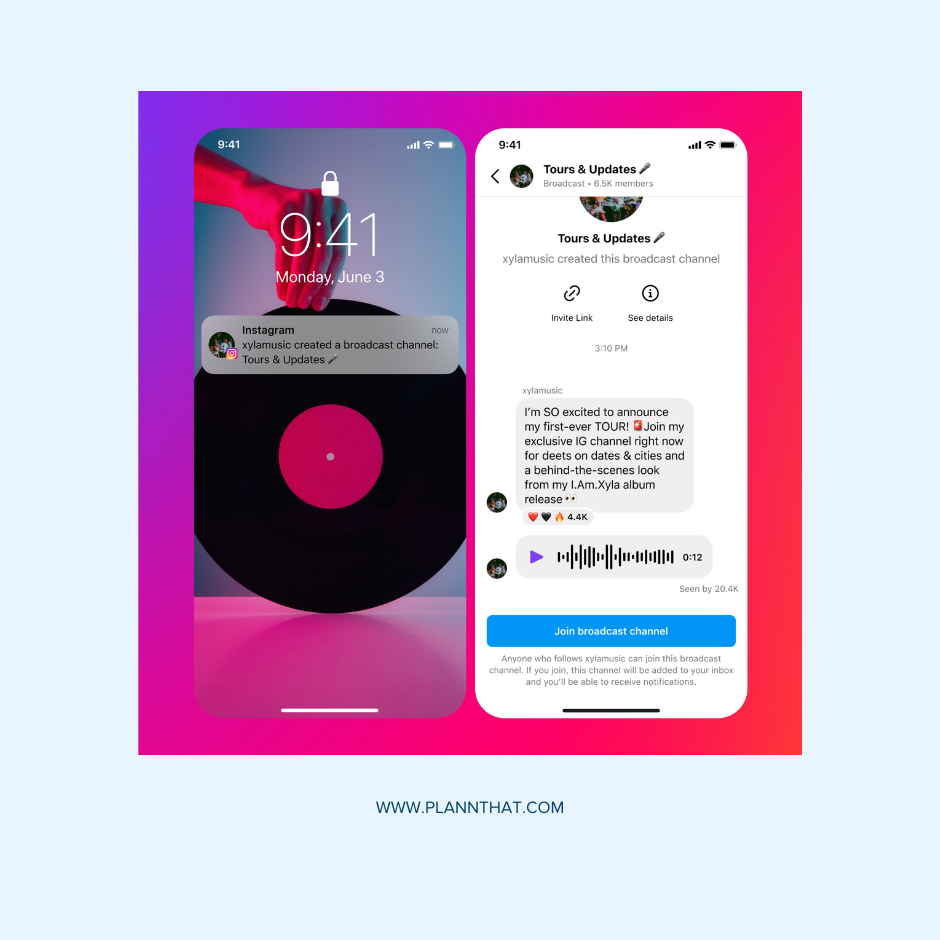 Instagram is still testing and rolling out the feature to all users, making it only available to certain creators at the time of writing. But, brands and businesses can sign up for the waitlist to be the first to access this exciting new feature.
Once you have access to the feature you can create your own broadcast channels by heading to your Instagram inbox and selecting 'Create broadcast channel' at the top right corner.
Then simply choose your Broadcast Channel name and send out your first message to all your followers. It's that easy!
Why Instagram Broadcast Channels are a powerful community building tool
Tired of seeing your Instagram content get lost in the algorithm? Watching your organic engagement rate decline? Looking for a fool-proof way to reach your ideal audience?
Look no further than Instagram Broadcast Channels.
Unlike traditional post formats (like Reels or Stories), Broadcast Channels give you a direct line of communication with your most loyal followers without having to compete in the algorithm to reach them.
Let's dive into three of the most valuable benefits of harnessing Broadcast Channels on Instagram.
1. A personalized way to engage with your followers
Broadcast Channels allow you to engage with your audience in real-time and provide a direct line of communication with your most loyal fans.
These channels give you the opportunity to answer FAQs, share exciting business announcements, and engage with your audience directly, creating a personalized and intimate experience for your followers – it's like a big group chat with your audience.
2. The ability to harness various content formats
Unlike traditional DMs on Instagram, Broadcast Channels allow you to harness various content formats beyond just sending text-only messages or sharing images.
You're able to create polls and send voice notes to people who've joined your channel where audiences can vote and react to messages you send. It's a dynamic way to build a loyal and engaged audience!
3. You don't need to compete in the algorithm
One of the best parts of Broadcast Channels is the ability to reach your audience in a targeted way. Since Broadcast Channels are a direct line of communication with people who join your channel, you don't have to compete in the algorithm with other Instagram users.
Instead, followers who join your channel will receive a notification when you message so it's guaranteed that your community will see any content, news, and updates you decide to share.
How to use Instagram Broadcast Channels to build a community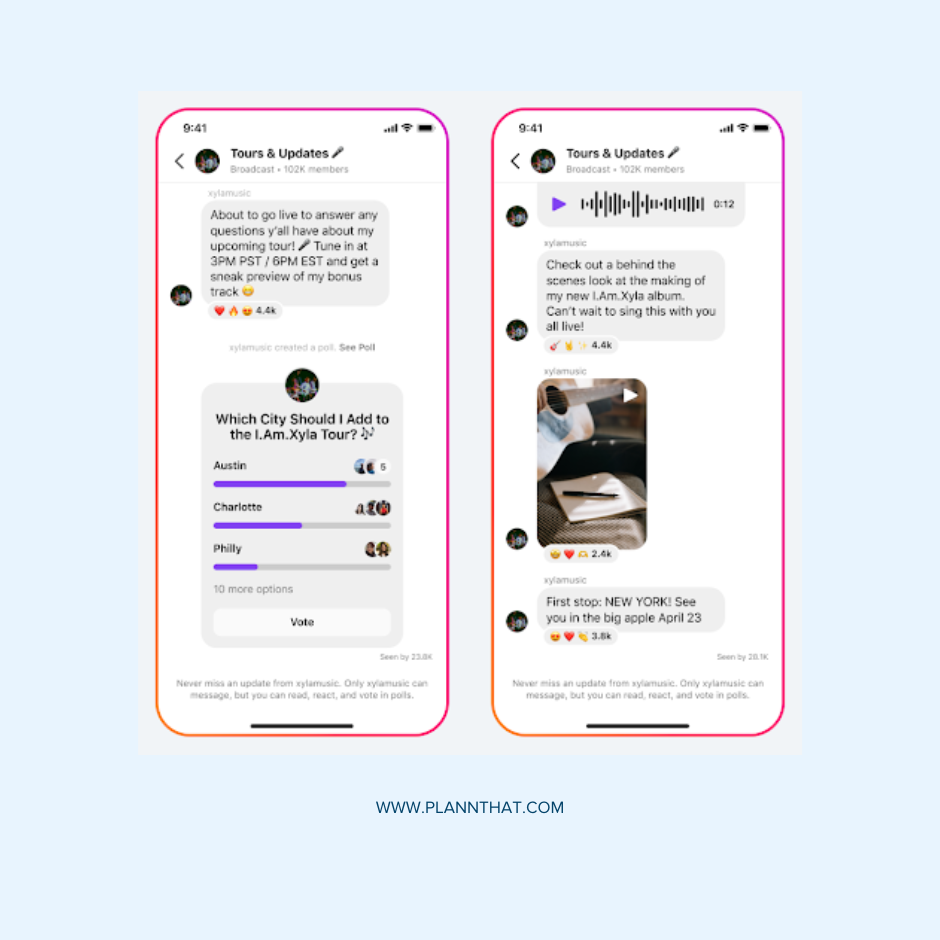 Now that we're up to speed on why Instagram Broadcast Channels are a powerful community-building tool, here are some tips and tricks to help you make the most of this feature and better promote it to your followers.
Tip 1. Craft a compelling first-channel message
First impressions count! Did you know that all of your Instagram followers receive a notification about your first Broadcast Channel message?
So it's super important to get audiences interested in joining your channel. You'll want to craft a compelling first-channel message that gets people in the door by briefly explaining what value they'll get from joining your channel.
For example, if you're a product-based business your Broadcast Channel can be used to share exclusive content, product launches and announcements, VIP discounts, and even events. Use that first message to tease the value of your channels and even offer an exclusive piece of content to boost channel engagement from day one!
Tip 2. Add your broadcast channel link to your Instagram bio
Did you know that you can pin your Broadcast Channel link to your Instagram profile? This makes it easier for followers to join your channel and boost the size of your community.
This is super important to increase the visibility of your channel, especially for profile visitors, new followers or anyone who didn't receive your initial first channel messages.
With a link set up, your followers can simply tap the link in your bio to join your channel with ease.
Tip 3. Promote your channel on Instagram Stories
Promoting your channel through your Instagram Stories is another great way to grow your audience and expand your visibility.
Promoting your Broadcast Channel by using the 'join channel' sticker in your Stories ensures your existing and new followers are reminded of your channel.
Hot tip: you can even save your Story to your profile with Instagram Highlights to ensure people browsing your profile never miss out on joining your channel.
Plus, if you're preparing to release some exclusive content in your channel, you can further promote it on your Stories with the 'join channel' sticker to build excitement and hype.
Tip 4. Create a subscriber-only VIP Channel
If you're looking to monetize your channel, Instagram lets you set up multiple Broadcast Channels. One for all your followers and an additional subscriber-only VIP channel.
In 2022, Instagram launched monetization options through Subscriptions which allow followers to get exclusive content and extra benefits by subscribing to their favorite Instagram creators.
And, you'll be able to reward those subscribers with even more exclusive content by allowing them to join a VIP Broadcast Channel. For VIP subscribers, you can encourage people to join by giving them exclusive discounts, early access to products, merch, or events, and even reward them with exclusive Reels, Stories, or go Live with subscribers only.
Tip 5. Try these engaging ways to use Broadcast Channels
If you're looking to start using Broadcast Channels, there are plenty of ways to start creating engaging content. By experimenting with new content ideas, you're not only providing value to your audience but building and fostering relationships with potential customers, too.
Here are three creative ways to harness Broadcast Channels on Instagram as a small business:
• Gather feedback on upcoming products: have an upcoming launch? Use Broadcast Channels to gather feedback on upcoming products and launches using the poll and reaction features. Create a poll asking users to vote on their favorite color schemes and names. Why not ask your audience what they most want to see from your brand to inform your product and service offerings?
• First look at new launches: build anticipation and excitement by giving your audience a first look at new launches you're coming out with. Not only does this build anticipation but it can be an opportunity to get initial feedback from the people who will buy your products or services.
• Build hype for upcoming events: if you're planning an upcoming event, you can build hype and encourage people to attend through your Broadcast Channel. Make the first round of tickets to events exclusive to people on your channel by giving them early access or discounting the price.
Ready to level up your Instagram marketing?
Looking for an all-in-one content creation suite that allows you to manage your Instagram page and all your other social media channels effortlessly? From mapping out your strategy and designing your graphics to saving plug-and-play hashtag sets, you'll find everything you need inside Plann.
Go on, and redeem your 7-day free trial of Plann Plus. If you don't like it, keep using Plann for free!