It's time for a social media update! And boy do we have some juicy news and awesome updates coming up for May. From profile updates and safety changes to new admin controls, social media is levelling up for users across the world.
Whilst you're busy creating content, scheduling and engaging with your community it can be difficult carving out some time to dive into the constant stream of updates. So, we've done some digging to bring you the biggest updates that are happening in the world of social media.

Ready to take a look? Let's uncover some of the most shocking statistics, algorithm changes and latest social media news you need to know about.
Instagram is updating its algorithm to prioritise original content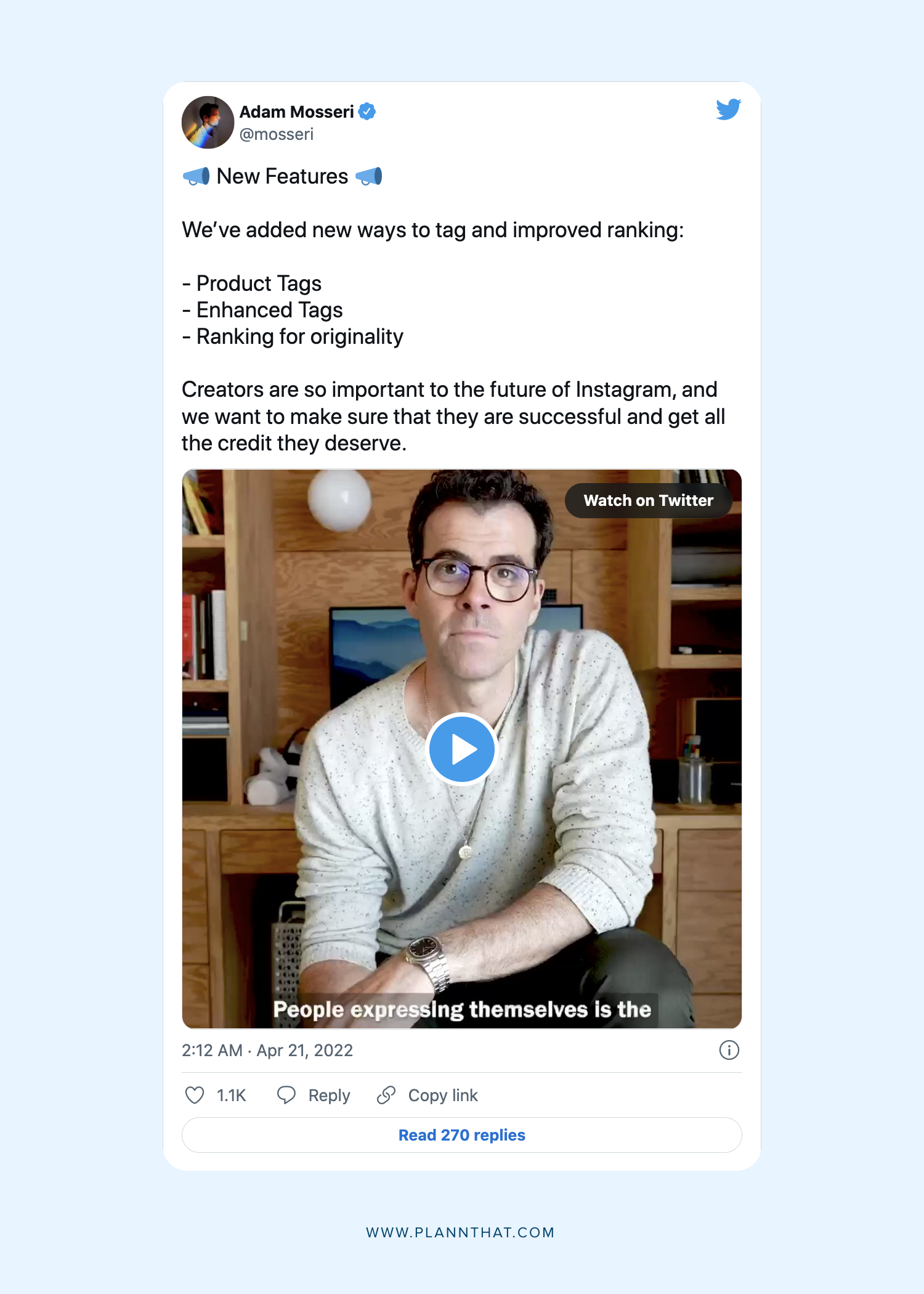 Instagram drops more big changes on us! Just a couple of days ago, Head of Instagram Adam Mosseri announced that original content will be favored over resharing. This means that if you create a piece of content from scratch, it will be ranked higher than if you repost someone else's content.
"Creators are so important to the future of Instagram, and we want to make sure that they are successful and get all the credit they deserve," Adam added.
Instagram mentioned that it is crucial that credit goes straight to the original creator, and they will be highlighted on the home feed with more brand visibility.
But what does this mean for your content that is shared across multiple platforms? Mosseri explained that:
1. Any content edited outside of Instagram won't be penalized under this new change, which means you can still create your content on apps such as Canva and upload it to Instagram via scheduling tools (like Plann).
2. Instagram's original content ranking is still a work in progress. The platform admits that they can't know for sure whether a piece of content is original but "we build classifiers to predict how *likely* something is to be original, but that's not knowing. We look at things like who's in the video, and if we've seen the video before."
3. Posting history is a factor, and the platform will be able to refer to an account's posting history as a way of determining originality. Translation? Instagram is targeting aggregator accounts which are accounts that share a lot of content from others (meme accounts as an example!).
Originality is key! Keep making your favorite content and you'll see a boost in engagement when this new update gets released.
Instagram launches a test of pinned posts

A while ago, Instagram gave users the ability to add stories to pinned highlights at the top of their profile, as a way to save content from expiring. These Instagram Stories Highlights help users find useful information or take a look at a creator's past content!
But in a new announcement, Instagram has launched its first live test of pinned posts, which means that you can dock specific posts to the top of your grid (such as special offers, product displays and even your top-performing posts!).
Facebook, Twitter and TikTok already allow users to pin posts, tweets or videos to the top of their pages, and it looks like Instagram is finally catching up.
This feature gives you the opportunity to showcase your most helpful posts, services or even your most popular products. Pinned posts have been shown to boost visibility on other social media platforms, which makes this an awesome update from Instagram.
Instagram is also testing an 'Edit Grid' option, that would enable you to re-arrange your profile gallery as you choose, regardless of when each was posted – keep your eyes peeled for more information.
Facebook introduces more features for group admins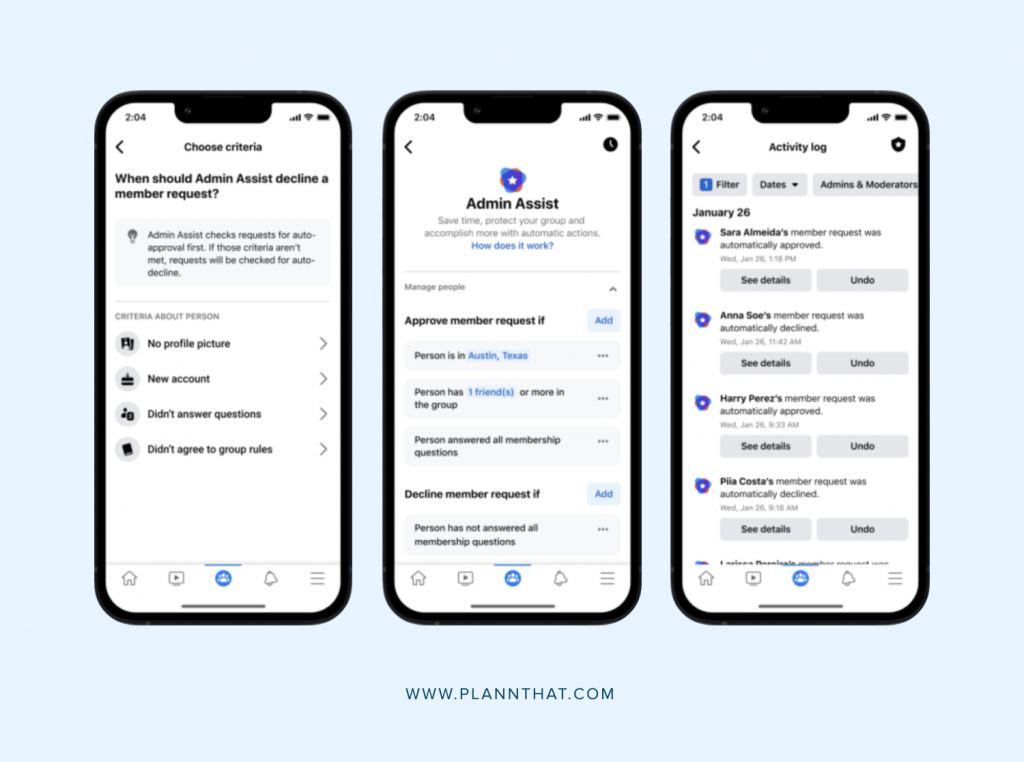 Facebook groups have made up a large part of the Facebook experience in recent years. Being able to join different groups around the world has connected and brought people together, with some groups growing to hundreds of thousands, if not millions, of people.
But anyone can create a group, meaning that admins have to control and filter through bots, spam posts and manage group requests. This can make it tough to grow a supportive community while also battling the rise in spam.
This has come to Facebook's attention, which is why the company has just rolled out new tools to help group admins manage their communities, keep members safe and reduce misinformation.
The two most important takeaways from this announcement are:
1. Facebook has added the option for admins to automatically decline incoming posts that have been identified as containing false information (through third-party checkers).
2. The company is also updating the "mute" function to "suspend" so admins temporarily suspend members from posting, commenting, reacting and participating in groups.
3. Group admins can automatically approve or decline member requests based on specific criteria that can be set up.
"We're introducing a number of features to help reduce admin workload and help admins efficiently manage their groups while also growing them with the relevant audiences," shares Maria Angelidou-Smith, VP of Communities at Meta.
All of these new features give group admins a lot more control over their groups, and makes filtering through misinformation, hate speech and the spread of dangerous content easier than ever before.
YouTube shorts are taking off (generating 30 billion views a day!)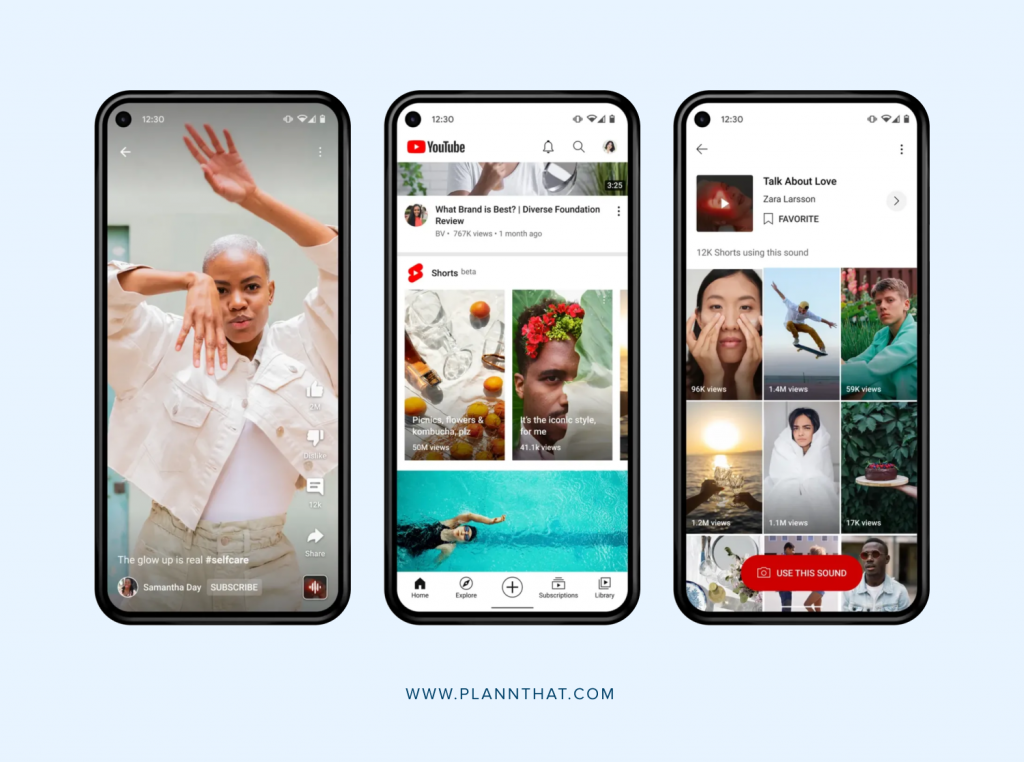 YouTube introduced the 'shorter side to YouTube' in 2021, bringing creators a new way to share moments with their audience.
Making videos a maximum of 60 seconds each, YouTube shorts gives you a great way to share bite-sized snippets of your content. Much like TikTok, shorts can be filmed and uploaded from a smartphone which encourages creators to upload on a whim.
YouTube has been around for over a decade now and has a huge range of videos on the platform, anything from how-to videos, beauty hacks to comedy and daredevils videos.
But with the ever-evolving landscape of social media, YouTube had to create a new segment on the platform. YouTube shorts emerged mid-pandemic and were quickly adopted by existing and new creators. As mentioned by Variety, in just one year Shorts surpassed 15 billion global daily views, more than doubling from 6.5 billion in March 2021.
And recent news came directly from Google Shareholders who announced views have gone up to 33 billion per day! YouTube also confirms it is now testing ads in Shorts, which will finally allow creators to monetize short-form videos. It seems that Shorts are taking off! And it gives you another chance to connect with your audience.
LinkedIn adds new profile links
In the world of LinkedIn, the professional side of social media is seeing some incredible growth. With revenue up 34% and record levels of engagement, LinkedIn is helping creators and entrepreneurs build their personal brands through thought leadership content.
LinkedIn just announced that they're releasing a new feature on profiles that allows creators to add a link in their bio. LinkedIn has powerful organic potential so this feature is great for directing followers and connections to your website or newsletter.
Level-up your social media presence in 2022 with Plann
Now you've scored the latest insights about what's happening in social media, it's time to put your knowledge into action. And what better way to do that than with your ultimate all-in-one social media suite, Plann!
Ready to expand your reach on social media with Plann? Go on, redeem your 7-day free trial of Plann Plus. If you don't like it, keep using Plann for free!