There's no denying that creators and influencers are shaping the new features being rolled out by social media platforms. In fact, the creator economy is estimated to be worth over $100 billion dollars.
While platforms like TikTok have been offering monetization features to creators for a while, Instagram is making waves in the space, too.
Now, Instagram is giving a handful of US creators early access to their new Instagram Subscription features. From the launch of exclusive content to new ways to engage with creators, these monetization features are set to skyrocket the earning potential for creators on Instagram.
So, how do Instagram Subscriptions stack up to the monetization tools on other social platforms? Let's run you through what to expect from Instagram Subscriptions.
What are Instagram Subscriptions?
In a nutshell, Instagram Subscriptions are a new way for creators to earn a sustainable income from creating content on Instagram.
According to Instagram, the feature has been rolled in response to the success of Facebook Subscriptions (which first launched in 2020).
It's a new business model for Instagram that allows creators and influencers to charge engaged followers for exclusive content and extra benefits within the Instagram ecosystem.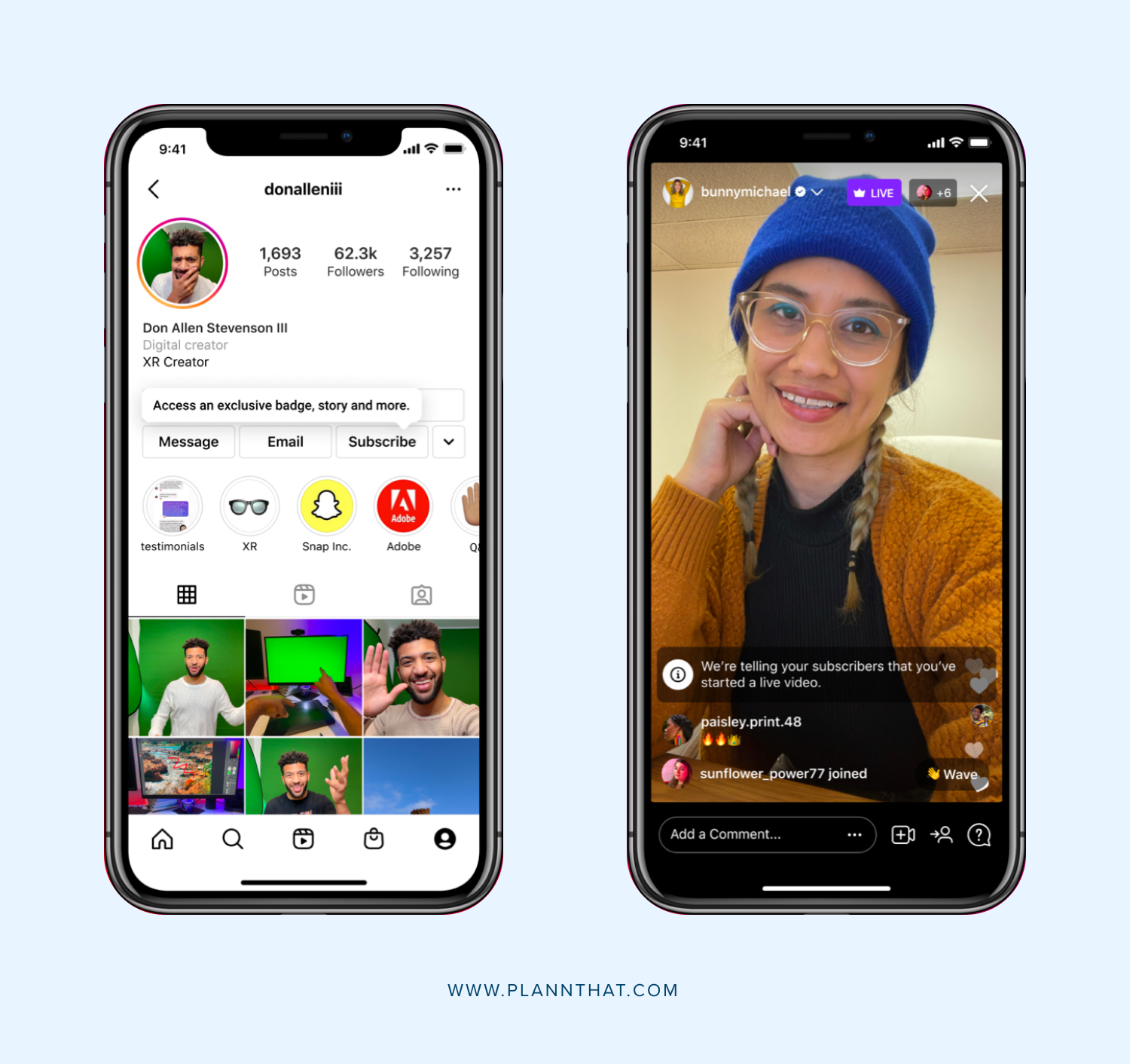 Right now, the Instagram Subscription features are available to a handful of US creators, all tasked with testing these features over the coming months.
This pilot group includes everyone from basketball players to Olympic medalists to astrologers, featuring @alanchikinchow, @sedona._, @alizakelly, @kelseylynncook, @elliottnorris, @jordanchiles, @jackjerry, @bunnymichael, @donalleniii and @lonnieiiv.
What monetization features do Instagram Subscriptions offer?
So, how can creators monetize their content through Instagram Subscriptions? We know that creators control the price point they set for exclusive content (ranging from $0.99 per month up to $99.99 per month).
Once a follower subscribes to a creator, they'll gain access to all exclusive content (even posts shared before they started subscribing). Plus, subscribers will be alerted to any upcoming exclusive broadcasts.
View this post on Instagram

At this stage, the three pieces of exclusive content and experiences available through Instagram subscriptions are:
• Subscriber Lives: exclusive broadcasts available only to subscribers.
• Subscriber Stories: exclusive Instagram Stories available only to subscribers.
• Subscriber Badges: exclusive badges that ensure subscribers stand out to creators in public comments or message requests.
Subscribers will know they're watching exclusive content when they see the purple ring appear on a creator's Instagram Stories.
The aim of Instagram Subscriptions is to give dedicated followers the opportunity to deeply connect with the creators they frequently engage with.
Right now, these tools exist only within the Instagram platform, but there are plans in the works to allow creators to export their subscriber data to use off-platform, too.
How does Instagram Subscriptions compare to other social monetization tools?
But Instagram is far from the only platform offering monetization tools for creators. Let's run you through the other features currently available on different social platforms.
Facebook Subscriptions
Since rebranding to Facebook Subscriptions in November 2021, Facebook has been giving creators a stack of extra controls over their monetized content.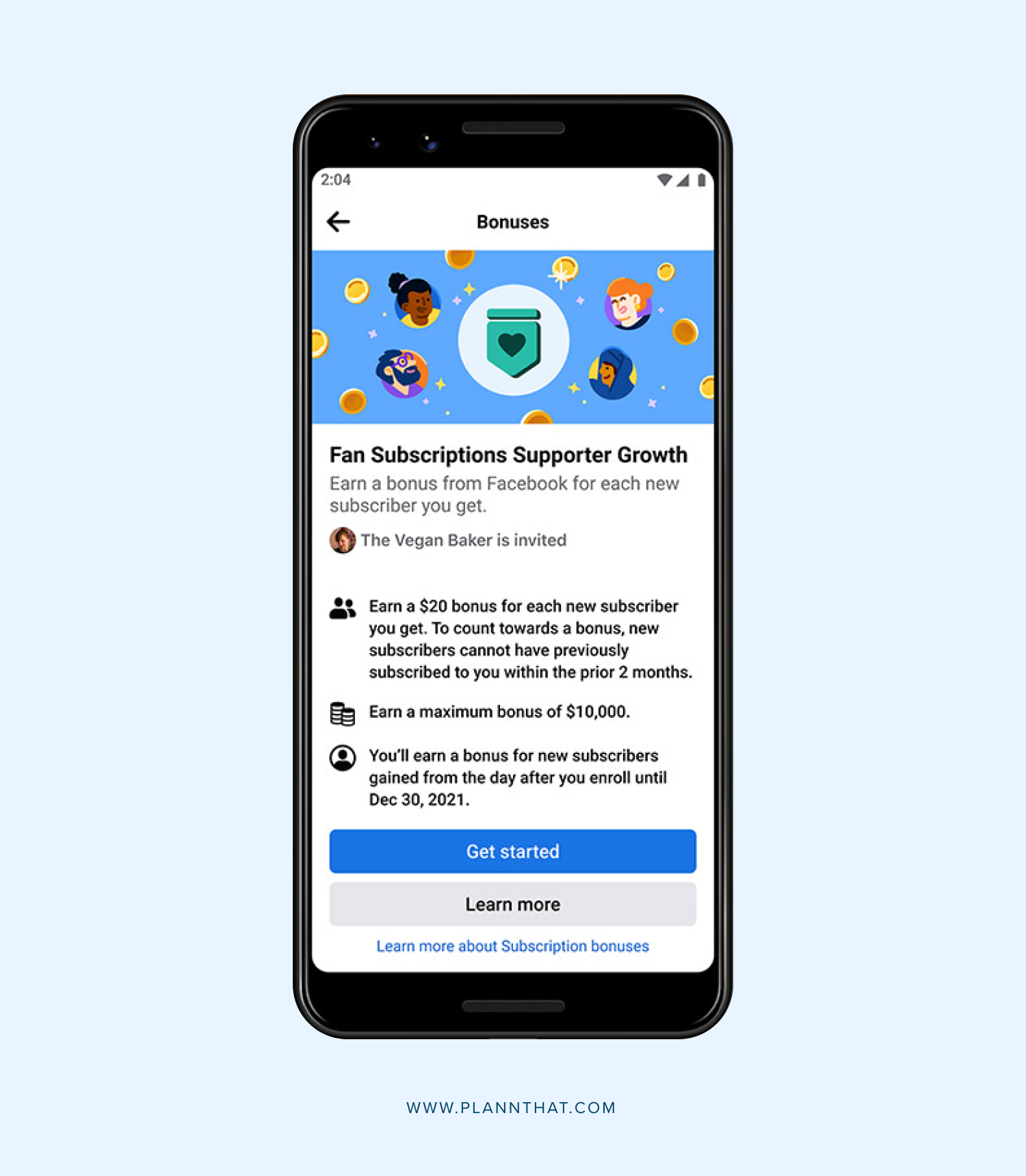 The tools available to Facebook subscribers are similar to those on Instagram, including exclusive access to subscriber-only Lives, subscriber-only Groups and more.
In the past few months, new features have been added to the platform, including:

• Facebook creators can now download the emails of new subscribers to build a relationship with their fans off the Facebook ecosystem.
• Creators can now use a personalized link to promote their subscriptions, allowing them to keep 100% of the money they earn (minus taxes).

• Plus, the Meta bonus program allows creators to work towards bonuses for scoring new subscribers.
TikTok paid subscriptions
Booming social platform TikTok is also venturing into the subscription business model in 2022.
While details are still scarce about what the paid subscriber model will look like. However, we do know the TikTok team is testing a new feature that would allow creators to accept money from fans outside of TikTok LIVE streams (which have been monetized already).
At this stage, TikTok LIVE streams are only available to creators with at least 100,000 followers. Once approved, a badge will be added to the creator's profile allowing them to earn Tips from their most dedicated followers.
Twitter's Super Follows subscription
Late in 2021, Twitter released its own subscription offering to help creators earn an income through subscriber-only content.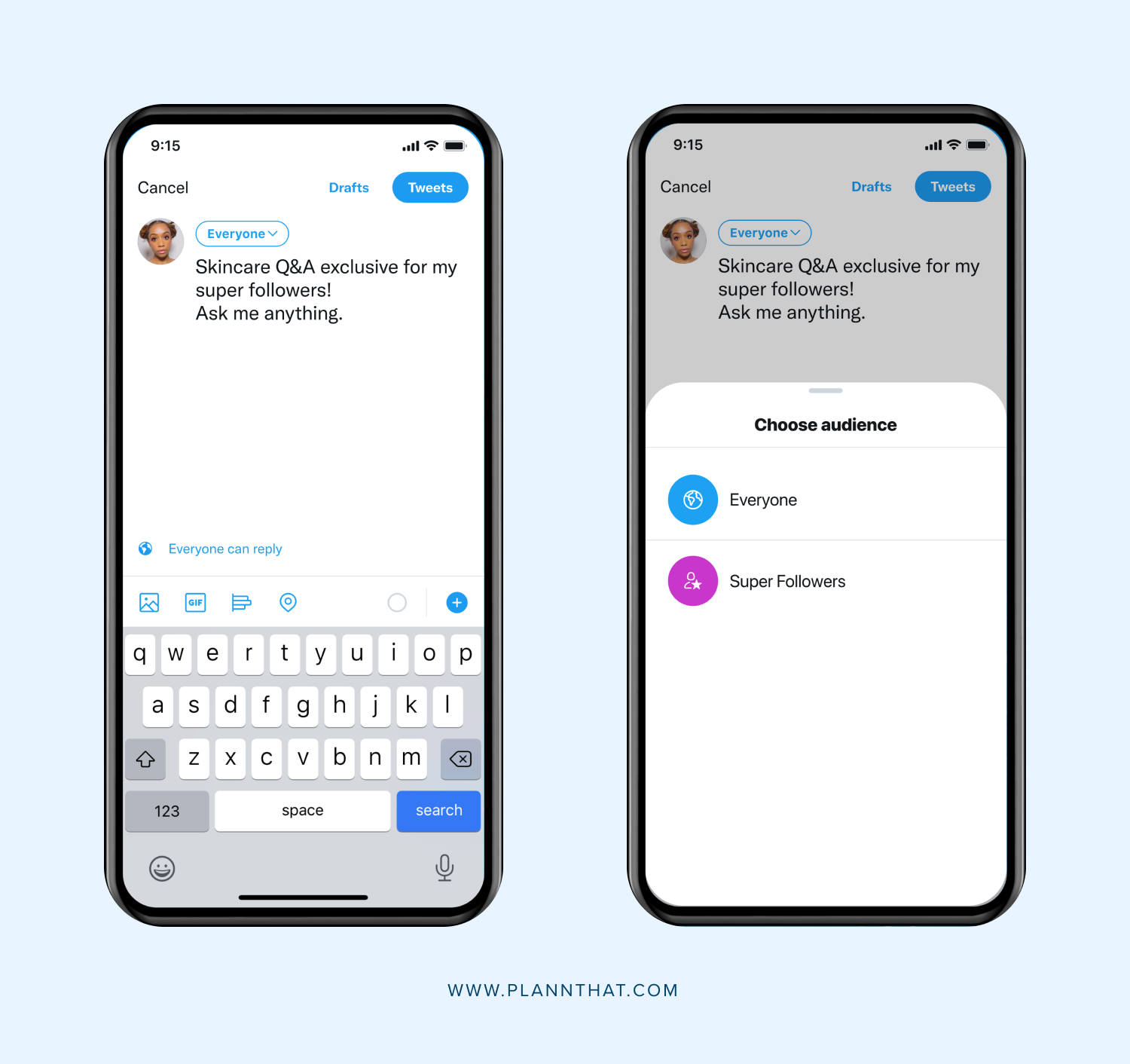 Twitter's Super Follows subscription allows creators to earn money from their most engaged followers. Each creator (from journalists to gamers to comedians) can set a monthly subscription amount (currently at $2.99, $4.99 or $9.99 per month).
Subscribers will score access to bonus, behind the scenes content on Twitter and subscriber-only conversations from their favorite accounts.
Succeed on Instagram in 2022 with Plann
Ultimately, Instagram's new Subscription is set to be a gamechanger for creators with a loyal Instagram following. While still in its infancy, the feature will enable creators to build a sustainable income from their followers, all without leaving the platform or setting up a separate monetization platform.
Ready to expand your reach on social media with Plann? Go on, redeem your 7-day free trial of Plann Plus. If you don't like it, keep using Plann for free!