Feel like you're screaming into a void?
You're not alone.
With engagement at an all-time low (I'm looking at you Instagram), social media can quickly seem like a massive waste of time.
All hope is not lost, my friend.
What if I told you there are multiple ways to boost engagement on your posts and drum up exciting social media content ideas that show off your brand's personality?
With a dash of creativity and a pinch of getting technology to work for you, not against you – those results you've been dreaming of are possible.
Here are seven clever ways to boost your social media promotion!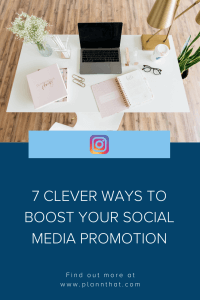 How to Boost Your Social Media Promotion
1. Promote Your Brand With Facebook Ads
Running ads on social media is daunting.
You need eye-catching images, captivating copy and a Call-to-Action that will get eyeballs on your website.
"But it's expensive!", you say.
What if I told you, you're wrong?
Facebook Ads are 88% cheaper than Google AdWords! Users pay on average $.028 CPC compared to Google's CPC of $2.32.
Plus, Facebook Ads give you so many ways to target your niche – right down to their favourite TV shows.
The social media giant can even help you create look-alike audiences. Simply upload a list of email addresses of your best customers and the app will identify users with a similar demographic and psychographic makeup.
So creepy, but so cool!
Hot Tip: Add the Facebook Pixel to your website. Once it's set up and running, it will automatically retarget visitors to your website. Hello, sales!
2. Get Into the Spirit of Giving
One of the hardest parts of starting a business is generating a buzz.
Not all of us are Kylie Jenner with an army of super famous sisters ready to drum up sales from their millions of followers.
But the good news is that you don't need to hit the reality TV jackpot to get people to talk about your brand.
All you need is a giveaway.
Team up with similar brands and each gift something small that you know your followers will love. By working with other brands, you can expose your products to a whole new audience and boost brand awareness.
3. Make it Rain Dollar Bills with Shoppable Posts
Are you stuck in less than 10k limbo on Instagram? Forever dreaming about finally getting to say "Swipe Up"?
Well, the good news is that the wait is over.
You don't need thousands of followers to get people onto your website. All you need is to activate shoppable posts for Instagram and Facebook.
And bibbidi-bobbidi-boo, users can tap and shop without ever leaving the app.
By making the whole experience seamless, Instagram Shoppable Posts have increased website traffic by 1,426% and increasing revenue by 20%!
4. Encourage User-Generated Content
You can make your followers fall madly in love with your brand by making them feel:
– Valued
– Seen
– Liked
– Heard
How do you create these warm fuzzy feelings? User-generated content.
Keep an eye on your tagged posts, Story mentions and brand hashtag. If a user shares a picture with your product or writes a killer testimonial about your service – share it!
You'll create trustworthiness around your brand and a deeper connection with your customer.
It's a double-whammy.
5. Create How-to Videos on Youtube or IGTV
Are you all about creating informative content for your audience?
Take your tips to YouTube or IGTV!
If you can give the masses answers to their most burning questions, you're one step closer to making a sale.
People who are actively trying to find a solution to their problem are further down the sales cycle. They know they have a problem and are busy collecting information to find the best way to solve it.
You don't need to worry about creating a need for your product. It's already there. You just need to show them why you're the best solution.
6. Add Some Personality to Your Social Media Content
Billions of people use Instagram, Twitter and Facebook every single month.
If you want your brand to stand out from the masses – you have to show a little personality.
Instead of throwing up an aesthetically pleasing stock photo to promote your newest blog post, switch things up with a GIF.
Find one that matches your brand's flair for the dramatics, wry sense of humour or endearing weirdness and watch your engagement go up!
7. Find Out EXACTLY What Your Customers Want
Are you at a stalemate in the design process?
Not sure if you should go with pastel pink or rainbow glitter for your new range of enamel travel mugs?
Hop onto Instagram, Facebook or Twitter and create a poll.
In less than 24-hours, you'll have direct answers from the people who want to give you their money.
It will save you time, possibly hundreds of dollars and a warehouse full of sunglasses no one wants to buy.
You can also use the poll feature to:
– Decide what blog post to write next
– Discover your audience's pain points
– Test run potential product/services ideas
– Have fun and engage with your following
Plann Your Feed
Which of these social media promotion ideas have you channeling your inner Tom Cruise on Oprah's couch?
Channel your excitement into action and Plann out your feed for 2020. Armed with your new content mix, you'll stay at the top of your social media game and finally start to see some GROWTH!
Plann takes all the stress out of Instagram, throws in a ton of cool tools and frees up your schedule, giving you time to book that massage you've had your eye on.