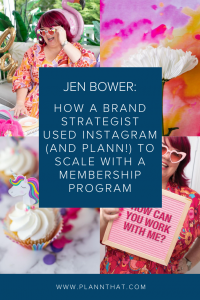 It's no secret that here at Plann, we have major respect for the creatives of the world. From the social media managers to the graphic designers and brand strategists, the digital space would certainly be much duller without these brilliant, out-of-the-box thinkers. This is particularly true of people like Jen of Pink Pom Pom, which are an explosion of fun and color. Their accounts just make our day a little brighter!
That said, we know that creatives only have so much time and brilliance to go around. There comes a time where every service-based provider hits a ceiling with the number of done-for-you clients they can serve without burning out. That's why we're always impressed by creatives who find innovative ways to scale their businesses without cloning themselves (because unfortunately, science isn't quite there yet!)
That's exactly what Jen Bowers – one half of the social content membership Pink Pom Pom Social — has done. Alongside her photographer pal Brandi, the brand strategist and stylist started the social content membership to help time-poor entrepreneurs find the perfect image for their social media feeds.
Here, we chat with the lovely Jen about how Instagram — and Plann! — has helped her turn her online community into a successful membership model.
The Account Purpose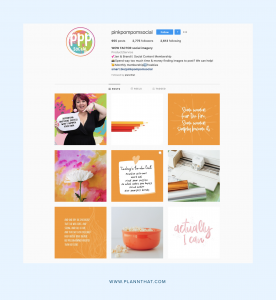 "I literally started my feed after coming up with the idea for Pink Pom Pom Social. I knew as this is a social content membership, we needed to be on there, of course, and have a decent following before we launched. No point in launching to no one right?"
Favorite thing about Instagram
"One of the favourite things about Instagram is the connections that I have made with amazing women all over the world… I feel so blessed to now call many of them my friends and if it wasn't for the incredible community I doubt I'd be doing what I do now
In fact, if it wasn't for Instagram I wouldn't have this business at all!!  When I realised what a problem it was for businesses finding content that hadn't been seen a million times before and realised, if I, as a graphic designer was struggling, what was everyone else doing… and particularly if they were a bright, colourful brand! So, Instagram actually gave me a business AND a community!"
Life before Plann
"Unorganised lol. Which is me in a nutshell, really!"
Life after Plann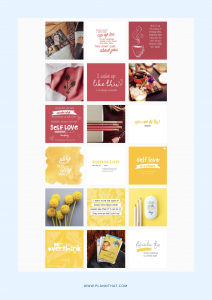 "Is soooo much more organised and less stressful! I visually plan my feed first, then come back to writing the captions and it's just so easy. It has made planning mine and my clients feeds a pleasure!
I love the fact that Plann is such a visual scheduler… My feeds run on patterns (and I also do Insta make-overs for clients) and I feel Plann is by far the easiest tool to get the results I want. The drag and drop feature helps me with my feed's aesthetic so much"
First impressions of Plann
"I actually chose it in the first place because a female-owned Aussie business was a winner in my eyes! And, it's so cost-effective!"
Fave Plann features
"I particularly love the libraries that you can create in the media section! Our feed is a rainbow feed, so I have all the colours set up. So, when I change to the next colour it's a breeze to use!  I'm also in love with the strategy section as well! If I get stuck I just pop in there and find an idea for a post!"
The Results
"I have just revived my branding feed after not posting on it for 12 months and I truly believe Plann has helped me create engagement a lot faster then I would have without it… especially as I can quickly glance and see the percentages of each post and see which ones are working for me!"
Jen's top tips for a beautiful feed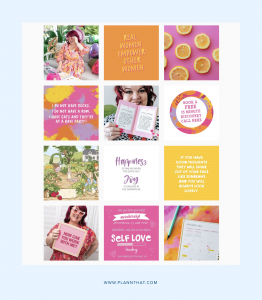 1. Pick a pattern and stick with it. DO NOT GO ROGUE, lol!
2. Make sure you are consistent with your brand colours… people are visual learners, so using your brand colours can improve brand recognition by up to 80%
3. Remember, people love to be entertained. So, the 80/20 rule is key! That's why we have so many quotes in our library! They are absolute huge engagement drivers!
4. Presets are awesome! They will give your photography that consistent look and feel that will make your feed look so much more professional!
What's next?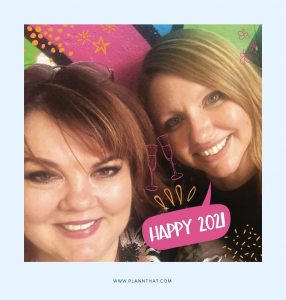 "We are growing! After the year that 2020 was,  we were super happy to consolidate and keep helping our members navigate COVID. But, this year we really want to move forward and help as many as we can! More awareness is a HUGE thing for our 2021! We have the most cost-effective starter membership available and we really do want to help brands create that drop-dead gorgeous feed they so desperately want!"
You can learn more about Pink Pom Pom social here and follow them on Instagram at @pinkpompomsocial