So you set up your personal LinkedIn profile some time ago.
You added some of your most recent jobs, connected with your friends and old co-workers and maybe added in where you went to college or university – and then kinda ignored it.

As far as social media platforms go, LinkedIn is one of the most powerful for driving tangible business results. In fact, it's the world's largest professional network, boasting an impressive 690+ million users located in over 200 countries around the world. And with over 30 million companies leveraging the platform, LinkedIn presents a golden opportunity for personal brands and businesses to connect with potential customers, clients and even prospective colleagues. 
But here's the thing: LinkedIn is way more than just a digital resume. Since it's creation back in 2002 LinkedIn has grown to be an impressive social networking site focused on business-to-business (B2B) marketing. Whilst showcasing your skills and experience is still important, LinkedIn has evolved to offer unique marketing and content opportunities that can help you promote your personal brand and business to a tailored professional audience.
Not sure where to start when it comes to using LinkedIn to build your personal and professional brand?
Discover the top expert tips and strategies for how to master LinkedIn below!
What is LinkedIn, and should I be using it?
Whether you've used the platform before or have never clicked onto the site, here's a refresher as to what LinkedIn is all about. Think of LinkedIn as the Internet's professional social networking site. In fact, it's the biggest corporate networking platform around, with over 690 million members as of 2020. 
LinkedIn looks pretty similar to your Facebook Feed: you connect with professional contacts (such as coworkers, clients and past colleagues) and share posts such as articles, videos, images and more. It's free to sign up and create a personal profile on LinkedIn, with the option to upgrade to a paid Premium account. Plus, business owners can also create a dedicated Company Page to promote their brand online (more on that in a minute!).
The biggest difference between LinkedIn and other social networking sites is the purpose of the platform. LinkedIn is dedicated to professional networking and brand building, helping individuals and businesses connect, collaborate and promote their work with others in their industry. 
Whether you're a small business owner, job seeker, employee, entrepreneur or C-suite executive, LinkedIn offers the opportunity to tap into and build a thriving network of like-minded professionals and businesses. From sharing your recent blogs to announcing your professional achievements, LinkedIn is the perfect platform to build your personal and professional brand online.
Why should brands and businesses use LinkedIn?
Before diving into these expert LinkedIn tips, let's look at why personal brands and businesses should be using LinkedIn in the first place! 
Whether you're looking to use LinkedIn as an individual, as a business or a bit of both, LinkedIn offers a range of benefits, including:
• Providing a powerful resource for job seekers to identify and apply for new opportunities and even connect with recruiters.
• Enabling professionals to showcase their skills, experiences and qualifications in one easily accessible place (a perfect way to compliment your resume or CV!)
• Offering businesses the chance to leverage B2B marketing and connect with valuable customers and clients in their industry
• Facilitating digital networking with other professionals and brands in your industry
• Engaging with LinkedIn Groups to share ideas, opportunities and resources among like-minded businesses and professionals
Alright Plann'rs — now let's get down to the practical tips and tricks of how to use LinkedIn for personal brands and businesses!
LinkedIn Tip 1: Optimize your personal LinkedIn Profile 
Once you've created a personal LinkedIn Profile, it's important to ensure you're showcasing your expertise in the most effective way. That's where optimizing the content on your LinkedIn Profile comes in. The best bit? It's super easy to edit this information and a few simple tweaks can help improve your searchability and discoverability on the platform too!
Here's your go-to checklist for optimizing your personal LinkedIn Profile:
• Upload a high-quality headshot 
• Add a branded background image (a.k.a. cover photo) that represents the organization or brand you work for.
• Showcase your experience and skills in your headline (try mentioning keywords such as your industry, job title and areas of specialization in 120 characters or less) 
• Craft a convincing and concise 'About' section (2,000 characters or less) that gives your network a snapshot of your professional experience, skills and achievements.
• Fill out your experience (both your current role and previous positions) to showcase your breadth of expertise.
• PRO TIP! To really make your LinkedIn profile shine, try adding as much detail as possible to your current and previous experience. Give a snapshot of the specific duties, tasks and responsibilities of the role and provide a couple of powerful case studies or project results that you're most proud of.
• Fill out your education and certifications to showcase your professional qualifications
• Make sure to note down your key skills to give colleagues an opportunity to endorse you.
LinkedIn Tip 2: Build your professional network 
Whether you're using LinkedIn to showcase your own skills or want to raise the profile of your business, building a large network of connections is a wise move. Think of it like this: the more connections you have, the greater chance you have to reach new high-quality business leads! That means every time you share a post about your brand's success, you'll automatically reach more people working in your industry. 
There are a few ways to build your professional network on LinkedIn. Start by searching for your current team members, colleagues and clients on LinkedIn and connecting with these close contacts. Next, have a look through the suggested connections and 'People You Might Know' feed curated by LinkedIn. The more people you connect with over time, the more relevant this list will become! 
The best part of building your professional network on LinkedIn is the opportunities it provides for networking. From commenting on their latest articles to congratulating members when they receive a promotion, these contacts are a valuable pool of prospective clients, customers and even potential team members! 
Need help what to post to LinkedIn?
New! Use Plann to design a posting strategy, create graphics, and auto-schedule straight to LinkedIn!
Schedule your first LinkedIn post with Plann now! →
LinkedIn Tip 3: Provide recommendations and endorsements 
What's the first thing you do when you're buying a new skincare product? Chances are you head to Google or social media to scout out a bunch of honest customer reviews. Why? Because they'll tell you if the cream or serum actually works (and if it's worth spending your hard-earned cash on!). 
Think of LinkedIn endorsements and recommendations like these product reviews. The more skill endorsements you have from past clients and colleagues, the more valuable these skills become. Rather than you telling the world how great you are at a particular skill, these endorsements let others promote your expertise in their own words. Talk about valuable social proof!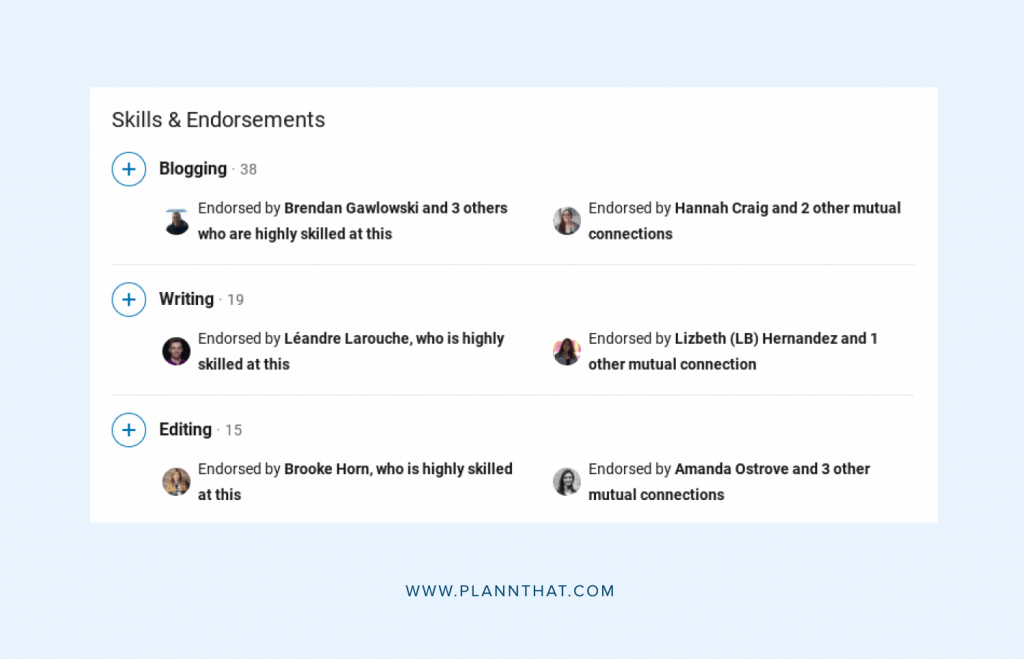 The best way to boost your recommendations and endorsements is to do the same for others! By endorsing the skills of past team members and clients you'll increase your chances of receiving these helpful testimonials on your own LinkedIn profile.
LinkedIn Tip 4: Automate Repetitive Tasks with LinkedIn Automation
LinkedIn automation carries out and automates tasks, so you don't have to do it manually. These tools will help you carry out tasks like reaching out to the largest number of people, sending an automated message, sending follow-up messages, assessing profiles, and providing best-in-class outcomes automatically.
These LinkedIn automation solutions highlight numerous advantages, including;
Run campaigns that are personalized.
Gather important information on a significant scale.
Analyze the facts and make recommendations.
LinkedIn Tip 5: Create a Company Page for your business on LinkedIn 
Once you've set up your personal LinkedIn profile, it's time to create a dedicated Company Page for your business on LinkedIn. Think of this like setting up a Facebook Page, a place to market and promote your business on LinkedIn. This step is essential if you're looking to boost your businesses' reach on LinkedIn, so make sure to complete this important step!
Ready to create your LinkedIn Company Page? Here's your ultimate step-by-step guide to do just that: 
STEP 1: To get started,  head to your LinkedIn Feed, select 'Work' in the top right-hand corner of your page and hit 'Create A Company Page'.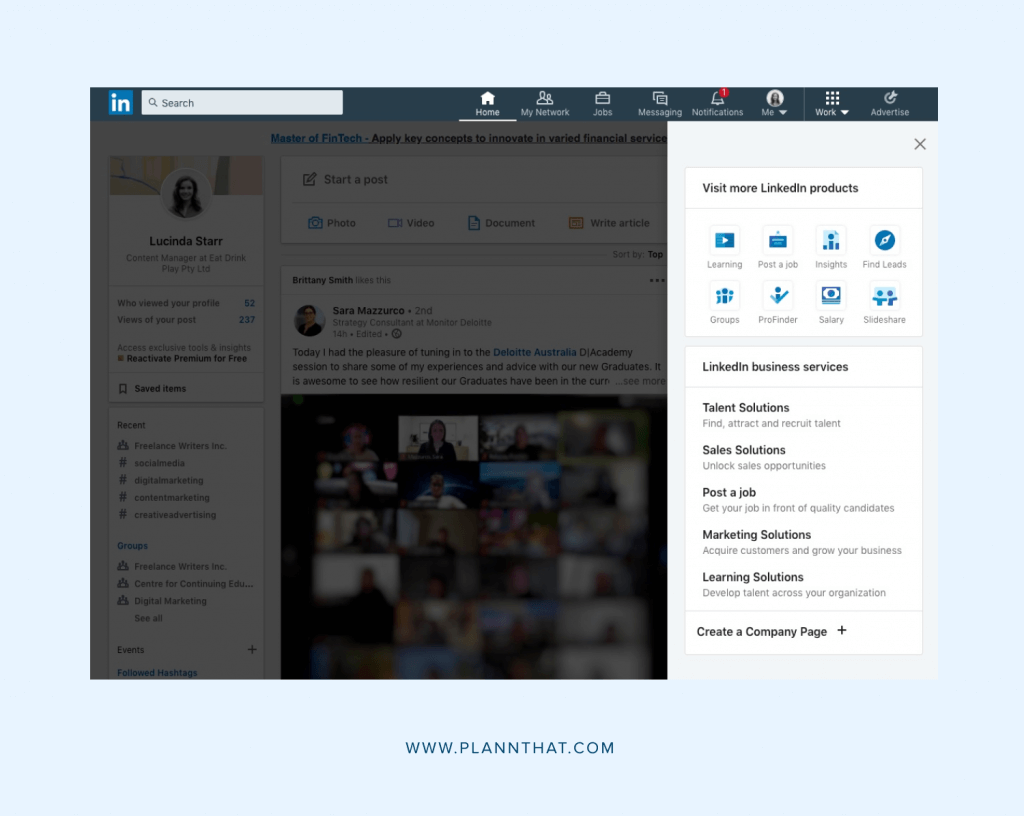 STEP 2: Now it's time to select the category that best describes your business. You can choose from Small Business, Medium To Large Business, Showcase Page or Educational Institution.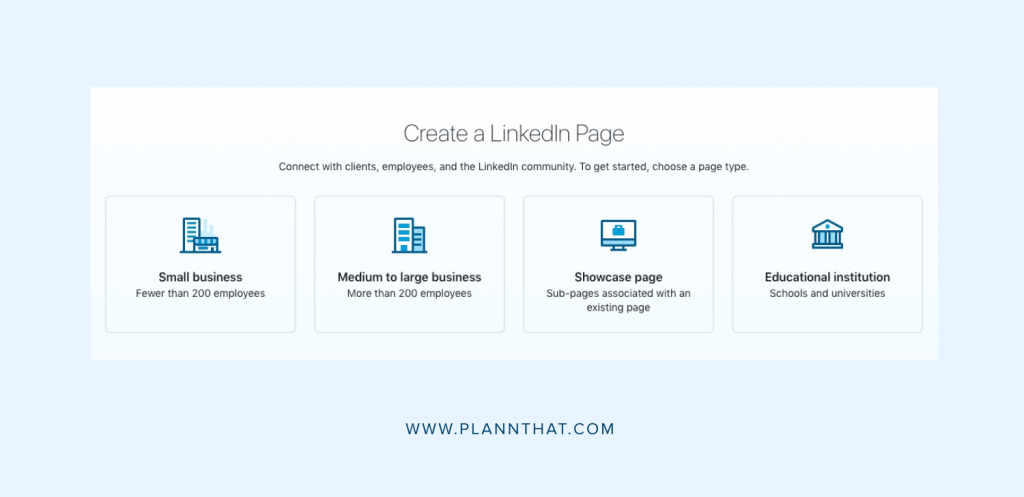 STEP 3: Next, it's time to fill out the company details that will appear on your LinkedIn Company Page. Make sure to take the time to complete these fields in full to maximize your chances of searchability and discoverability on LinkedIn.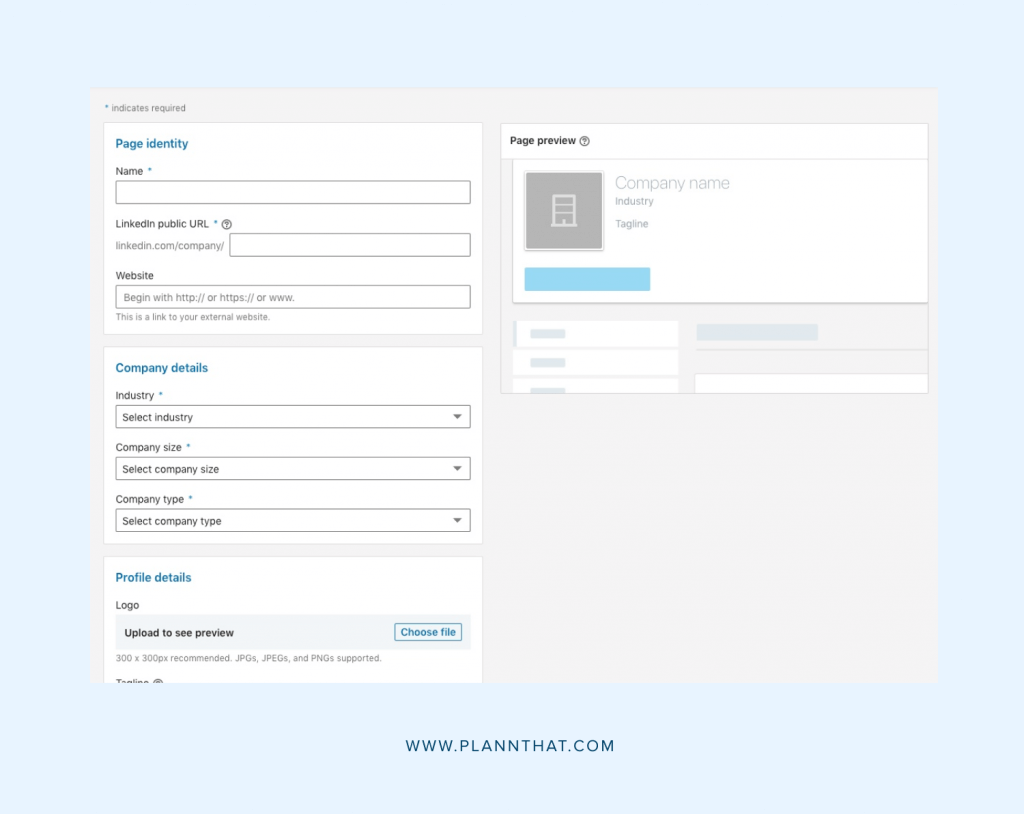 TIP! See the section that says Logo and Tagline? Although these fields are optional, don't skip this step! By uploading your company's logo and writing an engaging tagline you'll be setting your page up for success from the get-go. 
STEP 4: Once you're happy with all the details you've filled out, click 'Create Page'. 
Congratulations! Now you've successfully created your businesses' Company Page on LinkedIn. Want to make the most of your efforts? It's a smart idea to head into your Company Page's settings and add a few extra bits of information to help boost your chances of ranking well in LinkedIn's search results. Hit the pencil icon beneath your company name to complete these sections: 
• Company description: an opportunity to share your businesses' vision, mission, values as well as your key products or services. Keep this short and inject as many keywords relevant to your business as possible.
• Location: does your business have a physical shopfront? Let LinkedIn users know by adding in your store address.
• Hashtags: select up to 3 hashtags that are commonly searched for and tailored to your business
• Cover photo: upload a branded cover image that showcases your team or your business (resized to the dimensions 1584 x 396 pixels)
• Add a call-to-action button: did you know you can customize the button that appears at the top of your Company Page? Make sure this is aligned to your LinkedIn marketing objectives, such as website clicks or email sign-ups
LinkedIn Tip 6: Take advantage of your different LinkedIn content types
Gone are the days when your options for making a LinkedIn post were limited to a text status update on your personal profile. Now, there are a plethora of different content types you can use on LinkedIn to help grow your personal brand and business.
Now, you can post:
Articles: Different to a Linkedin post, this is ideal for long-form, thought-leadership style content. Just like a blog post, you can add a headline and rich content like images, videos, snippets, links and even slides.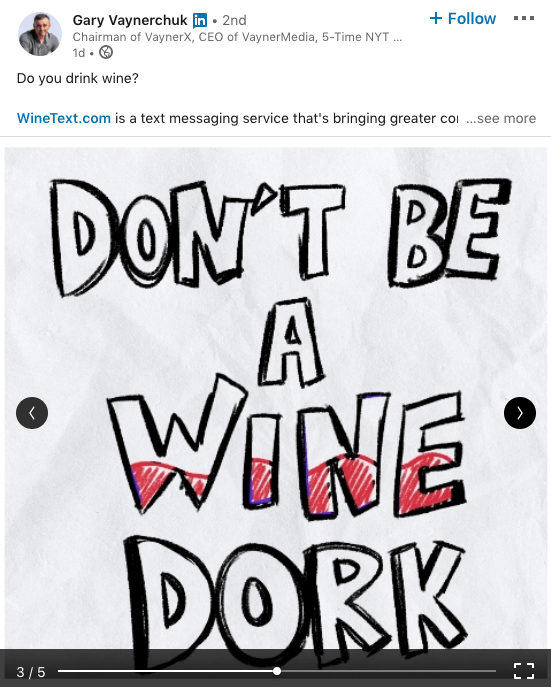 Slideshows: Yep, this feature is packed with so much potential, it deserves its own mention! You can now create slideshows similar to Instagram's carousel feature on LinkedIn. These are great for creating tip-based content, as they allow you to share multiple ideas and photos in one post. There are a few different ways you can use this feature. When creating an article, you can select slides and import your presentation from a tool like Slideshare or Prezi. Or, when creating a LinkedIn post, you can click on document and upload a PowerPoint presentation of up to 300 pages!
Photos: Pretty straightforward, you can post images and add a caption and relevant hashtags. This can be useful for showcasing products or graphics that promote your service.
Videos: You can upload video content natively to LinkedIn to amplify your reach. For example, if you want to share a video of a workshop or interview on LinkedIn, this would be far more effective than just sharing a link or embedding the video
Stories: Currently only available on mobile, LinkedIn's newest feature allows you to post Instagram-style temporary content. From photos to short videos, it's great for sharing more off-the-cuff moments that showcase the person behind the brand. You can learn more about how to use Instagram stories here.
Lives: Another relatively new feature, LinkedIn Live allows you to live broadcast videos on your personal profile or company page. This is said to generate 7 x more engagement and 24 x more comments that static content, and is great for thought leadership and behind-the-scenes content. This feature is currently available by application only and you can apply here.
Polls: You can now post polls on both your personal profile and company page. This allows you to ask your audience a question, and allow them to choose from a couple of different options. It's an awesome tool for not only generating engagement, but also gaining feedback and gauging sentiment from your audience.
Other post features: LinkedIn also has a handful of other cool new ways you can engage with your network. These include sharing an offer of how you can help in these difficult times, sharing a profile of a colleague or collaborator, finding an expert and celebrating an occasion which is similar to Facebook's milestone feature.
Need help being more consistent with your LinkedIn posts?
New! Use Plann to design a posting strategy, create graphics, and auto-schedule straight to LinkedIn!
Schedule your first LinkedIn post with Plann now! →