BUILDING YOUR BRAND IMAGE
Your brand image is the perception that a customer holds in their mind of your brand.
Think about the basic visual building blocks of your brand: Your colour palette, fonts, imagery and logos. Are they consistent in all of your marketing materials? Each one either strengthens or weakens your brand, so it's super important to make sure you aren't sending out mixed messages by using different elements across different channels.
CREATING A UNIQUE INSTAGRAM THEME
Creating a strong, cohesive Instagram theme for your brand will help it become instantly recognisable from the billions of businesses already on the platform.
Once you've decided on your grid theme (check out some of our favorites!) the tips below will help you get a head start on customizing one for your own unique brand.
Let's jump in!
1. CHOOSE IMAGERY THAT REFLECTS YOUR BRAND'S VIBE
The images in your feed should fit together like pieces of one big puzzle. Each image should reinforce your brand story in details on its own while working together to tell a bigger story of what you're trying to sell.
The type of images you post should reflect the personality of your brand. For example, if you sell vibrant, tropical swimwear, you'll likely post product shots mixed with lifestyle images that reinforce the lifestyle you're selling to your audience (think coconuts, palm trees, golden skin and sandy beaches).
Keep in mind the type of customers that you want to attract. Choosing imagery that elicits a certain emotion from them will guarantee a good 'ol double tap.
2. CHOOSE AN OVERALL COLOUR PALETTE
The key to nailing this is to choose 1-3 main brand colours and weave them through your feed so they flow seamlessly. You don't have to overcomplicate this – use one of the main colours in every image and you'll be well on your way to grid perfection.
If you're struggling to identify the dominant colors in your current palette, check out the 'Your Palette' feature in Plann.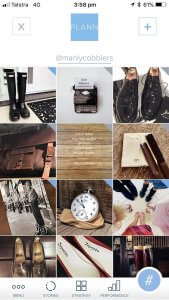 3. CHOOSE A FILTER THAT ENHANCES YOUR PALETTE
So you've got your images at the ready, but some don't quite fit into your colour palette. This is where the magic of filters come in! With one or two taps, you can instantly transform them to be in line with your branding. Plann has over 60+ free filters, so you can edit away until your heart's content.
4. BALANCE YOUR FEED
The above tips will only take you so far if your feed isn't balanced. It's important to space out images of the same nature to avoid repetition.
A handy tip is to create content categories, such as inspirational shots, lifestyle shots, product shots and text-only images to create a holistic representation of your brand and keep your feed fresh. (Psst: The Strategy tool in Plann makes this a breeze).
5. SELL YOUR BRAND STORY IN CAPTIONS
While high-quality imagery will capture people's attention, you can tell your brand story in detail in a carefully crafted caption. They should add value to the image they accompany, so be sure that they work together.
Creating a signature Instagram theme for your brand takes time to perfect. But once you find the winning recipe, you're set! Using an Instagram planning App can really help you get on top of your branding game.
Download Plann for free now and give it a whirl!