"If we don't laugh, we'll cry"
It's a saying that's true in all aspects of life… because laughter truly is the best medicine to get us through the inevitable tough times.
But, the expression is particularly apt when it comes to the realities of running your own business.
Because, as much as the self-employed life has its undeniable perks (choosing your own hours! Working in your PJs!), it's certainly no walk in the park.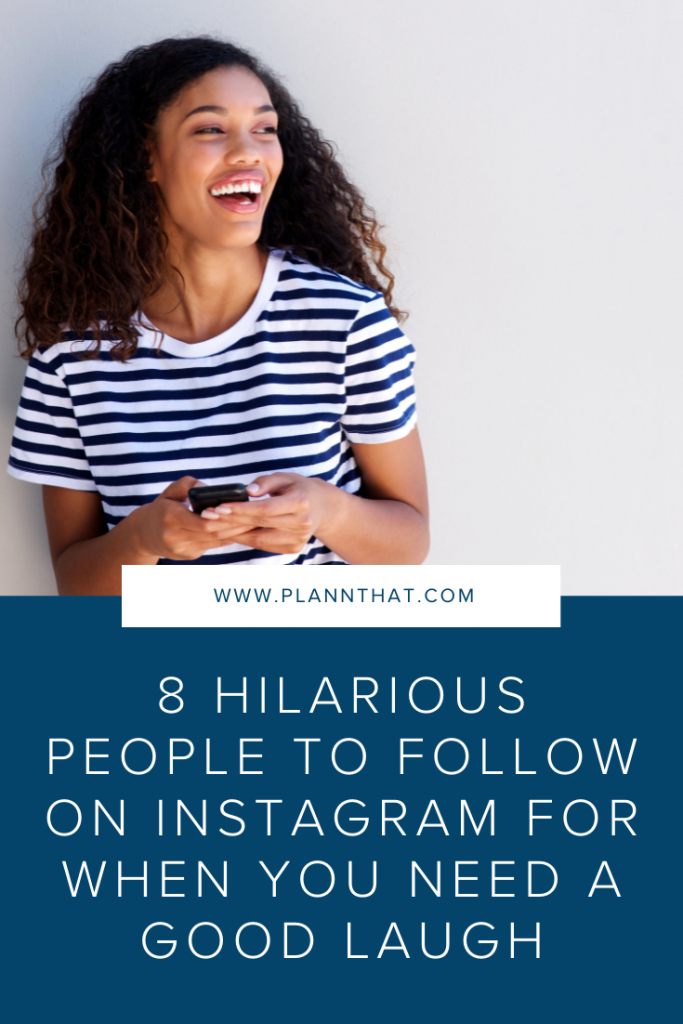 Whether you're an eCommerce business, freelancer, service provider, or entrepreneur, we all have those days where all we want to do is crawl under the duvet and start applying for 9-5 jobs again.
It's on those days you just need a good ol' fashioned belly laugh, and to feel that you're at least not alone in your struggles.
And that's where memes, gifs, and relatable Reels come in! Luckily for us, we have people in our Plann community who never fail to supply the funnies to cheer us up.
Not only are these are some of our absolute favorite accounts, but they're the perfect example of how you can use humor to accelerate your Instagram growth.
Read on for 8 of our funniest Plann'rs you should be following on Instagram.
1. @sharayray Shana Bull — The witty writer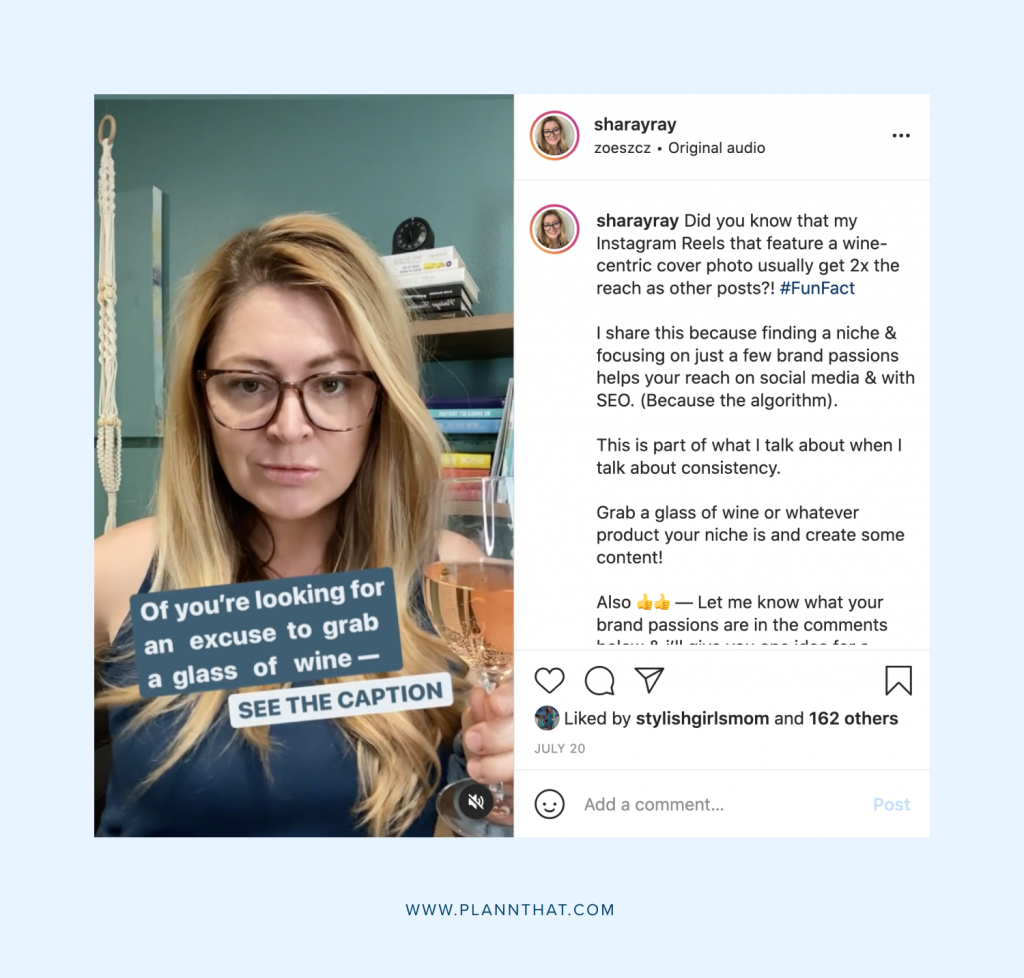 Writer, author, and marketing educator Shana Bull never fails to crack us up. Whether it's sharing a relatable wine meme, hilarious story, or BTS bloopers from her Reels, she keeps it real and we absolutely adore her for it. She also happens to be a major foodie and wine connoisseur, which means her content is always served with a heavy dose of delicious puns.
Follow @sharayray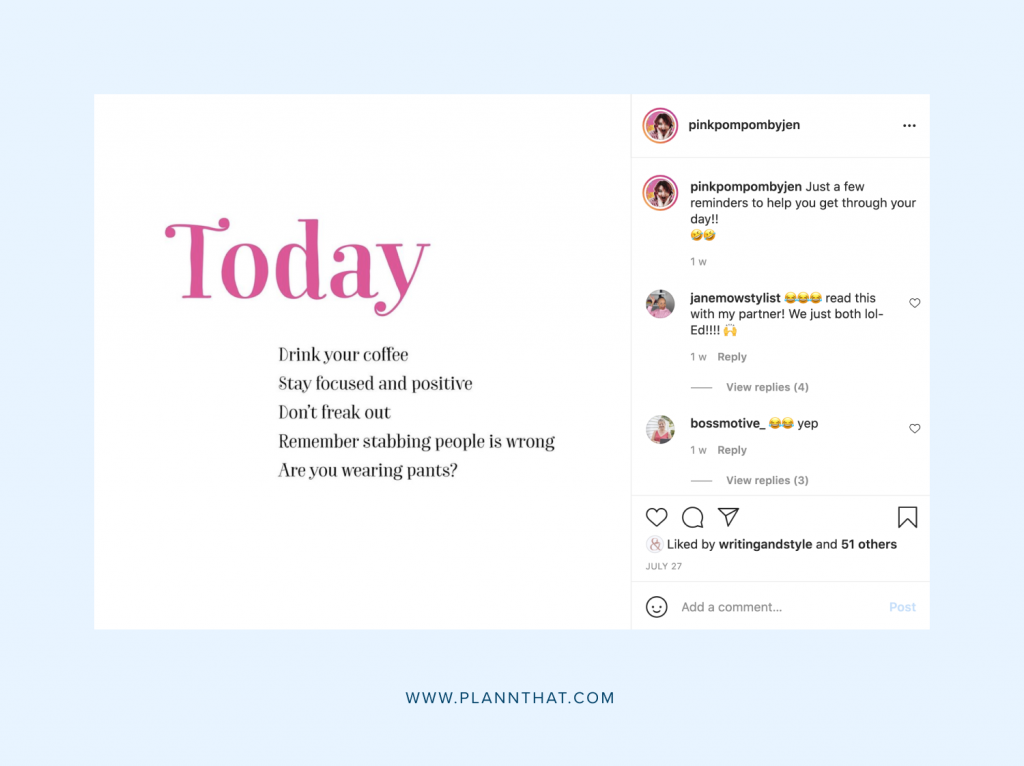 Take a glance at Jen's profile and you'll instantly notice a lot of bright colors and sparkles, But, don't let that fool you… this brand coach and stylist has a wicked sense of humor that sometimes ventures onto the dark side. Her hilarious witticisms and memes keep us sane on those days where it feels like everything's going wrong. She's the perfect mix of a positive cheerleader and that bestie you can vent and gossip to over a glass of wine — which is why we can't get enough of her account!
Follow @pinkpompombyjen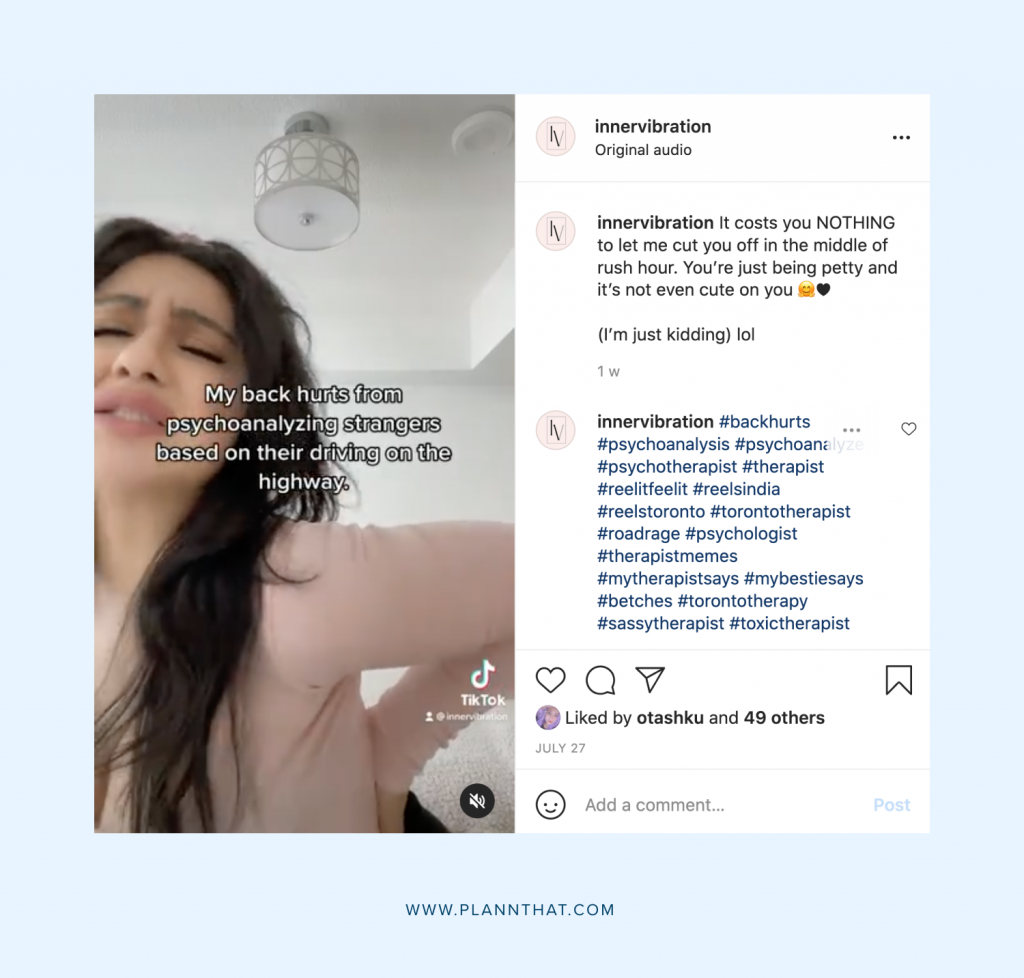 If there's one person who has absolutely mastered the art of the relatable GIF and Reel, it's Negar of Inner Vibration. Her funny and engaging self-help content is a big part of the reason she's been able to rapidly grow her content to over 16,000 followers. Not only does her content always make us laugh, but it's genuinely inspiring, valuable, and thought-provoking. What's not to love?
Follow @innervibration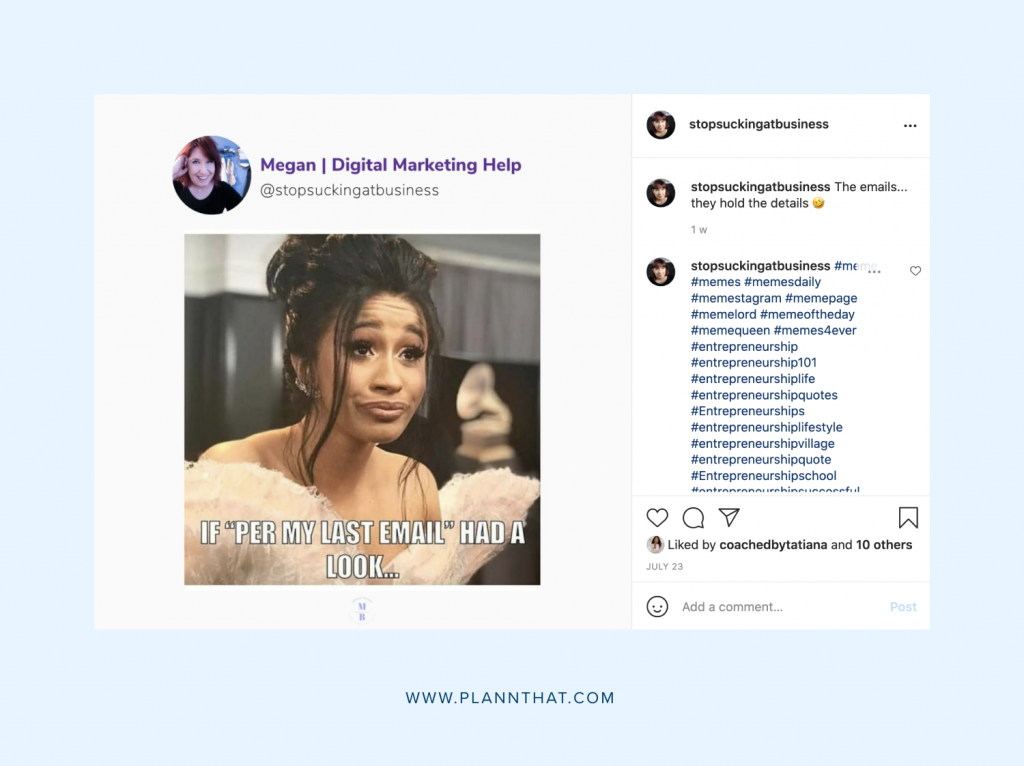 Sometimes, you just need a pep talk from someone who tells it like it is. That's exactly what we get from Megan's account. Their Instagram handle 'stopsuckingatbusiness' gives you clues into the type of fluff-free humor you'll find on this account. Whether she's sharing relatable memes about the realities of working life or sharing non-nonsense tips, chuckles are guaranteed. 
Follow @stopsuckingatbusiness 
5. @sbj.studio— The socials slayer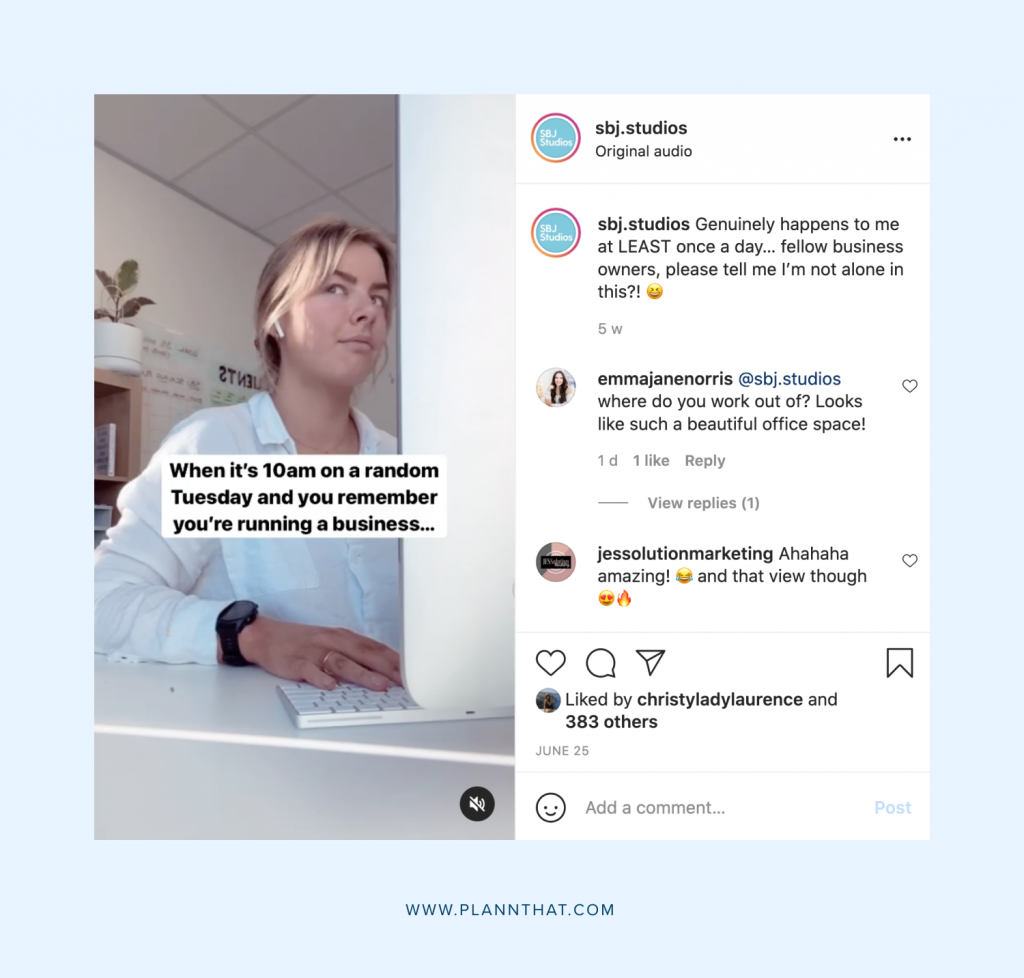 Okay, so we may be biased because we're in the social media world. But, memes about the realities of working in the digital space are some of our favorites. Because, nobody relates to not being able to find time to work on your own Instagram account quite like another social media manager. That's why we love this account! Jarrah and her team are (unsurprisingly) masters of engaging their audience with hilarious posts that make you think 'that is SO true!'
Follow @sbj.studio

If you like your humor on the wholesome side, Tyler is a must-follow. Not only is this marketing coach an absolute genius on all things online business, but he also happens to be a ray of human sunshine. Whether he's uplifting us with inspiring-yet-funny quotes or doing a little dance on Reels, he always puts a smile on our faces.
Follow @tylerjmccall

So everyone and their dog is making Reels right now — and for good reason! It's easily one of the best ways to grow on Instagram. That said, there is one Plann'r who has been an early adopter of Reels, and we'd go as far to say she does it better than anyone. The one and only Jasmine Star! 90% of the Instagram expert's content is Reels, and she always finds a way to inject her cheeky sense of humor and personality into them. Whether they're about life, biz or social media, her videos are always unique, relatable and hilarious.
Follow @jasminestar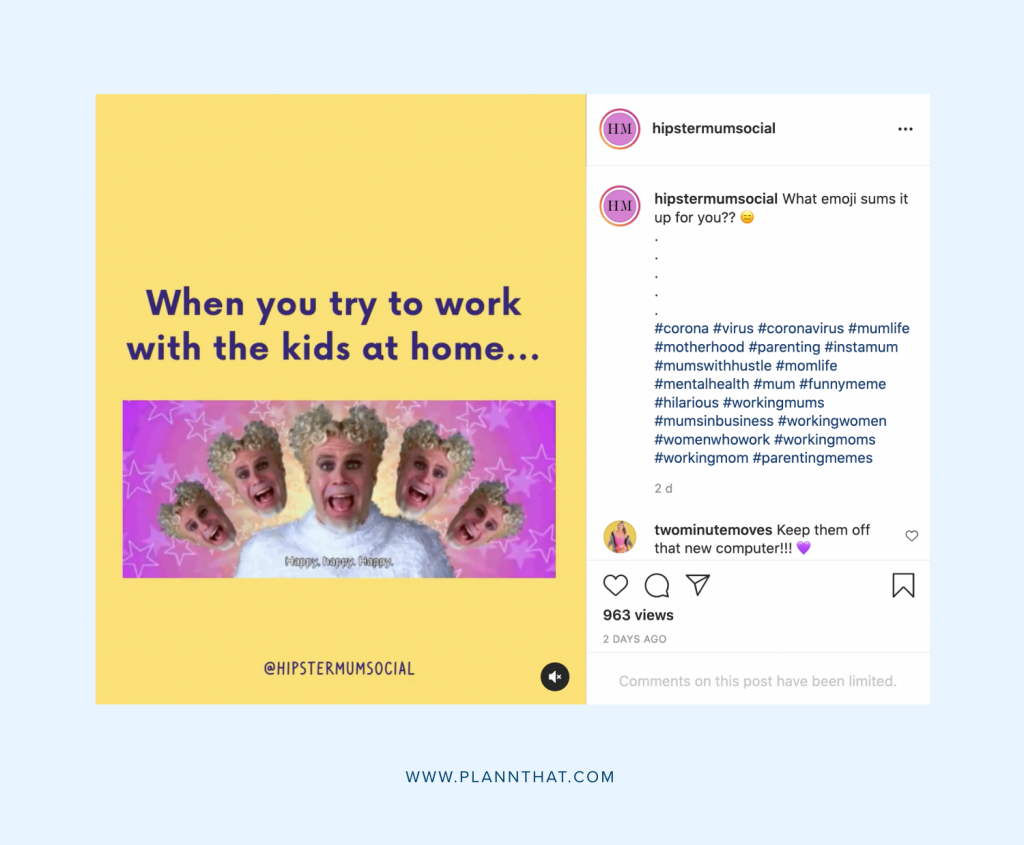 Sure, running a business is tough. But, doing it with kids? Well, that's just on a whole different level! Jade of Hipster Mum Social does an exceptional job of capturing the work/life balance struggle for parents, in the most hilarious way. Seriously, no matter the situation — she always has the perfect meme or gif to go with it! It's not hard to see why she's grown an Instagram community of over 30,000 people who live for her content.
Follow @hipstermumsocial
As all of these accounts prove, you don't have to be a professional comedian to be funny! By simply having some fun with your content and sharing your truth, you can make your audience people laugh — because, those are the people that get you.
Ready to start tickling some funnybones? Our new 'entertainment' strategy prompts are the perfect way to remind yourself to let your hair down a little. Just drag it onto your grid and stories as a reminder to inject some more humor into your posts every now and again.