Are you ready to unlock the huge potential of social media for your small business? Social media has revolutionized the way businesses connect, engage, and influence their audience. It offers a tonne of opportunities that can propel your business to new heights.
But why is social media growth so crucial for small businesses, and how can you leverage this powerful marketing channel effectively?
We've put together a comprehensive guide on everything you need to know about the benefits of social media, the growth it can bring small businesses, plus a stack of practical strategies to unlock the full potential of social media to drive growth and increase reach. Let's dive in!
What You Need To Know About Social Media Growth And Reach
Social media has become a game-changer for small businesses. But why is social media growth so important for small businesses to focus on?
When you harness the power of social media effectively, the impact can be huge. It goes beyond just increasing brand awareness: social media marketing can also open up new avenues for customer acquisition, boost sales, and amplify your reach to a wider audience.
To achieve this, you need to create captivating content, foster a loyal community, and optimize your social media efforts. Implementing key strategies can propel your business toward growth and ensure your message reaches far and wide.
The Benefits Of Social Media Growth For Small Businesses
Social media is the perfect platform to showcase your products or services, build your brand identity, and establish meaningful connections with your customers.
Leveraging social media platforms for business growth comes with a tonne of advantages. It enables you to:
• Increase your organic brand visibility
• Expand your customer base
• Drive website traffic and boost sales
Plus, the cost-effectiveness of social media as a marketing tool helps to level the playing field for small businesses. Reaching new customers doesn't have to come with a huge price tag!
9 Actionable Tips To Drive Small Business Growth On Social Media
With the right strategies in place, you can tap into the potential of social media. This can help increase your visibility, attract new customers, and help you build meaningful relationships with your customers.
Ready to find out some key strategies that can empower small businesses to tap into the power of social media effectively? Here are nine strategies to get you started.
1. Harness Instagram Reels and TikTok videos
Short-form video content on platforms like Instagram Reels and TikTok has steadily been growing in popularity, and it doesn't look like it's going anywhere soon. In fact, 66% of consumers find short-form videos to be the most engaging type of content on social media.
So if you haven't already tapped into short-form video, now is the time.
It can boost your social media reach as this type of content is engaging and shareable and is sure to captivate your audience's attention.
Not sure where to start? Try to focus on creating visually appealing, entertaining, and informative videos that align with your brand and resonate with your target audience.
For an added bonus, try a trending challenge or sound to maximize your content's potential reach and increase engagement.
2. Add Location Tags To Posts
Want to know the perfect way to target your local audience and connect with potential customers? It's as simple as adding a location tag to your post.
This can help you increase the discoverability of your content among people who are searching or browsing posts related to that location. In fact, posts with location tags get 79% more engagement.
This strategy is particularly useful for small businesses looking to attract local customers or promote their products and services within a specific geographic area. To ensure success make sure that your content is relevant to the tagged location.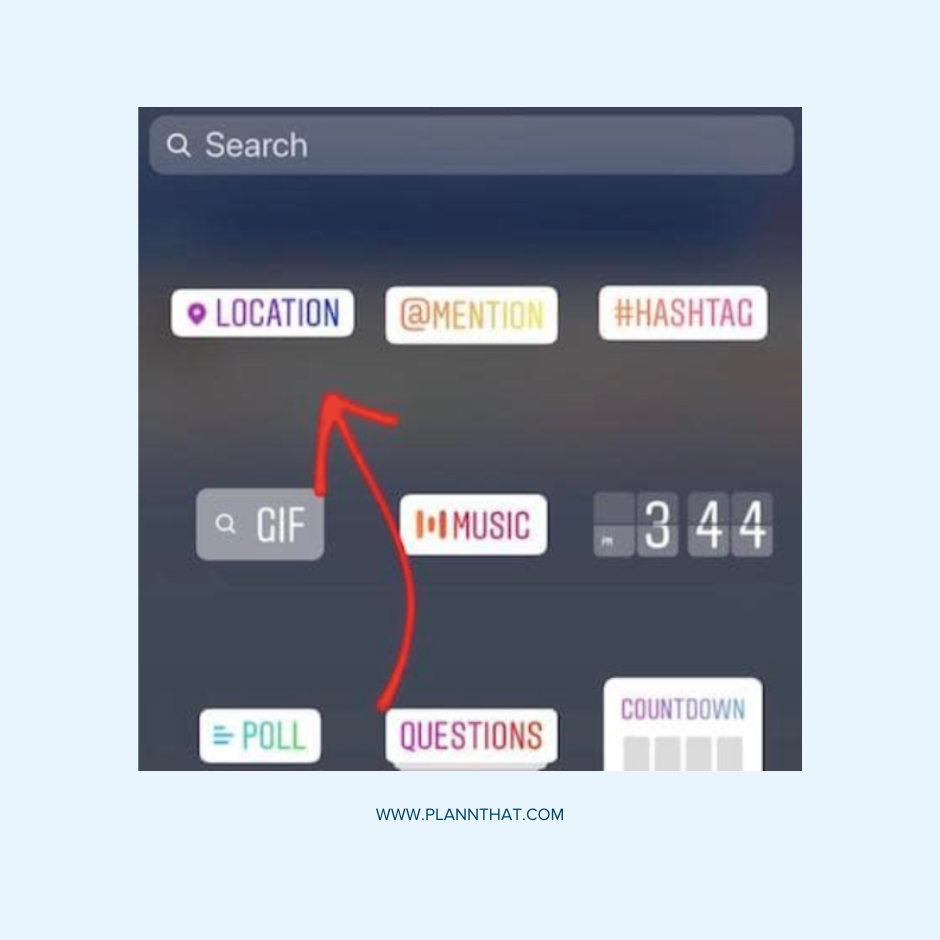 3. Develop A Hashtag Strategy
Using strategic hashtags is a great way to expand your reach and increase the visibility of your social media content and ensure your content is shown to your ideal target audience.
Want the recipe for success when using hashtags? Try to incorporate a mix of relevant popular, niche, and branded hashtags to reach a wider audience and engage with communities.
Creating a well-thought-out hashtag strategy involves researching and selecting relevant and trending hashtags that align with your brand and target audience. Luckily, you don't need to do it alone.
With Plann's Hashtag Manager, you'll have access to a curated hashtag bank of thousands of hashtags that are tailored to your brand, industry or niche.
4. Proactively Engaging With Other Accounts And Customers
Social media has given us the opportunity to create communities on a global scale, connecting like-minded people regardless of location. Spending some time engaging with other accounts and influencers, as well as prioritizing community management, can foster meaningful relationships and expand your social media reach.
Take the time to interact with other posts, leave genuine comments, and share other content when appropriate.
Community management (such as responding to comments and direct messages on a daily basis) can establish your brand as an active and trusted member of an online community.
5. Collaborate With Other Businesses To Co-Create Social Content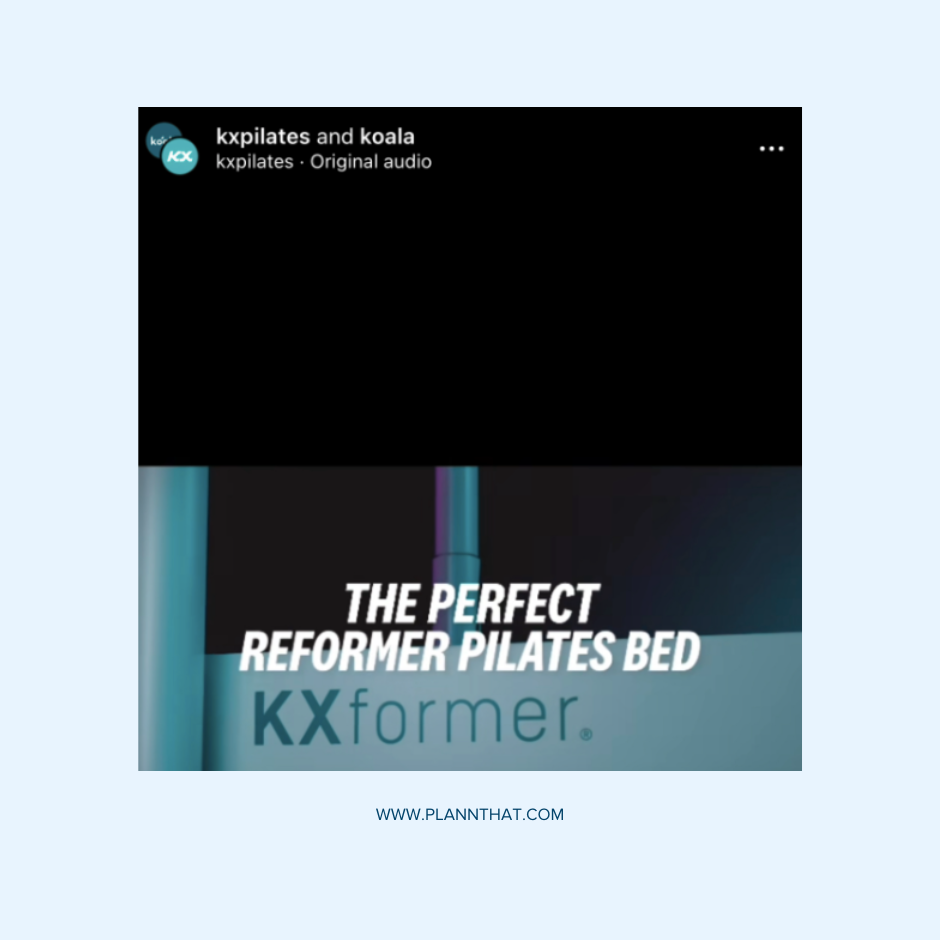 By joining forces with another business you can co-create engaging and impactful content that appeals to a broader audience.
Collaborative campaigns, giveaways, or joint content creation can attract the attention of both your and your collaborator's followers, increasing your visibility and introducing your brand to new potential customers.
Look for businesses that share a similar target audience and brand values to ensure a cohesive and mutually beneficial partnership. Use the Instagram Collab feature to effortlessly double the reach of your content and build your audience organically!
6. Keep A Consistent Presence On Social Media To Stay Top of Mind
By keeping a regular posting schedule, you set an expectation among your followers and boost the visibility of your content. This consistency builds trust with your audience and nurtures a loyal community around your brand.
And thanks to the Instagram algorithm it enhances the chances of your content being shared, which extends your reach to a broader audience.
So, stay committed to a consistent social media presence and unlock the benefits of increased engagement, wider reach, and amplified success for your small business.
Creating a content calendar can help you plan and organize your posts in advance, ensuring a consistent flow of engaging content.
Need help to stay on top of your scheduling? Try an auto-posting platform (like our social media suite here at Plann!) that schedules your content for you and makes sure it goes out on time.
7. Run Competitions With Tagging And Following Requirements
Running competitions and giveaways on social media can generate excitement, increase brand awareness, and expand your reach.
One of the best ways to encourage your audience to engage with your brand and spread the word to their friends, effectively increasing your reach, is by holding a competition that requires participants to tag a friend and follow your page as an entry mechanism.
Competitions like this are a surefire way to amplify your content's reach, boost brand awareness, and gain new followers.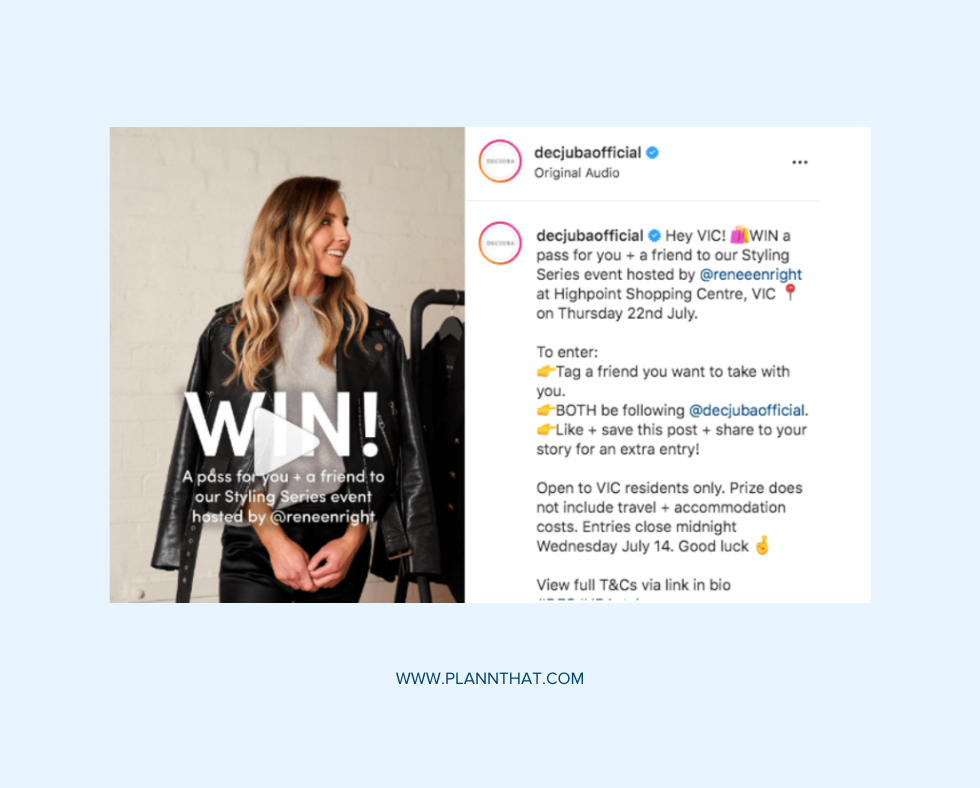 8. Tap Into User-Generated Content (UGC)
Social media is moving away from ultra-curated, aesthetic content. It's more about showing your brand's personality and providing social proof to your potential customers.
User-generated content (UGC) is one of the best ways to achieve this, with 79% of people saying user-generated content highly impacts their purchasing decisions
Encourage your audience to create and share content related to your brand, products, or services. User-generated content serves as authentic social proof and can attract the attention of new potential customers.
Repost and share UGC on your social media channels, giving proper credit to the creators. This not only expands your reach but also strengthens the sense of community and connection with your audience.
9. Utilize User-Friendly Social Media Scheduling Tools
Streamlining your social media management process with the help of scheduling tools can maximize efficiency and consistency in posting, and makes repurposing content across multiple platforms a breeze.
Plann's all-in-one social media scheduler helps you plan, create, and schedule your social media posts in advance. This can help you keep a consistent presence on your social media, without the need for constant manual posting. Plann helps you save time, maintain an organized content calendar, and make sure that your posts are published at optimal times for maximum visibility and engagement.
Ready to drive growth and increase your reach through social media?
If you're looking for a comprehensive social media management tool that empowers small businesses to thrive in the digital landscape? Look no further than Plann.
From easily curating captivating content, to scheduling posts across multiple platforms, to harnessing an effective hashtag bank, Plann provides the tools and insights you need to succeed.
Go on, and redeem your 7-day free trial of Plann Plus. If you don't like it, keep using Plann for free!