Instagram is home to 2 billion monthly active users, and counting! This makes the social media platform an incredible tool for generating brand awareness, driving online engagement, and attracting more buyers to your brand.
Achieving better Instagram marketing results is easy when you understand how to curate your approach. With the right tips and tricks, you can reach a wider audience and boost your engagement rate, leading to more sales conversions and greater business success.
Get ready to take your Instagram marketing strategy to the next level! Here are five proven tips to help you boost your Instagram engagement and drive more sales than ever.
1. Make content quality a top priority
When it comes to producing Instagram posts that encourage optimal conversion, quality is everything. You need to make a commitment to the professionalism of your brand and develop an Instagram strategy that is always underpinned by high-quality content.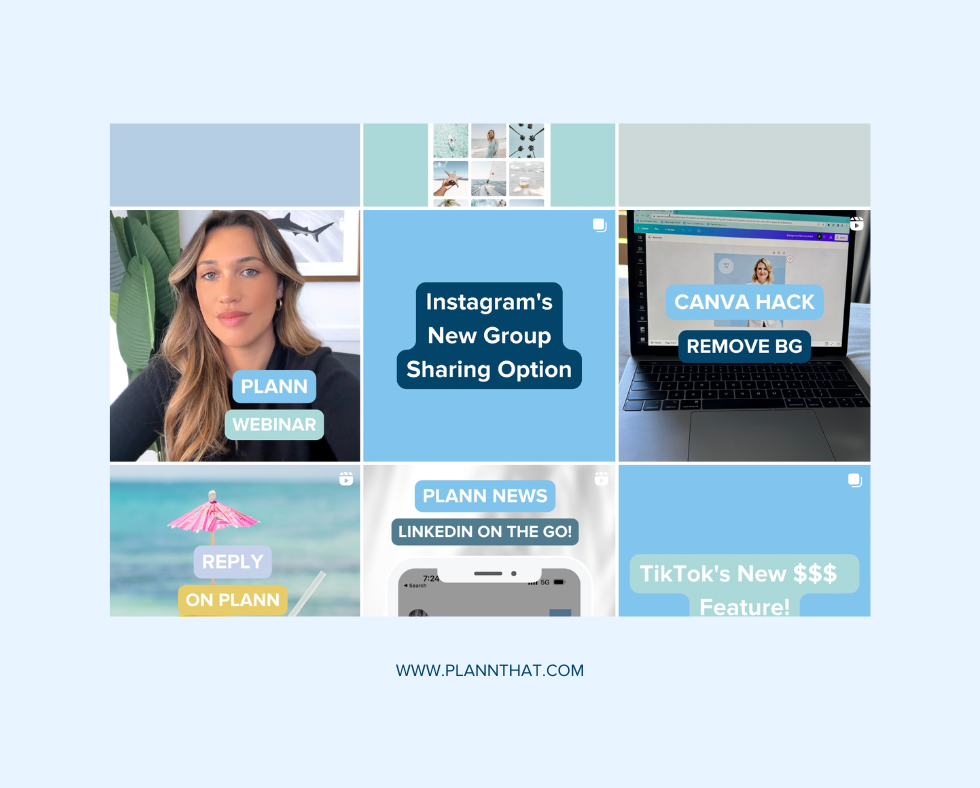 Thanks to user-friendly design tools and an abundance of online learning resources, it's now easy to create engaging, visually appealing content for Instagram. The good news is that you don't have to be a graphic designer to make your brand stand out.
In fact, you can whip up stunning graphics, on-brand carousels and engaging Instagram Stories slides right within your Plann workspace thanks to our seamless integration with Canva.
Research shows that 67% of marketers now use content marketing as a key tool for effective lead generation. This means that your content needs to have power and make an impact on your brand and its mission.
Think about the kind of content that will appeal most to your Instagram followers, and look for ways to deliver real value for your audience whenever you can. Can you give away unique insights or interesting information that will keep Instagram users coming back for more?
Great content quality provides you with a medium to showcase your knowledge and expertise. This can make your brand more appealing and drive meaningful engagement on your Instagram account before prompting a redirect to your purchasing channels.
2. Experiment with multiple post styles and formats
Currently, 64.9% of Instagram content is photo-based, but 42% of users prefer Instagram Stories, and Reels can achieve unbeatable popularity. The best way to please everyone is to diversify your content approach and produce fresh materials across Instagram's full suite of post formats.
You can share static images and carousel posts alongside Instagram Reels and timely Instagram Stories content. Covering all bases allows you to reach broad spectrum users in different ways. This can be the key to effective content repurposing, as well as helping you achieve more engagement success.
Remember, using diverse posting approaches can help you target different audience segments in ways they are likely to respond to. It can help you increase engagement with your Instagram content while providing you with the skills you need to adapt as new features become available.
Even better, mixing up your post formats could give you an extra boost in the Instagram algorithm, encouraging the app to show your content to more users beyond your own followers. This can do wonders for account growth!
3. Know and communicate your brand values
Your brand identity is critical when you're building an online community! Effectively communicating your brand values is the key to enhancing brand awareness and producing content that resonates with your target audience.
Studies reveal that up to 89% of shoppers remain loyal to brands whose values reflect their own. By making your values (and your mission) an important part of how you communicate, you can give users a reason to support your business.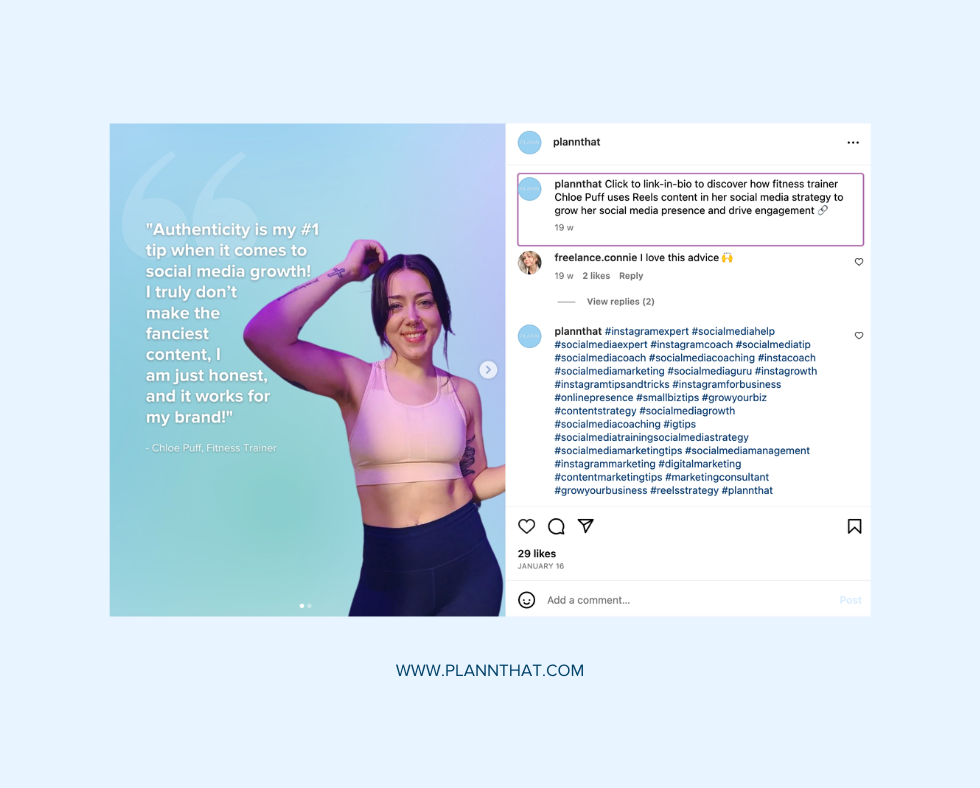 Over time, effective branding will do more than just improve brand awareness and recognition. It can help you build lasting relationships with consumers, encouraging people to engage again and again with your Instagram profile.
You might even go one step further and use your values as a way of connecting with high-performing Instagram influencers who want to share your products or services with their audience and drive more traffic to your Instagram posts.
What's more, is that value-driven content creation provides a large idea pool. You'll never run out of fresh content to create and share with your community, especially if you design a strategy that uses your values to inform your key content pillars.
4. Start the engagement conversation
Instagram engagement is a major performance indicator, which makes it well worth chasing. Sometimes, you have to lead the charge to achieve the engagement results you want for your account.
Whether you're commenting on other Instagram profiles, communicating with Instagram influencers, or looking for opportunities to obtain user-generated content, there's always space for a conversation on the 'gram.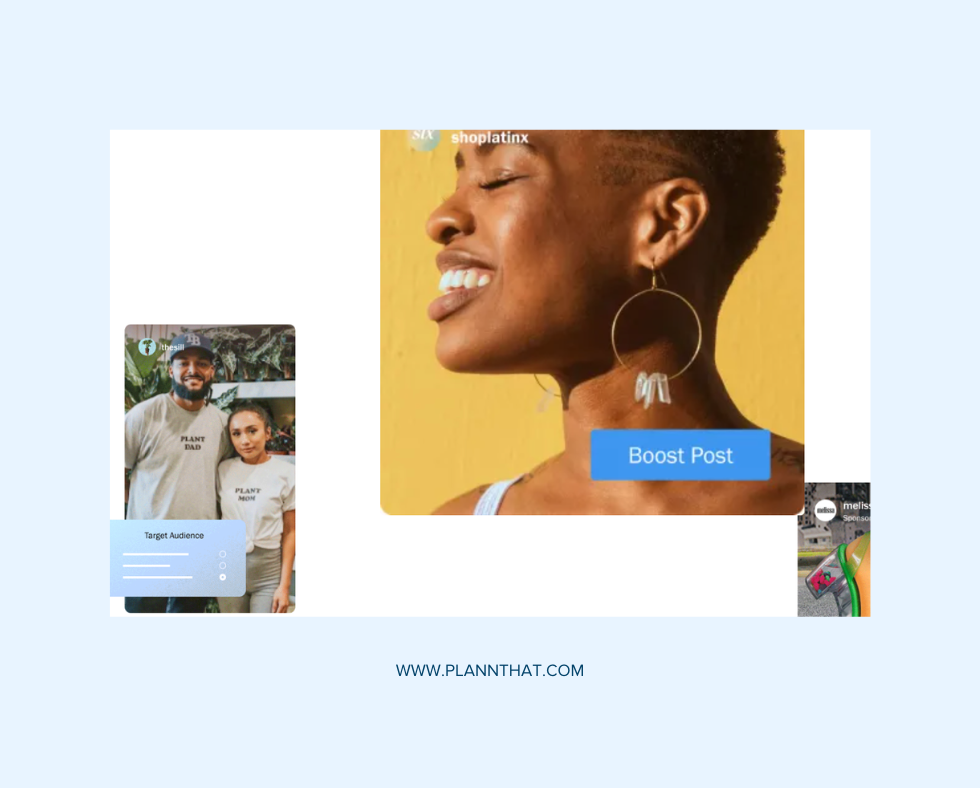 Don't be afraid to use your voice and take the first step to engage with Instagram content within your industry or niche. You may be able to build friendships and drive traffic back to your own Instagram account for a mutual engagement exchange.
Starting the engagement conversation isn't just about boosting your overall Instagram engagement rate. It allows you to build a thriving community of users from across the globe! When these users are ready to take action, you'll be the first brand at the top of their list.
5. Explore paid advertising
Instagram ads can reach a whopping 22.2% of the global population over the age of 13. In many cases, paid advertising can be the extra push your content needs to perform as well as possible on the worldwide stage.
While carefully tracking your engagement metrics, consider launching a paid advertising campaign for an Instagram post you know can highlight your value to the right audience and get more people interested in buying from your brand.
You can use tailored Instagram ads to target specific users with specific traits or interests. This can make it easier to focus not just on engagement at large but on finding the people who are most likely to truly care about what your brand can offer.
The benefits don't end there. Paid advertising tools can help you long after you stop paying to place ads. You can work to retain your new followers and buyers and drive future Instagram engagement within your growing community.
Ready to supercharge your success on social media?
Looking for an all-in-one content creation suite that allows you to manage your social media channels effortlessly? From mapping out your strategy and designing your graphics to saving plug-and-play hashtag sets, you'll find everything you need inside Plann.
Go on, and redeem your 7-day free trial of Plann Plus. If you don't like it, keep using Plann for free!