Ready to level up your social media game and conquer the competition? With a never-ending stream of platforms to manage, content to create, and engagement to nurture, finding ways to boost your productivity is an absolute must.
So if you're looking for ways to streamline your content creation process, foster seamless collaboration, and harness automation to make manual tasks a thing of the past, we've got you covered.
Ready to dive in? Let's go!
Tip 1. Assign Clear Roles and Responsibilities and Map Out Your Workflow in Advance
Streamlining your social media workflow is all about setting the stage for easy collaboration within your dream team. Kick things off by assigning specific tasks to each team member, this will help you create a structured foundation for efficient collaboration.
Start by identifying the strengths and expertise of each team member and aligning their responsibilities accordingly. Whether it's content creation, graphic design, community management, or analytics, everyone should have a defined role, and have their moment in the spotlight.
Once you've got these roles established, the next step is to map out your workflow in advance. Not sure where to start?
Creating a visual roadmap that outlines the entire process, from brainstorming and content creation to scheduling and analytics will serve as a guiding document for your team, ensuring everyone understands the sequence of tasks and the handoffs between team members.
By proactively planning your workflow, you can avoid confusion, minimize bottlenecks, and maximize productivity.
Tip 2. Batch Your Content Creation Process and Plan Ahead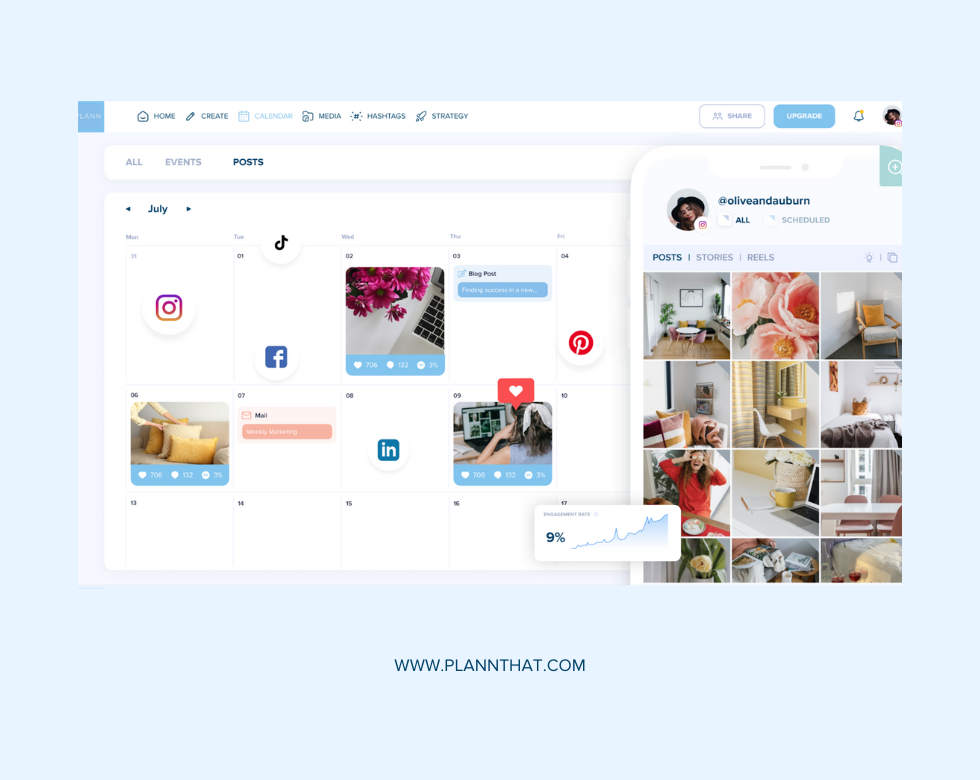 Tired of scrambling to create social media content at the last minute? Streamlining your workflow will help you reclaim your time by implementing a batching strategy. This involves dedicating focused blocks of time to create and schedule multiple pieces of content in one sitting, rather than working on them individually.
Let's take a look at some of the benefits of batching your content creation:
• It will maximize your efficiency and productivity and minimize distractions.
• It enables you to maintain a consistent brand voice and visual aesthetic throughout your content.
• You'll be able to plan and curate your captions, select accompanying visuals, and ensure your posts align with your overall content strategy.
With Plann's Content Calendar, you can batch-create, organize, and schedule your future posts. The visual grid layout will allow you to experiment with different post arrangements, and ultimately maintain a cohesive visual identity.
Make the most of your team's creativity and time by adopting a batching approach.
Tip 3. Plan and Create Your Content in One Place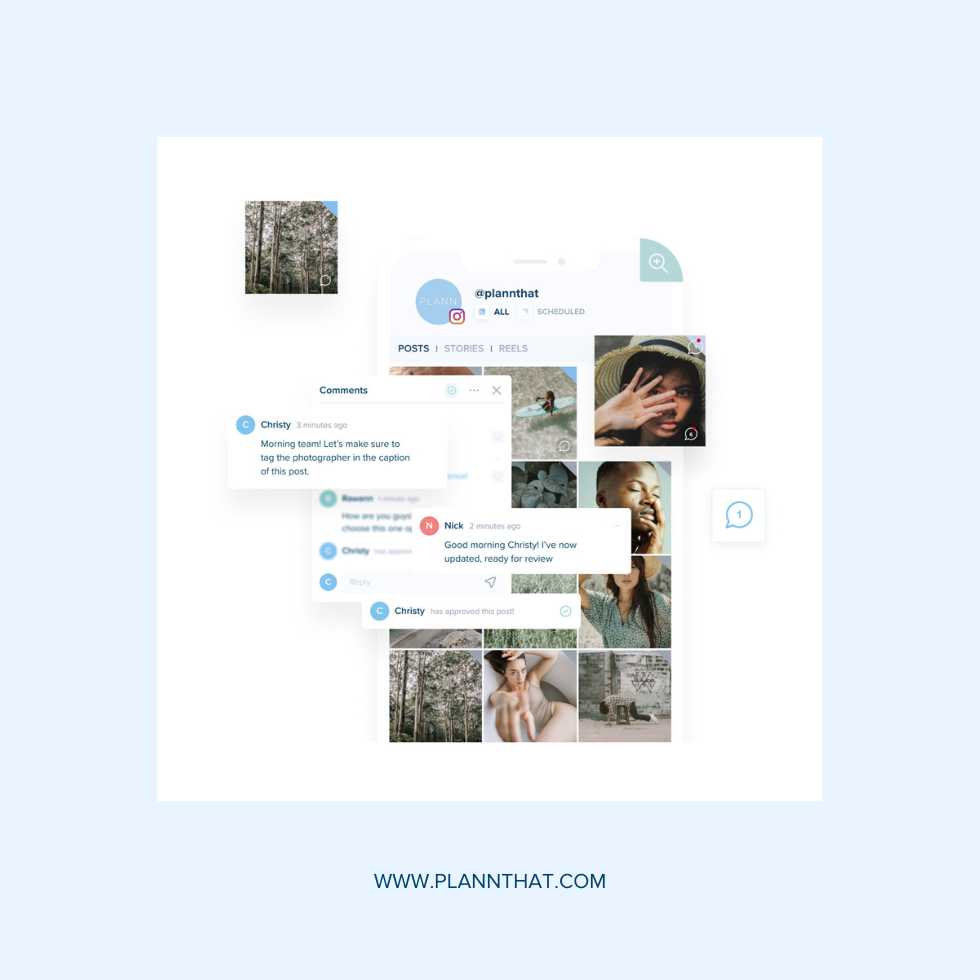 One of the most important things to focus on when creating a smooth social media workflow is making sure your team can effectively collaborate.
Want to put an end to juggling different communication channels and losing track of important discussions? With Plann's Team Chat feature, you can bring your team together in one centralized platform to plan and create your content seamlessly.
Plann's Team Chat makes real-time communication a breeze, enabling instant feedback, brainstorming sessions, and sharing of ideas. It's like having your own virtual meeting room where you can instantly share feedback, brainstorm ideas, and ignite creative sparks.
Whether you're coordinating content themes, discussing out-of-the-box concepts, or seeking input from your talented teammates, Team Chat keeps everyone in the loop and engaged.
Tip 4. Make It Easy for Clients to Approve in One Place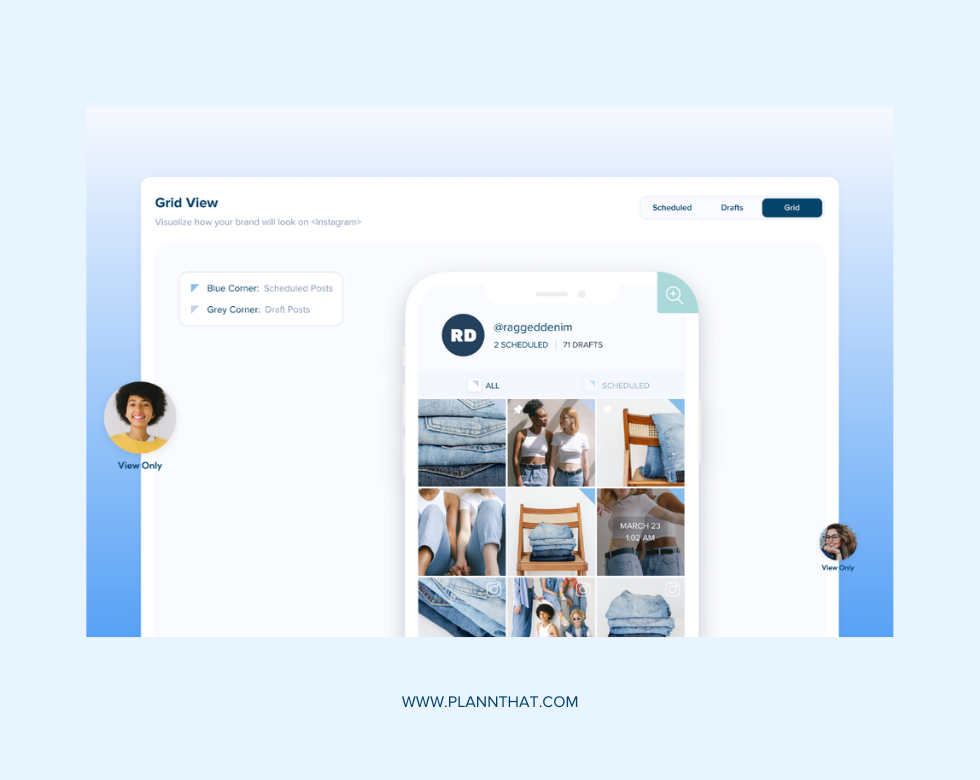 You probably already know how frustrating it can be to find your social media workflow slowed down by client approvals time and time again. This often leads to delays and even miscommunication.
That's why finding a centralized approach that makes it easy for you and your team to all be on the same page is key. Plann's Sharable Links feature ensures that everyone is on the same page, facilitating efficient communication and swift decision-making by providing links to clients to provide feedback and review certain posts.
With Plann's Sharable Links feature, you can streamline the approval process and keep your projects on track. This will minimize confusion and enhances collaboration with your clients. No more searching through email threads or managing multiple versions of files.
This handy feature ensures you can maintain a smooth workflow and ensure that your social media campaigns stay on schedule.
Tip 5. Harness Autoposting to Make Manual Posting a Thing of the Past
Say goodbye to the time-consuming task of manually posting on social media platforms. Plann's Autoposting feature lets you automate your posting schedule, saving you valuable time and effort.
With Autoposting, you can plan and schedule your social media content in advance. Simply set the date, time, and platform for each post, and let Plann take care of the rest.
By utilizing Autoposting, you can maintain a consistent online presence, engage your audience, and drive better results. No more setting alarms or worrying about missing a posting opportunity.
Plann keeps your social media strategy on track by automatically publishing your content, leaving you with more time to focus on what truly matters – growing your business and connecting with your audience.
Ready to supercharge your social media workflow?
Looking for an all-in-one content creation suite that allows you to manage your social media channels effortlessly? With Plann, you'll discover an all-in-one solution that empowers you to effortlessly manage your social media channels.
From streamlining your strategy and curating captivating graphics to maximizing the potential of your content, Plann has everything you need to optimize your social media workflow.
Go on, and redeem your 7-day free trial of Plann Plus. If you don't like it, keep using Plann for free!