TA-DA! We're thrilled to unveil an incredible new feature that will upgrade the way you collaborate and the day-to-day running of your team's social media workflow.

Introducing Shareable Links! 🚀✨
What Are Plann's New Shareable Links?
Shareable Links is our latest feature where you can create a unique URL, and share it with your team members, higher management, or clients to direct them to a specific part of Plann unique to your brand.

This means you can:
→ Share a link so your team can join you directly on an individual social media Post.
→ Share a link to your overall 'grid aesthetic' across any social media platform you're working on.
→ Share a link to someone outside of Plann, (like a manager, or your clients), with a note, in a simplified view-only mode that makes you look ultra-professional.
How Can You Create a Share Link?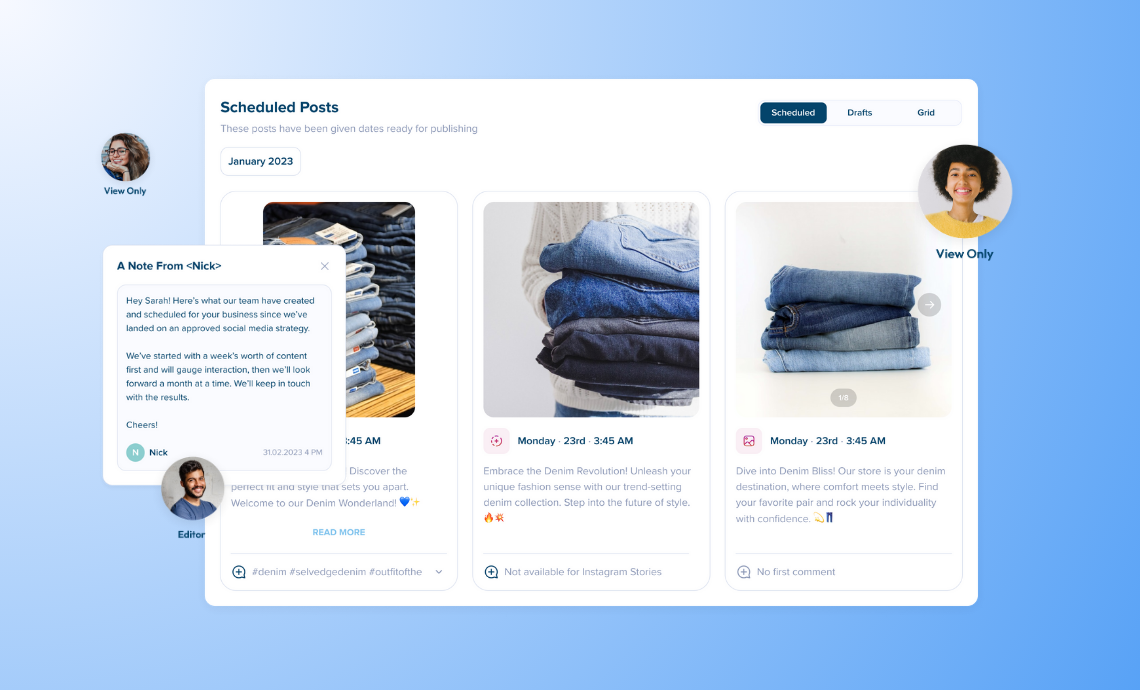 At the top of your workspace where Shareable Links are available, you'll see a 'SHARE' button.

Simply choose your link style and customize the sharing settings, COPY your unique URL and send it to your recipients. They can then access the link from any device and collaborate or view the content with the permissions you created just moments ago.
Here's why Plann becomes essential for brands and marketing teams:
Streamline Collaboration: Collaborating quickly and effectively is the key to success working with any team. With Shareable Links, you can instantly share your drafted and scheduled social media posts and videos so team members can provide feedback, suggest edits, or even contribute their own ideas. Plann becomes your virtual collaboration room where everyone can work together seamlessly.
View Your Visual Grid: Managing your brand's visual presence across various social media platforms can be a daunting task. But with Shareable Links, you can share your visual grids for Instagram, Pinterest, Facebook, LinkedIn and TikTok. This allows your team to have a clear overview of your brand's aesthetics on all platforms, ensuring consistency and cohesive storytelling across all channels.
View Only Mode: Perfect for Clients and Higher Management! When it comes to sharing updates with clients or managers, maintaining a professional and organized approach is crucial. Shareable Links allows you to share a beautifully designed "View Only" mode, allowing you to share your social media presence without editing permissions. This ensures that clients and higher-ups stay up to date on projects, campaigns, and brand progress without any unintentional changes.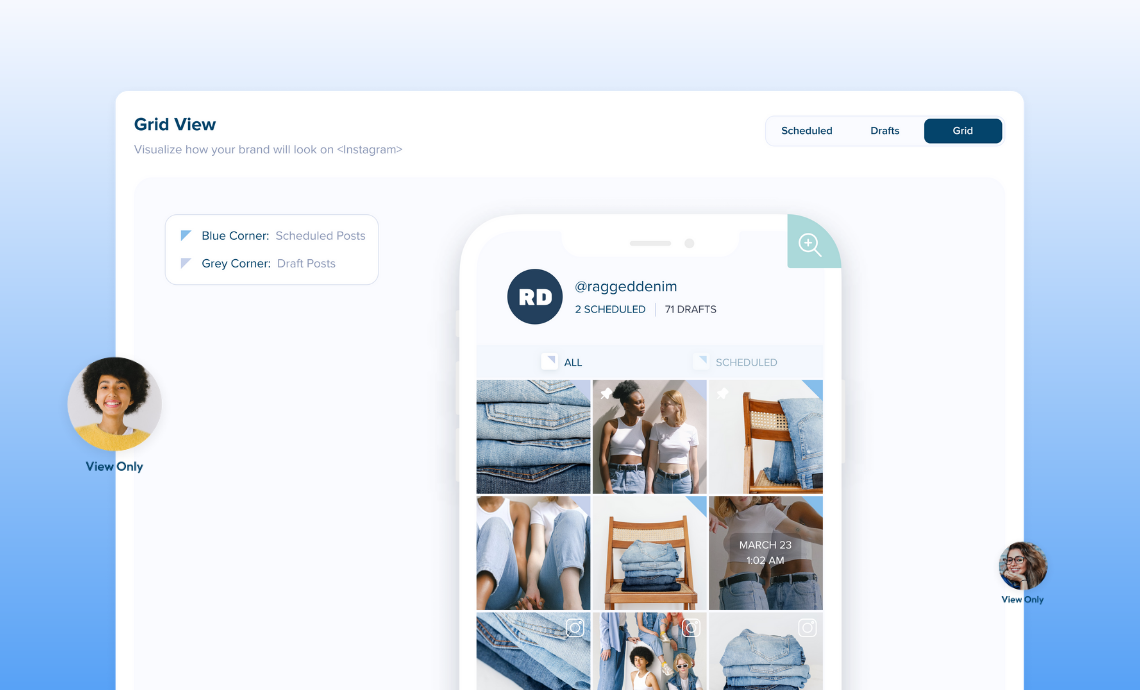 But wait, there's more! Shareable Links go beyond simple sharing. We've packed them with advanced features to supercharge how you collaborate!

Collaborative Chat: Communication is key, and Shareable Links helps direct your team to our built-in chat on the page (a feature that already exists) that allows your team to have real-time discussions, exchange ideas, and provide feedback directly within the page of the post you're sharing. No more confusing email chains or scattered communications—it's all organized and easily accessible in one place!

Approval Flows: Smooth approval processes are vital for maintaining brand consistency and ensuring quality control. Shareable Links help encourage approvals to take place right inside Plann keeping everything together. Team members can request approval for their social media posts, and managers can easily review, provide feedback, and give the final go-ahead. It's like having a streamlined workflow designed to enhance efficiency.
What Can You Share With Share Links?
Create and share a unique link with your team to work together in record time:

→ Direct to individual posts to collaborate, add feedback + approve specific content
→ View your 'Grid Asthetics' for an overall look of any social platform
→ Updates in real-time, not just from the moment you created the link,
→ Shareable Links are available across ALL of your social media platforms.

View Only, perfect for those outside of your Plann account (like your manager for an FYI)

Have someone in the team who doesn't need to be in the weeds, but wants to be kept across the week's posts? Have a client that trusts you to do your socials and you want to put them at ease that everything is under control? Easy!

→ Choose to share your scheduled posts with those outside of your Plann workspace.
→ Add a little note that they'll see when they open your page if you'd like to direct their attention or confirm the next steps.
→ Choose to protect your link with a 7-day expiry date
→ Choose to share drafts + scheduled posts, OR, just scheduled posts.
→ Preview your link so you know exactly what they'll see once you share it.
→ Viewers will see Brand Snapshot which means they have a view-only for ALL of the social platforms being managed.
Please note: If you want those with a view-only link to be able to add feedback and discuss your posts, please add them as an additional team member inside your Plann workspace so they can comment. This is designed so you'll keep everything for each post in one place, all together to make life easier for you.

You can add additional team members from your team settings page at any time.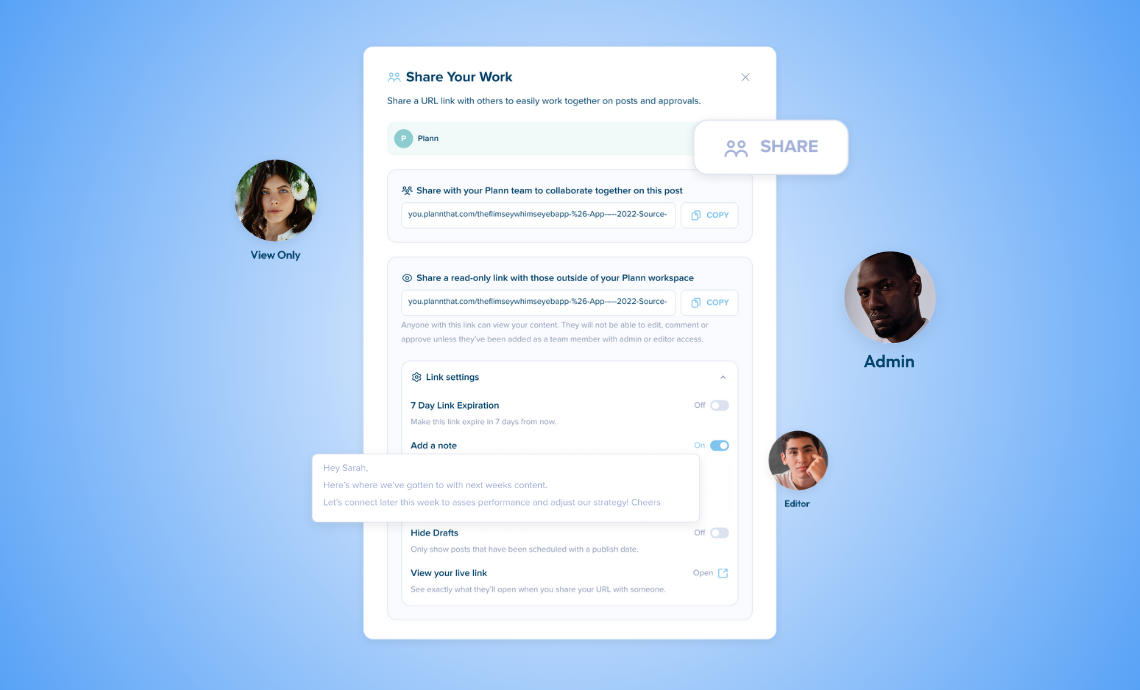 We've done our best to ensure using Share Links with Plann is a breeze for your team, we're always looking and open to feedback so if you need something extra – please reach out!
Don't miss out on the power of Shareable Links with your team, unlock the true potential of social media collaboration.

Gift Plann to your friends, family or followers <3

Gift your friends, family, or followers $10 off Plann with your unique referral link!
By using your unique link, you'll gift them a month of Plann free, PLUS, you'll get $10 Plann credit just for sharing a favorite tool.
Find your unique link in your Plann settings to gift the sunshine in someone's day
How to find your unique referral code;