Instagram is a powerful tool for brand building! With a focus on impactful visual content, it's a great space to create a striking aesthetic.
When you're clever and strategic about the look of your brand, you can create content that appeals to your audience. In fact, a great Instagram brand aesthetic can have many important benefits for the overall success of your account!
It's time to choose a look that represents everything you and your brand stand for. Let's get started and show you how to master your Instagram branding like a pro!
Why you need to curate your Instagram aesthetic
Already, over 1 billion people are active Instagram users, and that number is only set to grow.
While Instagram offers great opportunities for creators, it's also a competitive landscape. If you want your content to stand out from the crowd and generate interest in your brand, you need to think carefully about how it looks.
An appealing brand aesthetic can get people interested in the content you produce. Over time, this can help to improve your reach and increase your engagement rates. The more you grow, the more successful you'll become as your content becomes a staple for the Instagram algorithm.
The benefits of a strong brand aesthetic on Instagram
For many new Instagrammers, the prospect of creating an effective brand aesthetic can feel confusing and overwhelming.
Fortunately, anyone can create a great aesthetic with the right tools and knowledge! All you need to remember is that a strong Instagram brand aesthetic relies on three key pillars.
1. Resonates with your audience
First, and perhaps more importantly, your aesthetic must resonate with your target audience.
The look you create for your Instagram posts should appeal directly to the people who care about your brand and what it offers.
If you sell bright-colored clothing with sunshine and flower prints, you need to create content for a market that loves color! Dark, gloomy Instagram posts won't reflect your brand or attract your ideal customers.
2. Builds brand recognition
Next, your Instagram aesthetic should help to build brand awareness and recognition.
Your content needs to match the rest of your branding. This means including branded fonts and color palettes, as well as your logo and other identifying materials.
When users see your posts, they should recognize your account instantly. Effective branding is clear and memorable. Your brand should be uniquely yours, never close enough to get confused with a competitor.
3. Enhances your brand image
Finally, your brand aesthetic needs to work for the good of your brand image.
The content you share on Instagram is a representation of your brand at large. It should stay true to your niche and to the professionalism you want to convey.
A well-executed aesthetic is a great way to showcase your hard work and marketing skills. It can help you demonstrate close attention to detail and a commitment to quality. That's what paying customers want to see!
How to create a visually appealing Instagram brand aesthetic
You know that a visually appealing Instagram brand aesthetic is important. But where should you begin when it comes to creating a new look for your account?
Follow these steps to get started, and get ready to achieve great things on the 'gram!
Step 1: Know your look
This might seem simple, but it isn't always so straightforward. Before you can create an effective aesthetic, you need to know what look you're trying to achieve.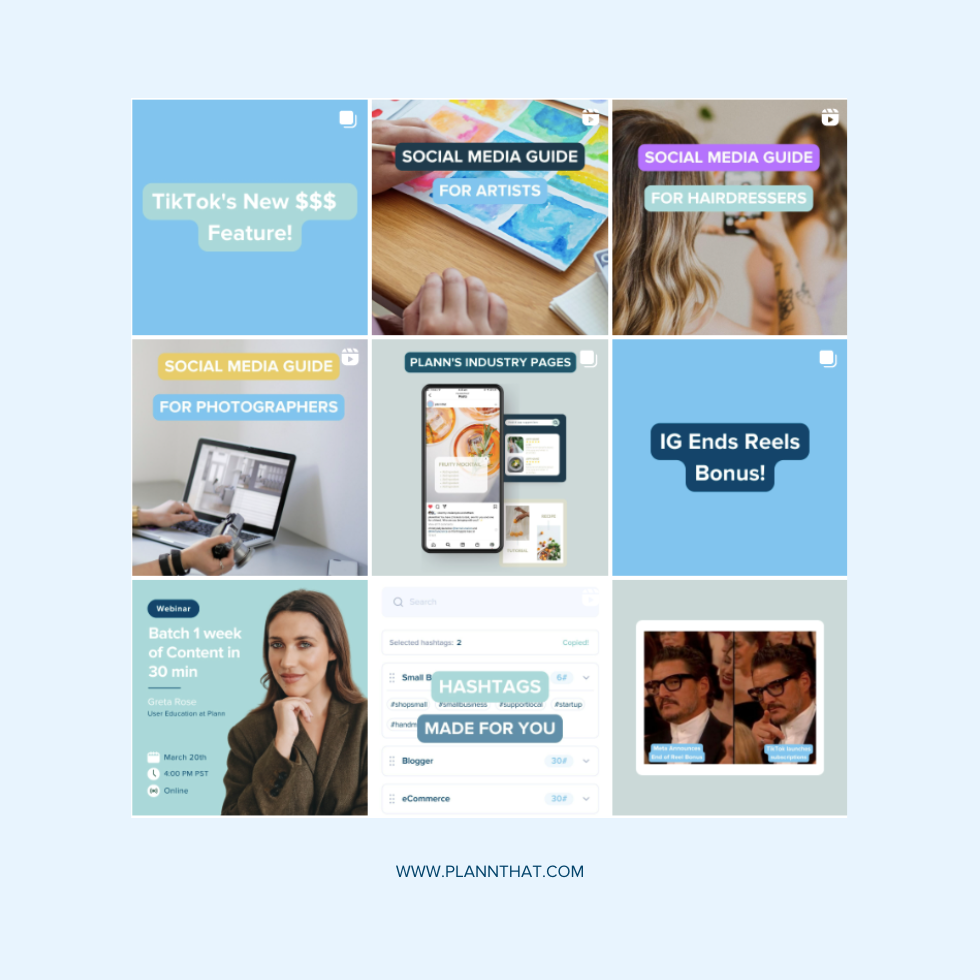 Think about what your brand offers and what it stands for. What is the tone you need to align with? Is your brand light and airy or dark and moody? Your brand already has an identity, and your Instagram aesthetic needs to match it.
Knowing the right look for your brand is an important first step. It helps you ensure that you stay true to the first pillar of a great brand aesthetic: choosing a vibe that resonates with your target audience.
Step 2: Identify your purpose
If you're having trouble selecting the right overarching look for your brand account, don't panic. Take some time to think about the purpose of the work you do and the content you share.
On Instagram, every post you upload should have a purpose. Whether you're offering a glimpse at a new product or hosting a Q&A session, your posts should be part of a broader narrative.
Ask yourself what you stand for and what you're trying to achieve. Let your goals drive your creative decisions. Choose aesthetic details that highlight your value and brand identity while speaking to your mission.
Step 3: Prepare your designs
Next, you're ready to start preparing designs! Thanks to user-friendly digital tools (like Plann's integration with the beginner-friendly graphic design tool, Canva), even basic photography and graphic design skills can help you make an impact.
Start putting together a few individual posts to be a part of your brand aesthetic. Try a range of styles and features to see what works. Get used to new software, and discover unique ways of combining messaging with branding materials.
When you have a few designs you're happy with, you can start to use these as a basis for the additional designs you're creating. Some brands even create editable design templates they can use to stay on track with their look!
Step 4: Plan your grid
Once your first images are ready, it's time to start planning your grid. At this stage, it's often helpful to use a visual scheduling app, like Plann, to help you.
Spend some time looking for the best layout option for your posts. Try to plan your grid so that adjacent posts work well together visually, as well as complement each other from a content perspective.
Most scheduling apps will allow you to click and drag your images around as many times as needed. This means that you can keep working on your aesthetic layout until you get it right. Screenshot! You'll want to replicate this look with future posts.
Step 5: Adapt your style
Last but not least, it's important that you remain open to change and evolution. Your Instagram brand aesthetic should change over time.
When Instagram releases new features, don't be afraid to try them, even if it means stepping outside your branding just for a moment. Remember, you can always revisit this blog post and start your aesthetic over.
Your aesthetic may also change as your brand grows. You might adapt and evolve based on feedback from consumers or based on new products or services you're offering.
With Plann's advanced analytics, you can keep tabs on which content is resonating with your audience (we even let you see what your best-performing color palettes are!). This will help you make data-driven decisions about your Instagram aesthetic and branding moving forward.
Get started with Plann
Are you looking for a great social media scheduling tool to help you create better Instagram content than ever before? You'll love Plann! Get started today with a FREE 7-day trial of Plann Pro and visually bring your social media presence to life.