Thanks to the rise of visual content on social media, there's never been a better time to show off your photography skills and reach new audiences around the world. But how can you improve your social media marketing skills as a professional photographer?
By adopting simple and efficient workflows, you can shine a light on your photography across a variety of social media platforms, avoiding overwhelm while curating a strong brand presence.
With a little knowledge and a lot of creativity, your photography images are sure to earn the attention they deserve across all your favorite social media sites!
To help you get the most of social media marketing for your photography, we're joining forces with our friends at CloudSpot to offer 10 marketing strategies you can try right now to enhance your social media presence.
Let's get started!
1. Stick to a schedule
On social media, consistency is the key to success. By maintaining a posting schedule, you can help your audience predict your social media habits as well as teaching many social media algorithms how to recognize patterns and boost your photography content.
Establishing a social media content calendar can help you become a reliable source of fresh photography content. For busy photographers, auto-posting and social media management tools are a great option, uploading your content on schedule.
Try the Plann x CloudSpot integration to send professional-quality photos straight to your social media feed (goodbye manual posting and push notifications!).
2. Maintain an effective workflow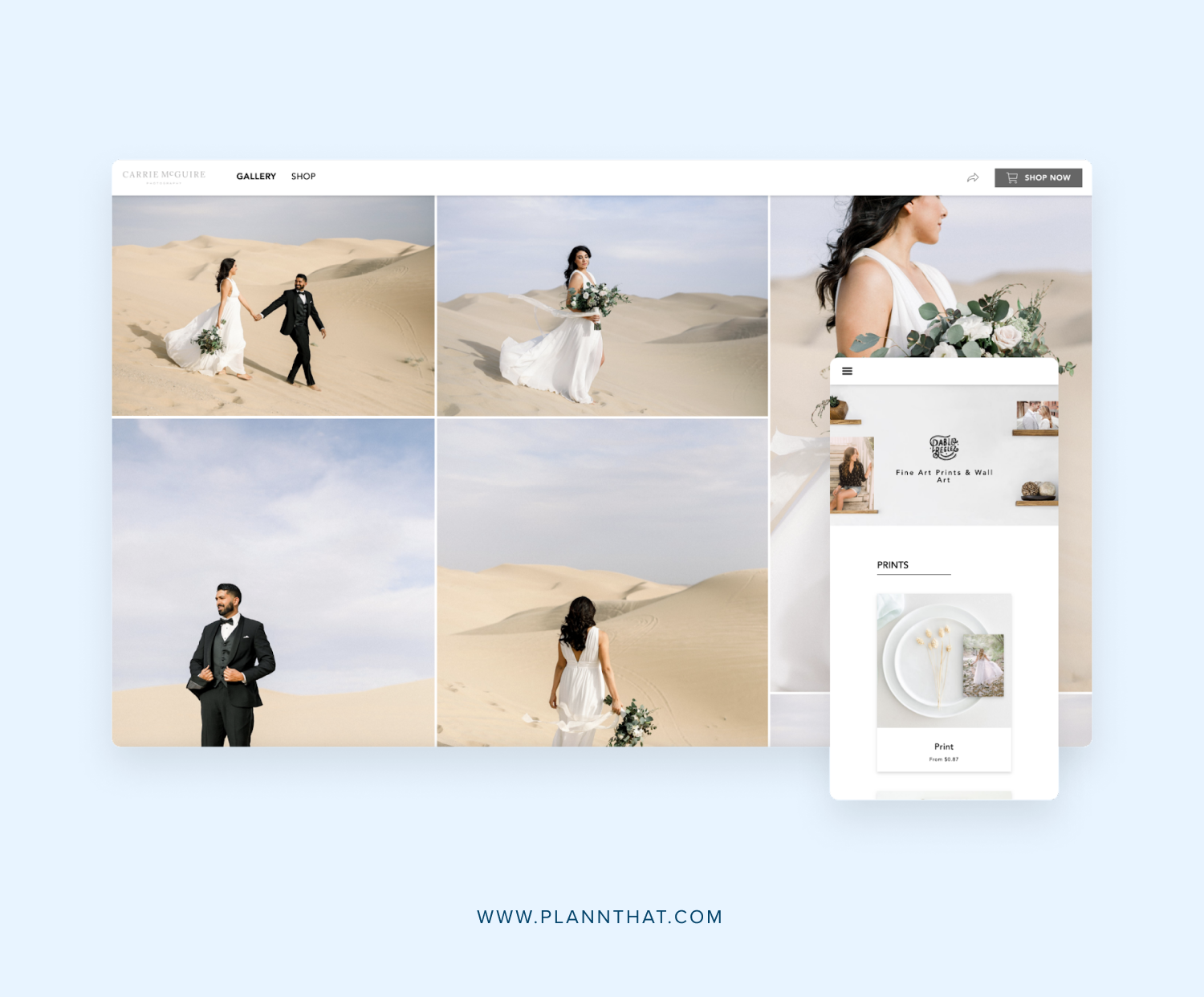 When you're a busy photographer, maintaining an effective workflow is essential, helping you to stay in control of your social media content without becoming overwhelmed. Once you've captured your content, an effective workflow means you can move straight to editing, collating, and sharing.
With CloudSpot, you can organize your best photos in a professional online gallery. With the Plann x CloudSpot integration, you can directly export and share your photos to various social media platforms, curating social content like a true professional photographer.
Sharing regular social media content is easier than ever when your workflow is optimized for simplicity!
3. Choose an aesthetic
As a social media photographer, your aesthetic has power. Choosing a consistent aesthetic helps to improve brand power, making your photos instantly recognizable to your ideal clients.
By identifying themes and elements that appear often in your CloudSpot galleries, you can choose to highlight specific details, such as style or color, across all social media sites.
This can help you stand out from the crowd as a professional photographer, giving you a creative edge in the photography market.
4. Target a niche
Photography is a broad art form, so it's important that you find innovative ways to target the people who care about your work.
Whether you're known for sweeping landscape images or beautiful wedding photography, defining your niche can help you reach your ideal audience and target the right clients with the photos they want to see.
Your niche can be a foundation for your overarching business strategy, informing the photos you capture and the editing styles you choose. This can help you build a successful photography career, even turning photography into your full-time job as you continue work to develop your portfolio.
5. Use all your tools
On social media, you have access to a suite of posting tools and resources, allowing you to share your photography work in creative ways. Diversifying your approach to use a variety of tools and formats can help you make the most of all marketing options.
Don't be afraid to mix and match between image and video content. A photo can easily become an Instagram Reel with simple animations and a good soundtrack! Your content strategy should maximize reach potential by using a combination of newsfeed and story posts, too.
Share your creativity with the world by harnessing all the content formats and posting tools at your fingertips. The more dynamic your social media content, the more engaging your social media presence will be!
6. Caption with confidence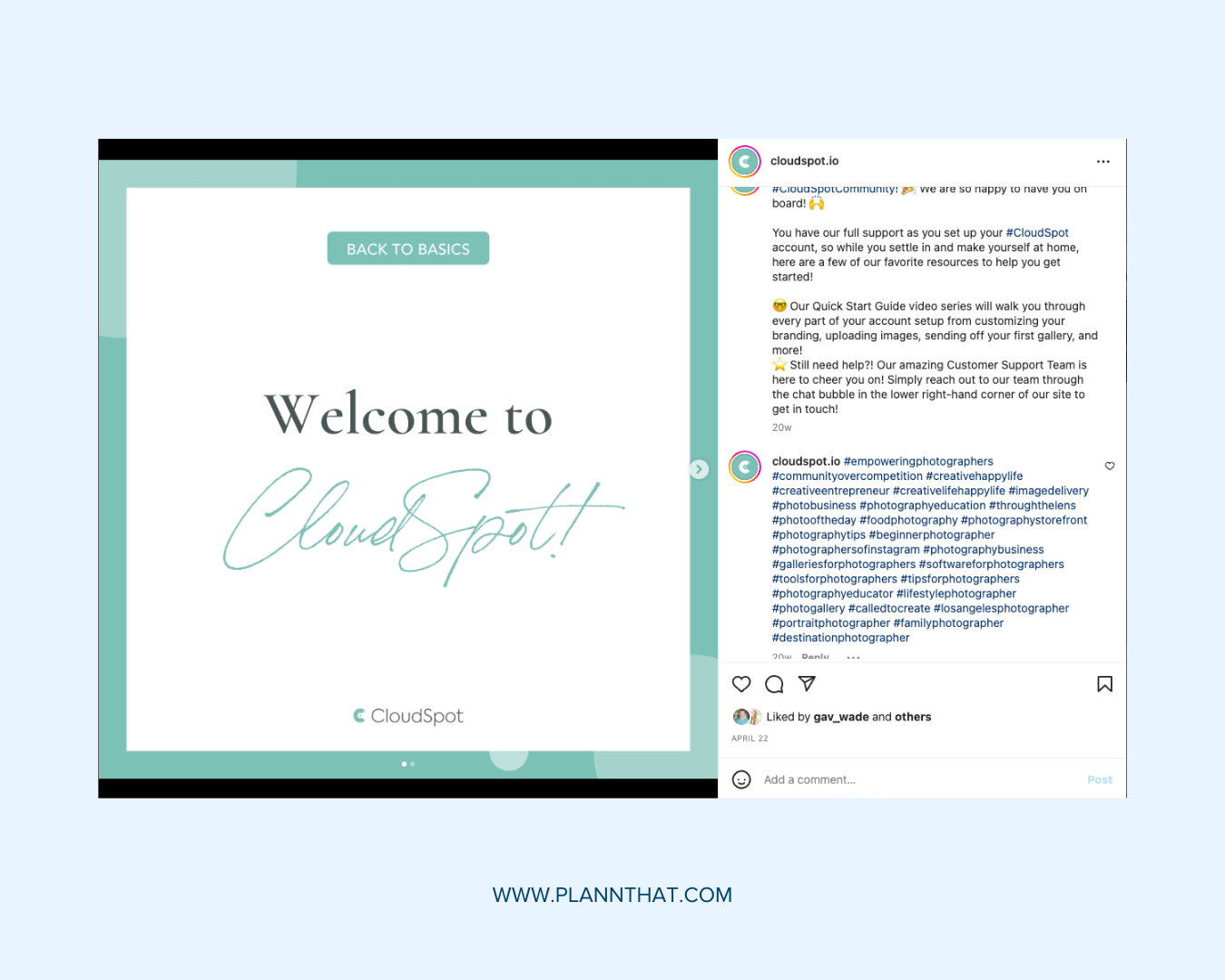 As a social media photographer, never forget the importance of a good caption! Use Plann to take control and offer value to your followers.
Where possible, try to use your captions as a tool for search engine optimization (SEO), including key words that relate directly to your niche, your target audience, and your photos. This is a great way to boost traffic!
If you want to take your caption creativity one step further, it can be helpful to include a few highly relevant hashtags, especially if you're sharing photos on Instagram, TikTok, or LinkedIn. Hashtags can improve your account's discoverability, marketing your photos to the masses.
Not sure where to start when writing your captions? We've got you covered! With Plann's social starters feature, you can score daily caption prompts and done-for-you captions, aligned to hundreds of niches and content goals!
7. Build your community
No matter your experience level as a photographer, community is everything on any social media site. By building relationships with clients and colleagues alike, you can promote engagement and interest in your photography work.
Take the time to talk to clients and other photographers on social media. Ask questions, offer advice, and give compliments.
This can improve your professional reputation while offering new promotion and development opportunities for your photography.
8. Tag your photography
Social media tagging tools are essential to enhancing content reach and scaling your business as a social media photographer.
Using a social media management tool like Plann, you can easily tag co-creators, prop suppliers, photoshoot models, and more in your photos.
You can also use location tagging tools to link photography venues you use. Tagging a photo's location allows you to give credit where it's deserved, all while building your community and encouraging others to share your work with their own audiences across a variety of platforms.
9. Cross-promote content
Success on social media relies on your marketing skills, so never be afraid to make the most of them to develop your business. Instead of sticking to one social media site, cross-promote your content on Facebook, Instagram, LinkedIn, TikTok, Twitter, Pinterest, and more.
The more people you reach as a social media photographer, the more your business will grow. As you find new clients, you'll be able to take more photos and further add to your social media presence.
You might even connect with other professionals in your industry who can help you gain additional knowledge and experience as a photographer!
10. Keep on learning
Life as a social media photographer isn't easy, but it is rewarding to share your talent and passion with the world. The best photographers are always learning, so you should be too! Consider every social media marketing challenge a new chance to develop your business and create great content.
Whether you're a hobbyist social media photographer or a seasoned professional expanding your services, never be afraid to try something new on social media.
Regardless of your experience level, you can use social media as a place to share your best CloudSpot gallery images and explore innovative strategies to grow your business and platform over time.
Get started with Plann x CloudSpot
Are you ready to start your journey to social media success as a photographer?
With a well-planned and perfectly executed marketing strategy, you can show off your photography skills and creative talent across a great range of social media platforms.
Sign up for a free 7-day trial of Plann, and integrate effortless with your CloudSpot gallery to get started today!