The Fourth of July is a very special time for all Americans – it's the day to celebrate the declaration of independence and all things 'America'. Yahoo!
You're probably rushing around gathering your essential Fourth of July party supplies and dusting off your favourite red/white/blue outfit, but before you get to the really fun stuff we want to make sure that you're 100% ready for the party to start.
You know what that means…Creating + scheduling your 4th of July Instagram post in advance!
There's nothing worse than trying to come up with an Instagram caption on the spot when all you want to do is have fun with your friends and family and eat delicious food.
At Plann HQ, we've put on our thinking caps to come up with 10 creative Instagram content ideas for the Fourth of July, and we think we might just have something great here.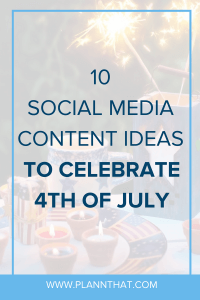 1. SHARE YOUR BEST FOURTH OF JULY BBQ RECIPE
Do you have a signature Fourth of July BBQ Recipe that is a total crowd pleaser? Don't keep that goodness all to yourself… share your favourite Fourth of July recipe with your Instagram followers!
And of course, don't forget to get the perfect Instagram flatlay featuring the signature dish, it's sure to make your Instagram engagement skyrocket.
2. CREATE A QUOTE GRAPHIC FROM PATRIOTIC SONG LYRICS
Love a good sing-a-long? Why not take your favourite sentence from a Patriotic Song and make that your Instagram caption of the day. Pair it with a photo of your Fourth of July outfit and you're sure to have a star-spangling great time.
3. COLLECT + SHARE FOURTH OF JULY FASHION INSPIRATION
Speaking of outfits… are you the envy of your friends with your over-the-top yet perfectly styled 4th of July outfits? Inspire your Instagram followers with Fourth of July Fashion Inspiration and give them a sneak peek of what your outfit of the day might just be…
You can then reveal a Fourth of July outfit photo in your Instagram Stories on the day!
4. DO A THROWBACK TO PAST FOURTH OF JULY CELEBRATIONS
Who doesn't love a good throwback? We're not going to say no to 2000's Justin Timberlake!
These content ideas for fourth of July are definitely off to a good start, but we couldn't go past sharing the great idea to post a throwback photo or video to one of your past Fourth of July celebrations.
5. CREATE A FUN INSTAGRAM STORIES POLL
A little bit curious about your Instagram followers and what they're doing to celebrate?
While you can't schedule this content idea in advance, you can share a poll in Instagram Stories the morning of the Fourth of July to find out what your audience are getting up to.
6. COLLECT + SHARE FOURTH OF JULY HAIR AND MAKEUP INSPIRATION
Do you spend most of your time watching Hair and Makeup tutorials on YouTube? Why not share some of your favorite Hair and Makeup inspirations for Fourth of July in a carousel post on Instagram.
7. RESEARCH + SHARE A FUN HISTORICAL FACT
Love a bit of history? Why not share a fun historical fact about America, the Declaration of Independence, OR better yet… traditional ways to celebrate Fourth of July.
You're sure to inspire your Instagram followers and brighten their day.
8. TAKE A BEHIND-THE-SCENES VIDEO OF PLANNING YOUR CELEBRATIONS
Are you the type of person to organise days (or even weeks) in advance? Why not share the process of planning your perfect Fourth of July celebration on Instagram.
It could be a video that you speed up using an editing tool or it could even be one big video that you break into bite-sized pieces using an app like CutStory so that you can schedule your Instagram Story of the day in advance.
PSST -> Yep, you can schedule your Instagram Stories in advance with Plann. Download the app now to give it a try!
9. SHARE A STEP-BY-STEP FOURTH OF JULY DIY
Are you the King or Queen of DIY? Make your followers jump for joy by sharing with them your favorite DIY project for Fourth of July. It could be a DIY party decoration or hair piece, get your creativity flowing and share what you create in a video or carousel of images on your Instagram grid.
10. SHARE A FUNNY MEME ABOUT THE FOURTH OF JULY
Now maybe, like us, you like to joke around.
Why not give your Instagram followers the gift of a good giggle this Fourth of July with a funny meme. Here's one that we think you might be able to relate to…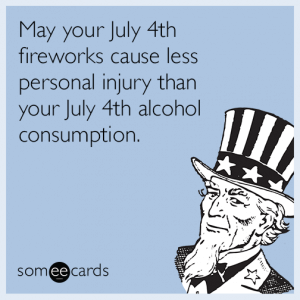 Want to share this meme on your Instagram feed? Here's the source of the image so that you can credit the creators correctly. >> WOW that was a lot of 'c' words in a row! <<
Phew! That was a lot of Instagram content ideas!
We hope that y'all are excited for Fourth of July, and from the bottom of our hearts we hope you have the best time celebrating.