Romance is in the air! Are you ready to woo your followers?
Like Black Friday and Cyber Monday, your brand should prepare a Valentine's Day marketing strategy.
After all, $24 billion is spent over the holiday, with most gifts averaging $200.
But if you want a slice of the pie, you need a solid content strategy that begins with writing irresistible Valentine's Day captions.
Tips for Getting More Valentine's Day Sales
Before we jump into some caption ideas for Valentine's, here are some marketing tactics to boost your sales over the most romantic day of the year.
Create a Valentine's Day Gift Guide
What is the best way to create some buzz for your biz around V-day?
Create a gift guide!
Suggesting gift ideas to your followers is super helpful. You're taking the anxiety off the table and making a few extra sales in the process. What's not to love?
Here are three different ways you can create and promote a gift guide on Instagram:
1. Create a Collection: If you're selling products on Instagram and have a store set up, turn on the collection feature. Add your best Valentine's Day products and promote them on your Instagram Stories. Why does it work so well? You're saving users time trolling through your entire site and making it easier to tap on "add to cart."
2. Create a Highlight: Are you a service-based business? Create Instagram Stories about your Valentine's Day specials and save them to a Highlight on your profile.
3. Create a Reel: Help your followers out and create a gift guide. Reels get the most exposure on Instagram, making it the perfect way to get the word out about your products and services. End your Valentine's Day sales caption off with a call-to-action to head to your website, and you're golden! Gaby from @packslight used this tactic for a Christmas gift guide.
View this post on Instagram
P.S. Remember, suggest gifts for everyone, not only couples! You can create a gift guide for Galentines, singles, pets, kids etc.
Celebrate with a Valentine's Day Giveaway
Show some love and appreciation to your followers with a Valentine's Day giveaway. Partner up with similar brands in your niche and create a swoon-worthy prize.
What's in it for you?
Giveaways are one of the best (and cheapest) ways to:
• Gain new followers (who will actually like your brand)
• Boost sales
And even though only one person will win, you're making hundreds, possibly thousands, of new people aware of your brands and planting the seed for a gift idea that wouldn't have crossed their mind.
Plann Your Valentine's Day Content
Here's the thing.
You can't plan your Valentine's Day content last minute and expect to see results.
While most people don't plan their gifts too far in advance, you need time to warm up your audience and get your brand front of mind.
To help you out, sign up for a free Plann account today. You'll get instant access to our content calendar with stacks of features to help you create a winning Valentine's Day marketing campaign.
Need help with your content strategy? Use our Valentine's Day Content Prompts to get the ball rolling and figure out the type of content you need to create.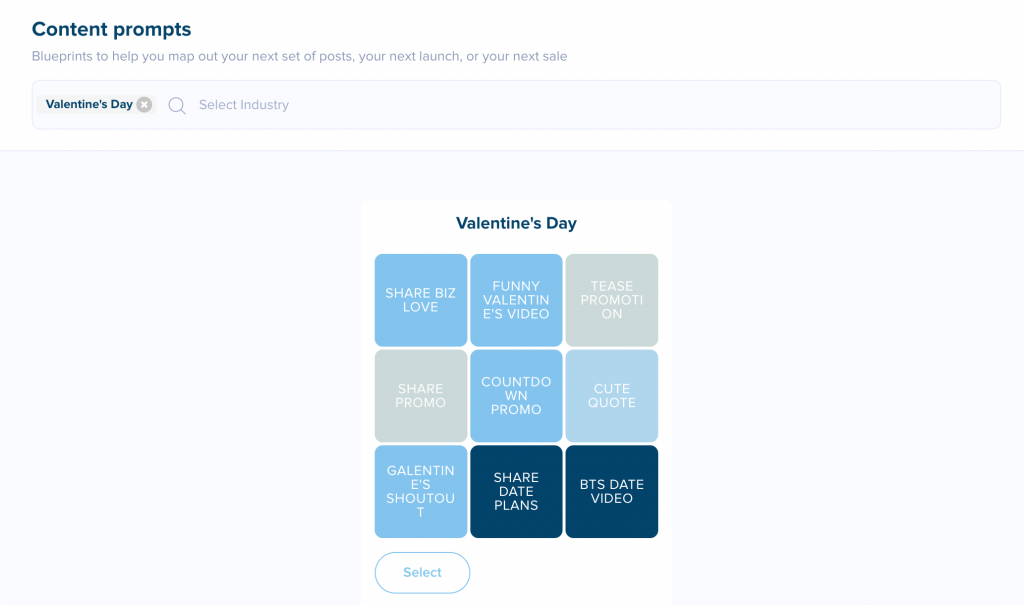 Want to create a viral Reel? Use the trending audio feature to cut down on research time and create a video that'll get traction and generate buzz.

Once you have your ideas, let's start writing those Valentine's Day Instagram captions!
Launch a Valentine's Day Special
Creating a Valentine's Day special gives your followers a reason to check out your offer and can entice someone who is on the fence.
Let's unpack an example.
You're a relationship coach. Put together a course bundle for couples or singles who want to use the day to work on their relationships with each other or themselves.
To sweeten the deal, you can make it an Instagram exclusive. Only users who DM you the phrase "VDAY" or tap the link in your Instagram Stories can claim the offer.
The result?
You're creating hype, exclusivity, and scarcity – the three key ingredients needed to drive action (a.k.a. sales!).
The Best Valentine's Day Instagram Captions for Brands
Got some sales to promote? Here's some caption inspiration for your upcoming posts:
• YODA one for our business. Use [coupon name] to grab 50% off our latest collection.
• Nothing lasts forever, but you can get 20% off now.
• How to express your love: Like this post. Opt-in to our newsletter. Verify your email. Expect a discount voucher!
• We hope you don't mind that we put down in words…20% off til Feb 20.
• Once in a while, someone amazing comes along… well, here's our annual Valentine's Day sale.
• Looking for true love? You found it! [Promote latest product or offer].•
• It's cuffing season, and that gives us a reason to give you 20% off.
The Best Anti-Valentine's Day Instagram Captions
Is your brand more anti-Valentine's Day? Here are some Instagram captions to throw some playful shade.
• You're so lucky to have me.
• PSA: All candy will be 50% off tomorrow.
• Why fall in love when you can fall asleep?
• Roses are red. Violets are blue. Vodka is cheaper than dinner for two.
• Tequila is my Valentine.
• Be mine? More like be wine.
The Best Funny Valentine's Day Captions
• All I need is love… and tacos.
• Words cannot espresso how much you mean to me.
• You're all I avo wanted.
• I love you a latte.
• Don't go BACON my heart. I couldn't if I FRIED.
• I love you so matcha.
• Will you brie mine?
• I'm b-egging you to be my Valentine.
• You make miso happy.
• Every pizza me loves every pizza you.
Ready to Find True Love?
Does your social media management need a few push-ups to whip it into shape?
Grab your 7-day free trial of Plann Pro today and meet your internet BFF.
With content prompts, trending audios, hashtag research, and content inspiration, you'll never have to worry about what to post again. Plus you can schedule and auto-post your Instagram posts, Stories, and Reels.
Doesn't that sound like a match made in heaven?