So, you're sitting down to create your eye-catching content, craft witty captions and get everything scheduled ahead of time. But you get stuck trying to figure out what hashtags to use. Sound familiar?
Rather than spending hours doing hashtag research, using hashtag apps that really don't help, or stalking your competitors' posts, we've got you covered! Find thousands of ready-to-use hashtags right inside your Plann workspace.
Let's show you how to tap into this powerful new Plann feature that is guaranteed to help you find the best hashtags for Instagram in 2022.
Why are Hashtags Important?
Hashtags are like traffic signs directing people to your Instagram profile. With the right keywords, you can get your content in front of relevant users who are craving the exact posts you're sharing!
Trying to expand your audience? Want to increase the engagement and reach of your posts? Using the best hashtags can help you do just that on Instagram.
Hashtags are an important part of your marketing strategy to ensure your posts are getting the attention they deserve! Whether you are trying to boost the visibility of your brand to a wider audience or simply find your niche on Instagram, we know it can be daunting to find the right hashtags for each post.
With so many conflicting resources out there, it's easy to find yourself getting tripped up over.How many hashtags should you use? How do you know which hashtags are working? Should you place hashtags in the caption or first comment?
Remember: using social media to market your brand is supposed to be fun, which is why we have created a solution to all your hashtag research woes.
How to Find the Best Instagram Hashtags to Use
It's as simple as using Plann's new Suggested Hashtags feature!
Curated by marketing professionals (with a strict criteria to offer you maximum discoverability), search through over 300+ sets on your Plann workspace with something for everyone.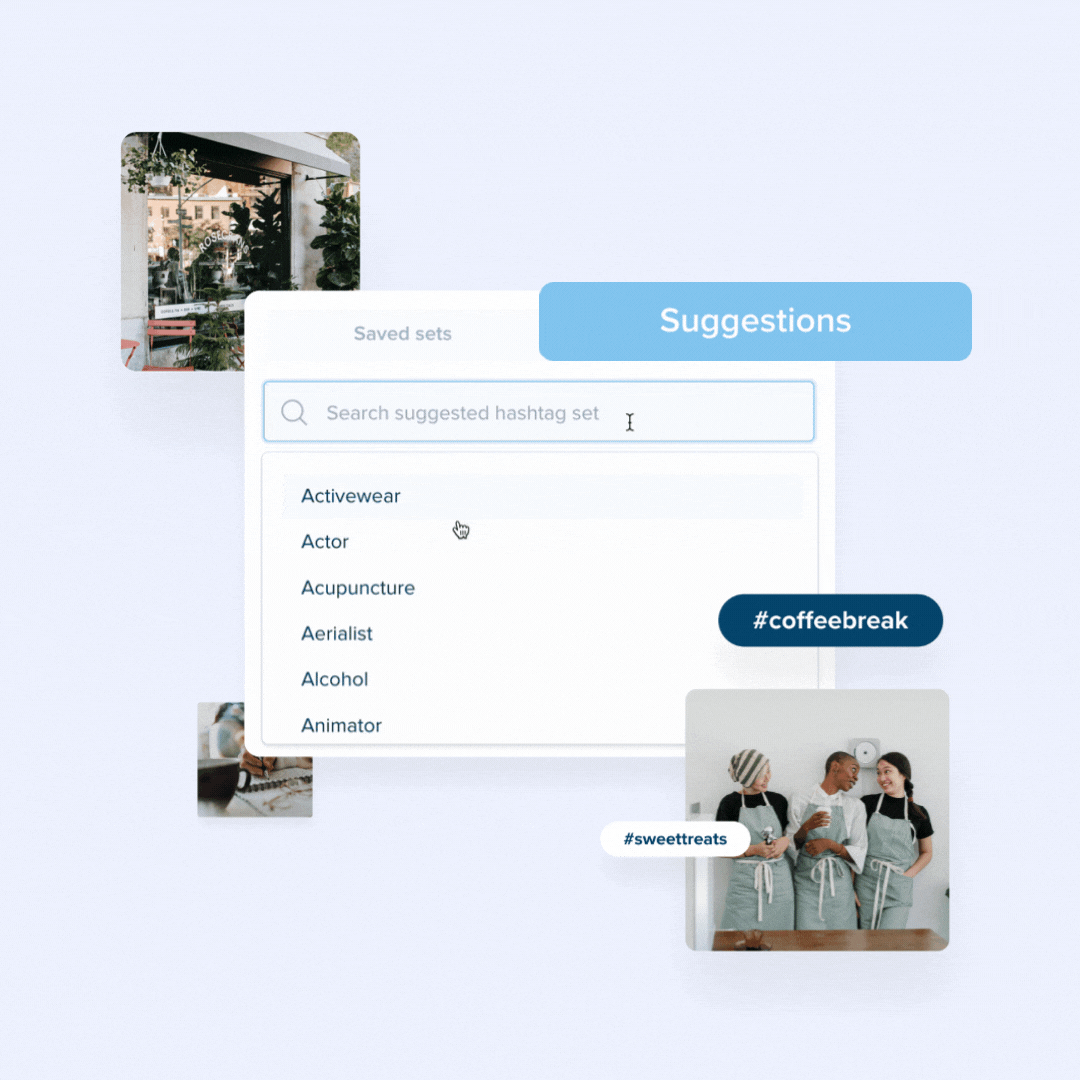 Whether you're a fashion blogger, a fitness coach, or even a rabbit influencer, Plann's suggested hashtag sets offer every niche the ability to skyrocket your success on Instagram.
As your social media bestie, we want to inspire you with new ideas and empower you with the ability to maximize your brand's potential on social media using the most relevant hashtags for your niche.
How to Use Plann's Suggested Hashtags
Where Can You Find Suggested Hashtags?
There are two places where you can find Plann's Suggested Hashtags for your brand.
1. Plann's Hashtag Manager
Search through thousands of constantly updated, brand or niche-specific hashtags to fit any of your marketing needs.
Choose to save an entire done-for-you set, select and copy individual hashtags, or mix n' match topics and ideas to create your own unique set!
2. When You are Creating a Post
Don't want to interrupt your creative flow while strategizing, creating, and scheduling your posts with Plann? No worries! You can find Plann's done-for-you hashtag sets easily from your create page!
Simply click the # icon

Select "Suggestions"

Search through over 300+ sets

Click the set to add it to your caption or first comment
That's it!
How Many Hashtags Should You Use?
Instagram allows for 30 hashtags to be used on each post, so you can utilize all 30 in each set that you create (or save from our suggested sets) inside your Plann workspace.
We know that Instagram has recently changed its advice around hashtags and recommends sticking to five or so tailored hashtags per post. However, we also know that your content won't be penalized for using the full 30 hashtags and we want to help you reach as many people as possible on social media. Our tip? Use all 30 to gain maximum visibility on your Instagram content!
Because hashtags increase visibility on your posts, ensuring your content is discoverable to your target audience is the key to boosting your reach and engagement (and getting your brand in front of relevant users).
Whether you are joining in on trending conversations, or finding your target audience for your brand, utilizing up to 30 hashtags per post will help you maximize every opportunity to get the content (that you worked tirelessly to perfect) seen.
How Do You Know Which Hashtags are Working for Your Brand?
So, you've saved a few of Plann's done-for-you hashtag sets, created a few of your own unique sets, and are ready to test them out on your Instagram posts. You may be wondering, "How do I know which sets are helping my brand get the most reach and engagement?".
Because testing out your marketing strategy is part of the social media game, we've created specific results and analytics to help you master the right type of content to post across each platform.
You don't have to be a marketing professional to utilize social media to grow your brand. Plann's performance metrics will help you know if the hashtags you're using are working for your specific audience.
To see which hashtags are working best for your brand:
Login to your Instagram workspace inside Plann

Click on your "Results" tab

Select your "Activity" Tab

Scroll down to view your "Best Performing Hashtags"
From here, you can see which of your hashtag sets is performing the best on Instagram and bask in the success of your marketing efforts.
Get started with Plann's Ready-to-use Hashtags
Ready to kick-start your social media planning?
Now that you have heaps of inspiration to get you started, what are you waiting for? Redeem your 7-day free trial of Plann Plus so you never have to worry about what to post again! If you don't want to continue to a paid plan, you can keep using Plann for free.