I'm 100% sure that you want to one day be the owner of a top Instagram account.
You know the ones… They have a tonne of followers, super-high engagement rate and they are just absolutely killing it on the 'gram.
But how did they get there?
Most of it comes down to consistency, and a few habits that they've strengthened over a few months or even a few years.
Want to know what habits you need to form to become a top Instagram account? Keep on reading!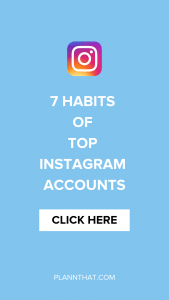 Habit 1 – ZERO Scrimping!
One of the best habits that high-performing, top Instagram accounts have is that they share consistently high-quality content.
You won't see no half-eaten muffin photos on these grids!
A lot of the top performing Instagram accounts have professional photographers on hand to help them in content creation, or they happen to be lucky enough to have a spouse who is a photographer.
One hack for consistent content quality is to bulk-photograph content in 1-2 days. That way you can have multiple outfit changes or prop changes, and only have to get the help of a photographer a few days to get a few months worth of content.
Habit 2 – FIRE Hashtag Choices
Sure, some of the most followed Instagram accounts don't use hashtags.
I know, Debra! Don't give up on my expertise this fast!
The truth is a lot of the most followed Instagrammers started yeaaars ago when there was barely any competition. Their engagement rate is so high they don't even have to bother with hashtags.
BUT if you are *just* getting started on Instagram and have a low engagement rate, chances are you NEED hashtags to be seen.
#TruthBomb
Habit 3 – Updated, Eye-Catching Profile Pics
Most of the Instagram influencers and top accounts that you see will have unique or interesting profile pictures that get rotated a few times a year.
Let's take Plann'r Milly as an example.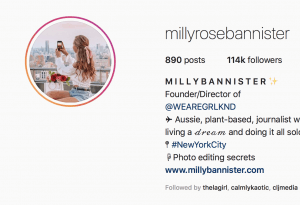 Her profile picture is high-resolution, beautiful, and oh-so dreamy.
By having an interesting profile picture that makes people want to see what else you create is a fantastic way to get people to head over to your profile after seeing your little photo in the comments section of a post.
Habit 4 – Responding to Comments
To get engagement, you need to be engaging!
Don't just leave people hanging by not responding to their comments… be sure to respond to ALL of your Instagram comments (even the bots) as soon as you can.
It'll increase the likelihood that they'll come back to leave comments next time, so it's well worth the effort. 😉
Habit 5 – Collaborating
Whether it's collaborating with big brands or collaborating with other influencers and Instagrammers, a top Instagram account ALWAYS seeks out collaborations!
We'd recommend keeping track of your collabs with a tool like Trello, or even Asana!
Habit 6 – They're Interesting
Using quotes and song lyrics as captions can only get you so far….
If you want to become one of the top Instagram accounts to follow, you've got to put in more effort than that!
All of the top Instagram accounts have something unique and interesting to offer their audience, in short, their content is VALUABLE to their followers.
A great example of this is travel bloggers who go around the world reviewing hotels. Their content is super valuable to travel junkies and wanderlusters alike.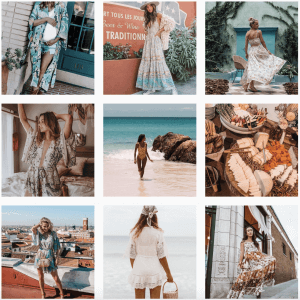 If you are trying to become a full-time Instagram influencer, you better have a strong niche!
Habit 7 – They Don't Give Up
It's aaaaaall too easy to give up on Instagram these days.
There's over 1 billion people using the platform, and that means there's a heap of competition.
And yeah, the top 10 Instagram accounts in the world are celebrities.
BUT that isn't to say that you can't get amazing results for yourself.
YOU CAN DO IT!
Growing a massive following isn't going to happen overnight, but if you keep up with your habits and stay positive, amazing things could happen for you!