Are you chasing greatness on Instagram? You're not alone!
As Instagram continues to attract a motivated global user base, more and more creators are looking for ways to succeed on the app. With the right strategy, Instagram can offer incredible opportunities for brand-boosting and community building.
Sometimes, the best way to learn is by looking turning to examples. On Instagram, the top 10 most liked posts of all time offer plenty of inspiration for aspiring success stories.
How did they do it, and how can you follow in their digital footsteps? Let's find out!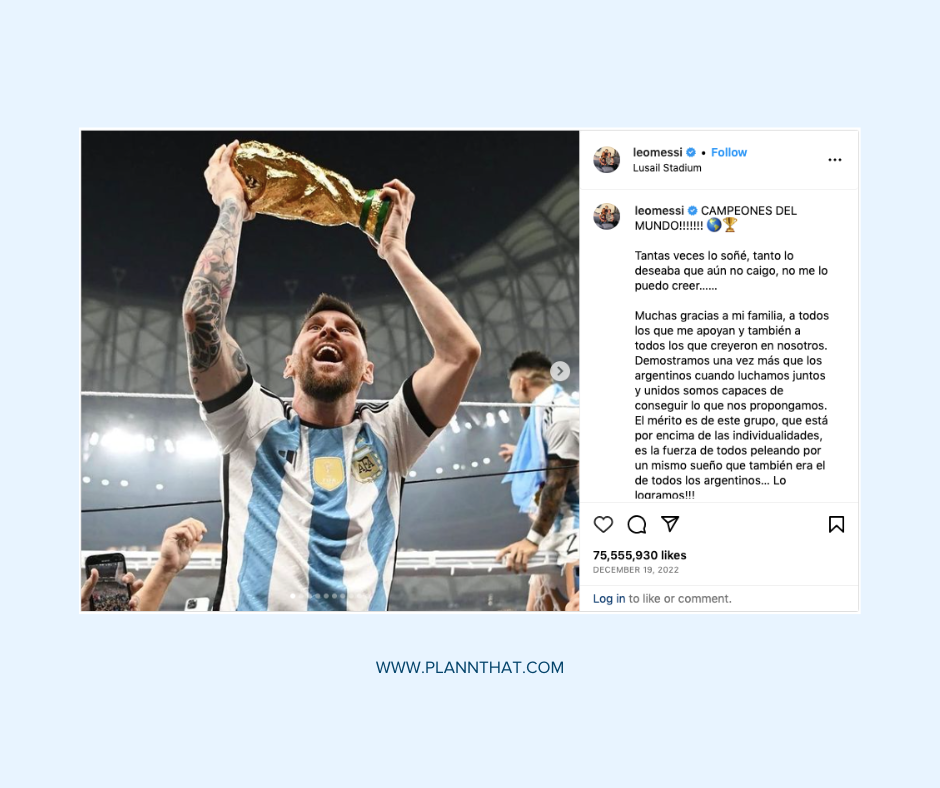 Sports fans assemble! The most-liked Instagram post of all time belongs to none other than Lionel Messi, who snapped this iconic moment after winning the 2022 World Cup.
As of April 2023, this famous post had been liked by over 75 million users. Aside from celebrity status, this post's success relies on impact. Featuring a carousel of uplifting images, it shows off an incredible achievement and makes everyday social media users want to join the celebration.
What we can learn: Share your wins! Instagram is the perfect place to celebrate your greatest successes alongside your virtual peers.
Plus, make sure to use post formats (like a save-worthy carousel) to tell a story across multiple images. The secret to success is using attention-grabbing images with raw, personal storytelling in the caption.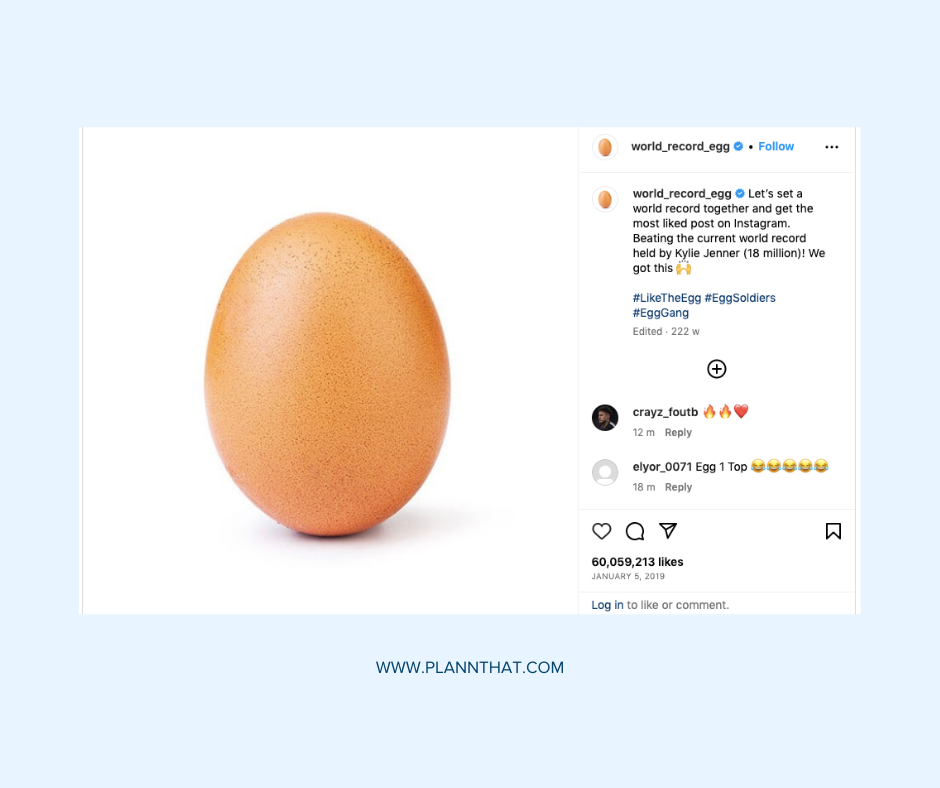 Confused? The second most-liked Instagram post depicts nothing more than an ordinary egg against a plain white background. The point of difference lies in the fact that this egg is on a mission for a world record!
Even with a modest audience, this account set out with a dream to share an image that would earn more likers than any other IG post. Until Messi's World Cup win, the egg was a success! Almost 60 million people have joined the cause.
What we can learn: Nothing drives engagement more effectively than a shared goal that invites your audience to be a part of something great. With clear copywriting and a strong call-to-action, this post demonstrates the power of prompting your audience to engage with your content.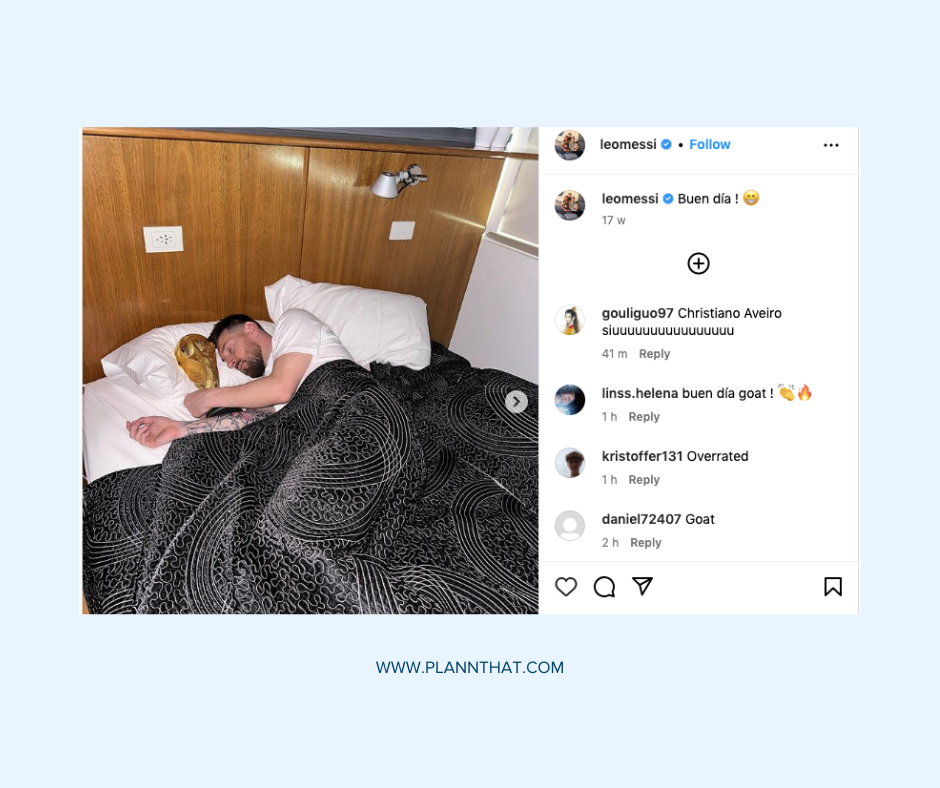 Sporting achievements are popular on social media! Messi claims another spot in the top 10 list at number 3. This time, the post centers on a sleeping sports star with his latest trophy. Over 54 million users have liked this image so far. The post includes just a short, simple caption: "Buen día!" That's "good morning" in Spanish.
What we can learn: Sometimes, simple is best. Keep your captions short and sweet to let your photography do the talking.
Plus, don't be afraid to be candid and relatable with your content! Often the best content is raw, unfiltered and honest, helping to build trust with your audience.
At number 4, we have a chess-themed photoshoot featuring two of the internet's favorite celebrities: Cristiano Ronaldo and Lionel Messi. This image, for Louis Vuitton, was shared twice, once by Ronaldo and once by Messi. Bringing their audiences together, the two sporting stars have earned over 42 million likes – and that's just on Ronaldo's version of the post!
What we can learn: You don't have to work alone! Collaborate, and create Instagram content with your influencers, brands and like-minded creators.
With Instagram's Collab feature, you can effortlessly double the reach of your co-created posts on Instagram to grow your audience organically.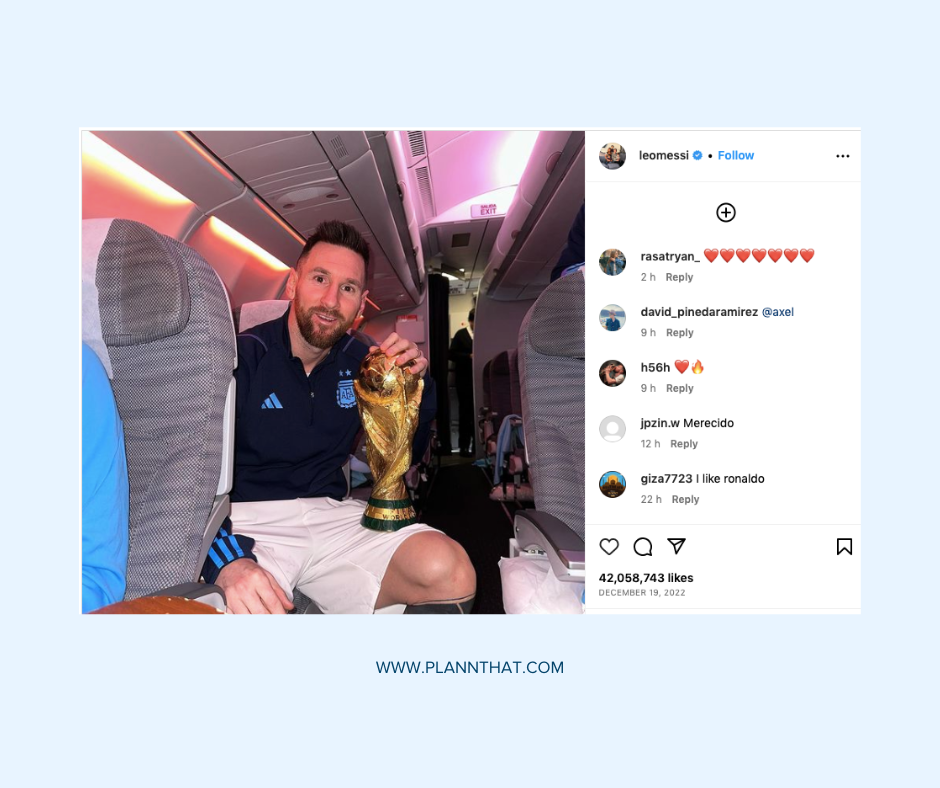 Once again, Messi claims star status! Number 5 is another picture featuring the soccer extraordinaire with the World Cup trophy. This post has even generated interest from other celebrities, with big show biz names leaving congratulatory comments.
Over 42 million people have liked this simple but impactful image that shows Messi and his award on the go. No caption necessary!
What we can learn: Drive your message home! When you find a content topic or style that works for your audience, don't be afraid to use it again.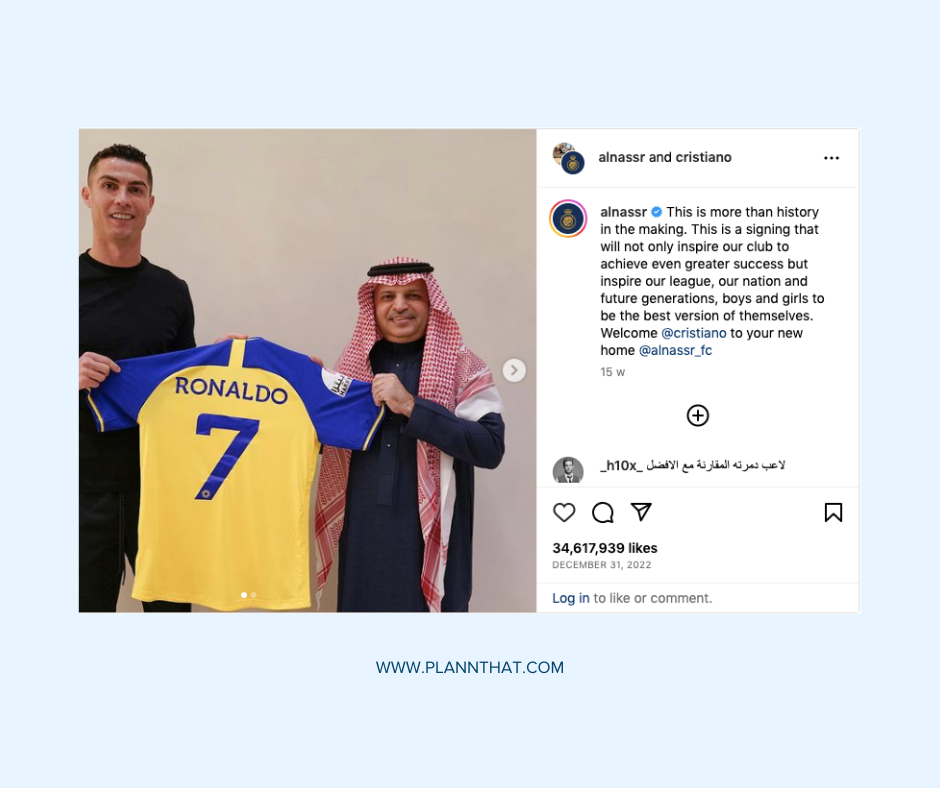 Sensing a pattern? In sixth place, Ronaldo is back, this time to announce his new connection to Al Nassr FC. This post brought big news for avid football fans, over 34 million of whom celebrated by leaving a like. For this post, Ronaldo used Instagram's collaborative sharing tool. The same post went live across his account and the official account for Al Nassr FC.
What we can learn: Make the most of new Instagram features for collaborative content sharing. Post one piece of content across a number of accounts and be sure to repurpose your content across multiple platforms. It's all about working smarter, not harder!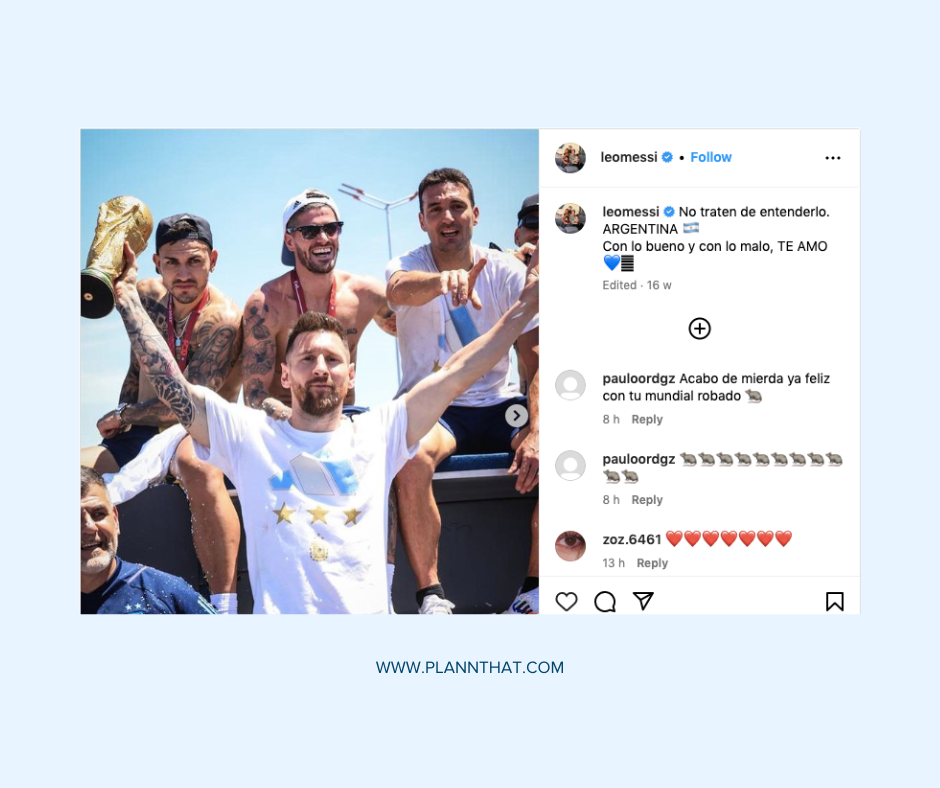 Another image of Messi and the World Cup! In this post, liked by over 34 million people, the star celebrates in Argentina. The post is a carousel, bringing together still images and video footage of the enthusiastic crowd that showed up to help celebrate the win. This is a great example of how mixed-media publishing can make an impact on audiences.
What we can learn: Find new ways to repurpose ideas, and keep even the same content pillars fresh and engaging for your audience.
Look at your top performing posts and find ways to transform these topics into fresh posts, whether that's turning carousels into Reels or even resharing as a Poll on your Stories.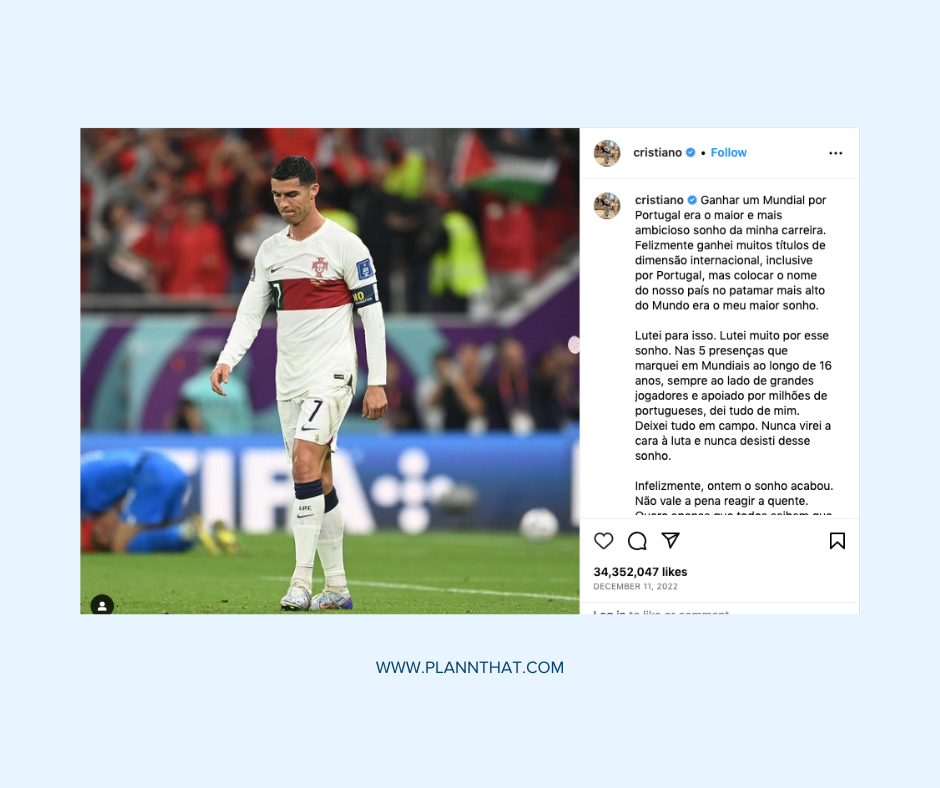 In this image, Cristiano Ronaldo leaves the field after Portugal was eliminated from the World Cup. Alongside this simple picture, Ronaldo shares a detailed storytelling caption, explaining his dedication to his team, country, and sport. He opens up the conversation to connect with fans and to celebrate wins while acknowledging losses. That's authenticity! Ronaldo might not have won the game, but he did win over 34 million likers.
What we can learn: Life isn't perfect all the time. Audiences value authenticity when you use Instagram to share the lows, as well as the highs.
With long-form captions, you can tell a detailed story that is raw, candid and unfiltered. Try mixing up your copywriting length on social media and use this to drive deeper engagement from your audience.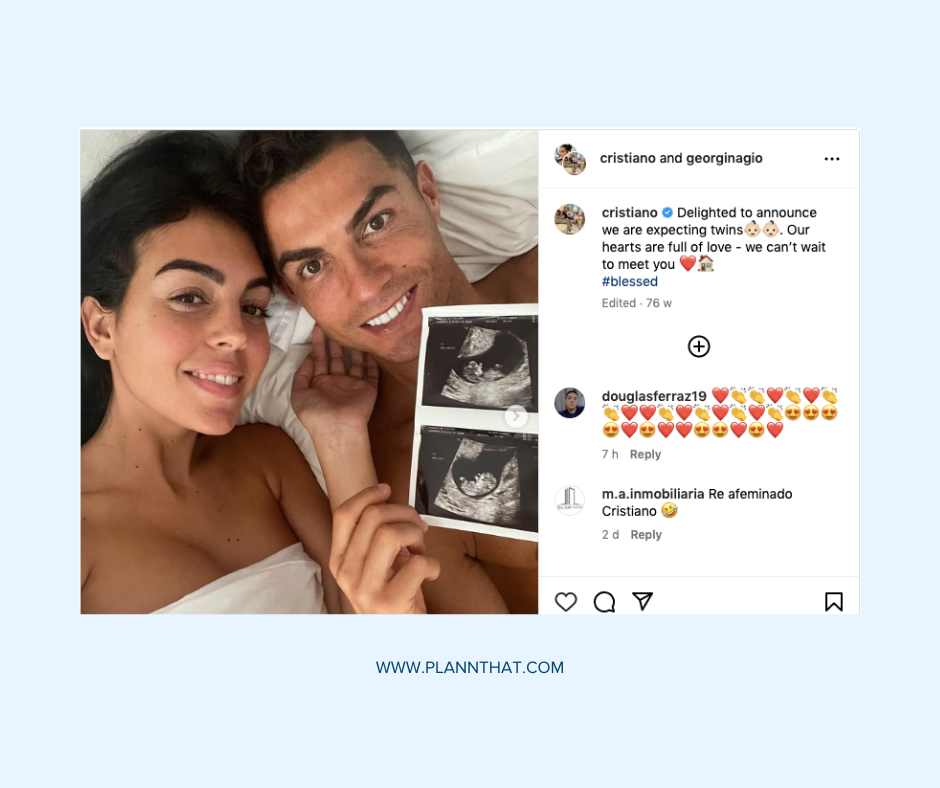 At number 9, Cristiano Ronaldo and his wife, Georgina, make an important announcement. In 2021, the couple shared the news that they were expecting twins. Sadly, one of the twins passed away during birth. The Instagram post is now home to an outpouring of support for the grieving parents.
What we can learn: Instagram is a great place to share a glimpse into your real life. This can even help you build a more real, engaged community.
Alongside your promotional business-focused posts, make sure to regularly show the behind-the-scenes of your company. That could be a day in the life Reel, Stories takeovers by your team or carousels showing your office culture.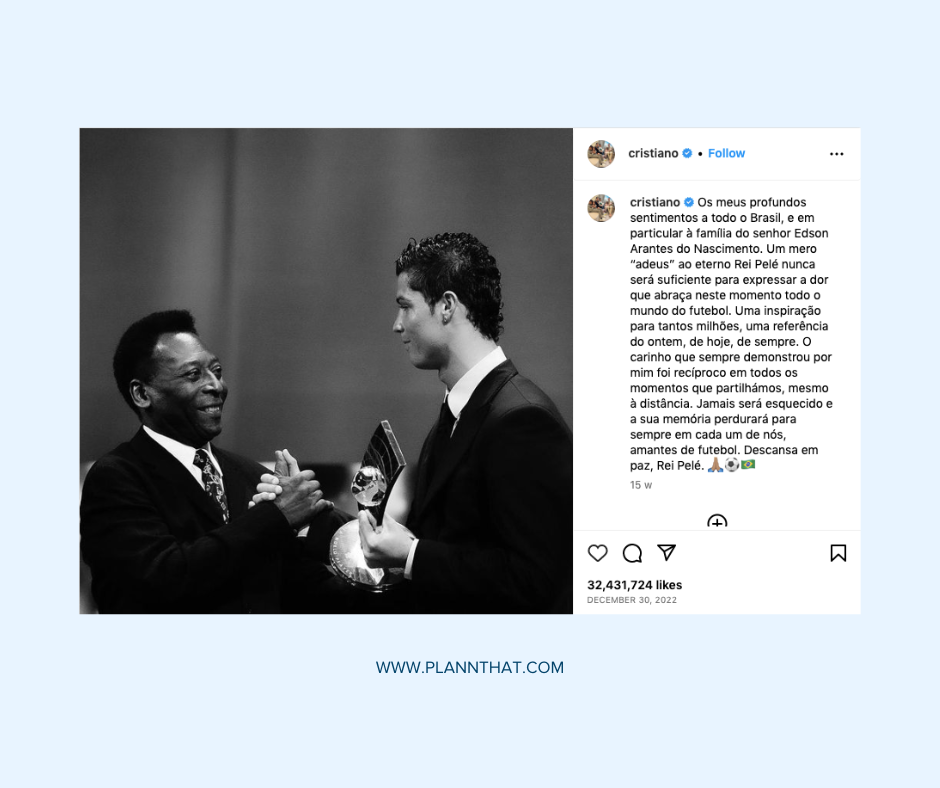 Finally, with over 32 million likes, Ronaldo rounds out the top-10 list with this post honoring Pelè, the legendary Brazilian footballer. The image pays respects to an incredible sportsman, celebrating the evolution of the game. Since December 2022, thousands of people have left comments, sharing in the celebration and offering condolences.
What we can learn: The Instagram app is a space for sharing. Don't be afraid to honor others or share your thoughts on events that affect you or your business.
When big cultural events or milestones happen, make sure to show up in a timely way on your social media accounts.
Plann for success
Ready to start your journey to social media super stardom? Take control of your account with a free 7-day trial of Plann Pro and skyrocket your engagement.