Crafting a beautiful Instagram feed is all about planning and preparation. In fact, creating a clear Instagram content strategy has never been more important with more than 100 million photos posted to the platform each day. That's a whole lotta content to scroll through, right!
The key to boosting your engagement rate and brand recognition on Instagram is to develop an eye-catching visual identity.
To help you stand out from the pack, we've pulled together our top expert photography tips to help you capture Instagram content like a pro (and create a banging Insta feed in no time)!
In this blog, we'll cover everything you need to know, including:
– How to plan a clear visual identity on Instagram
– Instagram photography basics including composition, lighting, smartphone set-up and more!
– How to play with colours, framing and perspective in your Instagram photos
Are you ready to dive in? Let's learn how to master the art of capturing good Instagram pictures!
1. Plan Your Instagram Grid Ahead Of Time
You wouldn't start baking a batch of chewy choc-chip cookies without a recipe in hand, so why start posting Instagram content without a plan in place? The first step to capturing beautiful Instagram pictures is to clarify the overall look and feel of your Instagram grid.
Are you a fun, young fitness business wanting to inspire customers to live their best life with bright, colourful imagery? Perhaps you're a market-leading real estate agency using Instagram to share sleek, professional photos of luxe apartments?
Start by creating a content calendar for your Instagram posts that uses key content pillars aligned to your business goals.
By planning out what content you want to post and when, you'll be able to maintain an engaging and consistent aesthetic across your posts, while also creating a beautiful and professional visual representation of your brand on Instagram.
2. Build An Inspiration Board For Your Instagram Grid
In a similar vein, finding sources of inspiration and developing a brand mood board can be a powerful tool to help you map out your brand's visual identity on Instagram.
Use digital pinboard platforms such as Pinterest to collate photos, graphics, illustrations and typography that align with your brand's aesthetic. Find examples of photos and images you love from bloggers, brands and other Instagram users and collate these in one handy place.
An inspiration board is a brilliant resource to return to when you're in a creative rut or just need a dose of inspiration to help you take beautiful Instagram pictures.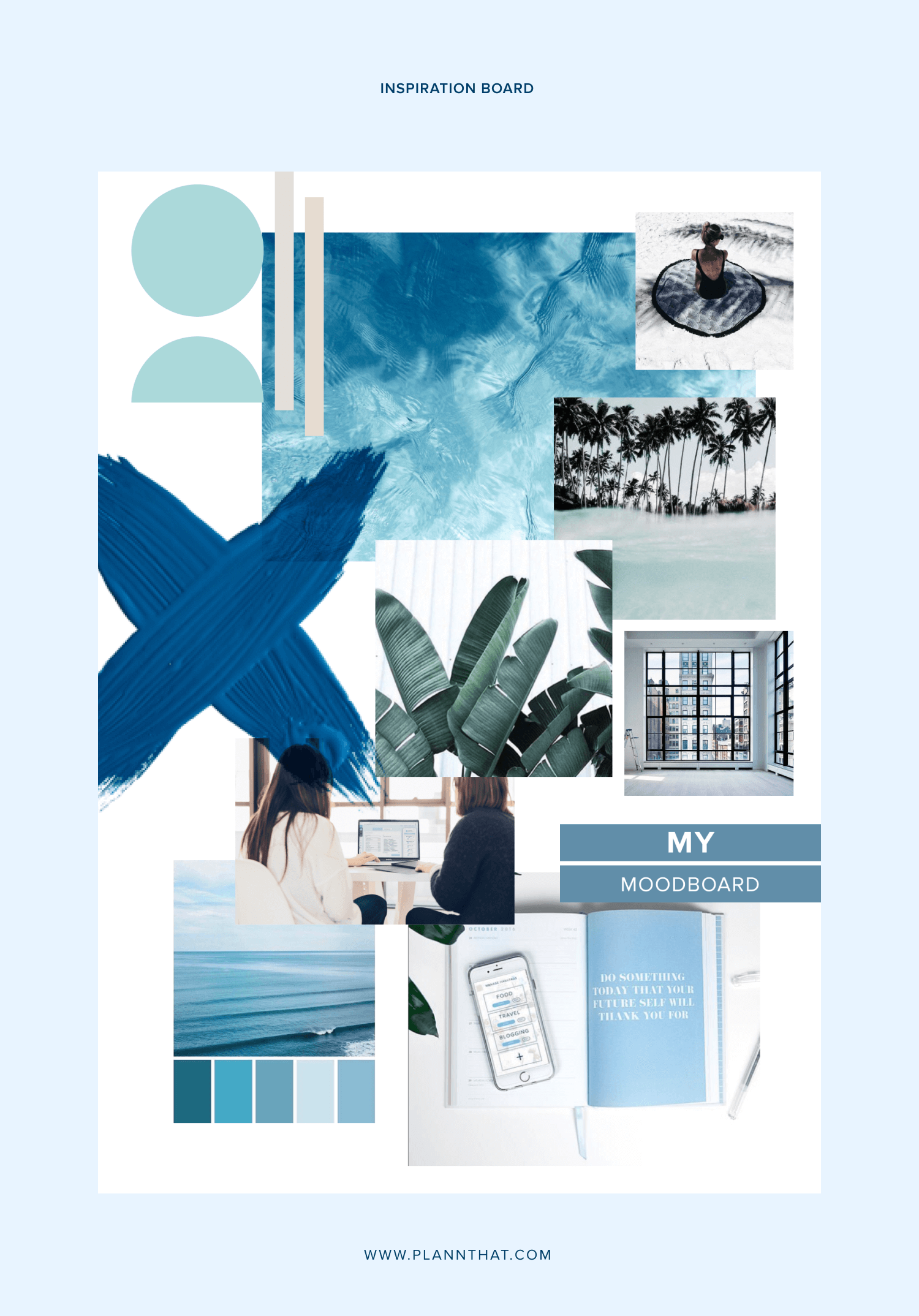 3. Create A Color Palette Or Theme For Your Instagram Photos
Color has the ability to influence how we think and feel. Shades of blue can create feelings of peace, calm and serenity while red shades signify emotions of passion, urgency and even excitement.
The psychology of color is a powerful tool you can leverage to position your brand on Instagram. Pick a warm, cold or neutral color palette and use this theme to create a cohesive Instagram grid. For fashion, lifestyle and homewares brands, neutral color palettes work best while warm-toned photos are most commonly used by travel or adventure bloggers.
4. Keep An Eye Out For Photogenic Moments
Capturing good Instagram pictures is about constantly being on the hunt for photographic moments in your day-to-day life. Look for bold tile designs, interesting building facades and contrasting colors and shapes that could be captured well on-camera. Once you start looking at your surroundings, you'll be surprised by how many content opportunities you'll discover!
5. Understand The Importance Of Taking Photos At The Right Time
Wondering how your favourite Instagram accounts always capture the most beautiful, soft-lit photos? It's all about understanding the best time of day to head out and take pictures.
Our tip? Aim to shoot at dawn or dusk to give a natural, golden glow to your Instagram photos. This will soften any shadow in your images and ensure you capture subjects in perfect light every time. Plus, try shooting outdoors on cloudy days to achieve softer, well-lit Instagram photos that are free from harsh shadows.
6. Follow The 'Rule Of Thirds' Principle
One of the best ways to ensure you're capturing well-composed Instagram pictures is to follow the 'Rule of Thirds' principle. In a nutshell, this golden photography rule is all about dividing an image into 9 equal parts (3×3 squares) and aligning your subject to the center of this grid.
But don't worry, you don't need an expensive professional camera to implement this tip (more on this in our next tip!).
7. Turn On Your Smartphone Camera's Grid Feature
Did you know your smartphone has the ability to leverage the Rule of Thirds principle? Yep, and you can even set it up today in just a few taps.
For iPhone users:
– Head to 'Settings'
– Select 'Camera'
– Switch on the 'Grid' feature from the toggle menu
– Now, open your camera and you'll find a grid overlay ready to use to help you line up that perfect shot every time!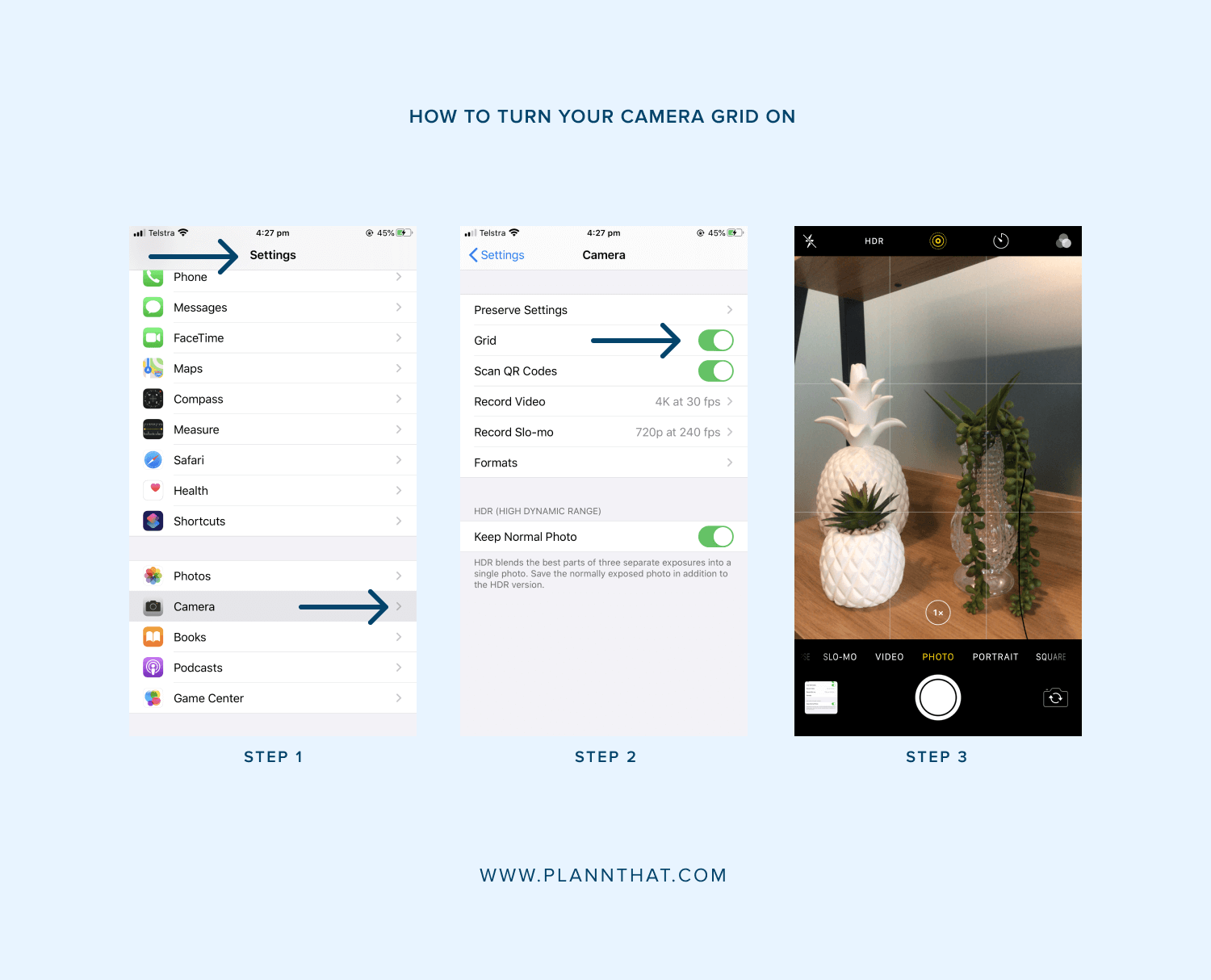 8. Turn Off High Dynamic Range (HDR) On Your Smartphone's Camera
Although this might sound like a helpful feature, this setting can actually hinder you from capturing good Instagram pictures. Why? Because the HDR setting takes multiple exposures of the same photo before layering them all together in one image. In most cases, this function is hard to get right and make your pictures appear oversaturated and unnatural.
Our tip? Keep things simple by switching the HDR function off. Here's how to do it:
– Open your Camera
– Tap the text 'HDR'
– Select 'Off'
9. Capture Under-Exposed Pictures
Have you ever taken pictures where the colors appear washed out? This has to do with the amount of light recorded by your camera. Too much light causes over-exposed pictures, while too little light leads to under-exposed images.
Our tip? When taking images outdoors in bright daylight try to slightly under-expose your pictures. This will help deepen the color saturation to produce richer, more engaging images.
To under-exposure your pictures, simply:
– Open your Camera
– Tap and hold the brightest area of the image
– Once the focus and exposure are locked, you can move the camera around to compose your pictures
10. Leverage Natural Lighting
You've heard it before, but we'll say it again: natural lighting is the best kind of light to use when taking pictures. Whether you're inside or outside, use natural lighting at every opportunity to create natural, well-lit pictures to light up your Instagram grid.
Try sitting near a window when shooting indoors and avoid using artificial lights that can create unnecessary shadows in your photographs.
11. Get Experimental With Camera Angles
Now, you've nailed the basics of photography, it's time to have some fun! Using different camera angles can create interesting perspectives in your pictures. Why not try shooting from above to create dynamic flat-lay images or shooting from below to show the height and scale of buildings or people?
12. Use Negative Space In Your Pictures
Cluttered benchtops give the appearance of a messy home, and the same goes for photography. Avoid cluttering images with too much visual noise by using white or negative space around key subjects. This will ensure your content captures attention to help you make a meaningful impact on Instagram.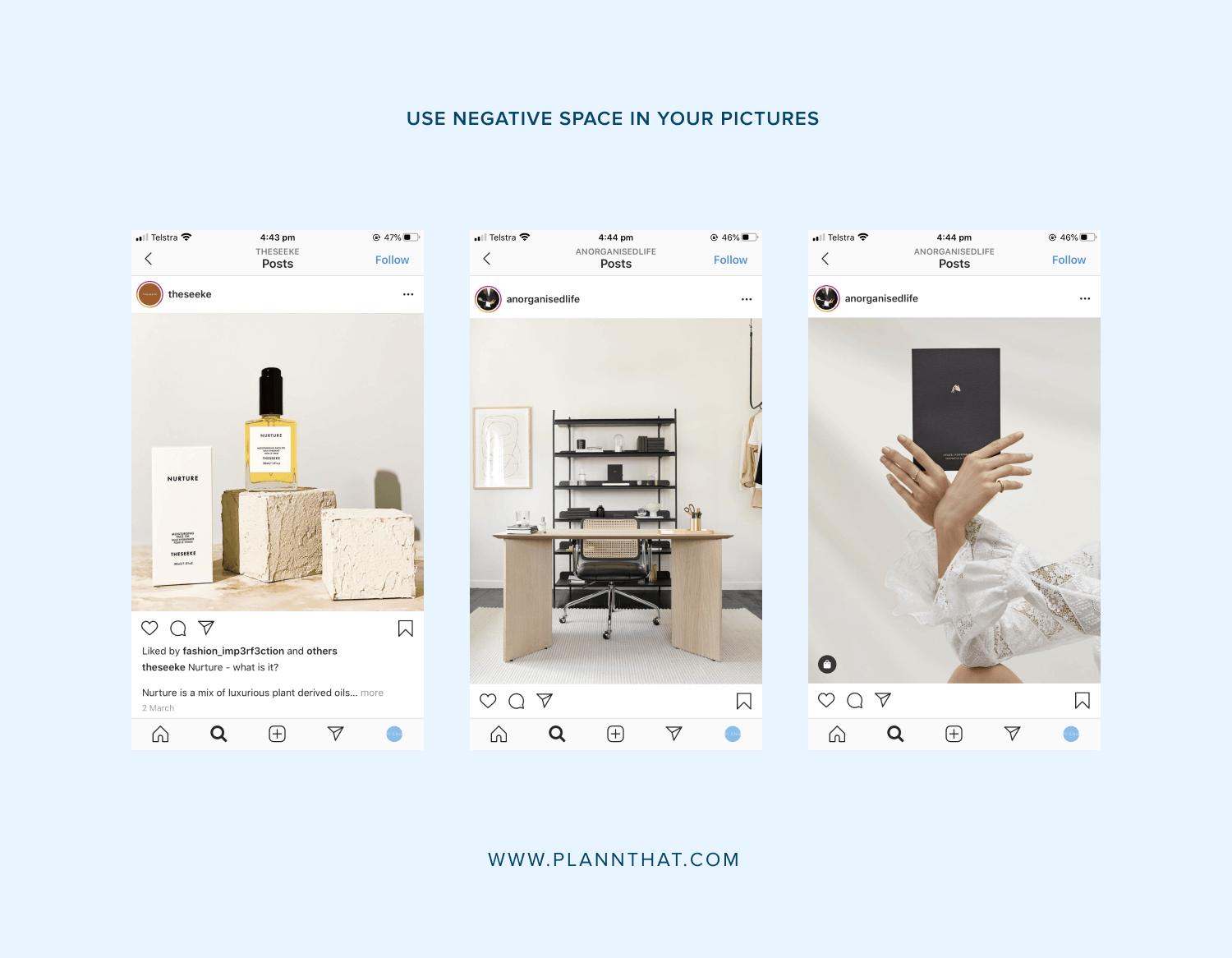 13. Capture A Single Focal Point
A good Instagram picture tells a story and immediately draws the eye in. To do this, try capturing photos with a single focal point in mind. By focusing on one key subject, your pictures will stand out and engage audiences by giving them a reason to stop scrolling and interact with your brand instead!
14. Add Movement and Action To Your Instagram Pictures
Don't worry, you don't need an expensive professional camera to try this tip. Start by taking pictures of subjects at play, such as people jumping, running or dancing to create visual interest. To get the best results, make sure to speed up your camera's shutter speed to avoid blurry images. Use Burst Mode by holding down your iPhone camera's shutter button to take a series of rapid images.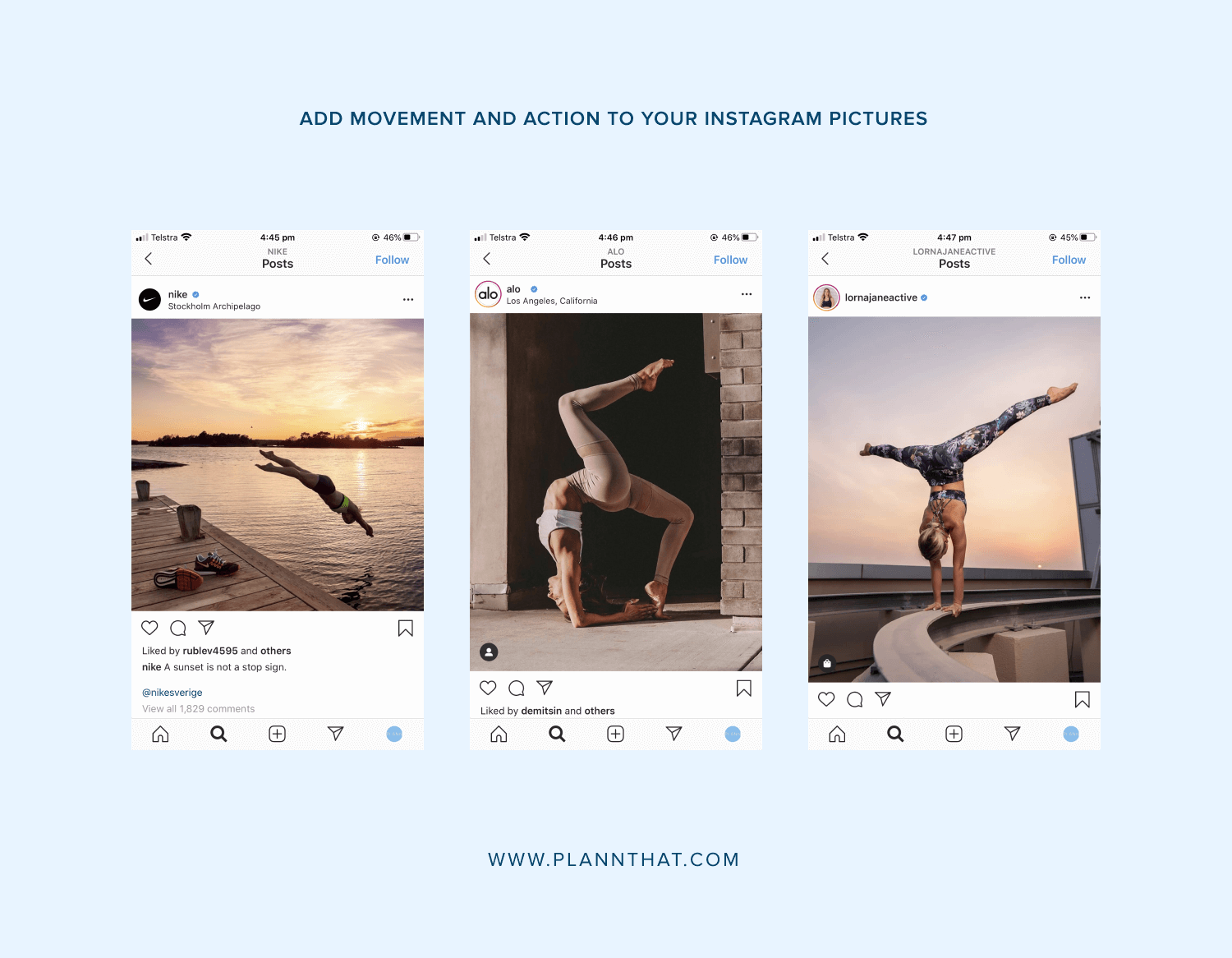 15. Show Scale Using Reference Objects
We all know images don't show exactly how big or small something is in real life. So, why not play with this idea when capturing Instagram pictures that show scale? Use commonly sized items to give perspective and scale to buildings, people and animals. The possibilities of this photography trick are endless!
16. Go Waterproof And Dive Underwater
There's no denying that water views are oh-so-photogenic. But, why not take things a step further by diving below the surface with a waterproof camera? For health, fitness or water-related brands, this photography tip is a must-try! Simply purchase an affordable waterproof disposable camera (or invest in a waterproof case for your smartphone) and get ready to take inspiring underwater pictures that your Instagram followers will instantly want to double-tap.
17. Boost The Saturation Of Your Pictures
Create an Instagram grid that pops by boosting the brightness of the colors in your images. Simply by enhancing the saturation of your pictures you'll improve the clarity of each shot, while also giving your Instagram feed a polished, professional and eye-catching aesthetic.
18. Get Creative With Colors
Speaking of colors, there are endless possibilities when it comes to using color in creative ways. When capturing and editing your pictures for Instagram, why not try using one of these themes:
– Contrasting colors
– Pairing colors in the same color family
– Monochromatic with a pop of color
– Block color backgrounds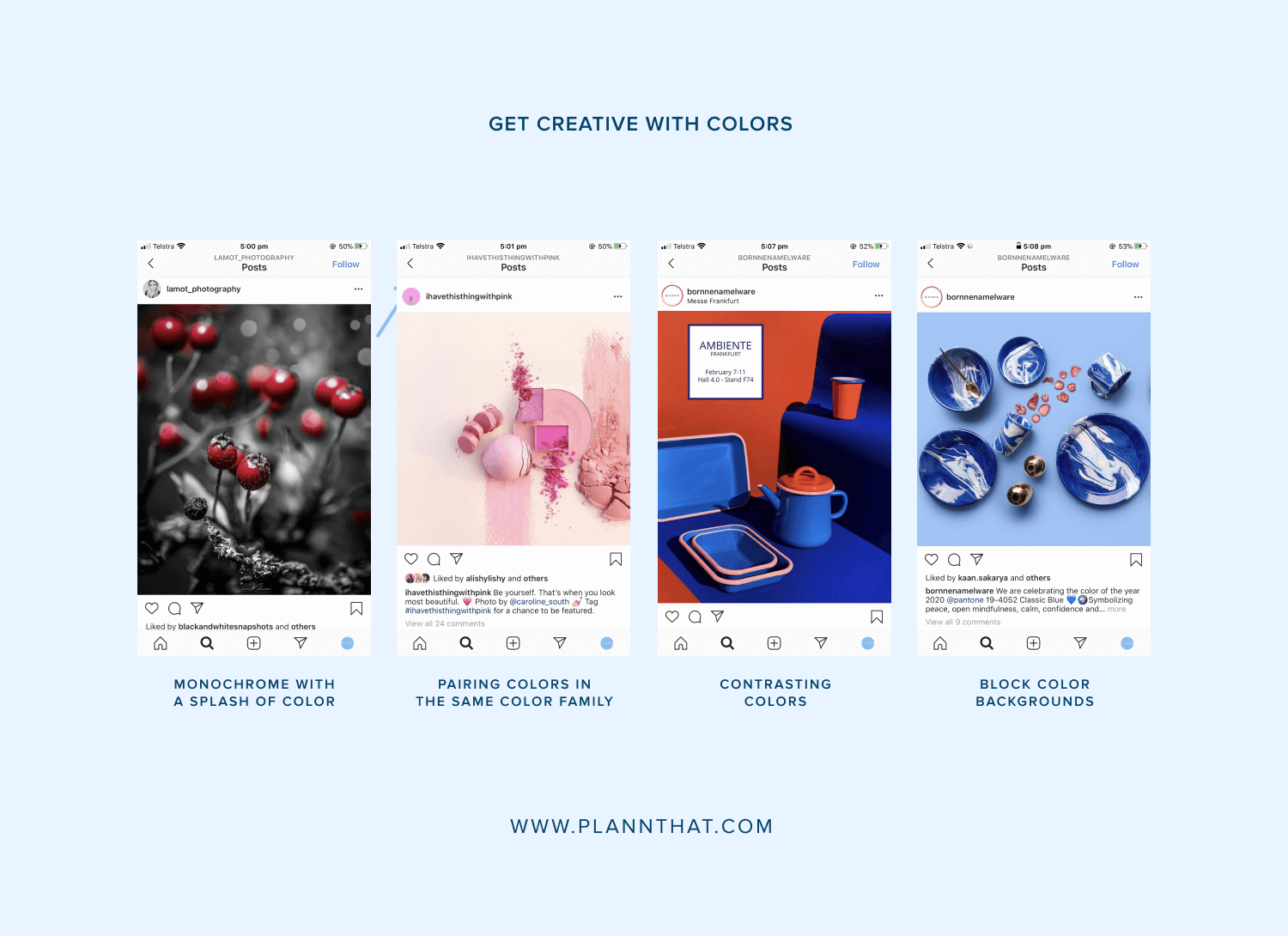 19. Play With Natural Frames In Your Pictures
Did you know that one of the best ways to add structure to your pictures is by using natural objects to frame your subject? Try capturing shots with trees framing a mountain range or water view. Not only will this add depth to your Instagram pictures but it also gives users a single focal point to draw the eye in.
20. Incorporate Centered Symmetry In Your Images
Another way to capture inspiring Instagram images is to play with centered symmetry. This technique involves using your camera's grid to capture objects in the center of the frame. By composing your images in this way, you'll be guaranteed to make a big impact on your audience.
21. Remember, Practice Makes Perfect!
With so many tips in mind, there's plenty of reason to get outside and start taking Instagram pictures! Start experimenting and give these new techniques a go to learn what works for your brand. At the end of the day, practice is always the best way to learn something new!