Need some inspiration for your social media content? You're in the right place!
When you're Plann'ing out content for social media platforms, sometimes the ideas can start to feel stale or few and far between.
Or maybe you want to fine-tune your strategy and create content that makes your audience feel like you're inside their heads.
Whether you're in a bit of a content funk or want to spruce up your feed, here are some of the best ways to find social media content ideas.
None of these ways to find social media marketing content ideas will cost you a single cent.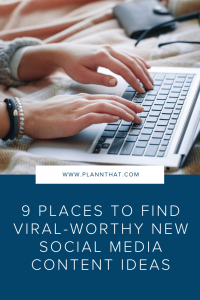 All you need is an internet connection, and you can start collecting hundreds of ideas in minutes.
Let's dive in!
1.Use Pinterest as a search engine
Pinterest is a visual idea gold mine.
Think of the platform kind of like Google, but with pictures.
Use the search functionality to find out what's trending in your niche. Take the popular pins (the ones at the top of the search results) and turn the topic into your next caption, blog post, or YouTube video.
For example, let's say you're a business coach who helps people start a freelancing business. By searching 'freelancing for beginners' on Pinterest, you'll get a list of possible content ideas.
You could make a Reel or a carousel post on how to set up a freelancer portfolio site that makes money or content around the best freelance job sites.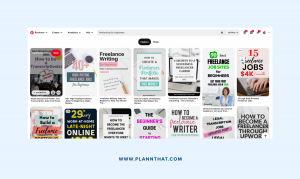 Are you searching for a quote to perfectly sum up your newest Instagram photo? Pinterest can help with that too!
Simply type in '[topic] quotes', and you'll get hundreds of potential caption one-liners in under 10 seconds.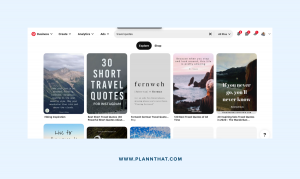 Read More: Why Pinterest Should Be Part of Your Marketing Strategy
2. Lurk Facebook Groups
Not using Facebook Groups? You're missing out!
It's a powerful and FREE way to get into the heads of your audience and learn about their biggest pain points and problems.
Once you know their struggles, you can use it to draw on for social media content calendar ideas.
Join a couple of Facebook Groups related to your niche, and start reading through the questions people ask.
Write down the questions or concerns you can address. Once you have a list, decide what form of content is the best way to answer the question.
Is it something quick you can create an Instagram Story or Reel around? Or does it need a longer form of content like a caption or an IGTV?
Read More: Facebook Marketing Tips You Can Start Using Right Now
3. Use Plann's Content Prompts
Did you know a Plann account (free + paid) comes with a built-in Instagram content strategy?
All you need to do is log in, click on "Strategy", and you'll get content prompts related to over 50+ industries.
Some of the industries featured include:
• Product launches
• Swimwear brands
• Coffee shops
• Fashion brands + influencers
• Travel bloggers
• Business coaches
• Graphic designers and more!
Once you've selected your industry from the 'Strategy' box, Plann will populate nine content prompts, creating social media calendar content ideas in under 60-seconds!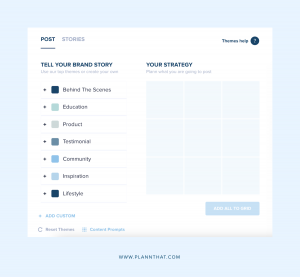 It takes all the guessing out of 'what to post'' and gives you a Plann. All you need to do is create the content, write your captions, and schedule it out.
Bonus: If you have a paid Plann account, you can also add custom content themes to your strategy.
4. Use Answer The Public
The key to any successful content strategy is to answer your audience's questions.
But how do you find the most pressing concerns your audience has?
With the website Answer The Public. It's one of the best ways to find social media content ideas for businesses.
Type in a keyword related to your niche like 'Instagram', and you'll get a list of questions people are typing into Google.
You can use these questions for caption inspiration, an entire IGTV series, a new product idea, or turn it into an in-depth industry whitepaper or blog post. It's a gold mine of business social media content ideas!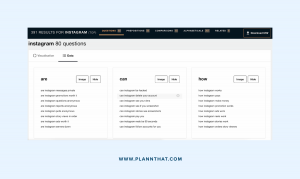 5. Ask Your Audience On Instagram Stories
If you're not having much luck with tools like Answer The Public, go straight to the source.
Hop onto Instagram Stories and use features like 'Polls' and 'Questions' to quiz your audience.
Ask questions like:
• "What are your biggest struggles with ________?"
• "What do you hate most about _______?"
• "What frustrates you about _______?"
Use Polls to find out what your audience wants to see more or less from you.
For example:
• "Do you prefer my blog posts or YouTube videos?"
• "Are you a visual or auditory learner?"
• "Do you find the "Guides" feature on Instagram useful?"
You can use their answers to guide your social media strategy and make sure you're creating content your audience wants.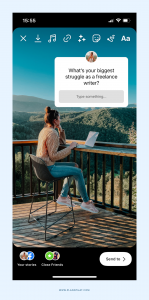 6. Watch Instagram Reels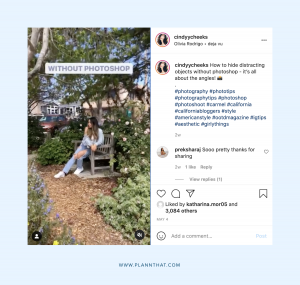 Instagram Reels aren't only a great way to lose track of time. Those 15-30 second clips are a powerful content inspiration tool.
Spend 5-minutes watching Reels and make a note of trending sounds or challenges you can use. Save the sounds to your account and any Reels you want to go back to for inspiration.
Remember, you want to make sure you can relate the trend or sound to your niche and serve your audience.
Once you have a list of ideas, schedule a filming day into your content calendar, and batch create your videos for the next week or month.
7. Peruse Stock Photo Sites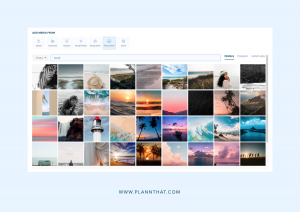 We all hit creative ruts at some point.
If you're struggling to come up with social media content ideas for photographers, hit up free stock sites like Pexels or Unsplash (pssstt… you can find these right inside Plann without even leaving the app!)
You can search a destination, an object, activity, or colour, and in seconds, you'll have hundreds of photos to browse.
It's an instant source of inspiration, and you might find an angle, prop, or layout you never thought of before.
8. Checking Our Trending YouTube Videos
You don't need to be a YouTuber to take advantage of this content inspiration hack.
Open the app and type a keyword or phrase related to your niche in the search bar.
You'll get a list of the most popular videos and ideas for content on social media.
If many people are watching a video around a specific topic, it tells you there is an interest.
For example, 'Upwork' is a popular topic for new freelancers. If you search the keyword on YouTube, you'll see the top videos have thousands of views. This confirms it's a hot topic, and if your audience are freelancers, you'll want to talk about it.
You could create a YouTube video with your take on the topic or repurpose it for other platforms like Instagram or Facebook. Speak about it in a feed post or host an IG Live to deep dive into the topic.
HOT TIP: Use VidIQ to see search volumes for keywords on Youtube!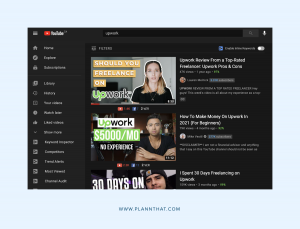 9. Stalk Your Competition With BuzzSumo
Erm..What's BuzzSumo?
It's one of the best tools for finding B2B social media content ideas.
While it is a paid tool, you do get three free searches per day. Type in a topic related to your niche, and you'll get a list of content that's performing the best.
Amazing, right?
You'll know at a glance what people are responding to right now, and can plan your content accordingly.
BuzzSumo lets you filter the results by date published, languages, word length, content type, and even dominant reaction.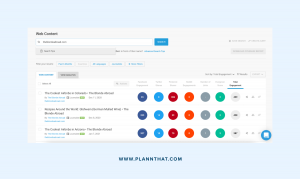 Plann Pointers: You can also search domains with BuzzSumo and see what content is trending for your competitors! This is a powerful snooping tool to see what's working for them on the different social media networks and how you can do it better.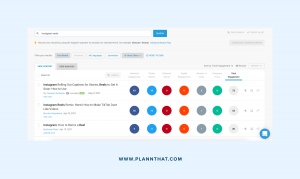 Schedule Your Social Media Content Ideas With Plann
Got a growing list of social media content calendar ideas? Great!
Your next step is to take action, create the posts, and schedule your content out. The more you can batch create your social media posts, the more consistent you'll be with executing your strategy.
Create a Plann account today. It's free and has everything you need to plan, post, and analyse your social media strategy from a glance.