Many Instagram features have come and gone over the years, from IGTV (now known as Instagram Video) to the swipe-up sticker.
But, if there's one feature that's here to stay, it's Instagram Stories. Even as Reels continues to dominate our feeds, there's absolutely still a place for this ephemeral content type. As of 2021, 500 million people use Instagram Stories daily — making it the perfect place to share casual, behind-the-scenes content that engages your audience.
The only downside to the popularity of Stories? It can be hard to know how to stand out. After all, there are only so many grid posts you can share to stories or videos of coffee you can post before you (and your audience) start to get bored. 
The good news is, with a few simple tricks, you can create compelling stories your audience can't help but keep watching. Read on for 10 Instagram Stories hacks to shake up your strategy.
Top 10 Instagram Story Hacks for 2023
1. Layer Photos On Video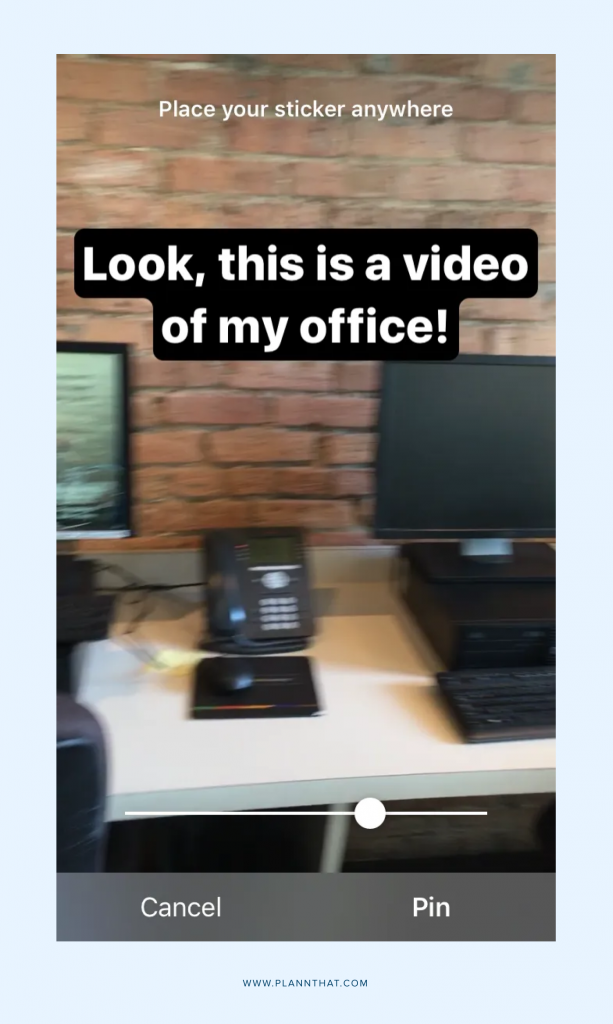 Did you know can combine image and videos in your Stories? This can be a great way to add extra context to a photo (for example, you could post an image of a new product feature, with the video in the background of you talking about it) Here's how to do it:
1. Swipe up to select the video from your gallery (or record a new one).
2. Open the sticker menu
3. Choose the photo sticker
4. Select the image you want to use in your Instagram Story
5. The selected image will layer on top of the video. Move and resize it to match your preference
2. Change Your Text To Your Brand Colors
By default, Instagram displays only a limited number of colors, but you can uncover a wider array to match your brand aesthetic.
1. Select the brush tool from the Instagram Story features
2. Tap and hold down any of the default color circles at the bottom of the screen. You'll see a color slider pop up.
3. Slide the color slider to find the shade matching your brand and preferences.
4. You can also upload an image into your Story and select the exact matching shade using the eyedropper tool (then, delete the image once you're done) This can be particularly handy if you have a photo of your brand kit with all your brand colors
3. Create a Patterned Backdrop for Sharing a Feed Post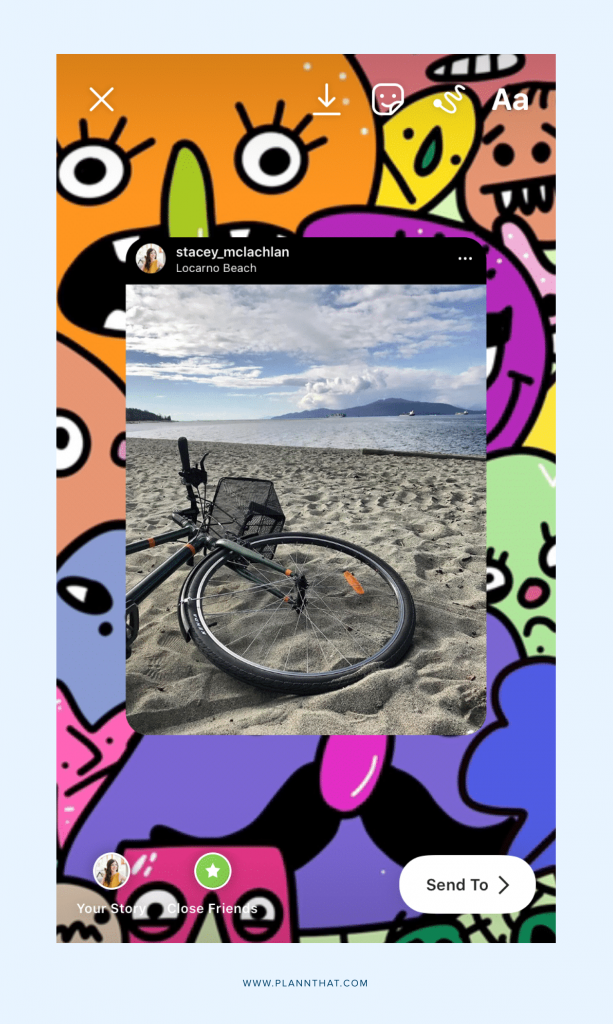 Creating a patterned backdrop is a great way to make sharing a feed post look more visually interesting.
1. Take a screenshot of a feed post you'd like to share in your Stories and crop it, so it's just the post
2. Then, click the 'share' icon on that original feed post and tap on "Add post to your Story"
3. Stretch the feed post so that it fills the entire screen. This step is important as it will make the final Story a tappable link to your original Instagram post
4. Open up your camera roll and choose the background image or pattern of your choice
5. Then, paste in the screenshot you've cropped in step 1
6. Upload the Story
4. Add a Link Sticker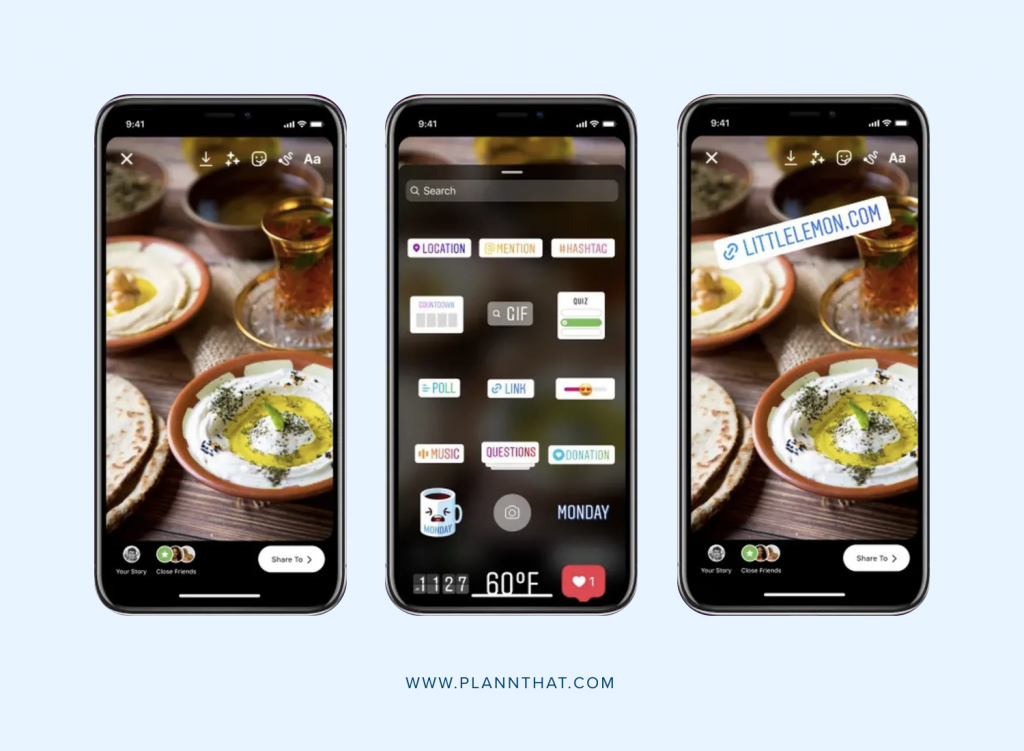 Have you hit the 10,000 followers mark? Congratulations! Once you've reached this milestone, Instagram enables you to add a link to your Story. And Instagram has replaced 'swipe-up' links with link stickers.
1. Create an Instagram Story as usual
2. Tap on the sticker icon on your screen. (Hint: It is at the top)
3. Select the link sticker
4. Add the link where you'd like your followers to go
Pssttt… haven't hit 10K yet? There's still a workaround where you can use link stickers to direct your followers to your website
Create an Instagram Video that's at least 1 minute long. Put the link that you want to direct people to in your caption

Create a short description video of what your link is about (for example, announcing a new blog), or even just text with you pointing to your title

Create a new Instagram story, then click on the 'link' button at the top of your screen

You will be able to choose your video, which will add the link to your story
Voila! People will then be able to tap on the link in your video to access the content
5. Fill the Background With a Custom Color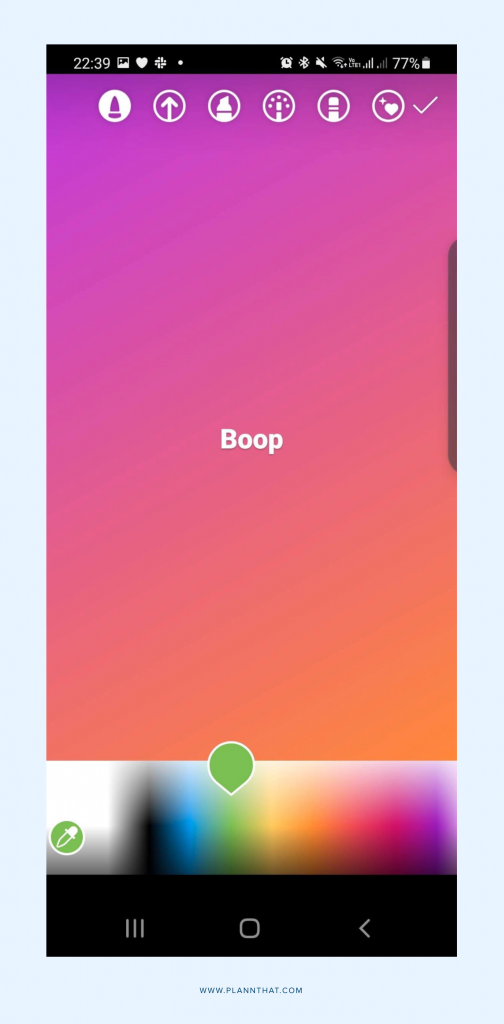 An automatically generated Instagram Story background might not match your brand colors or your personal preference. Thankfully it's possible (and easy!) to change your Story background color.
1. Tap the draw tool in the upper right-hand corner of the screen
2. Select your preferred color
3. Tap and hold down on your screen for 1-3 seconds
4. If you've shared a feed post to your Instagram Story, the background behind it fills with your chosen color
5. If you've created a new Story, the color fills the whole screen, creating a layer over your photo
6. You can use the eraser tool to reveal part of your image or video
7. Alternatively, you can leave the color background as is and add a photo sticker
5. Add a Layer of Translucent Color to a Video or Photo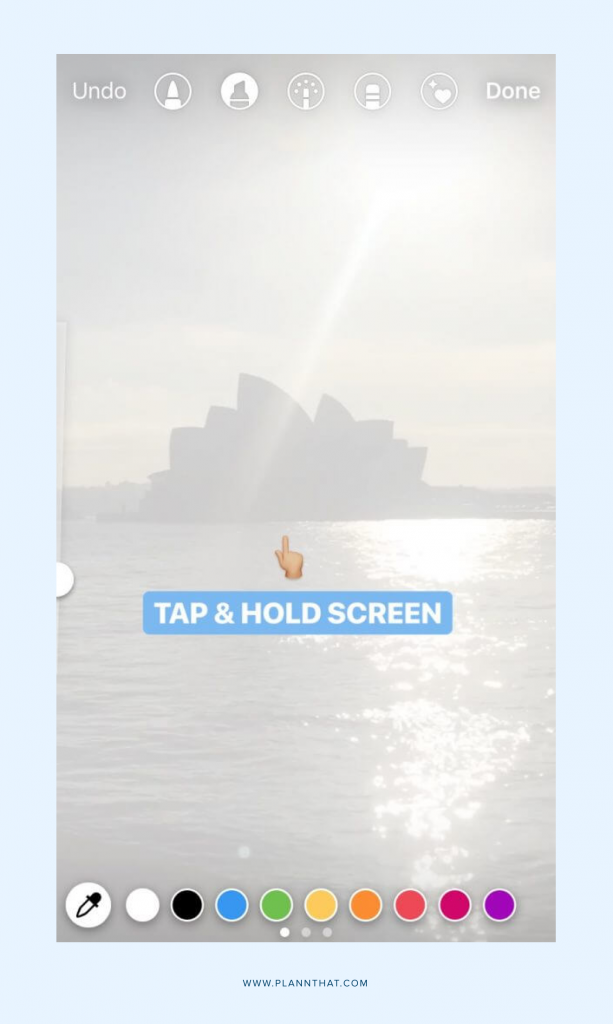 Want to spice things up by adding extra visual intrigue to your Story? Here's how to do it.
1. Upload your photo or video to your Story.
2. Tap on the marker icon on the top of the screen
3. Select the highlighter at the top of the screen
4. Choose your preferred color
5. Tap and hold the screen until a layer of transparent color covers your photo or video
6. Unlock Secret GIFs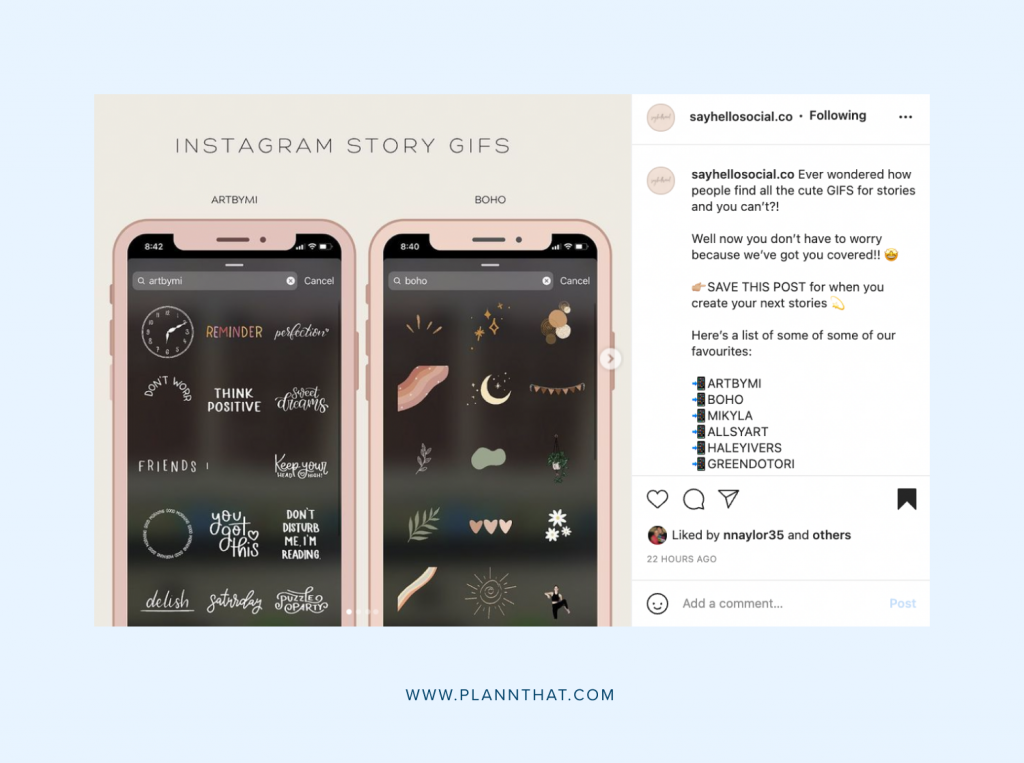 Ever wondered how certain creators seem to use all these cute story icons and animations you've never seen before? They don't have access to extra GIFs — they just know where to look for them! Say Hello Social recently shared about some of their fave GIF creators (such as artbymi and boho) that are a little harder to find. 
We also have some fun, sales-related GIFs you can find by searching 'plan'  Simply input these search terms when you're adding a GIF  and it will pull up these selections for you to jazz up your Story.
7. Create a 'Revealing' Story Series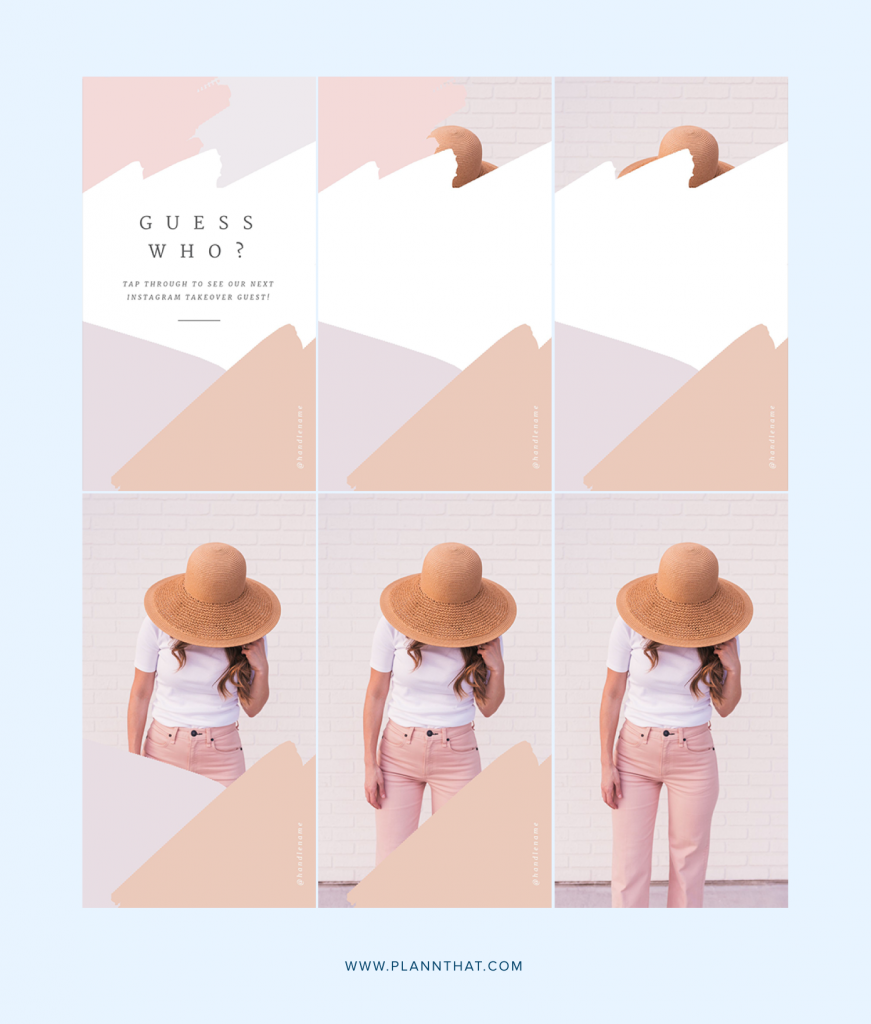 Building intrigue over several Story posts can help increase engagement. And, you can add new elements to the same initial image to keep your audience on the edge of their seats.
1. Start creating a story as usual with photos, video, text, stickers, drawings – anything of your choice. But make sure not to include all the elements into this first Story – keep some for the next ones
2. Before you hit the publish button, click the save icon (a downward-facing arrow above a line) on the top, saving your Story to your camera roll
3. Upload your first Story by clicking Send To button at the bottom, like you usually do
4. Start a new Story
5. Select the first Story you've saved on your camera roll
6. Seamlessly build additional elements on top of that first Story.
7. Save this new Story to your camera roll before hitting the Send To button again
8. Repeat as many times as you'd like
8. Save Your Favorite Stories Filters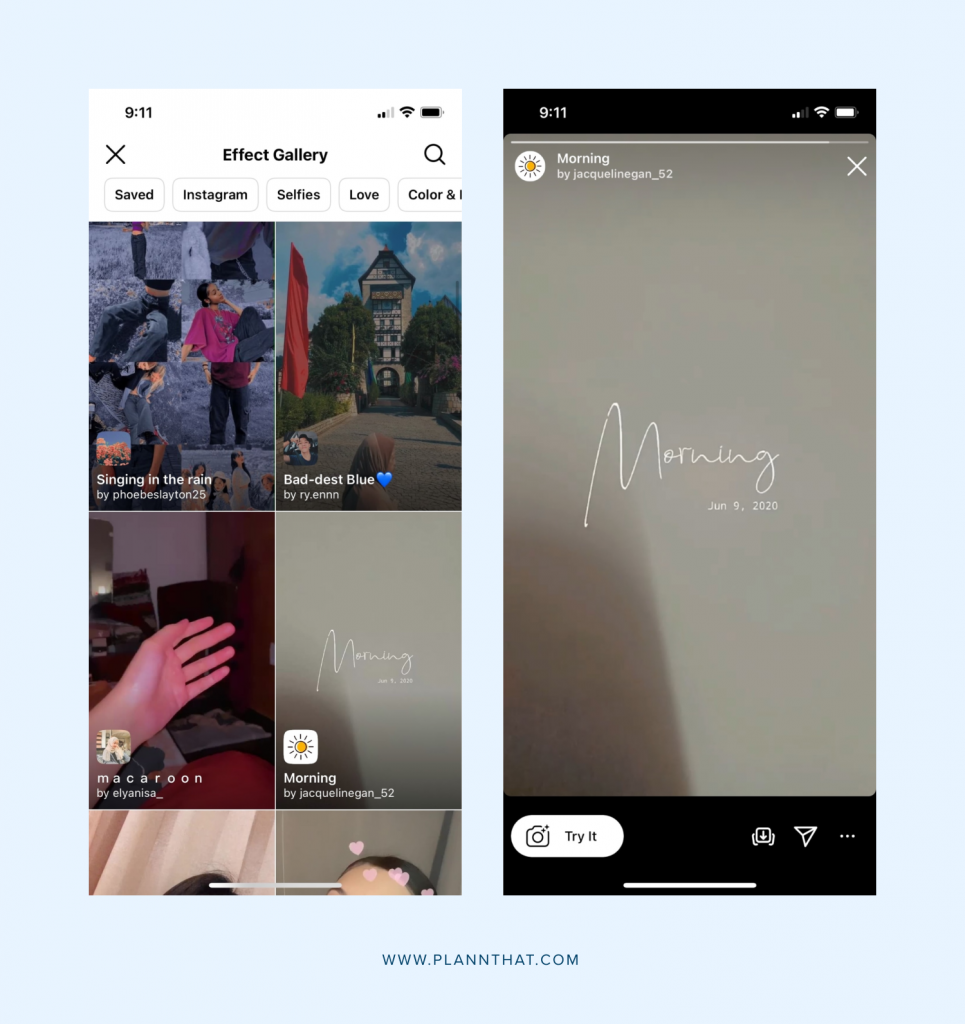 Ever gone to capture a photo or video on Stories, only to feel unenthused by the filter options available to you? Meanwhile, other creators seem to be able to effortlessly make all their Stories look consistent and on-brand? The good news is, you can unlock a wide array of beautiful filters, and save them for easy access. 
When you see a Story using a filter you like, you can click on the name on the top left corner. This will pull up a menu with the option to 'save effect.' You can also select more filters by that creator, or 'browse effect gallery.' Then, next time you go to post a Story, you'll see your chosen filters pop up in a bar along the bottom of the screen, so you can add them!
9. Create a Grid of Photos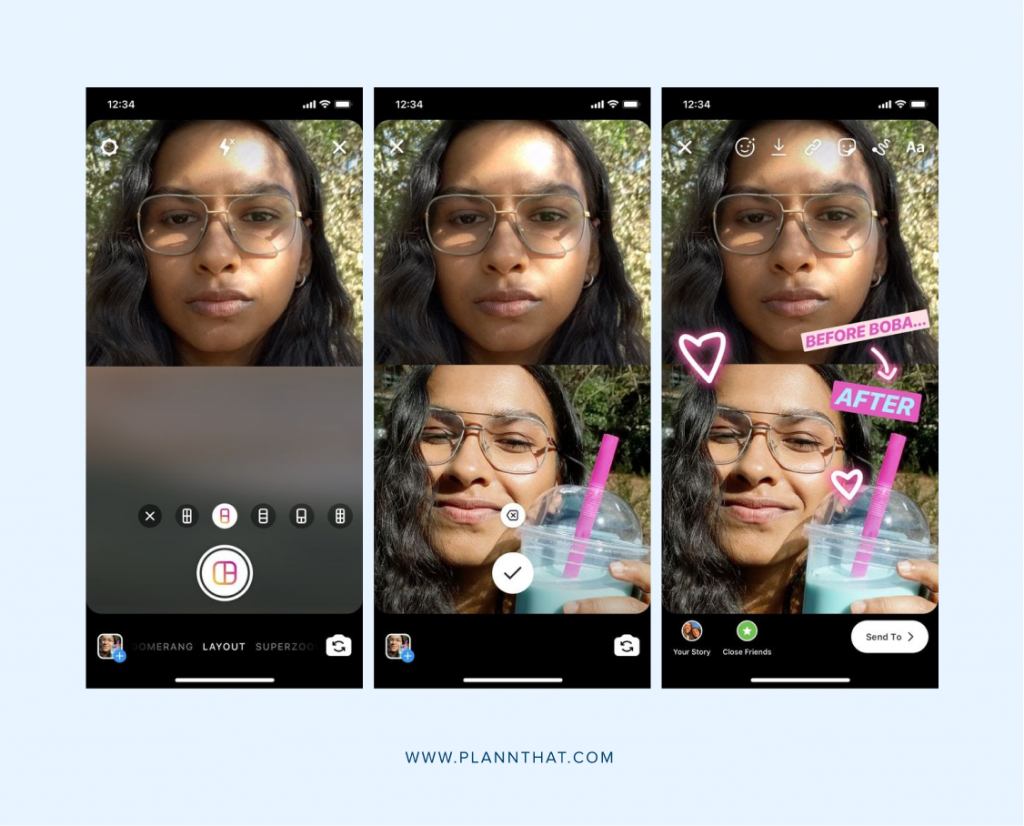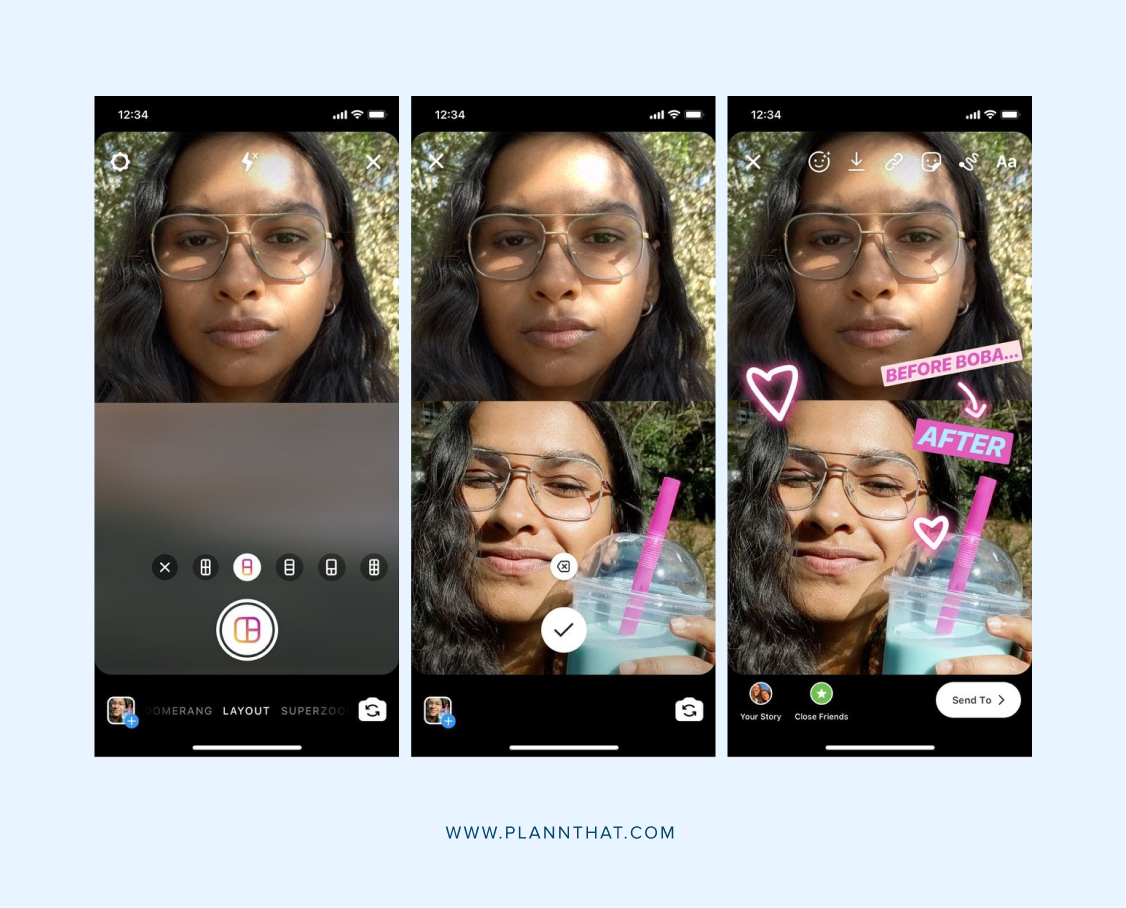 Instagram Stories has a built-in layout tool feature that enables you to share multiple images in an organized grid. There are various options of formatted grid layouts you can choose from.
1. Open your Story settings and tap on the Layout icon on the left-hand side of the screen
2. Your screen will be divided into multiple quadrants. You can add a photo to the first square by selecting one from your gallery. You can also use the camera to snap a new picture
3. Fill in the remaining quadrants
4. You can also change the layout by tapping the 'change grid' icon on the left-hand side of the screen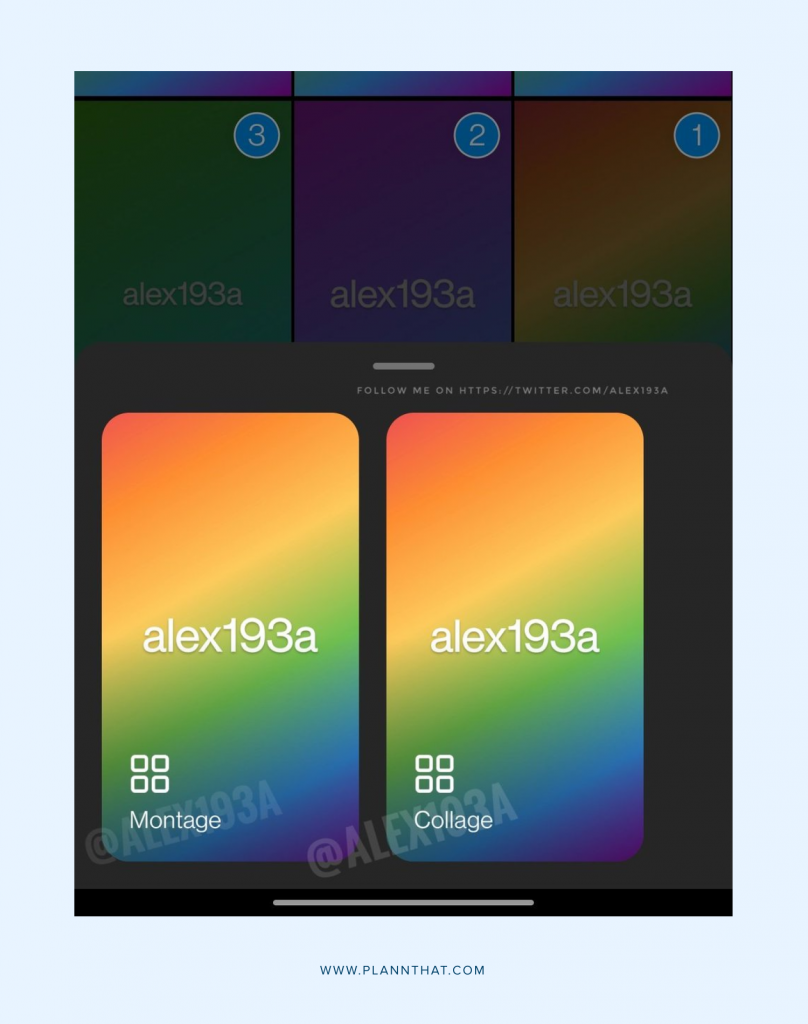 Instagram is also testing a new Stories feature that will give even more options for creating collages.
10. Create On-Brand Stories On The Go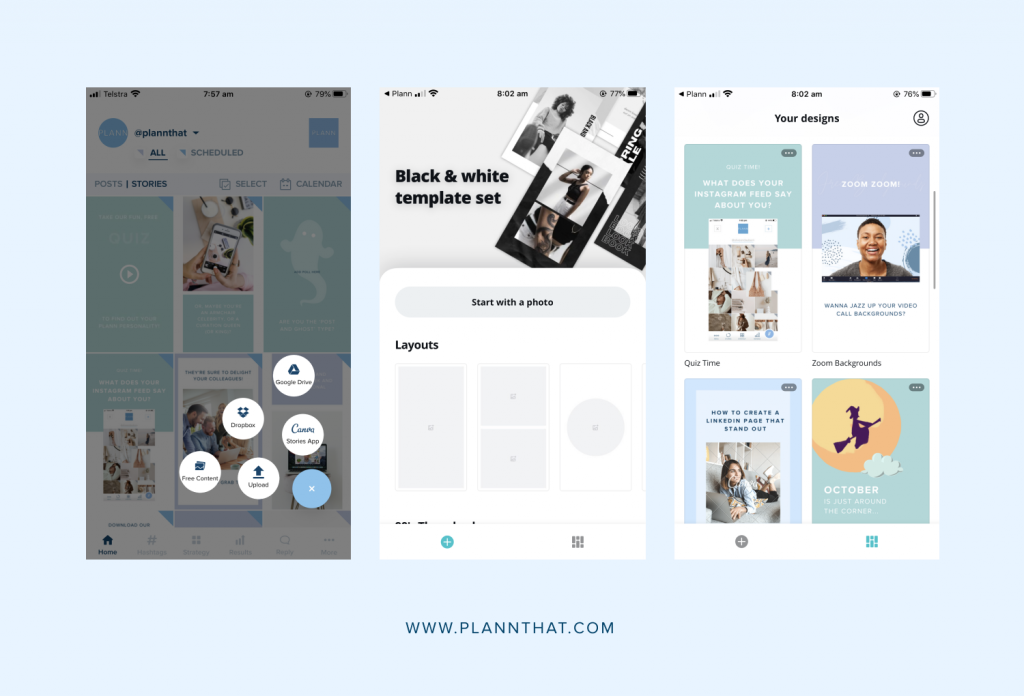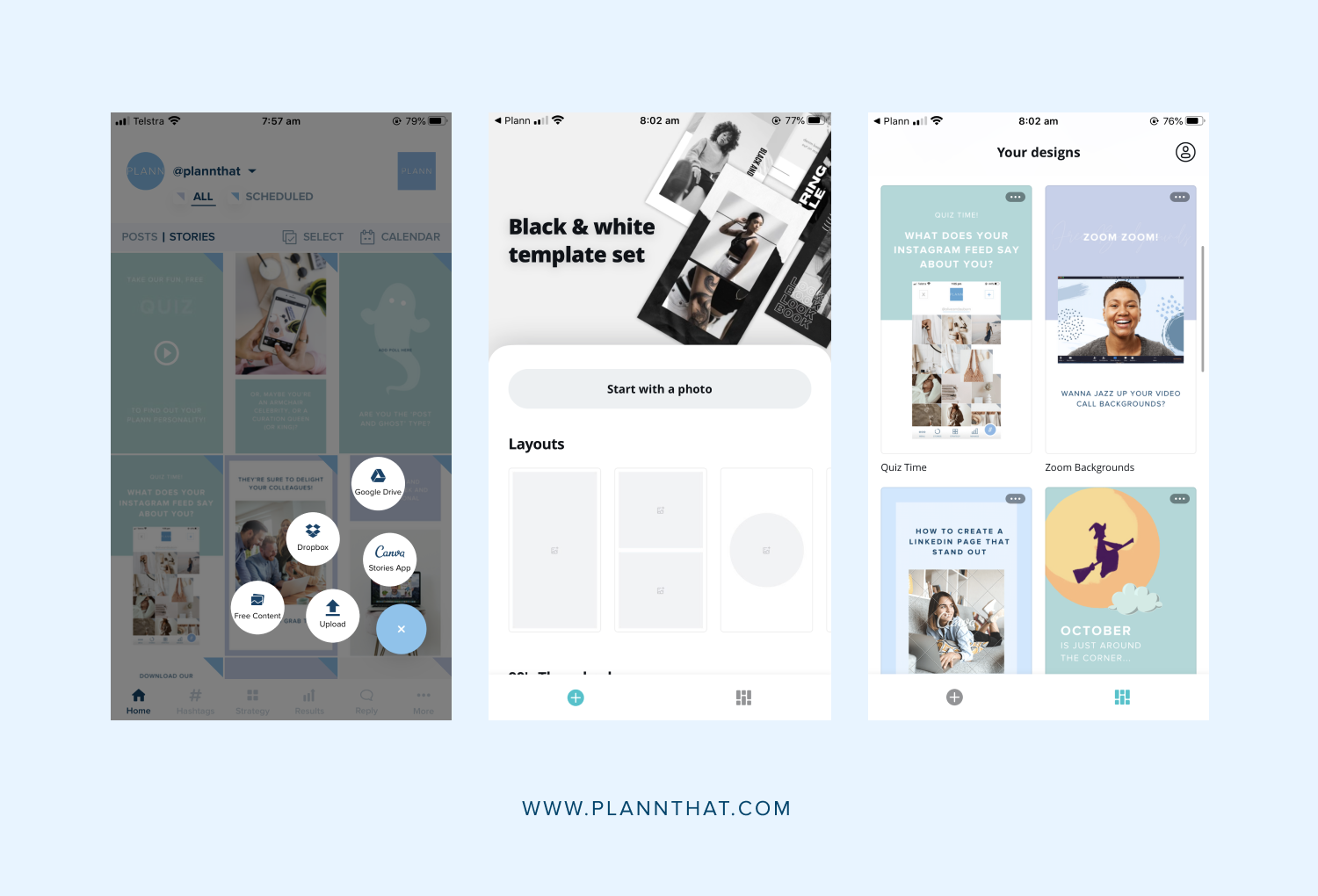 Available right inside the Plann app, Canva Stories app allows you create super consistent, on-brand Stories, no matter where you are.
With hundreds of beautiful vertical templates at your fingertips, this feature has everything you need to step up your stories game. Paired with our main Canva app integration, you'll be able to edit these stories templates from within the Plann app, and make it your own with your colors, fonts and photos.
Simply publish them into Plann and schedule them for when you're ready to show them off!
Ready to revolutionize your Instagram Stories game?
Looking for an all-in-one solution that simplifies your social media management? Plann has got you covered. 
With our groundbreaking Auto Post feature for Instagram Stories, you can effortlessly schedule and publish captivating content, engage with your audience in real time, and keep your brand top of mind. 
Take your Instagram presence to the next level with Plann and unlock the full potential of your Stories.
Go on, and redeem your 7-day free trial of Plann Plus. If you don't like it, keep using Plann for free!