Have you seen a bunch of amazing content creators on Instagram and wondered how to make Instagram stories for yourself that look just as good?
We've found these unique 3 creative ways on how to make Instagram stories for your blog, business or creative outlet.




1. HOW TO ZOOM IN/OUT USING ONLY ONE FINGER
Do you want to zoom in and record at the same time on your Instagram story? The "pinching" with two fingers can definitely be a pain sometimes! We are happy to share a nifty tip where you can hold the phone, record AND zoom in/out – all at the same time!! Woo hoo!
Simple steps:
Open up your Instagram story. To record you simply hold down the big circle (if you only tap the circle you'll take a normal photo – so make sure you tap + hold it down to record!)
When the recording starts, simply drag your finger upwards (without detaching from the screen!) to zoom in. Done!
PSST –> if you want to zoom out again – just simply drag the finger downwards instead. How freak'n awesome is that? No more pinching and holding down the button at the same time. Yew!
Do you want to see a video tutorial?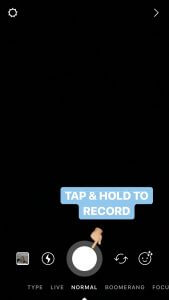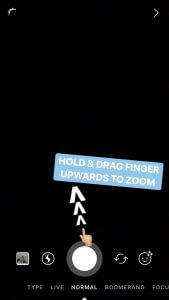 2. HOW TO MUTE INSTAGRAM STORIES
Do you follow someone who has Instagram stories that are all show and no go? You want to follow the person but their stories are just…well, not your thing? Eeep!
Luckily there is a very nifty way to secretly mute their stories, without unfollowing the IG account.
Open your Instagram
Open your Instagram. On the first page you'll see a row of all current Instagram stories. Do you want to mute some of them?
Simply tap & hold the icon until the option of "view profile" or "mute xxx" shows up. Simply press "mute" and their stories will no longer be visible in your Instagram stories row. FINALLY! *no more binge watching stories you've got no interest in*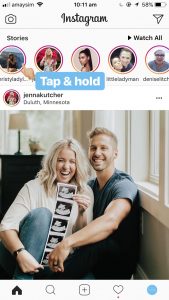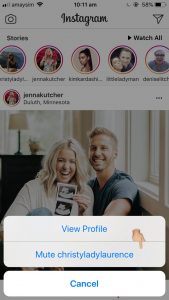 Do you want to unmute the stories?
Did you mute someone's stories which you now want to watch again? No worries! You can mute/unmute your follower's stories as many times as you want – and your followers won't have a clue about it! Phew!
Open your Instagram and swipe to the right (as far as you can) in the Instagram story row. The muted stories will show be hiding in the end, simply tap & hold the story and then select "unmute" TADA!
—> Pssst, did you know that you can hide your stories from others too?
Once you have uploaded an Instagram story you might realise there are *specific people* who shouldn't see what you're up to? Have you just bought your bestie a gift and want to share it with everyone but her? Eep!
Luckily you can hide your Instagram stories from any of the people you're following.
Either watch your uploaded story and:
1. Tap the "more" in the bottom right corner.
2. Tap "story settings"
3. Tap "hide story from"
4. Select the people you want to hide your story from
5. Tap done
TADA! The people you selected won't be able to see any of your stories!
If you haven't uploaded a story yet, but want to hide your future stories from someone, follow the same steps. Just press your story icon and then press the "settings wheel" in the top left corner.
Do you want to make your stories visible again? Just repeat the steps but un-select the people instead. Yew!
3. HOW TO CREATE A DROP SHADOW EFFECT
There are many ways to get creative with your text-only Instagram stories! If you want to create some depth and a text that "pops" a bit more than normal – drop shadows effect is your friend!
Open Instagram
Create a solid colour background or choose a picture

Write the text you want

Copy and paste the text again in a different text box (make sure they're the same size)

Darken the copied text to a shadowy grey and put it behind the original.
TADA – look how much better it looks!! I chose "modern" as the font. You can do the same thing with any of the fonts, just simply tap the "classic" button to see the different options.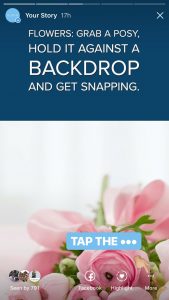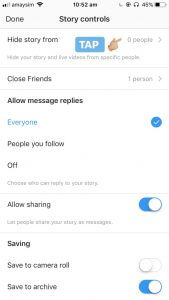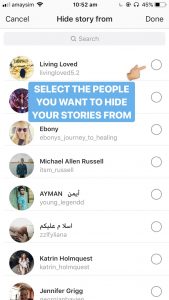 Want to know how to create a solid colour background? Check:
SCHEDULE YOUR STORIES AND NEVER FORGET TO POST
Have you noticed the power of scheduling your stories (and posts) yet? *No more hair pulling when trying to come up with an Instagram stories on the spot* The key for good content and engaged followers is Planning.

With Plann you can both create custom Instagram stories, choose different fonts and schedule them for later. When you have one of the days when ALL the ideas are coming to you, create and schedule!

Never forget to post again, join 450,000 global instagrammers scheduling their stories with Plann.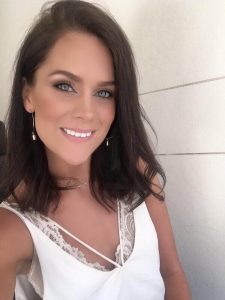 Author
Asa Liedman
Based at Plann HQ in Bondi Beach, Australia, Asa (pronounced Awe-Sa, like AWESOME!) is part of the Plann Marketing team.

Originally from Sweden, Asa left to spark up her career and lifestyle, plus further her love of Marketing with a special interest in Social Media, Branding and ROI.

She's also the superstar behind Plann's YouTube channel and those incredibly helpful Instagram Stories always teaching you new Instagram tricks!

Follow @plannthat on Instagram to see more of Asa's work!