Instagram loves a good update, and the new Instagram Stories Shopping Update is no exception.
We can already hear business owners everywhere jumping around excitedly as Instagram have just announced that they will be rolling out a new Instagram Stories Shopping update that will allow them to tag products they sell in their stories.
Right now the feature is being tested by large name-brands from Adidas to Louis Vuitton, and will soon roll out to more Instagram Business profile users.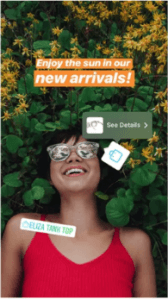 But why is this update so freakin' exciting?
With 300 million people using Instagram Stories every single day, this new update is going to be a game changer for businesses looking to grow with the power of the 'gram.
This new Instagram Stories Shopping update will make increasing Instagram-driven sales as easy as peeling a banana.
No joke.

When the official update rolls out to all users, we want our Plann business community to be ready and raring to go!
So, let's chat about how you can grow your business with the new Instagram Stories Shopping function as soon as this juicy update rolls onto your account.
FOCUS ON 'STORY-SELLING'
Our founder Christy says, "Marketing isn't about putting your work into the world and asking people to buy it. Marketing is telling the story of why you wake up every morning, what your brand stands for, the inspiring lifestyle that your brand offers, and educating your audience on why your brand makes a difference in their life."
Basically, what you need to keep front-of-mind when using this new Instagram Stories Shopping feature is that just because you can tag a product, it doesn't mean that the IG story needs to be totally focused on saying "buy this now".
You can absolutely tag products in Instagram Stories that are featuring influencers or happy customers wearing your products – this is actually a fantastic idea to get you started!
PSST -> Have you tried out the 'Strategy' feature within our app Plann? It will teach you exactly how to craft compelling Instagram content that will help you to sell your story like a pro.
CREATE BEHIND-THE-SCENES CONTENT
One of the best ways to increase brand trust and make your audience want to buy your products or services is to share behind-the-scenes content that involves your team.
You know the team members – the ones responding to customer service emails, the ones designing your products, the ones delivering the services. Those cheery, customer-centered faces are the ones that are going to help you to sell more on Instagram Stories.
Why? Those team members know your customers, they know your brand, and they know exactly what to say that is going to be music to your audience's ears.
Get some videos of them talking about their favourite product, or share a behind-the-scenes video of them hard at work or designing something new and exciting.
TRY NEW INSTAGRAM STORY LAYOUTS
There are so many ways that you can spruce up your Instagram Stories to create content that your audience will fall in love with.
You can edit images inside the Plann app and add overlays, graphics and text to add a bit of flair that is sure to grab attention. Some other things that you may want to try are fancy-pants templates that you can find online and edit to suit your brand colours and text.
Here are some tools that we'd recommend trying out:
You can also look on websites like Creative Market for Instagram Stories Photoshop templates if you are a big Photoshop fan!
Ready to get started with the new Instagram Stories Shopping feature?
We're hoping this new Instagram Shopping update rolls out as soon as possible because we feel it in our bones that this is going to be a game-changer for businesses who rely on Instagram for product promotion.
Do you think so too?
Make sure to share this blog with your Instagram-loving business friends and don't forget to download Plann so that you can start practicing your storyselling with the 'Strategy' tab.