You've created all your best content and are running ads on every platform…but…you might be experiencing terrible click rates. This can feel disheartening, which is why we've created 11 tips for you to get back on track with sponsored ads.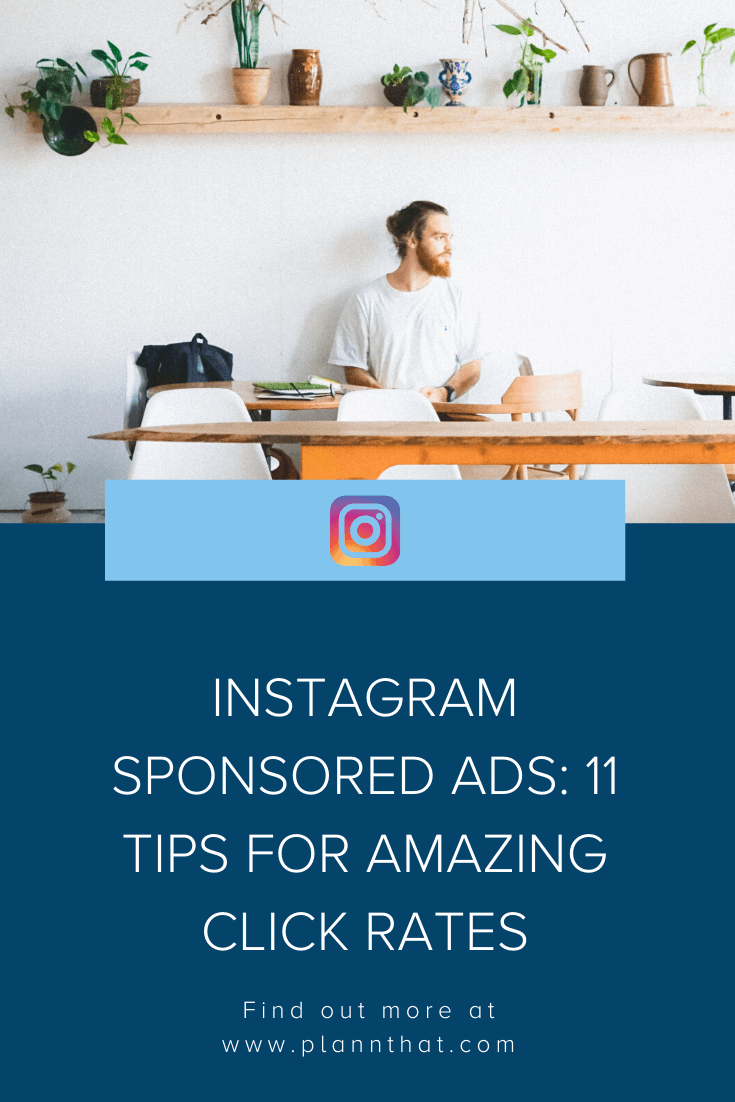 1. Link Your Instagram To Facebook
Just like those paper link chains you made in school, you want your social profiles to link and work together for a stronger strategy. To link your profiles, head to your Facebook page and click on Settings and scroll to Instagram on the left panel. From there you can easily link your profiles. Luckily, you only have to do this once!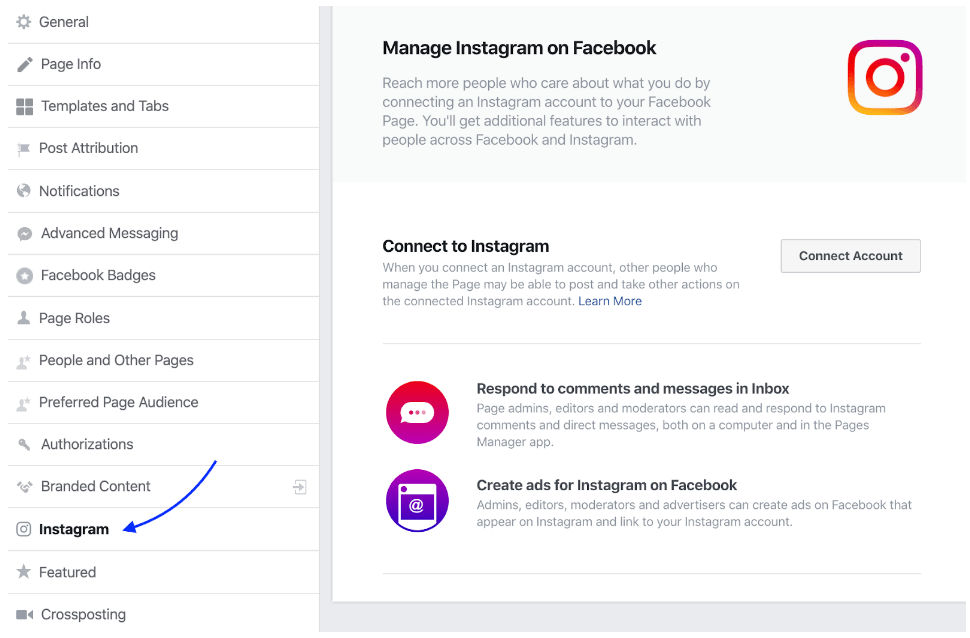 2. What Type of Ad Do You Want To Create?
Take a look at the content you currently have. Do you mostly post videos? Stories? Images? The way your current audience interacts with your brand will direct you in what to create first for Instagram advertising.
Your type of ad can be,
– Photo

– Video

– Carousel

– Collection

– Slideshow

– Stories
3. Showcase Through News Feed
News Feed ads look different than Story ads and the style can make all the difference in your approach to Instagram Advertising.
Check out Asana and their sponsored ad, their ideal audience are people trying to organize projects with confidence with a call to action to Sign Up for their services. They've made it simple and easy to sign up right from your phone with their ad!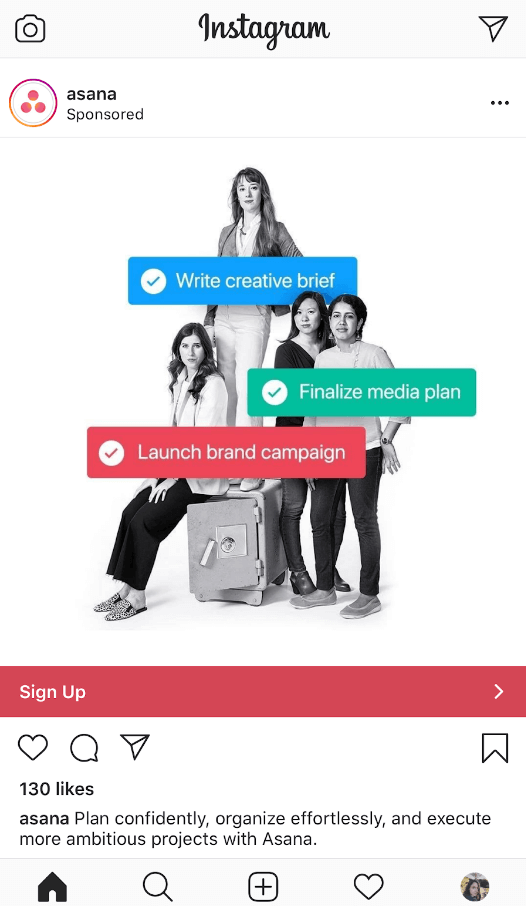 Ideally, you want to use square images or videos for News Feed ads for it to fit the frame and adapt to how people interact with ads while scrolling.
4. Share Through Stories
Story ads are a modern approach to advertising and a dynamic way to showcase your stellar products.
Like Larabar, they created a simple video that showcases different products available. Each frame has unique colors in the background to match the specific flavor of bar. The sponsored post is intriguing and catches the attention of their ideal audience with a call to action of Shop Now!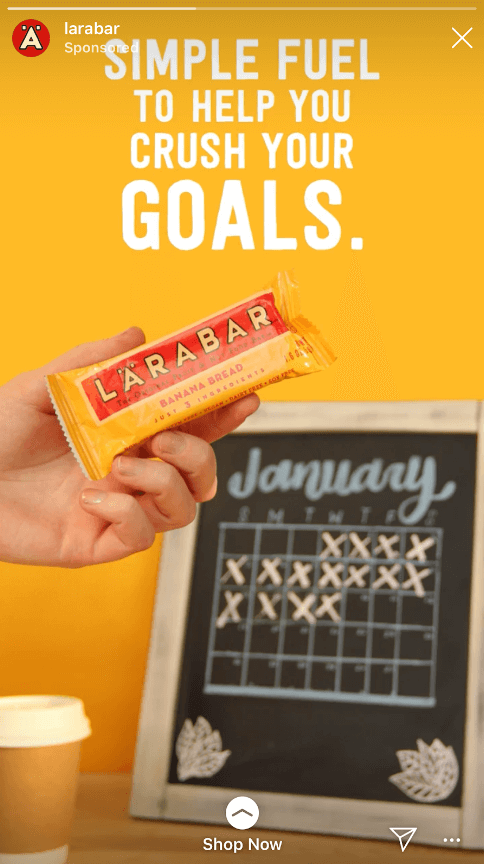 Story ads are a great place to share the feeling you want to ignite in your audience. Collaborate with your creative team to create an ad that connects with your community in a meaningful way.
5. Develop Your Dream Campaign on Facebook Ad Manager
While you can promote a post through the Instagram app, you'll have more control over your ad by using Facebook Ad Manager.
This is where you can create your ideal audience, learn initial metrics for how to narrow the scope of reach, and create ads that work for your biz.
Explore around using different ad sets to showcase products, or develop a campaign that retargets people who have already visited your website.
Remember your Campaign is your overarching theme -> Your ad set is how you reach your ideal audience -> The ad itself is where you connect and develop conversion rates
6. Customize For Your Ideal Audience
If you haven't created ads in Facebook Ads Manager before (look here for more tips about Facebook ads), then you'll want to custom create the audience you want to reach.
You can define your audience through,
– Location

– Languages

– Demographics

– Interests

– Behaviors

– Age

– Gender

– Connections (likes on your page, interaction with your content, subscriptions to your newsletter)
Start broadly to begin with and narrow your scope to exactly who you want to interact with your brand on Instagram ads. The better you can define who you want looking at your ads, the more the algorithms will lean in your favor!
7. All About The Call To Action
It is one thing to create an ad, it is another in how you want your audience to interact with it. Do you want them to sign up for a course? Purchase a specific product? Visit your website?
Call to Actions can include,
– Apply Now

– Book Now

– Message

– Sign Up

– Contact Us

– Learn More

– Get Showtimes

– Get Offer

– Call Now

– Download
Whatever your call to action is, make sure your ad reflects your ideal response from your dream audience.
8. Edit Placement of Ads
When first creating a new campaign in Facebook Ads Manager, it will direct you to automatic placements within the ad set. Simply switch it to Edit Placements and choose Instagram as your only platform.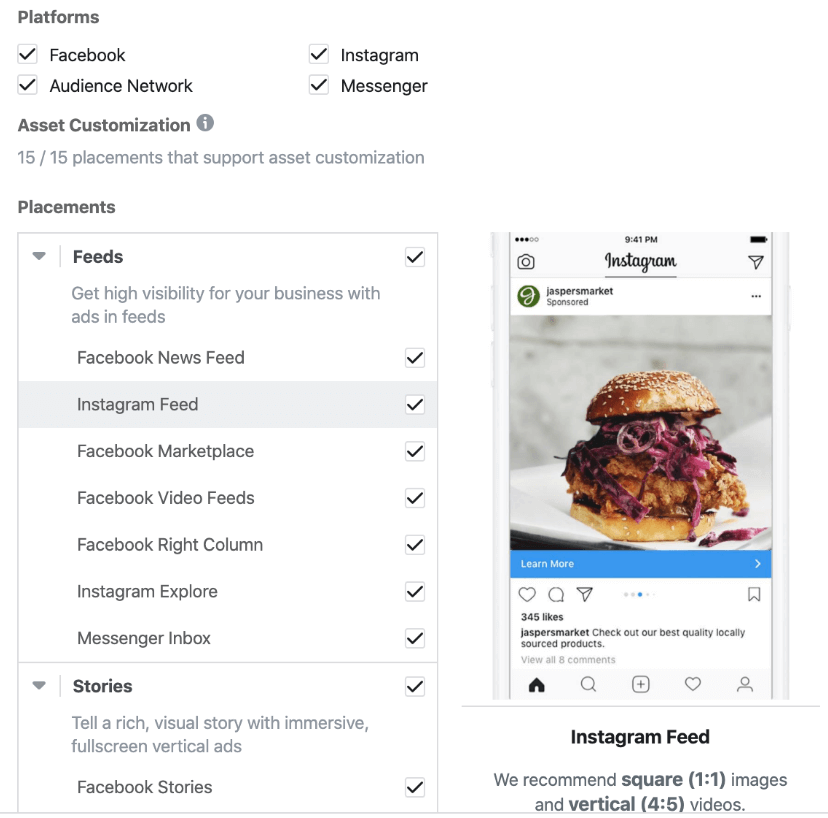 You can choose to place your ad in stories, explore, or in news feed, depending on the style you want the ad to appear as. The more the ad is suited to the format (like vertical videos for stories, or carousel ads for news feed), the more likely your dream customer will respond to your call of action.
9. Schedule Like A Pro
Scheduling is half the battle when it comes to ads. If you're running a campaign about New Year Looks, you probably don't want the duration of the ad to go through July.
Create ads that make sense for you, the time of year, and the location you want it to reach.
(Plann helps you do this, all in one place through our Desktop app)
10. Create a Manageable Budget
Instagram is known for being a little pricey in terms of sponsored ads, but the more you control how your call to action connects with your ads, the more your ads will turn into click rates.
Allocate funds specifically for Instagram and track the metrics of click rates. The more your ad reaches to the heart of your dream audience, the more you'll see a return on your dollar.
11. Optimize Ads and Keep Moving Forward
Watch the metrics of your ad and adjust as needed to keep moving forward. Develop ad sets that showcase your vision for your brand and ads that feel right.
Audiences want to feel and see the vision of your brand. Create dynamic content that reaches to your audience and boosts your click rates (we can help you do this all through Plann!).