You hear the chime of the New Year and may think, oh no what do I do for ads this year?? We're here to share with you the top 13 tips to build a Facebook marketing campaign you can be proud of (and of course creates a return for your biz!)
Do You Have a Facebook Business Page?
Before we dive too deep into the sea, do you have a Facebook Business Page set up already?
If you haven't created ads before, create a business page and mosey over to Facebook Ads Manager. It looks confusing, but we promise there is a light at the end of the tunnel. We got your back!
You ready to create a campaign that shifts waves in your ocean of dreams for 2023?
1. Choose Your Quest
There are a million paths to approach the same quest for glory, but where do you ultimately want to go?
Do you want to daringly capture more leads?
Do you want more purchases from your store?
Whatever your main quest, slay with the end goal in mind. This helps hone in your craft and gather everything you need to create a Facebook campaign that works for your biz.
Quests (otherwise known as objectives) can include:
Traffic:

Audience coming and going from your page
Reach: New audiences hearing about you
Brand Awareness: Audiences learning what you are all about
Engagement: Your audience responding to posts through liking, commenting and clicking
App Installs: Downloads of what you've created!
Video Views: Audiences actively watching your content
Lead Generation: Generating interest and action!
Messages: Interaction with your ideal audience
Conversions: Your audience making purchases or buying into your services
Catalog sales: Purchases from what you sell in your catalog listed on Facebook
Store Traffic: Clicks into your ads from audiences interested in what is in stock
2. Use The Power of the Pixel
Facebook Pixel is one of the most powerful tools you can use when creating ads. The little pixel pays attention to how your audience is reacting to posts and how they interact with ads. It allows you to adjust future ad campaigns, as well as retarget interested audiences.
Ad the pixel to your website and track how your audience flows from social media to website clicks!
3. Never Assume
Assuming leads to… well you know, an interaction that you didn't plan for! Assuming your audience is one way or another is risky, which is why letting the data speak for itself will help you develop a smarter strategy for 2023.
Facebook ads are changing just as much as you are trying to adapt. Run test ads and tweak as you go along. Facebook gives the great option to do A/B testing to develop ads that reach right to the heart of your audience, minus all the assumptions.
4. Create Imagery and Videos That Inspire
A blurry video with you walking down the street talking is all great for content, but when you play it back, you don't want your audience to get seasick! Move into 2023 with your best foot forward with dynamic photos that capture how you want people to feel when interacting with your brand.
Do you want them to feel inspired? Motivated? Stylish? Awake?
Whatever the term you attribute to the heart of your brand, create imagery to use in ads that sparks something new for your audience.
5. Use The Boost With Caution
The boost button is like the candy bowl on the coffee table, it feels appealing, but you might regret it later.
If you're on a tight budget after the holidays, the boost button is not your best avenue for a good ROI. It is a quick excitement for more impressions and engagement, but it won't lead you to your ideal results.
If you're looking for more control in your ads, avoid the boost where you can. Instead, put the energy towards developing an expertly run Facebook ad campaign that puts you back in the power seat to steer your biz where you want it to go.
6. Think Beyond Just One Path
Social media platforms can suck you into feeling like there is only one way to reach your destiny in 2023, but the ad does not always have to lead back to your Facebook page. If you want to expand your reach further, create ads that focus attention back to your website, or create a sign-up sheet within the ad.
Think back to your quest, the objective you hope to achieve. What do you want to focus on?
Generate an ad that retargets that objective. From more interaction on posts to purchases from your website, or driving traffic towards your dream people to make the final click into a purchase, your objective should guide your ad all the way through.
7. Run The Ideal Campaign
The dream for your biz starts here, the ideal Facebook ad campaign.
When you open the ads page, you'll notice a flurry of information to fill out, so here's a brief checklist before you dive in.
Checklist:
> Does your imagery match how you want your audience to feel?
> Are the sizes for your imagery right for the format of the ad?
– Recommended size: 1,200 x 628 pixels

– Size for Instagram and Facebook stories: 1,080 x 1,920 pixels
> Are the words in your content communicating clearly?
– Do they match your branding vision?
> Do you have the right amount of words?
– Ad headline: 25 characters

– Description text: 125 characters

– Link description: 30 characters
> Is your ideal audience the one this ad will reach?
– Ad sets help you differentiate audiences you want to reach
> What type of ad do you want to post?
8. Develop Dynamic Ad Sets
Think Campaign > Ad Sets > Ads
Your campaign is your overarching theme, while your ad sets get into the nitty-gritty. For example, the Ad Set for this local gym is Group Classes, while the ads target different classes that are offered at the gym, like pilates, boxing, etc.
Ad sets focus where the ad goes, but it is your ad that pulls in the final say…

9. The Details In The Ad
The details in the ad are where your most important words exist for the campaign. Developing different ads within a set of ads focuses attention on one audience, or broadly reaches a new one (depending on your objective).
If you're just starting out with ads, it is beneficial to start with a broad ad and then narrow the scope by targeting your ideal audience through more defined ads.
Your ad will appear differently depending on where it is placed. Peruse the various places it appears on Facebook and Instagram to see if the ad is appearing how you want it to!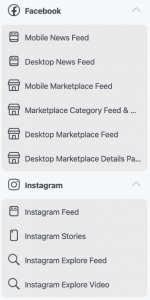 10. Create a Lookalike Audience
Facebook Ad Manager gives you the gift of a lookalike audience. Keep in mind you have to have at least 100 followers on your page for Facebook to populate an answer for this.
A lookalike audience defines who you are reaching and does the work for you to reach new people that have similar interests to your loyal followers.
Really, it takes a load off your shoulders from having to find new people!