In 2021, there are no shortage of social media platforms you can use to get your message out there. But, when it comes to converting your audience into loyal customers and actually making sales, there's no doubt about it — Instagram is the place to be.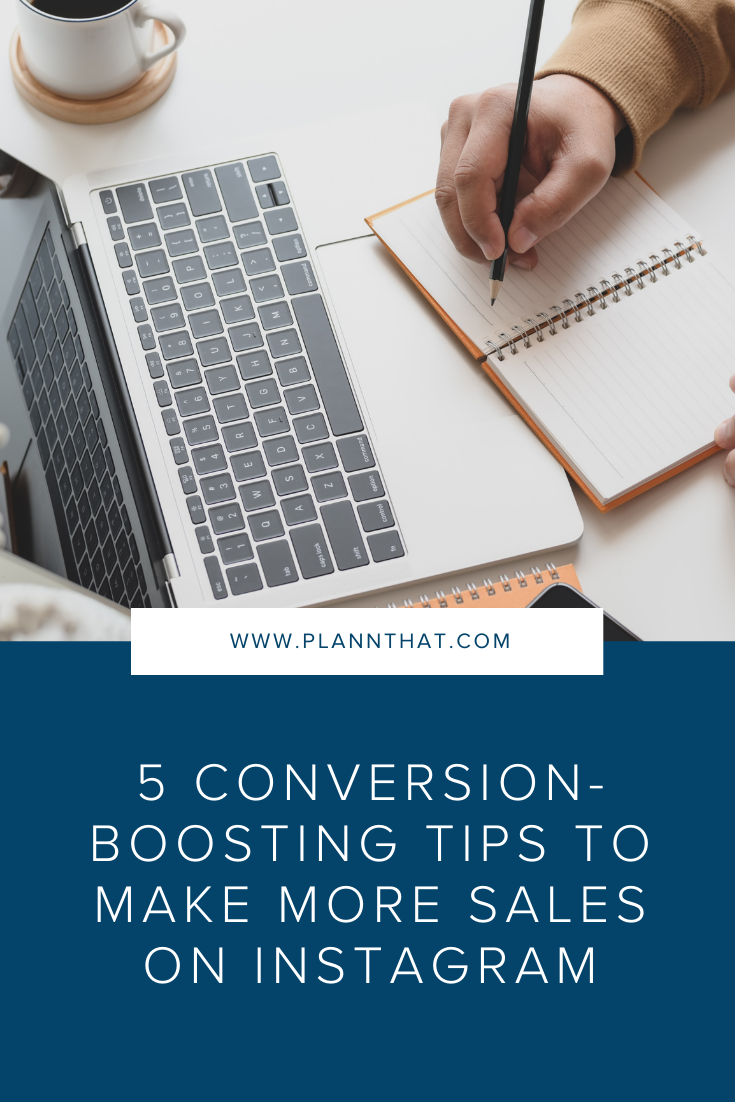 With the introduction of Insta Shops, Reels and Guides, it has become easier than ever to grow an audience and make offers through social media. And, if you play your cards right and use Instagram (and Plann's!) features to your advantage, the earning potential is endless!
Here, digital marketing consultant and business growth expert Romane Nouri shares the top 5 ingredients you'll need to make more sales on your Instagram.
1. A clear message and target audience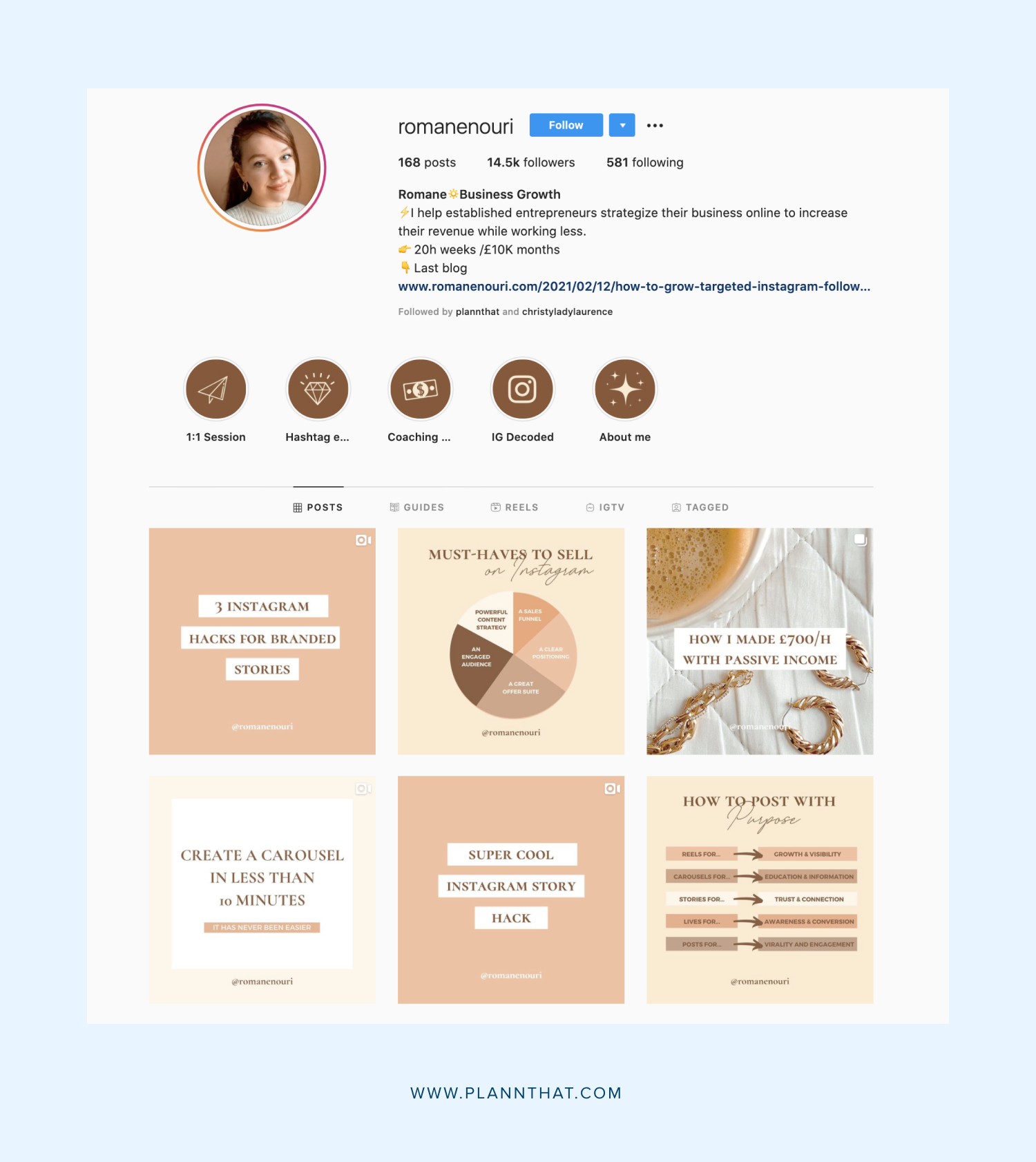 Before you can begin selling anything, you really need to start with the foundations. What is your message? What is your business selling? And the most important question: to who?
If you want to sell on Instagram, it's crucial you understand what the mission is behind your business and what your potential customers need from it!
By doing so, it will be easier to target the right audience and create content that will convert your followers into loyal customers (and this is the ultimate goal!).
So who is your ideal customer? How old are they? Where are they based? What do they like? What do they need?
All these questions are equally important, as they help you hone in on your message and speak directly to your ideal customer.
2. A powerful content strategy
Whether you want to grow your followers or make more sales on Instagram, a powerful content strategy is A MUST!
You need to post with purpose. To make more sales, you must first build excitement in your audience, so they're primed and ready to buy your new product or services when the time comes.
By having the right combination of inspirational, educational and promotional content, you can transport your followers on to amazing customer journey, which will leave them no choice but to buy from you!
Searchword: "Valentines Day Strategy Prompts" (this is a GIF)
Plann's strategy feature is an amazing tool to create and organise your content strategy. You can use it to create a category for your content pillars and plan what type of content you will post (related to your goal and plan of action) ahead of time. It's not only a great way for you to stay on track with posting consistently, but also to build a clear content strategy, which will give you tangible results.
3. Great branding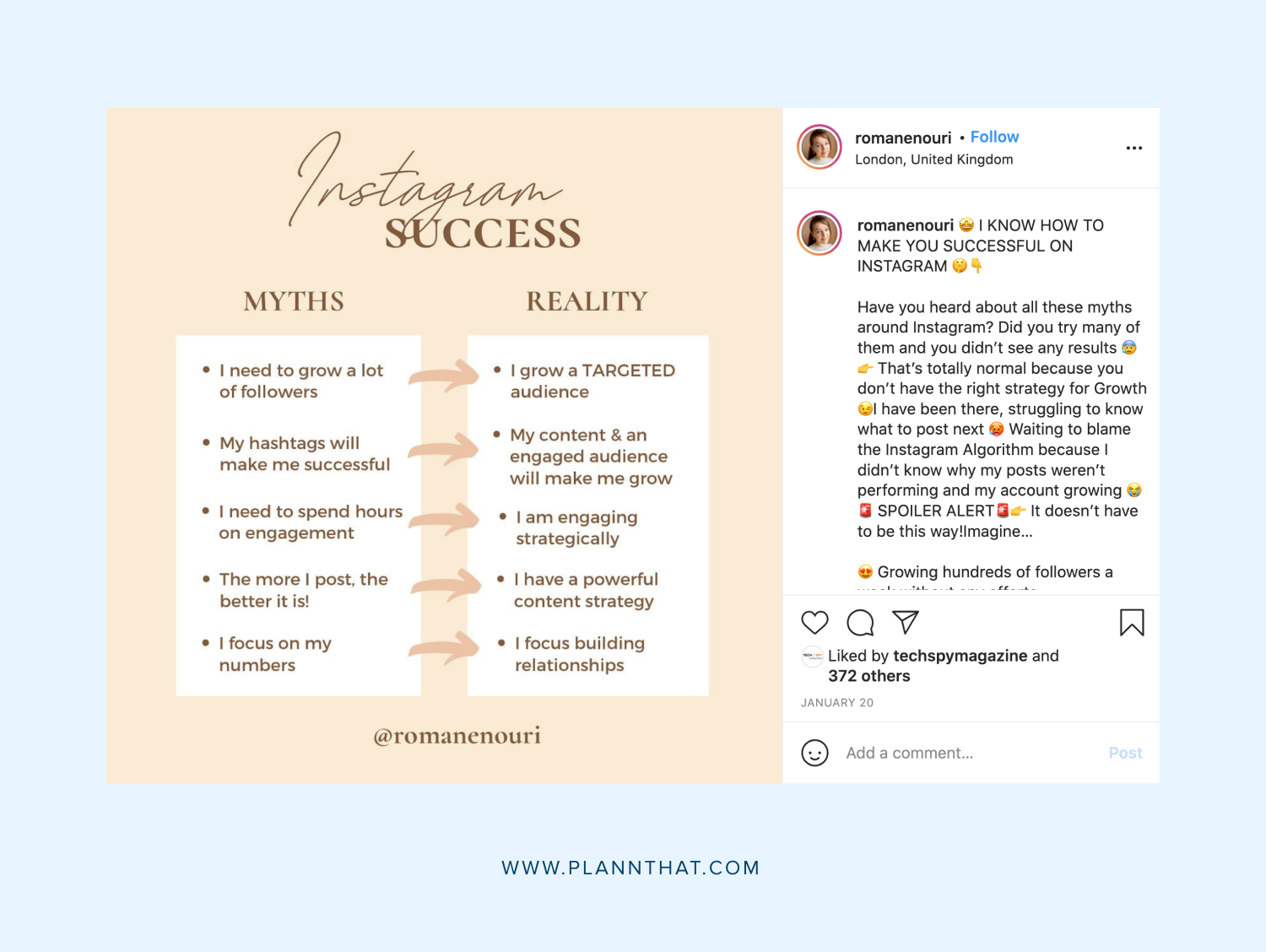 Branding is essential on any digital platform. But on Instagram, it's truly your branding that makes you standout from your competitors.
Instagram is a highly visual platform where eye-catching profiles perform 30% better than regular ones. This is why you need recognisable branding, to help your content standout from the crowd as well as attract new potential customers.
Consider your Instagram a shop window — it's the first and sometimes the only thing Instagram users will see about your business. So, make that first impression count!
4. Connection before conversion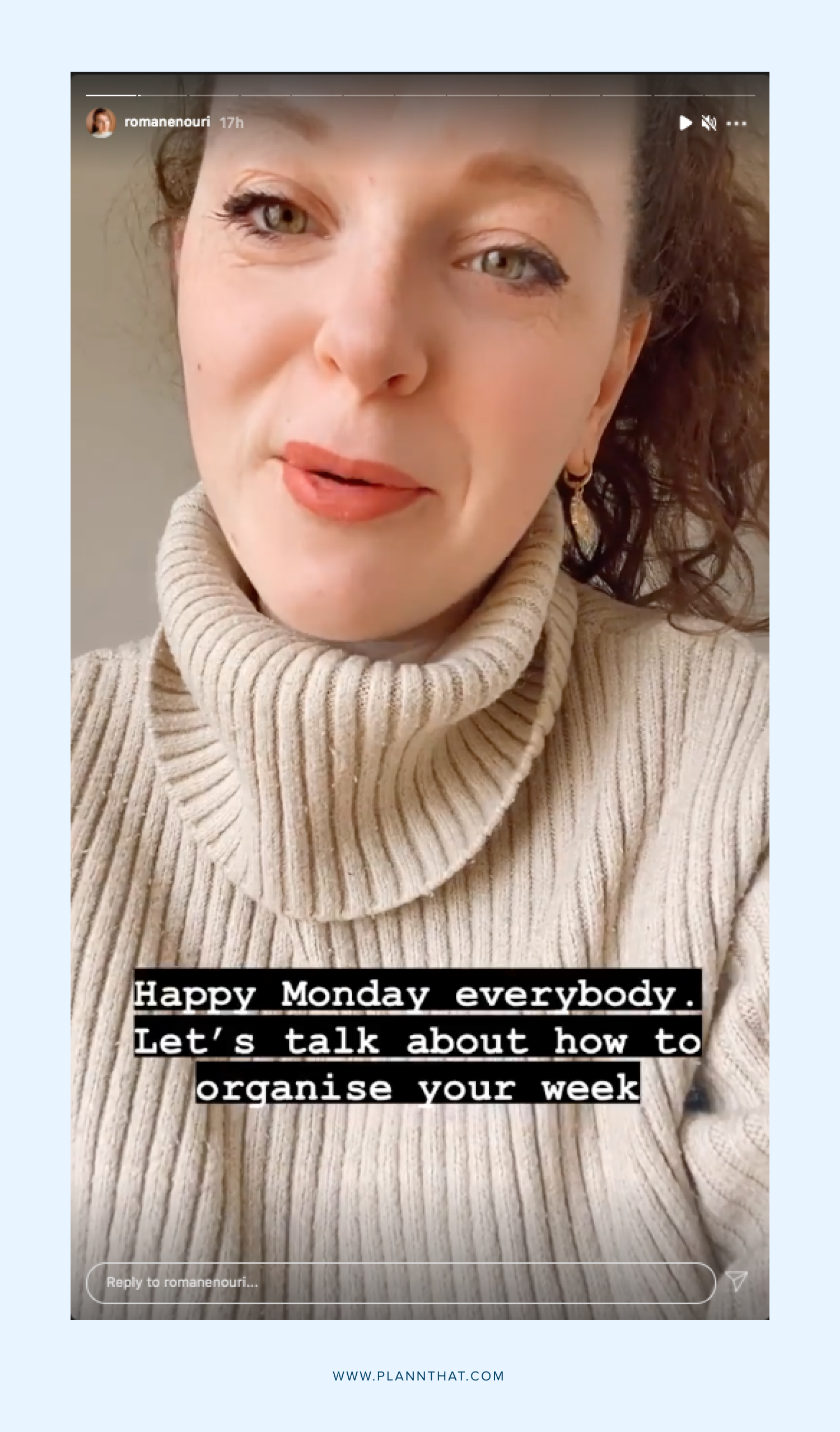 What a lot of businesses neglect to do on Instagram is to create real connection with their audience. You need to have them participate in your journey and interact with them in order to build trust and ultimately encourage them to interact with your content. This way, it will be much easier for you to convert them into buying customers when you launch a new product, offer or service.
Welcome them via direct message, ask for their opinion in your captions, create polls in your story… there are plenty of ways to involve your audience in your business. It's really important to do this regularly (not just when you're selling something) so you build an authentic connection with your audience, who will then be more than happy to buy from you!
5. Sell in stories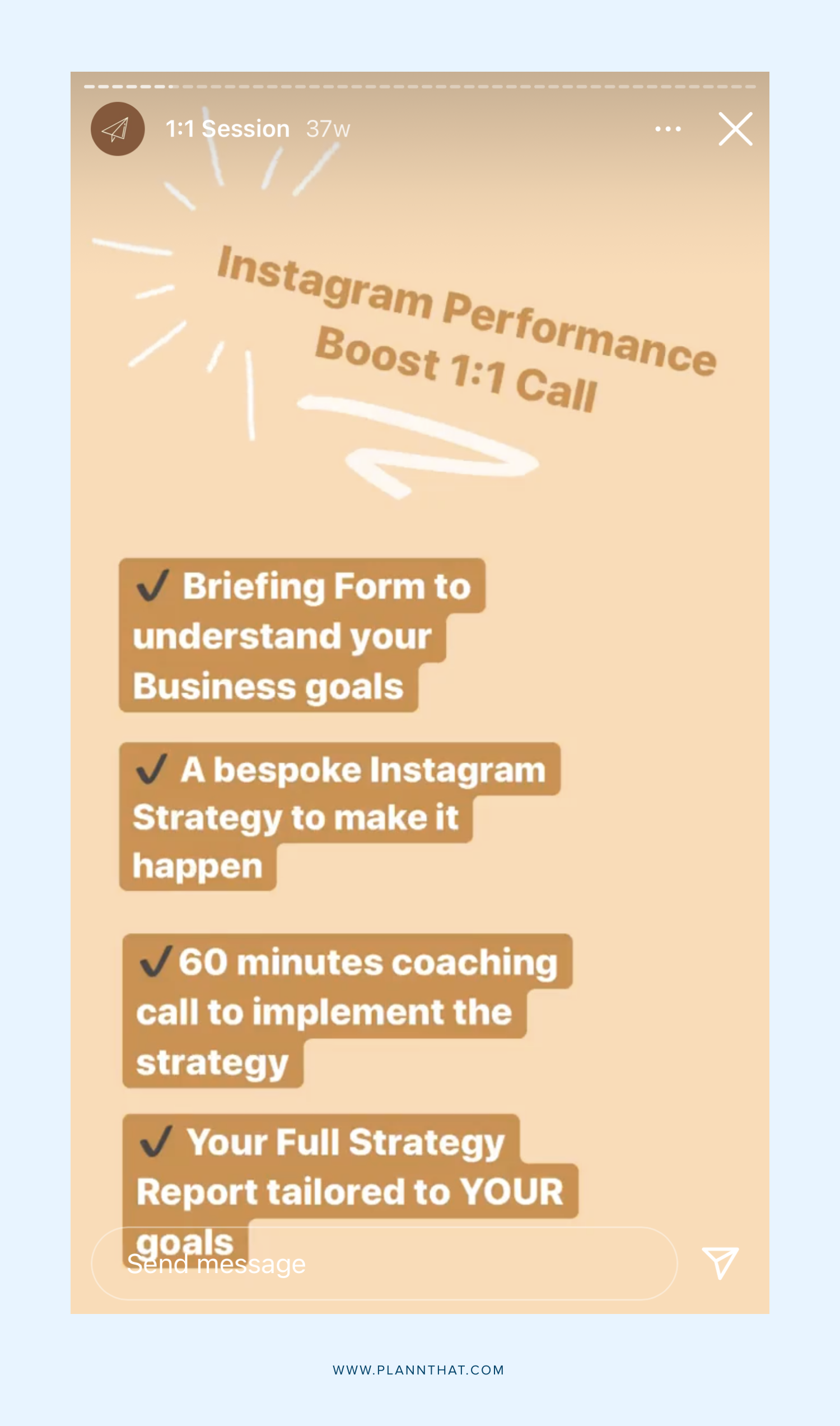 Stories are an amazing yet overlooked tool used to sell on Instagram. Why? Because stories are 40% more convincing than grid posts! All of the followers watching your stories are already interested in your business, brand or services, so it's easier to convert them by promoting your offer in your stories.
With its Canva integration, Plann not only helps you schedule and plan your stories. it also gives you a quick and effective way to create visually impressive stories that actually convert. You can play around with templates or simply create your own — it's totally up to you!
Boosting your sales on Instagram is a strategy game. With the right tools and strategy, you can quickly take your conversion rate from zero to hero. Log into Plann or start your free trial to start putting these strategies into practice today!
Learn more about Romane Nouri here or follow her on Instagram @romanenouri
Romane Nouri is a business coach, creator and strategist who loves guiding entrepreneurs through the different steps of building and scaling an online business. She helps ambitious entrepreneurs start, grow and scale their business online, so they can build a 6-figure + online empire they deserve!