As a brand, business, or content creator, your Instagram link in bio is what turns profile visitors and followers into paying customers. In fact, we'd go as far as this: your bio link is the single most valuable piece of real estate on your Instagram profile.
Up until recently, Instagram has limited users to one clickable bio link. But that's all changed with this latest update, allowing you to add up to five clickable links to your Instagram bio.
While the multiple bio links feature is an exciting announcement, there are still plenty of reasons why brands, businesses, and creators need to be using a dedicated link in bio landing page tool.
Ready to learn more about the brand-new feature and discover why we're passionate advocates for a link in bio landing page? Let's dive in!
Instagram introduces multiple links in bio
This week, Adam Mosseri (Head of Instagram) took to Instagram Reels to announce a much-anticipated new Instagram feature: Multiple Links in Bio.
Previously, Instagram users were only able to share one bio link. Aside from using Instagram Stories link stickers, this bio link has been the only way to drive traffic off Instagram and your website, app or latest blog post.
But, now that's all changing with the launch of multiple bio links. Now, you will be able to add up to five links to your bio. The catch? Only the first link will show up on your profile (as you can see in the image below).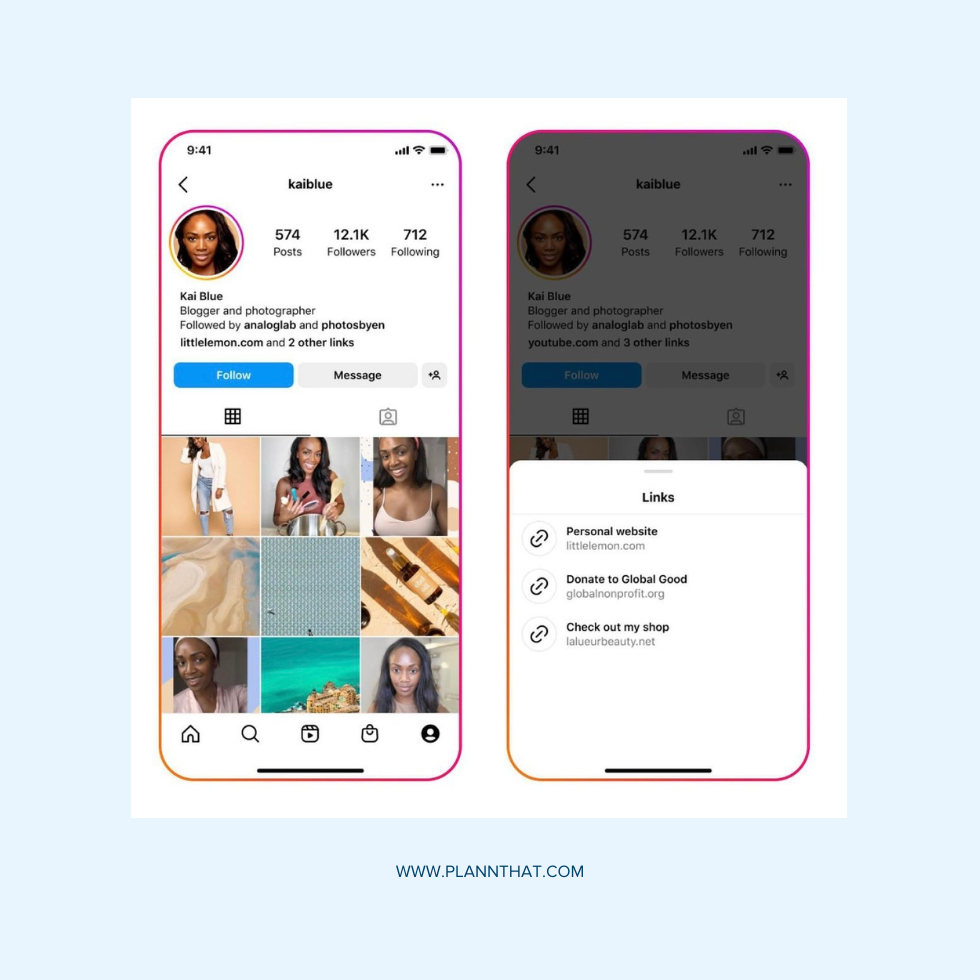 These text-only links can be rearranged by dragging them in the order of your choosing. Plus, you'll be able to add a description and title to your links, too. For example, instead of displaying the URL of your website appearing on your profile, you can change the link title to a more engaging call-to-action, such as'Visit my website'.
To use this new link in bio feature (available globally from April 19th 2023), head to 'Edit Profile' click on 'Links' and then 'Add external link'. From there, you'll be able to drag and drop your links in the order you want them to appear.
The limitations of Instagram's new multiple bio links update
While this brand-new feature is a step in the right direction for Instagram, the feature is still in its early days. This means it's lacking crucial functionality and features that you can only find in link in bio landing page tools.
Specifically, here's why we think Instagram's multiple bio links feature isn't the best choice for anyone using Instagram for business:
• No visual element: Instagram's bio links lack any kind of visual elements (such as photos, shoppable posts or dynamic buttons), only giving you the option to include text-only links.
• No branding opportunities: since Instagram bio links are text-only, you won't be able to add any branding elements that connect your brand identity with the links in your bio. This means you're unable to give your links a bespoke look and feel.
• Limited analytics: since this feature is only in its infancy, it's unclear what level of detail will be provided in terms of link clicks in your Instagram Insights. This can present challenges in terms of assessing the performance of your Instagram profile and content.
• Lacks usability: instead of sending users to a cohesive all-in-one landing page that hosts all your most important assets, you will have to manually click in and out of different links to access what you need (making the user experience tedious and clunky).
Why you need to be harnessing a link in bio landing page
So, what's the solution to the limited functionality of Instagram's new multiple bio links feature? Enter the link in bio landing page.
Link in bio landing pages let you fully customize your page to host all the relevant links and information you want your audience to see about your brand.
This means you can showcase everything from your website to your latest blog posts and even promote your new release products with shoppable images.
With a cohesive, branded landing page, you can maximize the chance of conversions from your Instagram bio. But that's just the start of the benefits of hopping onto the link in bio landing page bandwagon:
• Make your content shoppable: with a handy link in bio tool (like EasyLink) you're able to turn the content on your landing page into shoppable posts. These visual, shoppable posts can turn your Instagram bio into a digital shopfront for your brand in seconds!
• Showcase your unique visual identity: with the opportunity to customize your fonts, colors and add your own logos, a link in bio landing pages helps to build brand recognition and ensure a cohesive experience across every touchpoint with your audience.
• Harness time-sensitive links: our EasyLink tool allows you to set and customize time-sensitive links that align with flash sales, campaigns, and competitions your brand is running. You can set your links to appear and disappear so you don't have to manually remove outdated links, meaning your link in bio landing page is always up to date.
• Simplify your workflows: work smarter, not harder! With a link in bio landing page tool, you can manage content scheduling and bio links in one unified dashboard to speed up and simplify your content creation workflows.
• Unlock in-depth analytics: don't guess how your links are performing! With a link in bio landing page, you can discover which products, posts and link positions work best on your landing page with in-depth analytics and insights. Plus, these tools (like EasyLink by Plann) go one step further and give you data-driven tips and tricks to boost your conversions.
Ready to build your own link in bio landing page in minutes?
If you're looking for an effective way to promote your brand and boost website traffic on Instagram, a link in bio tool is a smart choice.
By turning a single link into a dynamic, branded mini-website, you can promote your products more effectively and boost sales. Whether you're a small business owner or a social media influencer, using a link in bio landing page tool is a great way to elevate your brand experience on Instagram.
Ready to get started in minutes? Try Plann's EasyLink tool today and take your social media marketing to the next level! With EasyLink, you can create a link in bio landing page that is visually appealing, easy to navigate, and designed to help you increase sales.
What are you waiting for? Claim your free EasyLink landing page today!