Engaging content is the heart of Instagram.
Whether you're a brand, business or an influencer, you need to know how to keep your audience engaged.
The more likes, comments, saved, and shares, the more the algorithm will favour you, and the quicker you can grow your account and business.
…But how do you exactly boost your engagement on a social media platform like Instagram?
Keep reading to find the top strategies for creating engaging Instagram posts to grab attention, spark conversation and drive your target audience to your page.
1. Create Captivating Content
View this post on Instagram
Want to create more engaging Instagram posts? Tell a compelling story through your content.
…And no, you don't need the fanciest DSLR or the latest iPhone.
All you need are basic storytelling elements and editing skills to captivate your audience and create a memorable online presence.
Here are some tips to elevate your Instagram content:
Reels
• Use quick transitions and effects to keep users watching.
• Add onscreen text to grab attention and create tension.
• Use trending audio and music to increase your discoverability.
• Feature your brand values and voice.
• Show, don't tell.
In-Feed Photos and carousels
Highlight the unique features of your product in use.
Shoot in natural light.
Use your most eye-catching content for the first slide.
Mix in photos and videos to create a compelling storyline.
Share your customer stories.
2. Take Advantage of User-Generated Content
Running out of Instagram post ideas? We get it: sometimes, it's easy to fall behind in your content schedule or struggle to decide what to post next.
That's where user-generated content (UGC) can save the day.
Encourage your followers to create content related to your brand and re-share the content on your Instagram Stories and feed.
It strengthens your relationship with your audience and gives you powerful social proof, helping you grow your brand and increase sales.
3. Write Value-Added Engaging Captions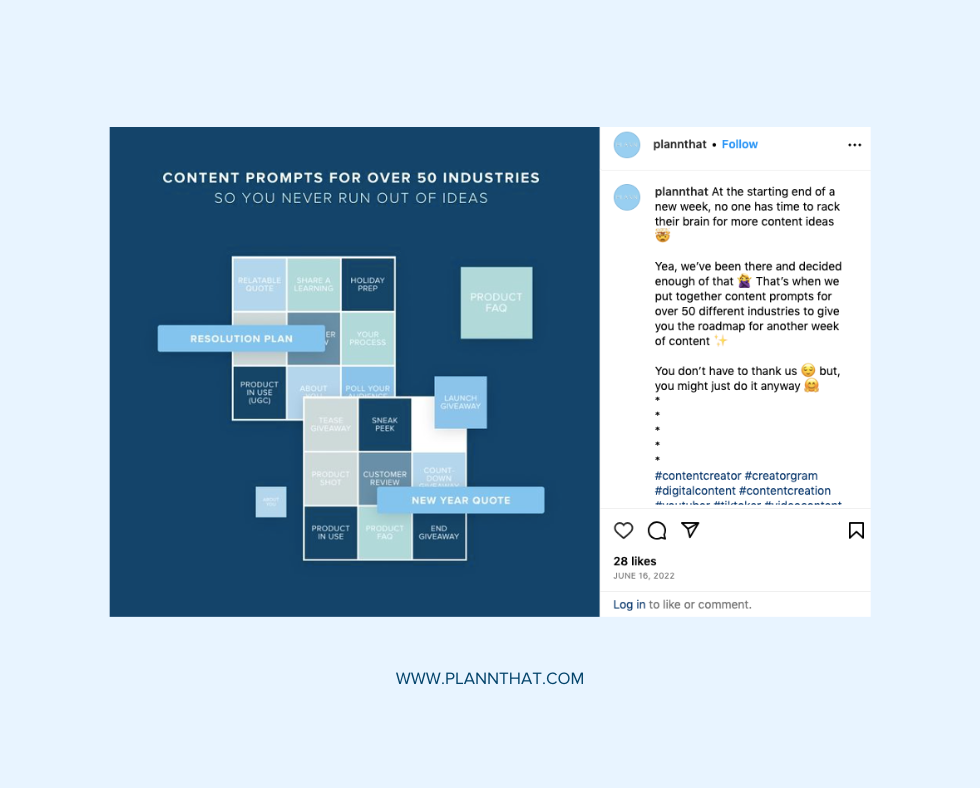 Captions are a powerful part of your Instagram marketing strategy.
It allows you to add context, personality, and storytelling to engage your audience.
But how do you write a caption that reads well?
Use a tool like ChatGPT to get yourself out of writer's block and keep these caption copywriting best practices in mind.
• Use a consistent conversational and personal tone.
• Open your caption with a strong hook.
• Share informative tips or insights.
• Ask questions.
• Keep your copy to the point.
• Encourage action by prompting users to leave a comment, like, or share your post.
Looking for even more content inspiration for your own Instagram account? Here are Plann, our daily post ideas, content prompts and done-for-you caption starters are the perfect way to show up consistently on social media (while still giving you the ability to tailor your posts to your own brand voice).
4. Start a Conversation
Creating conversations is the key to encouraging social media interaction.
And it's a lot easier than you think.
• Run a contest or giveaway with non-competing brands in your industry.
• Use polls and quizzes on Instagram Stories to create interactive experiences.
• Encourage users to tag friends in your comment section.
• Create a challenge.
• Ask thought-provoking questions to prompt users to share their thoughts.
• Respond to all your comments, DMs, and mentions to foster a sense of community.
Using these simple strategies makes your account more than an extension of you. It helps you actively engage with your audience and grow long-term brand loyalty.
5. Show Behind-the-Scenes
You've probably heard of this Instagram post idea before.
…But why does behind-the-scenes (BTS) content work so well?
It humanizes your brand.
People are also naturally curious.
We want to know what someone else's life is like or what it's like to run a business.
Think of it like playing dress up as a kid.
You get to try on all these different personalities and career choices without the commitment.
Take advantage of curiosity and:
• Show how you create, package or use your products.
• Introduce your staff.
• Share the stories behind your products or services.
• Vlog a day-in-your-life.
6. Use Instagram Stories to Create Interactive Post Ideas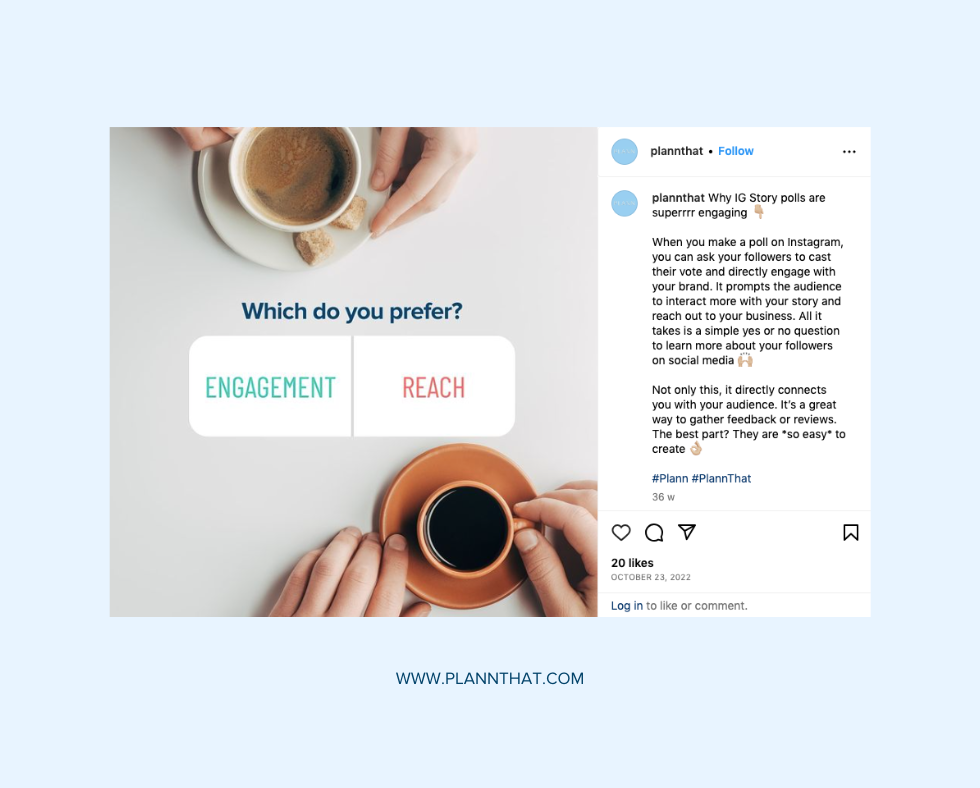 The whole point of Instagram is to create an engaged community.
What is the best way to achieve this?
Using interactive features to make your followers feel a part of your journey.
Use the Stickers on Instagram Stories to ask questions, run polls, experiment with quizzes, or countdowns to get reactions from your audience.
Each one encourages engagement and helps you connect with your followers on a deeper level.
That's not all.
The algorithm takes note of when your Stories are receiving more replies or shares than usual. As a result, your position on the Stories timeline gets a bump, and you'll see an uptick in views.
7. Add Helpful Hashtags
View this post on Instagram
Don't skip hashtags.
Why?
These tags are your golden ticket to finding followers who care about your brand. It's how potential followers can discover your business and learn more about who you are.
Without the right hashtags, you're posting into a void and restricting your content to your current follower base.
That being said, tags are more than hashtags.
• Tag your partners or other influencers.
• Add your location.
• Use product tags to encourage sales.
• Use hashtags to make posts more discoverable.
Did you know Plann's hashtag manager gives you access to thousands of high-performing hashtags in just a few clicks? Search for terms related to your post or brand and add them to your captions effortlessly.
8. Stay Organised With a Content Calendar
The thing with social media is this:
You'll only see success if you're consistent.
Why?
It works on a numbers game.
The more content you have in the ether, the more chances someone has to discover your account and tap the follow button.
That's not all.
Consistency means you're keeping your current follower base engaged. There's always something new to binge on your profile, and you keep your brand top-of-mind.
Sign up for your free trial of Plann Pro today and start creating your content more efficiently. With content prompts, hashtag research, and cross-posting features, you can bulk-create your content and keep your calendar full of ideas your followers will love.
9. Track Your Performance and Make Adjustments
Tracking your social media posts is essential.
You need to figure out what resonates with your audience and what doesn't. If you don't take the time to analyse what's working, your Instagram growth will stagnate even if you're posting 5x per week.
Open the Insights tab, and take a deep dive into your data. Use it to refine your content strategy and learn what work's for your Instagram account.
• Does your audience love quotes?
• Do your Reels showing your face get the most engagement?
• Are your mini travel vlogs pulling in the views?
Do more of that!
But don't forget to experiment with new Instagram post ideas.
10. Grow Your Instagram With Plann
You've got your strategies.
Now, it's time to put everything together.
Sign up for a free 7-day trial with Plann Pro and gain instant access to our all-in-one social media content calendar, planner and strategist tools.
Besides free post ideas for your niche, and trending audios for Reels, you'll also get a free link-in-bio tool (EasyLink by Plann) to drive traffic to your website, blog, latest product releases or affiliate marketing links.