We're excited that you can now start your day with your new Social Media Home – a beautiful, daily overview of your brands day ahead.

When you open Plann we're usually there to help you start working on your next post, but we wanted you to have a calming, organized experience as soon as you open Plann to easily get to work and see what's on your list for the day.
You'll now discover a new Home where you can organize your day knowing exactly what's ahead, organize your own to-do list, and spot where any gaps might be in your schedule with help from us when you need it the most.

Plus, keep Plann open for the day so you stay on top of any comments or messages from your community.

Here's What You'll Find in Your Brand New Home

A Daily Overview of Your Social Media Schedule

A to-do list manager

Thousands of Inspirational ideas, captions and media for your next post

Improved navigation to find your way around, including faster access to your content calendar, creating posts for specific platforms, and your media collections.

Ways you can gift (and earn!) Plann credit by sharing your unique link.




Currently in BETA, here's where you can visit your new Plann home:


A New Daily Overview of Your Social Media Schedule
Open HOME and you'll see a beautiful new overview of the day ahead across your social media platforms.

You'll quickly spot what you've already got scheduled and know if you need to make any final adjustments or if you have any gaps to fill for the day.

Plus with new navigational tools, you'll find an updated left-hand-side menu to help you find your way around Plann faster to access your most used tools.


To-Do List Manager
Found in your new right-hand-side menu, you'll uncover our very first iteration of helping you manage your social media to-do's right from your Plann Home.
Here's where you'll find your new to-do list manager: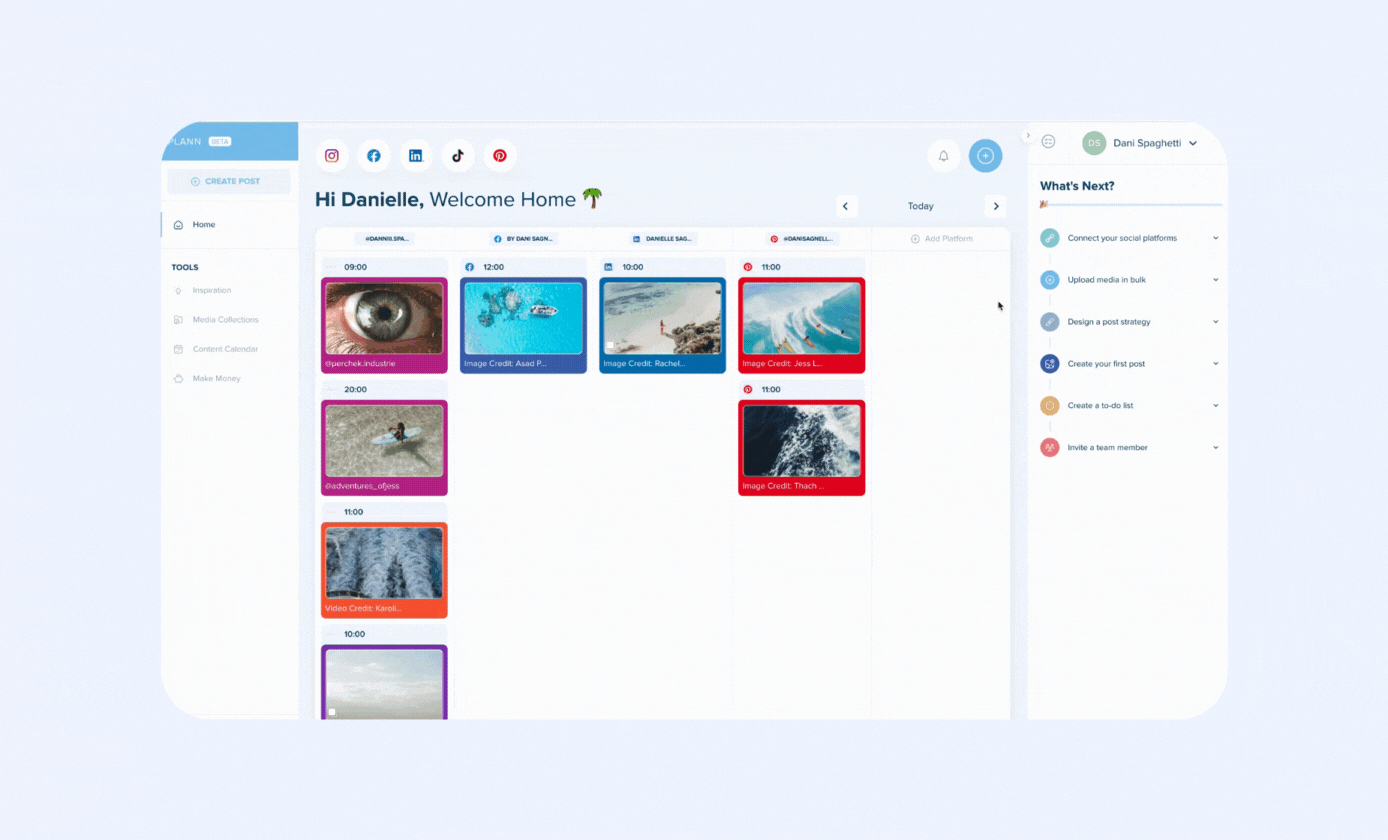 You'll find your own space to make note of your to-do's and check them off when you're done, there's nothing more satisfying!

Currently to-do's are only visible to you as an individual however we're already working on a way you can have a 'Team To-do List' so everyone can see who's responsible and working on what if you're working inside a team.



Extensive Inspiration Galleries
Designed to help you quickly move forward if you're ever stuck for ideas, you'll be able to sort through caption libraries, launch blue prints, pre-sourced media, and even trending audio ideas for your next TikTok or Instagram Reel.

You'll have easy access to:


CONTENT INSPIRATION
We partnered with our friends at Pexels to help you uncover a regularly updated assortment of royalty-free images and videos that you can use in your own content straight away.

There's nothing worse than drawing a blank when given the option to sort through free stock content – what do you even search for?!

Our team have pre-sourced content we know could easily suit thousands of brands for a variety of different reasons that we hope you'll be able to use in your content schedule.

Quickly add the media to your own schedule and use as-is, or run it through our image editor to add filters, your own logo, borders, or even crop them to make them really feel like your own.

Updated regularly, make sure you check back to see what else you could use in your Posts, Stories or Reels!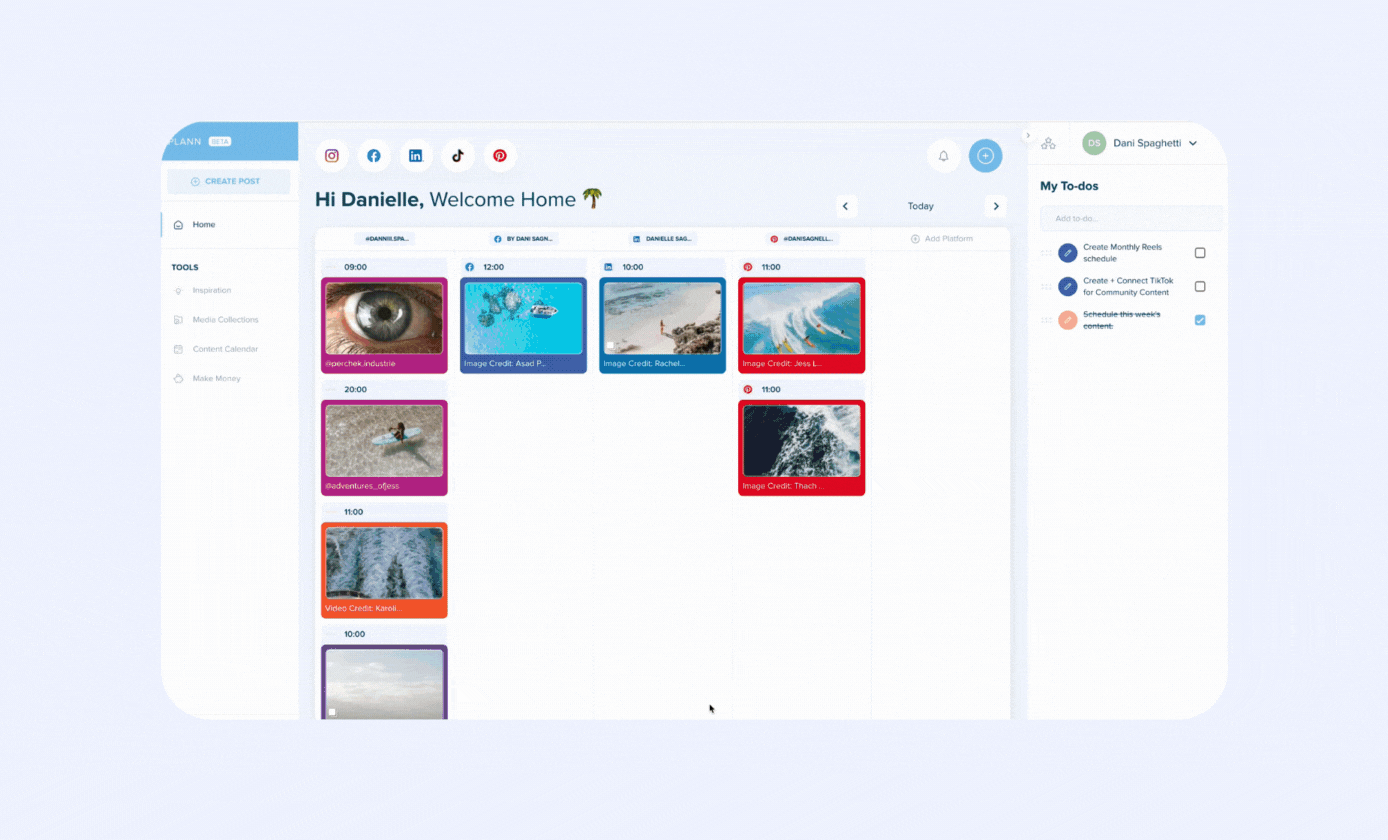 CONTENT PROMPTS
Previously 'hidden' on our strategy tab, we're helping you find these blueprint ideas even faster to map out your next 9 posts with Plann's New Home.

Designed when you're not sure what the next few days or week looks like, simply choose ideas that match yours (or mix'n'match from other industries) to create an intentional posting schedule.

We'll help you put together a plan for the posts ahead so you've always got something ready to go, with ideas for over 50 industries, flash sales, launch strategies and more.


SOCIAL STARTERS – PLANN'S CAPTION LIBRARY
Search or Shuffle your way through finding your next caption idea!

You'll find pre-written captions designed for every purpose that you can use straight away in your next post, or use as a thought starter to write your own.

You'll find captions for different interactions with your audience that are carefully thought through and written so that you stay intentional. Instead of googling caption ideas, you'll find thousands already housed for you here at Plann, right from your new home.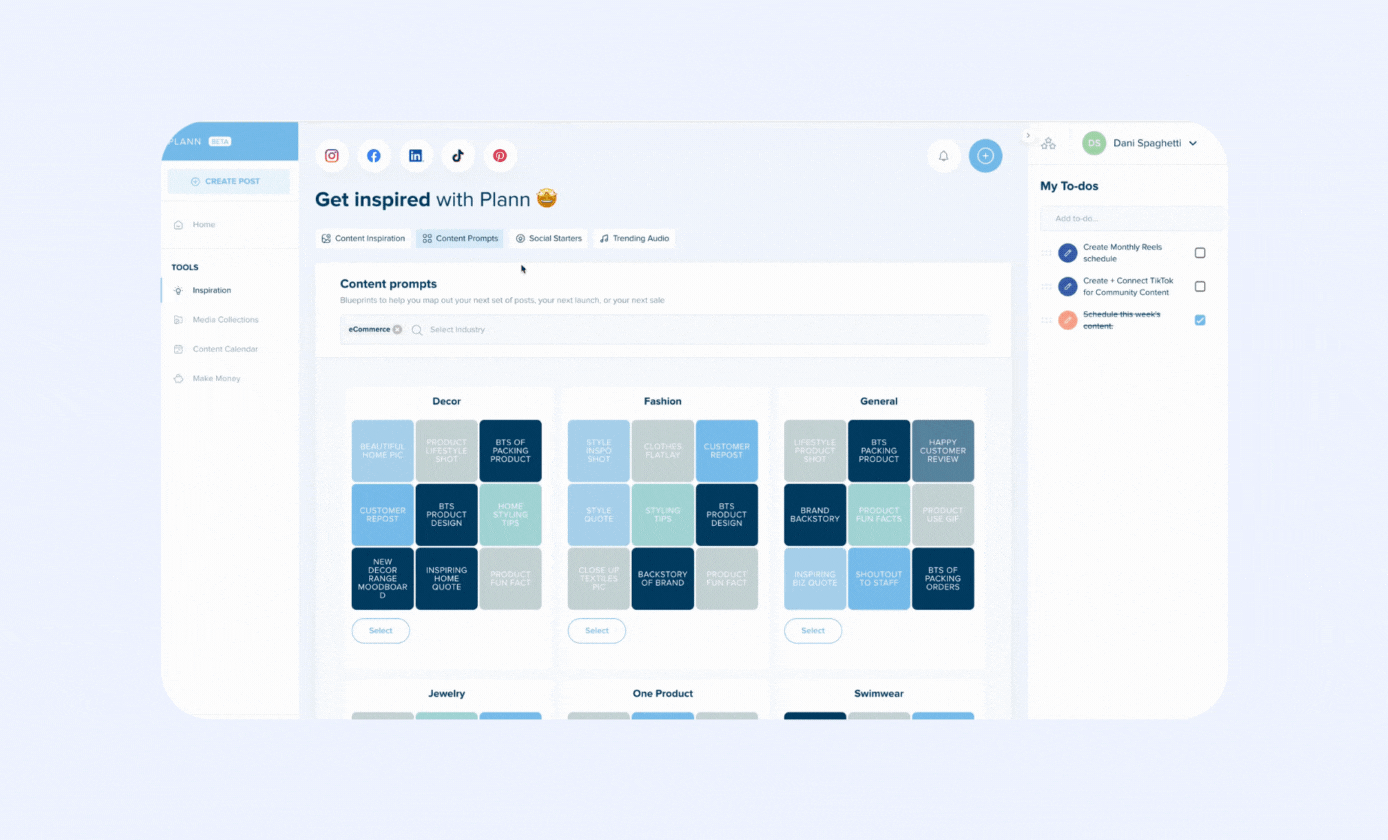 TRENDING AUDIO – NEW!

With Instagram Reels and TikTok on the rise, we want the ideas for your next viral video to take no effort at all for you to find!

Inside Plann, you'll now discover a library of trending audio ideas that you can jump on to easily customize to create content for your niche.

Regularly sourced and updated, we're thrilled to put this new addition to Plann in your hands.

You'll find emerging ideas, trending templates, audio tracks and effects to help you get ahead on your social media content creation journey.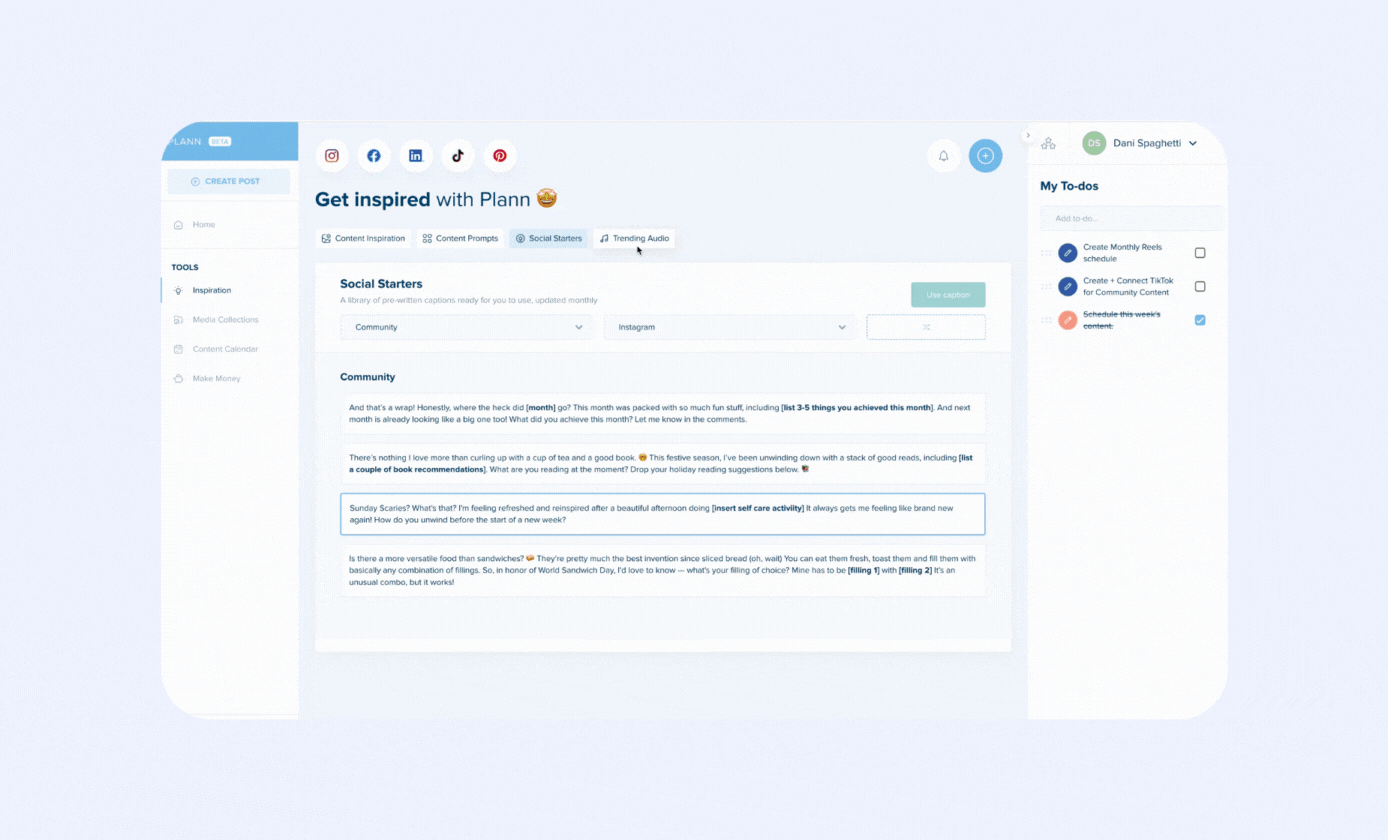 Gift Plann Credit to Your Friends, PLUS, Earn Credit For You Too!

We're thrilled that Plann is continuing to grow and expand, helping more people build social media profiles and schedules that are beautifully easy and way less stressful than ever before.
We'd love to help you gift Plann to those you know would love using us too.

While in your Plann Home, you'll find a new menu item called "Make Money" where you can keep track of how much credit you've earned by gifting Plann, PLUS, an entire success kit dedicated to help you share Plann with the littlest effort (and hello new content ideas!).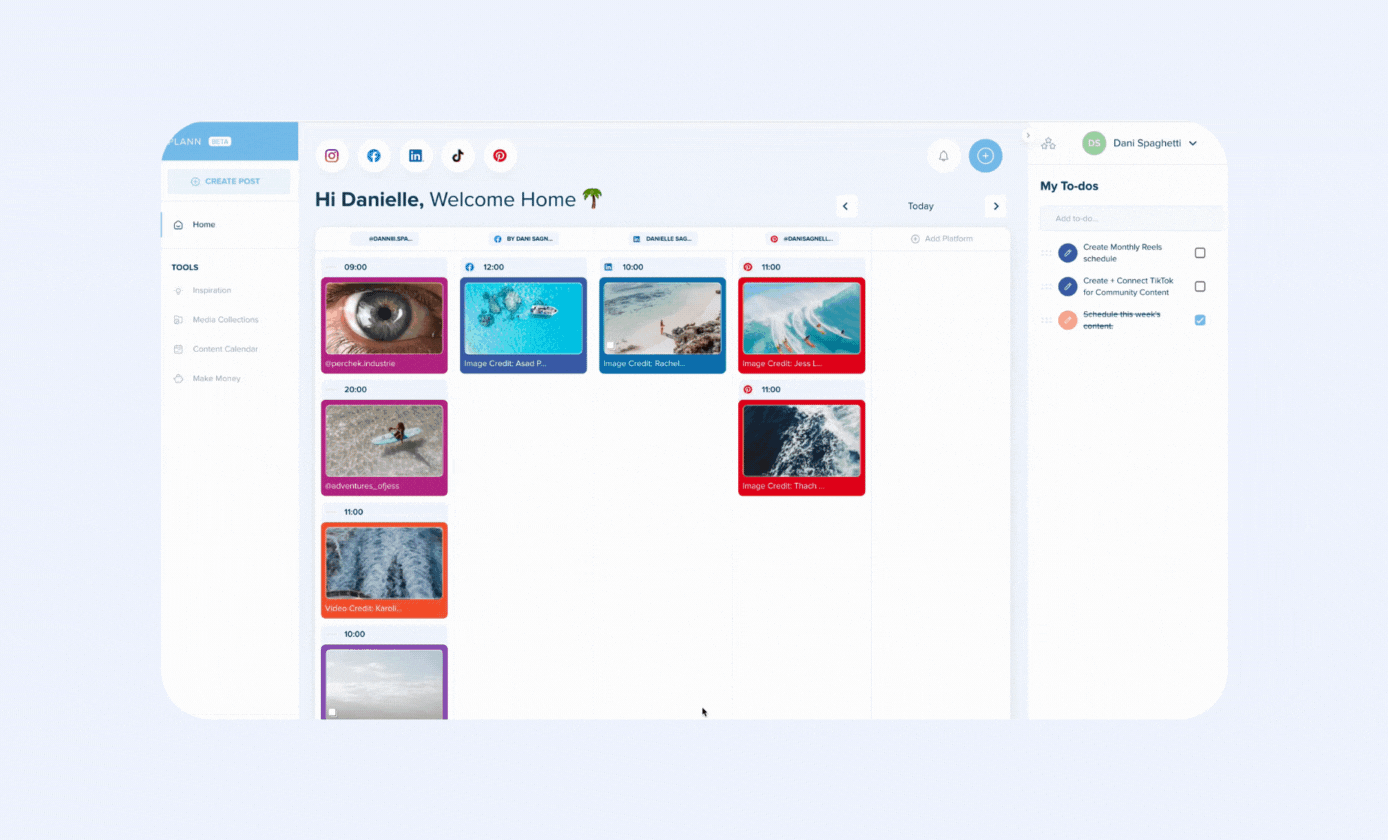 Home is an exciting new addition to Plann, one we can see growing with you and expanding our offering to help you with your online marketing and social media even further over time.

We created this for you, and want to build things that make your life easier – this was designed after hearing our community feedback of what you wanted to see in our platform that would make your social media life easier to manage.

We genuinely love hearing from you and all of your ideas for Plann.
Reach out to the product team directly at feedback@plannthat.com to share your thoughts, compliments, ideas and everything in between 🙂


Speak soon,
Christy Laurence
Plann Founder
@plannthat