For many of us, our Instagram profiles can seem like an afterthought.
We're often so focused on creating sizzling captions and viral Reels, that we forget a bio is a crucial part of growing a following.
After all, it's often the first thing people look at after they discover one of your posts or stories.
Ready to get some Instagram bio ideas that command attention and bring in a steady stream of new followers?
Let's take your social media game to the next level!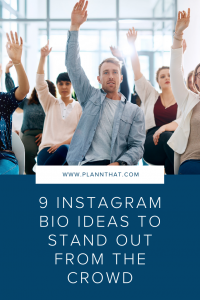 What Is An Instagram Bio and Why Is It Important?
With only 150 characters, you need to communicate to the world what you do and why someone should follow you.
In a nutshell, it's people's first impression of you and your content. With people losing concentration after eight seconds, it's crucial to make your Instagram bio stand out.
…But that's not all your Instagram bio does for your account.
It's also SEARCHABLE. By choosing the right keywords, you can attract your dream audience who care about your message and what you're selling.
Cool Instagram Bio Ideas To Stand Out From The Crowd
Use these nine tips to craft a bio that will show off your brand personality in your bio and attract followers.
What Do You Do?
What is your business or personal brand all about? Make your purpose crystal clear.
Are you a travel blogger passionate about sustainable experiences?
Or are you a business coach who focuses on personal branding for female entrepreneurs?
Use your Instagram bio to tell users WHO you help and WHY.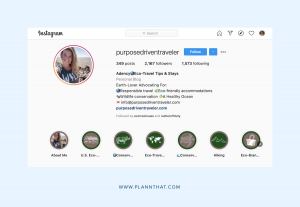 What's Your Brand Personality?
Crafting a memorable bio is a surefire way to get your brand name stuck inside someone's head and keep them coming back for more.
How do you do that? Show off your brand personality!
Are you sarcastic?
Do you love a good pun?
Or are you all about the luxe life and growing your Chanel bag collection?
Whatever your brand personality is, you want it to come across in your bio. It will make people instantly understand the vibe of your account and whether or not it's for them.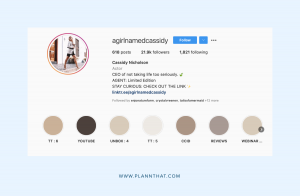 Who is Your Dream Audience?
If you're using Instagram to market your business or your personal brand, understanding your audience is the secret sauce to success.
You need to cater to your ideal follower.
You want your account to attract them like a flower to a bee.
Dive into demographics, motivations, and behaviours like:
• Generation: Are you a Millennial or Gen Z brand?
• Location: Is your brand localised or worldwide?
• Interests: What are their hobbies and interests?
• Goals: What is the big goal they want to achieve?
When you have a clear picture of who you're trying to attract, it makes it a million times easier to write a bio that will give someone a "heck yes, I need to follow this person immediately!" feeling.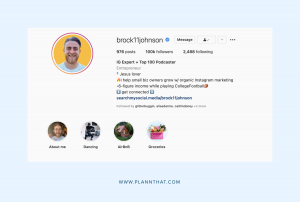 Add a Call-to-Action
Instagram is a powerful lead generation tool — even if you don't have 10k followers.
And your link in bio is some seriously important real estate.
Make sure you're crafting a bio around it to get people to take action.
Why? Because you don't want people to tap 'Follow' and forget about you.
You want to entice them to click the link and go further down your content rabbit hole — whether it's signing up for your free ebook, shopping your latest collection, or watching your latest YouTube video on celebrity conspiracy theories.
But, what happens if you have MULTIPLE call-to-actions?
You can use a link in bio tool like LinkTree or create a Social Links page on your website.
The latter means you get to keep the traffic generated on your domain, and you don't need to pay extra for customisation to make the landing page match your branding.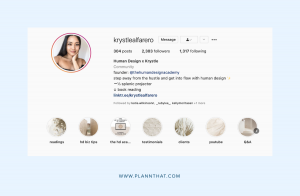 Use Emojis
With only 150 characters, emojis are always a cute Instagram bio idea that will help you communicate your message with less text.
For example, you can swap out words like 'email', 'phone' or 'location' with the following to free up space:
• 📧 hello@youremail.com
• ☎️ 555-555-5555
• 📍 Melbourne, Australia
Not only can an emoji add some personality to your account, but you can use them for your CTAs.
For example, you can use the 'down arrow' or 'hand' emoji to draw attention to your link in bio:
• ⬇️ Sign Up for The Next Overnight Hike (4 spots left!)
• 👇🏼 Free Stuff for You👇🏼
• 👇Work with me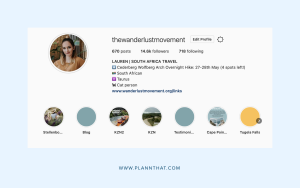 Use Spaces in Your Instagram Bio
Why should you care about adding spaces to your bio?
Because, it makes your account more readable and scannable.
…And people rarely read word for word — they're far more likely to scan.
If your bio is one dense paragraph, most people won't give it the time of day, and you risk losing a potential follower.
With attention spans at an all-time low, you want to take advantage of formatting to hook potential followers in and get them to tap that blue 'Follow' button.
Not sure how to do that? Learn how to add spaces to your Instagram bio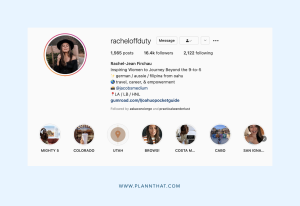 Use Fancy Text in Your Instagram Bio
Are you on the lookout for creative Instagram bio ideas?
Try using fancy text.
It's one of the best ways to:
• Stand Out on Instagram: Fancy text breaks up the monotony on commands attention
• Highlight Information: Help people absorb information quicker, scan your text, and draw attention to your call-to-actions
• Show Off Your Creativity: Fancy text allows you to lean into your brand personality and create emotion
Create Intrigue and Curiosity
Let's dive into some copywriting and marketing goodness for your Instagram bio ideas.
The curiosity gap is an excellent tool to use in your copy. It creates intrigue and entices people to learn more about your business, i.e. clicking the link in bio.
We often see the curiosity gap used in headlines. BuzzFeed is a pro at using this device with their click-worthy titles.
It makes the reader curious enough to click-through and see what's in the article.
Montague Bookmill does an excellent job of using the curiosity gap in their bio to add a touch of mystery and drive traffic to their website.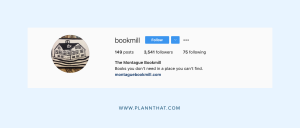 Keep It Simple
Just because you have 150 characters, doesn't mean you need to use them all.
Sometimes, simple Instagram bio ideas are the most effective.
Case in point: Patagonia.
The outdoor gear and clothing brand is passionate about the environment and helping adventures make ethical shopping purchases.
The brand sums all of this up with a single sentence in their bio: "We're in business to save our home planet."
Another excellent example of the minimal Instagram bio is WeWork.
The brand connects entrepreneurs and freelancers through shared workplaces and captures this concept with only three words:
"Reimagine your workspace."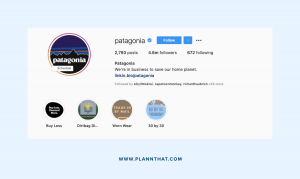 Hopefully, your brain is buzzing with Instagram bio ideas that put you head and shoulders above your competitors.
But, there's no point having a next-level amazing Instagram bio if nobody is going to see it.
Once you're done perfecting your Instagram bio, use Plann to start creating and scheduling content that magnetizes your ideal audience.