We've all had a clever bio. That one with the inside joke in it, or something like 'A Caffeine Dependent Girl Boss on the Rise,' or 'Sitting at Home Waiting for the Pizza Delivery Man.'
Classic!
But when it comes to business, you probably want your audience to do more than just giggle at how clever you are. Heck, you may even want them to become interested in what you do! Or better yet buy from you!
Here are 5 simple steps for creating an Instagram bio for your business
1. Start With What You Do
Sounds like a 'duh' moment, but how many times have you been on Instagram and an amazing image has caught your eye? You scroll through the grid and even read the bio…before leaving thinking to yourself, 'I wonder what they do.'
Get it out there in front so that there's no confusion.

2. Instagram Story Highlights Are Part Of Your Bio
Use 'em! You've got a very limited number of characters and right below that, a bunch of pretty pictures that can communicate what you do even more clearly. They're also a great place to demonstrate value, or share a win; don't let story highlights get missed!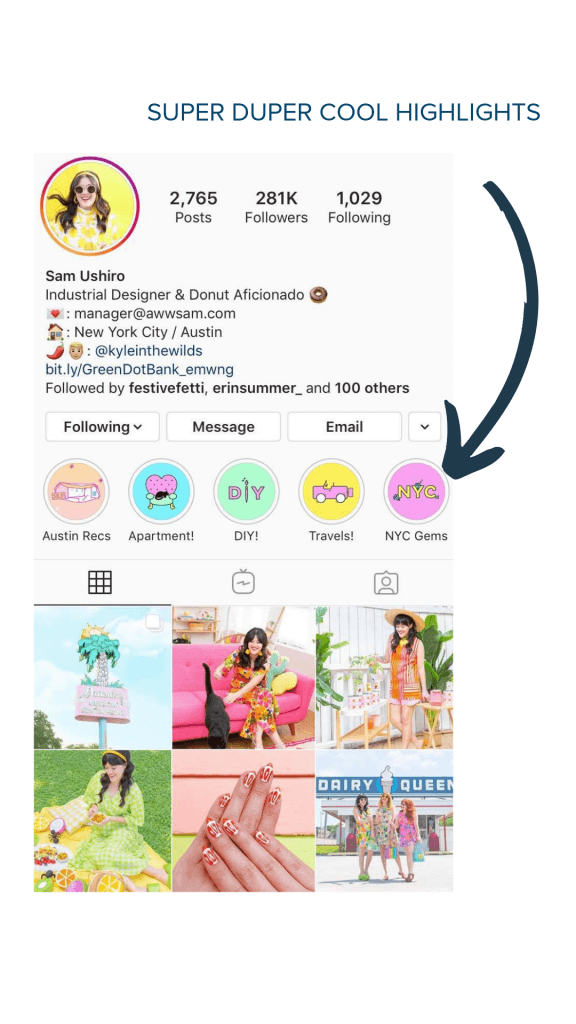 3. Include A Link to Your Website, Blog, Store OR…..go crazy and add multi links
Instagram, like your cousin that doesn't have many friends, prefers if you stay with them. We use Tapbio, a tool that allows us to have one link in our bio (taking up limited real estate) that gives our audience access to multiple locations.

4. Think About What Your Audience Will Search For
People are odd. For example, when I search for something online, it sounds nothing like me in real life. Let's say I'm on Instagram looking for athletic wear.
Don't judge me…..well judge me a little cause I don't exercise
In real life, I'd say to someone, "I'd like to buy some athletic wear."
On Instagram, I type "athletic wear."
So, If your bio says "diverse apparel for the upwardly mobile," I'm not gonna find you. Use those limited characters wisely, think about your best sellers and what your customers love!

5. Get An Instagram Business Account
Because the name says it all! Instagram has created a profile specifically for business users, including features not available on standard accounts. Analytics, extra space on your bio for contact details, promoting posts…it just makes sense!
Your bio is often your first point of contact with a potential customer. When creating it, think about what they're interested in, what gets them excited and what's great about you.