While quizzes are usually known as a fun form of entertainment (cough: procrastination!), believe it or not — they are also extremely effective at generating leads. They are many people's guilty pleasure which means they're often more than willing to hand over their email address to take it. What's more, they're one of the most shareable and addictive forms of content and should be an essential part of your social strategy.
You may be wondering how exactly a quiz can generate qualified leads for your business? Well, interactive content is far more effective at grabbing attention than static content and by analysing respondent's results, it allows you to understand your audience's needs and wants so you can better offer them solutions.
Ready to start generating leads for your business? These tips and tricks will help you create an interactive and appealing quiz in no time.
Why Lead Generation Quizzes Work Well In Marketing
It's simple. Quizzes give people what they want: some information about themselves. Quizzes have become a signifier of self and people love to learn things about themselves. And what's more, is that they love to share their results with others and plaster it all over their social media — which is great news for visibility.
It may come as a surprise that quizzes are shared on average 1900 times and people are more likely to share them if they receive a higher score. Why? To show how smart they are, of course!
Quizzes can and will optimize your marketing strategy and move those leads down the funnel like nothing else. Not only will they entertain your fans, but they will also increase your social media traffic, create more leads and bring you more income.
Ready to give it a try? Here's how to create a kick-ass quiz:
How to Create a Money-Making Online Quiz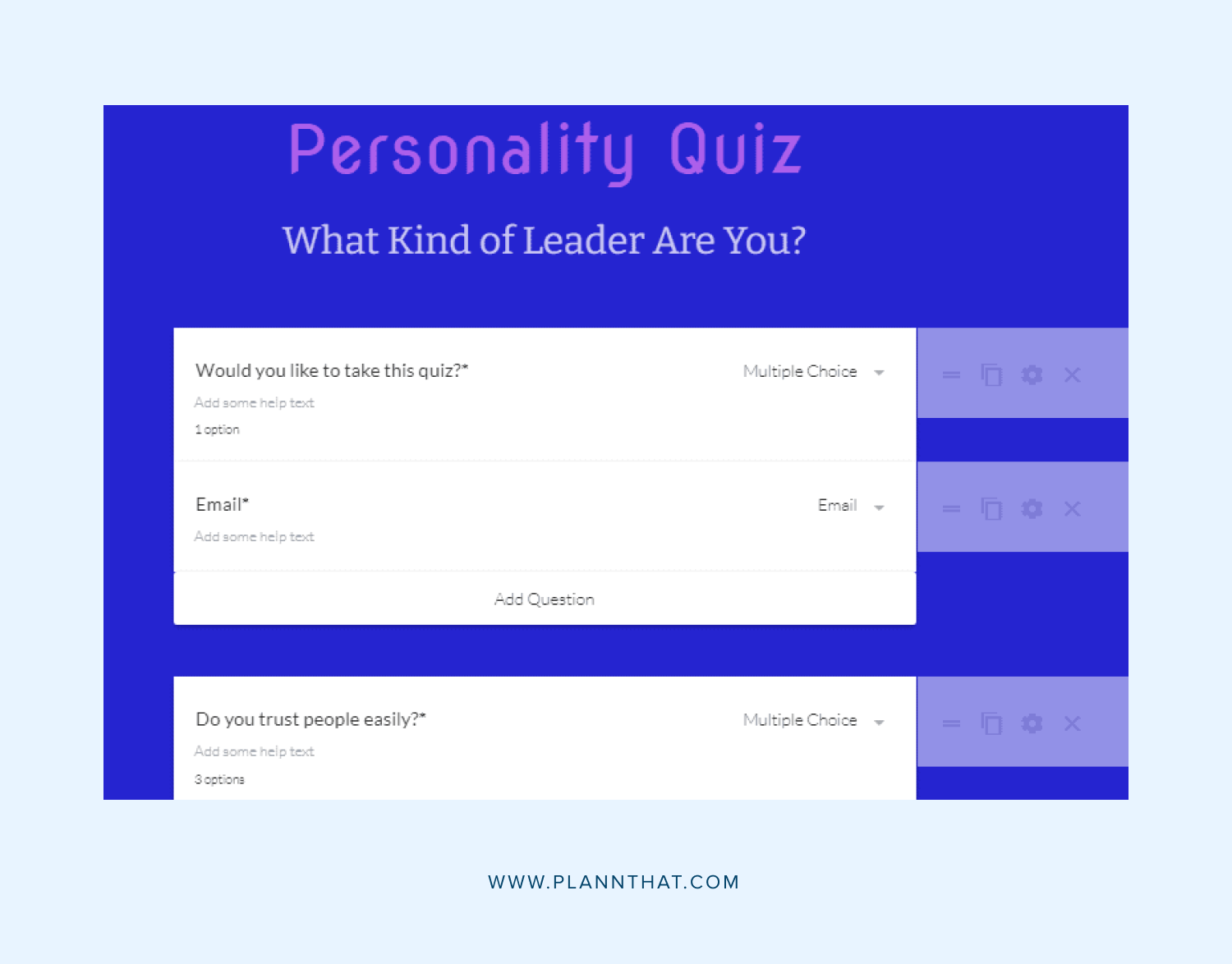 1. Choose An Online Quiz Maker
Whether you go for a professional or funny quiz, both have the same target: to drive business growth. You will find many tools that create awesome online quizzes; you can't really go wrong with any of them. Here are a few examples:
• BuzzFeed
• HubSpot
• Paperform
• ShortStack – for contests
• Survey Monkey
• Survey Gizmo
• ClassMaker
… and the list goes on.
You can either embed the quiz on your blog or website, send a newsletter to your subscriber list, or use social media to promote it. Facebook and Twitter are particuarly great assets for promoting lead generation quizzes.
2. Target Your Audience
One of the most critical aspects of creating a valuable quiz is deciding on the prospects that you want to reach through your content. Adapt your content to the customers' needs and passions; if they love food, create a food-related quiz, if they love movies — well, you know what to do. Remember to also link the content to your business to make it relevant.
3. Decide On The Type Of Quiz
Quizzes usually fit into one of two categories. These are:
a). Personality Quizzes
The What Type of…, Are You… questions will usually place respondents into one category or another, which helps you understand their personality and how you can best approach them. Be sure to create relevant and entertaining questions, and to provide creative results that will make your quiz stand out.
Above all that, always — and we mean always — give positive feedback in quiz answers People aren't going to share their quiz results with their followers if they don't like the outcome or they think it portrays them in a bad light. So by giving favourable results, you will increase the likelihood of your quiz being shared.
b). Knowledge Quizzes
This type of quiz will help you figure out not only how much a prospect knows about a product or a service, but it will also give you a glimpse into how warm of a lead they are.
As an example, if you are selling cosmetics you could create a quiz titled 'find out if you're a makeup guru based on what iconic beauty products you own'. By finding out what products people own and show an interest in, you are able to better understand your customers and create targeted marketing to achieve maximum results.
4. Create Appealing Questions
Ideally, the content should be linked to your product or brand; that way you will know exactly how to personalize your offer based on every respondent's results. Make your quiz visual by adding relevant, engaging images to it; visuals attract more than plain text and catch the eye of people scrolling by. The quality of the content and the chosen images will also determine if the quiz is worth being shared on social media by respondents.
You should also consider the amount of questions in your quiz— ten questions tops should do as respondents might get bored mid-way.
Using a form builder to create quizzes allows you to easily collect insights from quizzes and analyse them in the same place and see where respondents dropped off, so you can adapt and improve your strategy. You can also automatically send respondents an email with their quiz result summaries, simplifying the process for you.
As a minimum, ask for the person's email address so you can add them to your email list. Alternative to a form builder, you could hire an email marketing agency to send follow-up emails, vouchers, discounts, and much more.
5. Keep Tabs on Metrics
This last step is extremely important for the evolution of your future campaign strategies. Keep an eye on your results, track how many people took the quiz, the number of shares, the new subscriptions, and the conversions.
Remember, the results of quizzes are even more valuable to you than the respondent. You can strategically insert and show product recommendations depending on results from each person's answers, and if they haven't heard about your brand before, it is the perfect opportunity to showcase your products.
Psstt… there's no point spending time creating an epic quiz, if nobody even sees it! Whether it's a LinkedIn post or a series of stories, be sure to have a strategy in mind for getting eyes on your quiz.
The Ingredients Of A Great Lead Generation Quiz
• Personalize your tone
• Keep it short and concise
• Mind the number of questions
• Make general results as personal as possible
• Make it viral
• Add CTAs
Ready to make your own fun and shareable quiz? The good news is, you don't have to be tech savvy to make your own quiz. All it takes is a good quiz making platform, sticking to the strategies outlined and knowing what will engage your target market.
Once you've implemented quizzes to create lead generation, it will become one of your most valuable tools as part of your social strategy.
This article was written by our friends at Paperform — an online form builder that allows you to easily create beautiful forms, payment or product pages that feel truly yours.